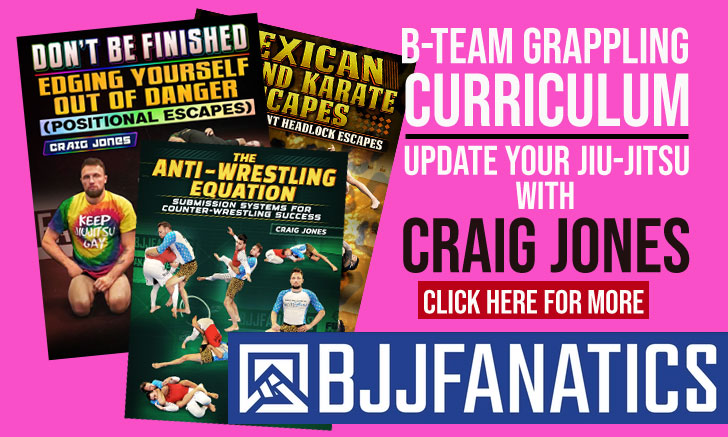 Eduardo Telles is a Brazilian Jiu Jitsu black belt under Fabio Gurgel and one of the most creative grapplers in the World. Famed for being a fan of the "Esquijitsu" (a nickname applied to his game which translates to: weird Jiu Jitsu) he created several attacks from the turtle position, a position that was deemed a weaker position by most grapplers before Telles created the turtle guard, revolutionizing what once was defensive 'go-to' move. Eduardo Telles also created several trademark setups from a position that became famous as the Octupus Guard.
Eduardo Telles Jiu Jitsu
Full Name: Eduardo Telles Moreira
Nickname: n/a
Lineage: Mitsuyo Maeda > Carlos Gracie > Helio Gracie > Rolls Gracie > Romero Cavalcanti > Eduardo Telles
Mains Achievements (BJJ):
World Champion, No Gi (2013)
Pan American Champion (2007)
Brazilian National Champion – CBJJE (2008)
World Silver Medallist (1999 – Purple Belt);
3x World Bronze Medallist (2000 – Brown Belt, 2008 and 2010 Black Belt)
2x Pan American Silver Medallist (2005, 2006)
3x Brazilian National Silver Medallist (2001, 2005, 2006)
3x Pan American Bronze Medallist (2002 – Pesado and Absolute, 2004 Pesado)
Favourite Position: Turtle Guard, Octopus Guard.
Weight Division: Pesado, Super Pesado and Pesadissimo
Team/Association: Nine Nine.
Eduardo Telles Biography
Eduardo Telles was born in 1976 in the city of Sao Paulo, Brazil. Telles entered the martial arts world through Karate as a teenager, Jiu Jitsu already existed in Sao Paulo at the time, but the academies were scarce and the first contact Telles had with Jiu Jitsu was when he spent time in Rio de Janeiro, at his father's home town. The Telles family held a house in Rio around the famous surfing and BJJ spot of Bairro da Tijuca where Eduardo would hear about Jiu Jitsu for the first time.
After the first UFC's started, the Royce Gracie name became famous (he won the first 2 championship events) and Jiu Jitsu boomed in Sao Paulo. Riding on the Jiu Jitsu wave, the Karate gym where Eduardo Telles trained opened a class for Jiu Jitsu. That was when Telles met his first instructor, Fernando Yamasaki (brother of UFC referee: Mario Yamasaki), with whom he stayed until he received his blue belt. Around the time when he was graded blue belt he moved to San Diego in California and had to stop training. He was in the US to learn English and there he met Carlos Valente, an 'old school' Jiu Jitsu black belt who's family had a long history with the Gracie family. Telles took the oportunity of training with such a prestigious black belt and trained with Valente for the duration of his term in the US.
Telles received his purple belt from Mr Valente and then moved back to Sao Paulo. This time he picked up his training at the new Fabio Gurgel gym. At Gurgel's academy he met Fernando "Terere" with whom he became very good friends, as well as Demian Maia and other Jiu Jitsu personalities who were all training under Mr Gurgel guidance. At the Alliance Head Quarters, Telles' technique grew heaps and bounds and the close contact with Terere (who was already rapidly turning into a legend of the sport) was one of the reasons for this surge. The Alliance gym also served as a laboratory for Eduardo Telles's experiments with Jiu Jitsu techniques that he would develop to adapt to his "scrappy" grappling style.
He went on to get a Silver Medal in 1999 at the Mundial (World Championship) as a purple belt and a Bronze Medal the following year as a brown belt, and so it came as no surprise when he received his Black Belt the following year. By then Eduardo Telles's style of fighting started standing out, and many in the BJJ community started branding it "Esquijitsu", which means something along the lines of "Weird Jiu Jitsu". This was due to the awkward positions in which Telles would put himself.
In 2002 the Alliance Team split and Eduardo Telles followed the path of the dissidents helping to open the Master Team and later the TT Team with his friend Fernando Terere. TT was successful from the get-go with some students showing that the team had tremendous potential, unfortunately by the end of 2004 Fernando Augusto entered his personal struggle with drug dependence and depression, and so the team was terminated. Telles decided to open another academy, this time presided by himself which he called Nine Nine, the meaning behind that name was that 99 is a reference in proximity to the number 100 which means perfection, the goal of Telles.
After setting up his academy Telles started his Mixed Martial Arts career (MMA) a quick submission of Rubens Xavier earned him another call to the rings, this time against the experienced and heavy favorite, Gracie Barra's Rafael "Sapo". Telles won again in the first round by massive head kick. His first defeat would come from the hands of another fellow jiu jitsu practitioner, the experienced Landro Silva "Batata" from Nova Uniao, this defeat made Telles understand the necessity of joining a professional MMA team, and so he joined the famous X-Gym in Rio de Janeiro, headquarters to the Black House MMA team were some of the best UFC fighters train, people like Anderson Silva, Machida the Nogueira Brothers and many others.
Eduardo Telles Grappling Record
40 WINS
BY POINTS


BY ADVANTAGES




BY SUBMISSION




BY DECISION




BY PENALTIES




BY EBI/OT



16 SUBMISSIONS WINS
#5AD3D1
Choke from back
13
2
#f58822
Mounted X choke
6
1
41 LOSSES
BY POINTS


BY ADVANTAGES




BY SUBMISSION




BY DECISION




BY PENALTIES




BY DQ



10 SUBMISSIONS LOSSES
#fad11b
Triangle armbar
10
1
#f58822
Arm in Ezekiel
10
1
#224aba
Inside heel hook
10
1
Eduardo Telles Fight History
ID
Opponent
W/L
Method
Competition
Weight
Stage
Year
721

Marcio Cruz

Marcio Cruz
L
Pts: 10x2
Team Nationals
O88KG
F
2002
856

Hugo Carioni

L
Adv
World Champ.
94KG
4F
2003
986

Alexandre Ribeiro

Alexandre Ribeiro
L
Pts: 0x0, Adv
Golden Cup
94KG
SF
2004
1007

Gabriel Vella

Gabriel Vella
L
Pts: 0x0, Adv
Pan American
94KG
SF
2004
1094

Fernando Margarida

Fernando Margarida
L
Toe hold
World Cup
94KG
F
2004
1200

Roger Gracie

Roger Gracie
L
Armbar
ADCC
99KG
4F
2005
1223

Gabriel Napao

L
Pts: 0x0, Pen
ADCC
ABS
R1
2005
1246

Alexandre Ribeiro

Alexandre Ribeiro
L
Pts: 4x2
World Cup
100KG
4F
2005
1267

Ronaldo Souza

Ronaldo Souza
L
Clock choke
World Cup
O75KG
4F
2005
1311

Fernando Margarida

Fernando Margarida
L
Adv
World Champ.
100KG
4F
2005
1377

Braulio Estima

Braulio Estima
L
Triangle armbar
Pan American
94KG
F
2006
1390

Rafael Lovato

Rafael Lovato
L
Pts: 2x0
Pan American
ABS
4F
2006
1504

Jefferson Moura

Jefferson Moura
L
Pts: 5x2
Brasileiro
94KG
F
2006
1545

Murilo Santana

Murilo Santana
L
Pts: 0x0, Adv
Paulista FPJJ
ABS
F
2007
1580

Rick Macauley

L
Points
GQ All Star Pro
90KG
F
2007
1797

Cristiano Lazzarini

Cristiano Lazzarini
L
Points
NoGi Pan Am.
100KG
SF
2007
1818

Gabriel Vella

Gabriel Vella
L
Referee Decision
Super Challenge
ABS
R1
2007
1861

Andre Galvao

Andre Galvao
L
Arm in Ezekiel
H. Kong Cup
ABS
F
2008
1974

Roger Gracie

Roger Gracie
L
Pts: 0x0, Adv
World Champ.
O100KG
SF
2008
2361

Tiago Gaia

L
Referee Decision
World Champ.
100KG
4F
2009
2707

Tarsis Humphreys

Tarsis Humphreys
L
Pts: 2x0
World Champ.
88KG
SF
2010
2985

Sergio Moraes

Sergio Moraes
L
Pts: 5x2
World Champ.
ABS
R2
2011
3119

Romulo Barral

Romulo Barral
L
Pts: 2x2, Adv
World Champ.
88KG
4F
2011
4250

Roberto Alencar

Roberto Alencar
L
Points
NoGi Worlds
94KG
4F
2012
4273

Antonio Peinado

Antonio Peinado
L
Points
NoGi Worlds
ABS
8F
2012
4368

Joao Miyao

Joao Miyao
L
Adv
World Expo
ABS
SPF
2013
4740

Antonio Peinado

Antonio Peinado
L
Points
World Champ.
ABS
RDS
2013
4957

AJ Agazarm

AJ Agazarm
L
Pts: 0x0, Adv
American NNG
ABS
F
2013
5139

Gustavo Pires

Gustavo Pires
L
Pts: 2x0
IBJJF Pro League
O94KG
SF
2013
5306

Fabiano Leite

L
Kneebar
Pan American
ABS
R2
2014
5387

Rodrigo Fajardo

Rodrigo Fajardo
L
Points
Pan American
88KG
4F
2014
5476

Arnaldo Maidana

Arnaldo Maidana
L
Armbar
FIVE Cali. 2
ABS
SF
2014
5479

J. Friedrich

L
Kneebar
FIVE NoGi C. 2
ABS
SF
2014
5954

Keenan Cornelius

Keenan Cornelius
L
Pts: 0x0, Adv
American Nat.
88KG
F
2014
6046

Arnaldo Maidana

Arnaldo Maidana
L
Armbar
NoGi Worlds
88KG
4F
2014
6093

Jackson Sousa

Jackson Sousa
L
Pts: 2x2, Adv
IBJJF Pro League
94KG
SF
2014
6744

AJ Agazarm

AJ Agazarm
L
Points
Pan American
ABS
R1
2015
6879

Bernardo Faria

Bernardo Faria
L
Pts: 8x0
Pan American
100KG
4F
2015
10498

Kyle Griffin

L
Inside heel hook
EBI 8
84KG
4F
2016
12963

Andre Galvao

Andre Galvao
L
Pts: 8x0
San Diego Open
88KG
SF
2017
16933

Ben Henderson

L
Pts: 2x0
Spider Inv. 4F
ABS
SPF
2018
745

Fernando Piero

Fernando Piero
W
Points
Team Nationals
O88KG
F
2003
984

Bruno Bastos

Bruno Bastos
W
Kneebar
Golden Cup
94KG
4F
2004
988

Todd Margolis

W
Adv
Pan American
ABS
SPF
2004
1006

Rener Gracie

W
Points
Pan American
94KG
4F
2004
1198

Antoine Joude

W
Kneebar
ADCC
99KG
R1
2005
1277

Renato Ferro

W
N/A
Copa do Brasil
O75KG
SF
2005
1374

Leopoldo Canal

W
Points
Pan American
94KG
4F
2006
1375

Rafael Lovato

Rafael Lovato
W
Pts: 2x0
Pan American
94KG
SF
2006
1385

Carlos Portugues

Carlos Portugues
W
Kneebar
Pan American
ABS
R1
2006
1502

Rigoney Castro

W
Armbar
Brasileiro
94KG
SF
2006
1547

M. Costa

W
Armbar
Paulista FPJJ
94KG
F
2007
1575

Eric Shambari

W
Pts: 12x2
GQ All Star Pro
90KG
R1
2007
1577

Chris Downum

W
Pts: 5x0
GQ All Star Pro
90KG
4F
2007
1578

Nathan DuCharm

W
Pts: 2x0
GQ All Star Pro
90KG
SF
2007
1621

E. Arrivabene

W
Choke from back
Pan American
94KG
4F
2007
1622

Flavio Almeida

Flavio Almeida
W
Points
Pan American
94KG
F
2007
1794

Roberto Alencar

Roberto Alencar
W
Points
NoGi Pan Am.
100KG
4F
2007
1968

Paulo Ribeiro

W
Armbar
World Champ.
O100KG
R1
2008
1972

Rafael Eluanger

W
Armbar
World Champ.
O100KG
R2
2008
1979

Tatsui Onosi

W
Kimura
World Champ.
ABS
R1
2008
2220

André Steola

W
RNC
ADCC Trials
88KG
R1
2009
2699

Joao Moncaio

W
Mounted X choke
World Champ.
88KG
R1
2010
2704

Orlando Zanetti

W
Choke from back
World Champ.
88KG
4F
2010
2743

Otavio Sousa

Otavio Sousa
W
Pts: 10x10, Adv
World Champ.
ABS
4F
2010
2979

Ronaldo Antonio

W
Pts: 17x0
World Champ.
ABS
R2
2011
3063

Unknown

W
N/A
World Champ.
88KG
RDS
2011
3065

Ian Mcpherson

Ian Mcpherson
W
Adv
World Champ.
88KG
RDS
2011
4248

Bernardo Tavolaro

W
Points
NoGi Worlds
94KG
R1
2012
4266

Bruno Antunes

W
Pts: 0x0, Adv
NoGi Worlds
ABS
R1
2012
4722

Jaroslaw Konrad

W
Submission
World Champ.
ABS
RDS
2013
4949

Omar Sabha

W
Kimura
American NNG
88KG
SF
2013
4950

Jason Manly

W
Pts: 5x0
American NNG
88KG
F
2013
4955

Osvaldo Moizinho

Osvaldo Moizinho
W
Pts: 4x0
American NNG
ABS
SF
2013
5112

Matt Jubera

W
Points
NoGi Worlds
85KG
SF
2013
5113

Felipe Pena

Felipe Pena
W
Pts: 2x0
NoGi Worlds
85KG
F
2013
5383

Rafael Fraga

W
Pts: 4x0
Pan American
88KG
R1
2014
5478

Josh Hinger

Josh Hinger
W
Pts: 2x0
FIVE NoGi C. 2
ABS
4F
2014
5480

Ruben Coronado

W
Katagatame
FIVE NoGi C. 2
ABS
3PLC
2014
5953

Inacio Neto

Inacio Neto
W
Armbar
American Nat.
88KG
SF
2014
6396

Mike Fowler

Mike Fowler
D
---
Polaris
ABS
SPF
2015
10306

Fabio Leopoldo

Fabio Leopoldo
D
---
Metamoris 7
ABS
SPF
2016
10492

Matt Secor

W
EBI/OT
EBI 8
84KG
R1
2016
Eduardo Telles Highlight

Eduardo Telles vs Rogel Monsalve

Eduardo Telles vs Roberto Godoi