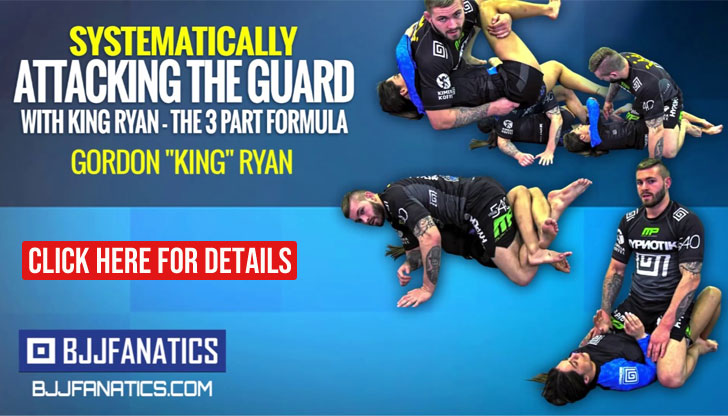 Francisco Cuneo is an Argentinian grappler and a black belt in both judo and jiu-jitsu. Hailed as one of the top judo competitors in South America and a former member of Argentina's National Judo Squad (2005-2014), Cuneo would later transition to BJJ, competing extensively in the International Brazilian Jiu-Jitsu Federation (IBJJF) circuit and earning a black belt under Master Ricardo De La Riva while working also with Murilo Santana and Eduardo Santos.
Francisco Cuneo Jiu-Jitsu
Full Name: Francisco Cuneo
Nickname: Cuneo is often called "Paco" which is a traditional way of shortening the name Francisco in Spanish-speaking nations.
Lineage: Carlos Gracie > Helio Gracie > Carlson Gracie > Ricardo De La Riva > Francisco Cuneo
Main Achievements:
1st Place IBJJF Pan Championship NOGI (2022)
1st Place IBJJF American Nationals NOGI (2022)
2nd Place IBJJF American Nationals (2021)
3rd Place IBJJF Pan Championship NOGI (2020)
Main Achievements (Judo):
2nd Place Pan Championship (2009)
3rd Place Brazil World Cup (2008)
3rd Place PJC World Cup (2012)
3rd Place Olympic Festival (2014)
Weight Division: Peso Leve (76,00 kg / 168.0 lbs)
Favorite Position/Technique: Uchi Mata & Guillotine
Team/Association: Gentle Art / Unity JJ
Francisco Cuneo Biography
Francisco Cuneo was born on October 21, 1984, in Buenos Aires, Argentina, growing up in the Caballito neighborhood.
The first sport Cuneo fell in love with was judo, an activity he started at the age of 16, with sensei Pablo Diaz Soto at a local judo venue named Club Italiano. Deeply embedded in judo culture from the get-go, and supported by coach Diaz Soto, a former instructor at the Argentinian National Judo Squad, Cuneo started making waves in the tournament circuit early on.
In 2004, three years into his judo training, Francisco Cuneo conquered his first Argentinian National. Although only a brown belt at the time, Cuneo was competing in the toughest division of the adult category, the Seniors, a class built for black belts and pro athletes. The title would earn him his black belt rank and a place on Argentina's National Team, a position Francisco kept from 2005-to-2014, there working with sensei Tigran Karhanyan and Paula Pareto.
Although a judoka at heart, Francisco was interested in jiu-jitsu from early in his grappling career, seeing it as a path to a more complete game. A more technical ground approach to complete Cuneo's world-class stand-up skills.
Early on Francisco Cuneo started visiting the jiu-jitsu academies of Sebastian Munoz and Francisco Questa, two BJJ pioneers in Argentina. Following the jiu-jitsu federation's protocol for top-tier judo players, instructors Munoz and Questa promoted Cuneo to purple belt. During these times, Cuneo also trained at Lotus Jiu-Jitsu with Mariano Grana, although the majority of Cuneo's development in BJJ took place through his own research.
In 2014 Francisco Cuneo started a jiu-jitsu class of his own as a De La Riva team affiliate. Although a purple belt in BJJ at the time, Cuneo was already a celebrated judoka with a wealth of experience competing in both rulesets. After continuous visits to Brazil to train, Francisco earned his black belt from Ricardo De La Riva. The promotion took place in late 2016.
With time, Francisco's interest in jiu-jitsu drove him away from judo. He became a full-time BJJ practitioner in 2019, after earning an invite from Eduardo Santos of the Gentle Art Studio (Lotus Club New York) to travel to America. While in New York City, Francisco worked with both Gentle Art and Unity Jiu-Jitsu.
Francisco Cuneo Grappling Record
84 WINS
BY POINTS


BY ADVANTAGES




BY SUBMISSION




BY DECISION




BY PENALTIES




BY DQ



14 SUBMISSIONS WINS
#fad11b
North south choke
7
1
59 LOSSES
BY POINTS


BY ADVANTAGES




BY SUBMISSION




BY DECISION




BY PENALTIES




BY DQ



17 SUBMISSIONS LOSSES
#86e620
Straight ankle lock
12
2
#224aba
Mounted X choke
6
1
Francisco Cuneo Fight History
ID
Opponent
W/L
Method
Competition
Weight
Stage
Year
17090

Gabriel Brasil

L
Points
Vitoria NGO
73KG
SF
2018
17097

Fabio Caloi

Fabio Caloi
L
Straight ankle lock
Vitoria NGO
ABS
SF
2018
17905

Aquila de Paula

L
Points
Curitiba SPO
76KG
SF
2018
17932

Luciano Bernert

L
Points
Curitiba SPNGO
73KG
F
2018
18432

Anselmo Gomes

L
Kneebar
Salvador SPO.
76KG
F
2018
18611

Frederico Silva

L
Pts: 2x2, Adv
NoGi Worlds
73KG
4F
2018
19745

Servio Tulio

Servio Tulio
L
RNC
ADCC SP Trials
77KG
R1
2019
19821

Leonilson Ferreira

L
Points
Rio FO
82KG
SF
2019
19839

Ygor Rodrigues

Ygor Rodrigues
L
Points
Rio Fall NGO
79KG
F
2019
19842

Andre Aguiar

L
Points
Rio Fall NGO
ABS
F
2019
20531

Romario Teodoro

L
Points
Salvador FO
82KG
F
2019
20542

Romario Teodoro

L
Points
Salvador FNGO
79KG
F
2019
22680

Pedro Veras

Pedro Veras
L
Toe hold
NYC Fall NGO
73KG
SF
2019
24434

Ronaldo Junior

Ronaldo Junior
L
Triangle
Atlanta Open
ABS
4F
2020
24467

Rodrigo Francioni

Rodrigo Francioni
L
Pts: 2x0
No Gi Pan Am.
73KG
SF
2020
24517

Kaynan Duarte

Kaynan Duarte
L
Armbar
No Gi Pan Am.
ABS
8F
2020
25229

Ali Monfaradi

Ali Monfaradi
L
Pts: 5x2
Dallas NGO
73KG
SF
2021
25247

Oliver Taza

Oliver Taza
L
Pts: 6x2
Dallas NGO
ABS
4F
2021
25455

Mauricio Bobadilla

L
N/A
Orlando NGO
73KG
SF
2021
25474

Giancarlo Bodoni

Giancarlo Bodoni
L
Straight ankle lock
Orlando NGO
ABS
4F
2021
25828

Luan Andrei

Luan Andrei
L
Pts: 4x0
Houston NGO
73KG
SF
2021
26027

Kieran Kichuk

Kieran Kichuk
L
Triangle
N.Orleans NGO
73KG
F
2021
26039

Matheus Gabriel

Matheus Gabriel
L
Pts: 4x0
N.Orleans NGO
ABS
SF
2021
26113

Joao Mendes

Joao Mendes
L
Pts: 0x0, Adv
NoGi Pan Am.
73KG
8F
2021
26284

JZ Cavalcante

L
Armbar
Miami NGO
79KG
F
2021
26562

Sergio Ardila

Sergio Ardila
L
Pts: 0x0, Adv
Atlanta NGO
79KG
SF
2021
26575

Diego Ramalho

Diego Ramalho
L
Pts: 2x0
Atlanta NGO
ABS
F
2021
26729

Luan Andrei

Luan Andrei
L
Pts: 2x0
American NGN
79KG
SF
2021
27013

Luan Andrei

Luan Andrei
L
Pts: 4x0
Orlando NGO
79KG
F
2021
27024

Helton Jose

Helton Jose
L
Referee Decision
Orlando NGO
ABS
SF
2021
27061

Michael Salazar

L
Points
Phoenix NGO
79KG
F
2021
27363

Dante Leon

Dante Leon
L
Pts: 9x0
Charleston SNG
ABS
SF
2021
30684

Rodrigo Gortari

L
Referee Decision
Miami WO
82KG
SF
2022
30692

Kennedy Maciel

Kennedy Maciel
L
Pts: 0x0, Adv
Miami WO
ABS
R1
2022
30788

Andy Murasaki

Andy Murasaki
L
Mounted X choke
Dallas Open
82KG
SF
2022
30825

Oliver Taza

Oliver Taza
L
Pts: 4x0
Dallas NGO
79KG
SF
2022
30838

Matheus Galvao

L
Points
Dallas NGO
ABS
SF
2022
31242

Andre Gois

Andre Gois
L
Pts: 7x0
Charleston Open
82KG
SF
2022
31264

Hugo Marques

Hugo Marques
L
RNC
Charleston NGO
79KG
F
2022
31268

Vagner Rocha

Vagner Rocha
L
RNC
Charleston NGO
ABS
SF
2022
32554

Oliver Taza

Oliver Taza
L
Referee Decision
Atlanta SPNGO
79KG
SF
2022
32561

Joao Costa

Joao Costa
L
Pts: 0x0, Pen
Atlanta SPNGO
ABS
F
2022
32795

Matheus Galvao

L
N/A
Houston NGO
79KG
SF
2022
32806

Andre Porfirio

Andre Porfirio
L
Calf slicer
Houston NGO
ABS
SF
2022
33803

Dante Leon

Dante Leon
L
Points
Orlando SMNGO
79KG
SF
2022
33815

Vagner Rocha

Vagner Rocha
L
Points
Orlando SMNGO
ABS
4F
2022
34799

Eduardo Avelar

Eduardo Avelar
L
Pts: 2x0
JJ Con NG
79KG
SF
2022
35597

Henrique Cardoso

Henrique Cardoso
L
Pts: 4x0
NoGi Pan
ABS
SF
2022
35844

Diego Ramalho

Diego Ramalho
L
Referee Decision
Charleston FNGO
ABS
SF
2022
35920

Andy Murasaki

Andy Murasaki
L
Pts: 4x0
Houston FNGO
79KG
F
2022
35933

Victor Hugo

Victor Hugo
L
Pen
Houston FNGO
ABS
F
2022
36219

Roosevelt Sousa

Roosevelt Sousa
L
RNC
Nashville NGO
ABS
F
2022
36717

Pedro Marinho

Pedro Marinho
L
RNC
Waco NGO
ABS
F
2022
36770

Victor Hugo

Victor Hugo
L
Short choke
NoGi Worlds
ABS
4F
2022
36847

John Combs

John Combs
L
RNC
NoGi Worlds
79KG
4F
2022
41228

Eduardo Avelar

Eduardo Avelar
L
Referee Decision
American NNG
79KG
SF
2023
41249

Elder Cruz

Elder Cruz
L
Pts: 8x0
American NNG
ABS
4F
2023
41599

Enrique Galarza

L
N/A
Orlando SMNGO
79KG
4F
2023
43270

Matheus Galvao

L
Pts: 0x0, Adv
NoGi Pan
79KG
4F
2023
17089

Italo Gules

W
North south choke
Vitoria NGO
73KG
4F
2018
17095

Juan Viana

W
Katagatame
Vitoria NGO
ABS
4F
2018
17187

Luciano Bernert

W
Points
Floripa W. NGO
73KG
SF
2018
17188

Osmar Telles

W
RNC
Floripa W. NGO
73KG
F
2018
17899

Andre Nagaishi

W
Points
Curitiba SPO
76KG
R1
2018
17902

Matheus Linhares

W
Points
Curitiba SPO
76KG
4F
2018
17931

Alexandre Vieira

Alexandre Vieira
W
Points
Curitiba SPNGO
73KG
SF
2018
18430

Lucas Rocco

W
Points
Salvador SPO.
76KG
4F
2018
18431

Pedro Asevedo

W
Points
Salvador SPO.
76KG
SF
2018
18437

Bruno Santos

W
Points
Salvador SPNGO
73KG
SF
2018
18438

Deyvid Matos

W
Guillotine
Salvador SPNGO
73KG
F
2018
18606

Rafael Domingos

W
Kimura
NoGi Worlds
73KG
R1
2018
18610

Dustin Akbari

W
Points
NoGi Worlds
73KG
8F
2018
19819

Giovani Bernardo

W
Points
Rio FO
82KG
4F
2019
19837

Antonio Palagano

W
Points
Rio Fall NGO
79KG
SF
2019
19840

Marcos Goulart

W
Points
Rio Fall NGO
ABS
4F
2019
19841

Christofer Feijo

W
Points
Rio Fall NGO
ABS
SF
2019
20528

Afonso Silva

W
Points
Salvador FO
82KG
4F
2019
20529

Alisson Ferraz

W
Points
Salvador FO
82KG
SF
2019
20541

Lucas Lima

W
Points
Salvador FNGO
79KG
SF
2019
22679

Matthew Kocal

W
Armbar
NYC Fall NGO
73KG
4F
2019
24463

Adam Benayoun

Adam Benayoun
W
Referee Decision
No Gi Pan Am.
73KG
4F
2020
25227

Todd Walling

W
Points
Dallas NGO
73KG
4F
2021
25453

Marco Teran

W
N/A
Orlando NGO
73KG
4F
2021
25826

Daniel Diniz

Daniel Diniz
W
Adv
Houston NGO
73KG
4F
2021
26037

Robert Dunn

W
Pts: 12x0
N.Orleans NGO
ABS
4F
2021
26198

Lucas Norat

Lucas Norat
W
Pts: 0x0, Adv
NoGi Pan Am.
ABS
R1
2021
26283

Giann Moramarco

W
Points
Miami NGO
79KG
SF
2021
26573

Damion Oranday

Damion Oranday
W
Points
Atlanta NGO
ABS
SF
2021
26724

Juan Armendariz

W
Pts: 0x0, Adv
American NGN
79KG
8F
2021
26726

Saul Viraya

W
Pts: 2x2, Adv
American NGN
79KG
4F
2021
27012

Adolfo Arias

W
Points
Orlando NGO
79KG
SF
2021
27022

Adolfo Suarez

W
Points
Orlando NGO
ABS
4F
2021
27060

Jeremiah Vance

W
Pts: 6x0
Phoenix NGO
79KG
SF
2021
27353

Rodrigo Gortari

W
Pts: 0x0, Adv
Charleston SNG
79KG
SF
2021
27354

Tyler Scalisi

W
Guillotine
Charleston SNG
79KG
F
2021
27360

Charles McGuire

W
Armbar
Charleston SNG
ABS
4F
2021
30786

Austin Oranday

W
Pts: 6x0
Dallas Open
82KG
4F
2022
30824

Matheus Galvao

W
Pts: 0x0, Adv
Dallas NGO
79KG
4F
2022
30836

Bryan Peterson

W
Points
Dallas NGO
ABS
4F
2022
31263

Joao Albuquerque

W
Guillotine
Charleston NGO
79KG
SF
2022
32560

Clay Mayfield

W
Guillotine
Atlanta SPNGO
ABS
RR
2022
32605

Oliver Taza

Oliver Taza
W
N/A
Chicago SPNGO
73KG
SF
2022
32606

Michael Backman

W
N/A
Chicago SPNGO
73KG
F
2022
32805

Andrew Kimler

W
N/A
Houston NGO
ABS
4F
2022
33370

Andrew Pardee

W
Pts: 2x0
Washington NGO
79KG
RR
2022
33372

Robert Sullivan

W
Pts: 2x0
Washington NGO
79KG
F
2022
33469

Thiago Girundi

W
RNC
American NGN
79KG
SF
2022
33470

Edmund Kim

W
Pts: 3x0
American NGN
79KG
F
2022
34412

Oliver Seng

W
N/A
N. Haven NGO
79KG
SF
2022
35241

Colon Santana

W
Aoki lock
Atlanta FNGO
79KG
SF
2022
35243

Sergio Ardila

Sergio Ardila
W
Pts: 0x0, Adv
Atlanta FNGO
79KG
F
2022
35543

Clay Mayfield

W
Pts: 2x0
NoGi Pan
79KG
8F
2022
35547

Alexandre Molinaro

Alexandre Molinaro
W
Pts: 0x0, Adv
NoGi Pan
79KG
4F
2022
35549

Matheus Galvao

W
Referee Decision
NoGi Pan
79KG
SF
2022
35588

Alexander Seaver

W
N/A
NoGi Pan
ABS
8F
2022
35594

Igor Schneider

Igor Schneider
W
Pts: 0x0, Adv
NoGi Pan
ABS
4F
2022
35835

Clay Mayfield

W
Points
Charleston FNGO
79KG
SF
2022
35836

Gialysson Freitas

Gialysson Freitas
W
Points
Charleston FNGO
79KG
F
2022
35840

Ricky Semiglia

W
Pts: 11x0
Charleston FNGO
ABS
4F
2022
35919

Vinicius Wong

W
Pts: 7x0
Houston FNGO
79KG
SF
2022
35927

Vinicius Wong

W
Adv
Houston FNGO
ABS
4F
2022
35932

Felipe Costa

Felipe Costa
W
Points
Houston FNGO
ABS
SF
2022
36204

Lucas Brito

W
Pts: 2x0
Nashville NGO
79KG
SF
2022
36205

Jonathan Lane

W
Katagatame
Nashville NGO
79KG
F
2022
36215

Lucas Brito

W
Pts: 7x2
Nashville NGO
ABS
4F
2022
36217

Clay Mayfield

W
Pts: 7x2
Nashville NGO
ABS
SF
2022
36554

Joao Costa

Joao Costa
W
Points
NHaven FNGO
97KG
F
2022
36558

Alexander Seneco

W
Points
NHaven FNGO
ABS
4F
2022
36560

Brian Beaury

Brian Beaury
W
Points
NHaven FNGO
ABS
SF
2022
36708

Michael Esquivel

W
Pts: 12x0
Waco NGO
85KG
SF
2022
36709

Avery Brooks

W
Referee Decision
Waco NGO
85KG
F
2022
36713

Erick Barreto

W
Guillotine
Waco NGO
ABS
4F
2022
36716

Lukete Silva

Lukete Silva
W
Referee Decision
Waco NGO
ABS
SF
2022
36763

Freddy Vosgrone

W
Pts: 0x0, Adv
NoGi Worlds
ABS
8F
2022
36845

Rolando Samson

Rolando Samson
W
Pts: 2x0
NoGi Worlds
79KG
8F
2022
40812

Jose Perez

W
N/A
Indianap. NGO
79KG
SF
2023
40813

Max Hanson

W
N/A
Indianap. NGO
79KG
F
2023
41227

Mustafa Ciplak

W
Pts: 0x0, Adv
American NNG
79KG
4F
2023
41767

Brian Beaury

Brian Beaury
W
Points
NYC NGO
ABS
F
2023
42360

Craig Edmondson

W
Pts: 4x0
JJ Con NG
79KG
4F
2023
42361

Hayden Buckner

W
Pts: 46x0
JJ Con NG
79KG
SF
2023
42363

Matthew Kwan

W
Pts: 0x0, Adv
JJ Con NG
79KG
F
2023
43264

Nick Martinez

W
Pts: 2x0
NoGi Pan
79KG
8F
2023