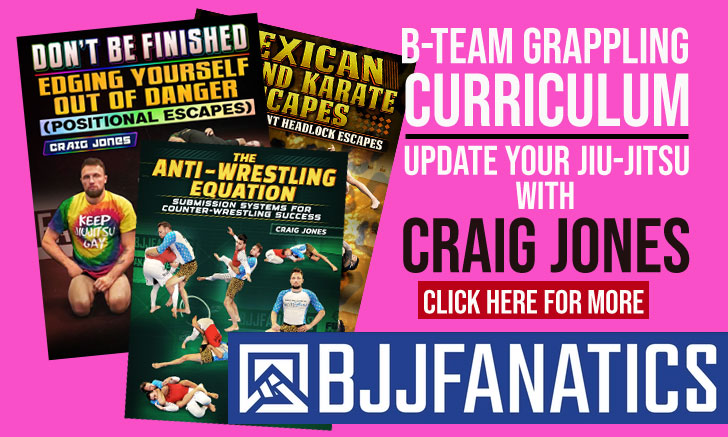 Wallid Ismail is a legendary Brazilian jiu-jitsu (BJJ) black belt who competed for the Carlson Gracie Academy from the 1980's decade until the early 2000s in both BJJ and mixed martial arts (MMA). Wallid was famed for his "never say die" attitude, his loyalty to his instructor Carlson Gracie, his "clashed" with a few members of the Gracie family as well as his involvement in the jiu jitsu vs luta livre rivalry during the 1990s. After retiring from competitive jiu-jitsu and MMA Wallid Ismail became a fight promoter, leading the Jungle Fight organization in Brazil.
Wallid Ismail Jiu-Jitsu
Full Name: Wallid Farid Ismail
Nickname: "Paraíba" was a name given to him by his Carlson Gracie Team pears. It is a name often applied to those who come from outside Rio de Janeiro, a similar adjective to "Red Neck" in America.
Lineage:  Carlos Gracie > Helio Gracie >Carlson Gracie > Wallid Ismail
Main Achievements:
Desafio – Jiu Jitsu vs. Luta Livre (1991 – no holds barred);
II Oscar de Jiu-Jitsu Contra a Violência Champion (1998 – Grappling);
Desafio Wallid vs Renzo (1993 won by 6×0)
Defeated Ralph Gracie (brown belt division 2×0)
Favorite Position/Technique: Guard Passing.
Weight Division: Medium and Medium Heavyweight.
Team/Association: Carlson Gracie Academy.
Wallid Ismail Biography
Wallid was born on the 23rd of February 1968 in the city of Manaus (State of Amazon in Brazil). He started training Jiu-Jitsu in 1980 in his home town, under Ary Almeida, fighting for the Amazonian in many local competitions.
Having a tremendous belief in himself, amplified by his wins under Almeida's team, Wallid decided he wanted to dedicate himself to fighting and opted to move to Rio de Janeiro to train under Carlson Gracie. The year was 1984 and it took him 2 days and 2 nights on a dusty bus to get to Rio but as soon as he arrived Ismail made an impression. As he walked into the famous Carlson Gracie Academy in Copacabana, there was only one very flimsy man sitting on the mat, Wallid asked him if he wanted to do a light sparring with him (grappling with palm strikes and kicks) before class to which the man accepted. They sparred and Wallid took a very nasty beating from the smaller guy. As the students started to arrive, the pair stopped their sparring and Ismail walked to the changing rooms to put on his kimono for the class (Wallid described himself as dumbfounded with the grinding he had just received from such a small guy). When he returned to the mats he realized that the small guy was the assistant coach at Carlson's and a living legend of the sport today – Ricardo de la Riva.
Carlson Gracie immediately took a shine on the Amazon man, though the Wallid from those days looked rather different from the man we recognize today, described by the late Carlson as a "hairy and chubby guy", though his unbreakable desire to succeed was the same. As Ismail did not have any money, Carlson allowed him to stay without paying (something Carlson often did to those less fortunate).
In his first tournament in Rio de Janeiro, Wallid had only 3 months of training under Carlson Gracie and only knew how to pass the guard. Being astute as he has always been, he started spreading the rumor at the venue that he was a famous Judo guy from Manaus, and his plan worked! When he got to fight, everyone immediately pulled guard on him (afraid to give away the 2 points for the throw) and Wallid managed to deploy his guard passing game.
Many are the stories surrounding this BJJ legend, one of them happened in the early 1990s after a scuffle between Rickson Gracie (from Jiu-Jitsu) and Hugo Duarte (from Luta Livre) in a Rio de Janeiro beach, the Luta Livre entourage invaded the Gracie's academy to tare the place up and the students that were inside. When Wallid heard through a phone call that this was happening (though he was from the Carlson Gracie Academy, a bitter rival of the "Academia Gracie") he ran to the Gracie academy (on his own) in order to help fight off the Luta Livre guys.
Wallid was always a great defender of Jiu-Jitsu another example of this was when at the peak of the Luta Livre (another Brazilian form of Grappling) and Jiu Jitsu's rivalry a challenge was issued to decide who was, in fact, the best "Vale Tudo" (no holds barred) style in Brazil. The two styles had often clashed in both competitions and the streets and the event was agreed to settle the dispute once and for all. Masters of both Martial arts were chosen, and though Wallid was just a brown belt at the time, he begged Carlson Gracie for a fight and was so persistent that Master Carlson agreed. Ismail was the only non-black belt competing that day but he did his master proud, winning his fight after a grueling 16 minutes by TKO, just like all his BJJ peers. This was a defining moment in BJJ's history as if Luta Livre had won, Jiu Jitsu's good name would have probably faded into oblivion.
Another one of Wallid's famous moments was when he fought as a brown belt in a local BJJ tournament against "Jucao", at a certain point in the fight as Ismail was down 9×0, Jucao managed to sink in a deep armbar hyperextending the Amazonian's arm popping it several times. Ismail refused to give up, managing to escape and ending up winning the fight on points.
A hard defender of Carlson Gracie, he always supported his struggle against the more established branch of the Gracie's, the guys from Academia Gracie (Helio Gracie's side of the family) promising to defend the Carlson flag against everyone. Staying true to his pledge, he conquered the first win over a Gracie in a brown belt fight against Ralph Gracie in Rio Sports Centre. He fought again against another Gracie a few years later (1993), this time as a Black Belt and gathered another win, the victim was the legend Renzo Gracie.
For years Wallid challenged the heads of the Gracie clan, people like Rickson and Royce stating that he would fight them in any style anywhere. Finally in 1998 Royce accepted a challenge in Jiu-Jitsu, but imposed a different set of rules, no time limit and no point system. The fight was set for a charity event called "Jiu-Jitsu Contra a Violência" (Jiu Jitsu against violence) and the fight had incredible coverage from all over Brazil, it was then that Wallid expressed his trademark phrase for the first time, saying to an interviewer: "Se ele pensa que vai vir ao Rio para pegar sol, está muito enganado, pois vai encontrar o tempo ruim o tempo todo" – If he (Royce) thinks he is coming over to catch some sun, he is gravely mistaken for he is going to have a bad weather/time all the time" (time and weather are the same word in Portuguese). Wallid ended the fight with his trademark Clock Choke (Estrangulamento de Relogio).
After the fight with Royce Wallid enjoyed a period of great recognition. He was one of the very first Jiu-Jitsu fighters to be able to live off BJJ in Brazil, living solely from his prize money and his sponsors.
Probably one of the greatest rivalries in BJJ at the time was the one between Wallid and the late Ryan Gracie, the quarrel started in a beach in Copacabana when Ryan (who was with friends and teammates) assaulted Wallid who was on his own. Wallid later challenged Ryan several times for a fight (like in the interview you can confirm bellow) but the challenge was always ducked by the Gracie.
Another famous moment in Wallid's life was his street brawl against Edson Carvalho a tough Judo and Jiu-Jitsu black belt who had at the time joined an obscure martial art led by a man who called himself "Mestre da Morte" (Master of Death) that claimed his fighting style (Yawara) could kill someone with just a touch of his finger. This famous brawl happened at Mehdi's judo club, an academy visited by many of Carlson Gracie's students to improve their Judo technique. Edson Carvalho had had some divergences with Wallid in one of the classes, in which both men said bad things to each other. 3 days after this altercation, Wallid returned to the Judo Club where he trained in the early morning training session. As he finished he went to the locker room and was preparing to leave when Edson Carvalho rampaged into the room and started hitting him hard, Wallid was overwhelmed by Carvalho and gave in to the beating. The club owner, Mr Mehdi seeing this kicked both men out of his door wanting no part of the affair. Edson then threw Wallid down the stairway and repeatedly beat him. Some say that Edson's brother also joined the "party" and helped beat Wallid unconscious. The Police arrived after almost half an hour of this, and Ismail was unconscious and completely disfigured, the attack had ripped his nose apart and his head was so swollen up that you could not see one of the hears. He spent a week at the hospital in severe condition in what was considered by many as an attempt of murder.
Edson Carvalho's Master, "Mestre da Morte" paraded himself with Wallid's bloodied shirt in Copacabana – Rio de Janeiro. Carlson Gracie was in the USA when he heard about the unfortunate event and came to Brazil on the first plane he could find, he tracked "Mestre da Morte" and had to be pulled away from the Yawara master. – All these events were described by Osvaldo Paquetá and "Bebeo" Duarte on the intheguard.tv website a few years ago.
In the early 2000s Wallid ended his MMA career with a 9-3-0 record and opened his own academy (with Carlson's approval) called Brazil Dojo together with his long term friend, fight promoter "Antonio" Inoki, while having plans to bring MMA back to Rio de Janeiro. The sport of Mixed Martial Arts had been away from the Meca of Jiu-Jitsu for a long time after the troubled 1990s were continuous brawls in the stands of the events gave a bad name to MMA. He started this MMA event in his native Manaus in 2003 were he gathered some of the best in Mixed Martial Artists in the country, the event – Jungle Fight – proved to be a success, but it was very hard to run his academy and new fight promotion together, because of that, he decided to abandon his Brazil Dojo project and focus solely on "Jungle Fight".
Jungle Fight grew stronger with every event, and in 2008 Wallid managed to materialize his long term goal of having the event in Rio de Janeiro, and today it is arguably the strongest MMA promotion in Brazil.
Apart from J.F. Wallid Ismail is also the manager of an up and coming fighters such as UFC's Paulo Thiago and Sergio Moraes.
Wallid Ismail Grappling Record
2 WINS
BY POINTS


BY ADVANTAGES




BY SUBMISSION




BY DECISION




BY PENALTIES




BY DQ



1 SUBMISSION WINS
#214eb8
Clock choke
100
1
2 LOSSES
BY POINTS


BY ADVANTAGES




BY SUBMISSION




BY DECISION




BY PENALTIES




BY DQ



0 SUBMISSION LOSSES
Wallid Ismail Fight History
ID
Opponent
W/L
Method
Competition
Weight
Stage
Year
57

JJ Machado

JJ Machado
L
Referee Decision
Atlantico Sul
82KG
F
1991
91

Roberto Roleta

Roberto Roleta
L
Pts: 4x0
World Champ.
88KG
SF
1996
55

Renzo Gracie

Renzo Gracie
W
Pts: 6x0
Desafio WxR
82KG
SPF
1993
249

Royce Gracie

Royce Gracie
W
Clock choke
Oscar de JJ
ABS
SPF
1998
Wallid Ismail vs Royce Gracie

Wallid Ismail vs Johil de Oliveira

Wallid Ismail vs Shungo Oyama

Wallid Ismail vs Jean Jaques Machado