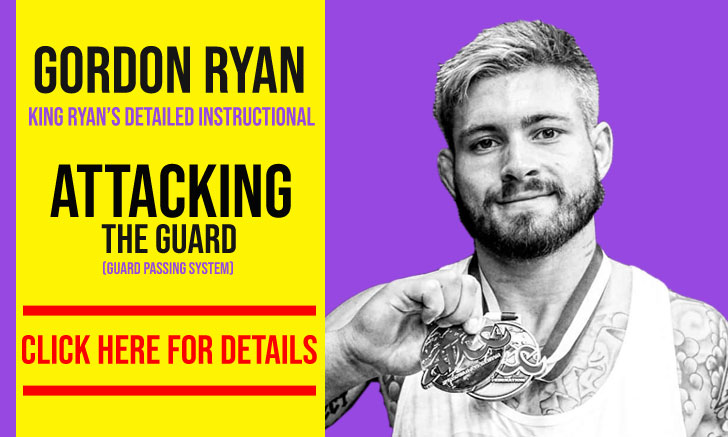 Guilherme Mendes is a Brazilian jiu jitsu black belt under Ramon Lemos as well as one of the main figures in the Atos Jiu Jitsu team, being also one of the best "peso pluma" (64,00 kg / 141.5 lbs) competitors to have ever competed in the sport. As well as being the first Atos team member to achieve a gold medal at the International Brazilian Jiu Jitsu Federation (IBJJF) World Championship (2009), Guilherme Mendes is also the co-founder of the Art of Jiu Jitsu academy and the brother of another jiu jitsu legend in Rafael Mendes.
Guilherme Mendes Jiu Jitsu
Full Name: Guilherme Mendes Godoy
Lineage: Mitsuyo Maeda > Carlos Gracie > Carlson Gracie > Andre Pederneiras > Ramon Lemos > Guilherme Mendes
Main Achievements @Black Belt:
IBJJF World Champion (2009/2011/2012/2014)
IBJJF Pan American Champion (2013)
IBJJF European Open Champion (2010/2011)
CBJJ Brazilian National Champion (2010)
IBJJF Pan American Championship Runner-up (2012)
IBJJF Pan American Championship 3rd Place (2009)
Favourite Jiu Jitsu Technique/Position: Stack Pass (Emborcada), Leg Drag, Shoulder Pressure
Weight Division: Peso Pluma / Light Featherweight (64Kg)
Team/Association: Atos Jiu Jitsu
Guilherme Mendes Biography
Guilherme Mendes was born in 1988 in the town of Rio Claro, now home of the famous Atos Academy. Guilherme started training together with his younger brother Rafael in 2001 through their cousin who soon understood the brothers had potential and enlisted them in a kids jiu jitsu program to introduce children to sports. Their coaches were both from Nova Uniao (Ramon Lemos and Leonardo Santos). By the time the brothers achieved their yellow belts, Coach Leonardo felt the need to move to Rio de Janeiro in order to become a professional Jiu Jitsu competitor, and so Ramon Lemos took full responsibility of the academy.
Ramon Lemos became a huge influence in both of the Mendes brothers, as their parents split and their father left the scene. With time, the Mendes brothers name started to be mentioned more and more by the BJJ Media in Brazil, as Guilherme and Rafael won almost every major tournament they entered as blue, purple, and brown belts. Their "crowning" as jiu jitsu black belts came in October 2008  and had several mentions in the press, namely in important streams such as Tatame.com.br.
As their mentor Ramon changed teams throughout the years (first Nova Uniao, then a brief period in Brasa and the later Atos), so did the Mendes Brothers. In 2012 Guilherme and his brother Rafael moved to the United States of America, settling there and opening their own gym in California, a top of the range facility which the Mendes brothers opened with the support of important sponsors such as RVCA.
On May 19, 2015 Guilherme Mendes announced that he would be retiring from competitive Brazilian jiu jitsu to concentrate on helping his students and setting a family. Guilherme held the world jiu jitsu title in his weight division at the time, he was 26 years old.
Guilherme Mendes Grappling Record
42 WINS
BY POINTS


BY ADVANTAGES




BY SUBMISSION




BY DECISION




BY PENALTIES




BY DQ



22 SUBMISSIONS WINS
#214eb8
Baseball choke
27
6
#86e620
Choke from back
14
3
#22c9a5
Standing Brabo Ck
5
1
8 LOSSES
BY POINTS


BY ADVANTAGES




BY SUBMISSION




BY DECISION




BY PENALTIES




BY DQ



1 SUBMISSION LOSSES
#214eb8
Choke from back
100
1
Guilherme Mendes Fight History
ID
Opponent
W/L
Method
Competition
Weight
Stage
Year
2120

Rubens Charles

Rubens Charles
L
Choke from back
World Pro.
65KG
4F
2009
2139

Mario Reis

Mario Reis
L
Pts: 10x10, Adv
Pan American
70KG
SF
2009
2623

Rafael Mendes

Rafael Mendes
L
Pts: 4x2
World Pro.
65KG
F
2010
2654

Paulo Mello

L
Referee Decision
World Champ.
64KG
R1
2010
2771

Augusto Mendes

Augusto Mendes
L
Pts: 9x0
Team Nationals
68KG
F
2010
2884

Augusto Mendes

Augusto Mendes
L
Adv
World Pro.
65KG
4F
2011
3556

Bruno Malfacine

Bruno Malfacine
L
Pts: 2x0
Pan American
64KG
F
2012
4750

Daniel Beleza

Daniel Beleza
L
Referee Decision
World Champ.
64KG
4F
2013
2303

Pablo Silva

Pablo Silva
W
Pts: 4x2
World Champ.
64KG
4F
2009
2307

Carlos Esquisito

Carlos Esquisito
W
Adv
World Champ.
64KG
SF
2009
2309

Samuel Braga

Samuel Braga
W
Adv
World Champ.
64KG
F
2009
2469

Edivaldo Ferreira

W
Choke from back
European
64KG
SF
2010
2470

Pablo Silva

Pablo Silva
W
Adv
European
64KG
F
2010
2492

Marcos Alexandre

W
Choke from back
WPC SD trials
65KG
SF
2010
2636

Gabriel Moraes

Gabriel Moraes
W
Pts: 4x0
Brasileiro
64KG
F
2010
2825

Leo Saggioro

Leo Saggioro
W
Pts: 0x0, Adv
European
70KG
4F
2011
2919

Diego Fernandes

W
Pts: 2x0
World P. NoGi
64KG
R1
2011
2988

Milton Carlos

W
Choke
World Champ.
64KG
RDS
2011
3082

Laercio Fernandes

Laercio Fernandes
W
Cross choke
World Champ.
64KG
4F
2011
3114

Samuel Braga

Samuel Braga
W
Pts: 4x2
World Champ.
64KG
SF
2011
3159

Baret Yoshida

Baret Yoshida
W
Baseball choke
San Diego Trials
65KG
F
2011
3160

Ed Ramos

W
Pts: 8x0
San Diego Trials
65KG
SF
2011
3551

Francielo Costa

W
Points
Pan American
64KG
4F
2012
3555

Henrique Rezende

W
Lapel Choke
Pan American
64KG
SF
2012
3705

Laercio Fernandes

Laercio Fernandes
W
Pts: 2x0
SD World Trials
65KG
F
2012
3933

Mark Ramos

Mark Ramos
W
Brabo Choke
World Champ.
64KG
R2
2012
3937

Henrique Rezende

W
Pts: 19x0
World Champ.
64KG
4F
2012
3939

Pablo Silva

Pablo Silva
W
Standing Brabo Ck
World Champ.
64KG
SF
2012
3940

Laercio Fernandes

Laercio Fernandes
W
Referee Decision
World Champ.
64KG
F
2012
4150

Pablo Silva

Pablo Silva
W
Baseball choke
Houston Open
64KG
F
2012
4514

Unknown

W
Points
Pan American
64KG
4F
2013
4516

Thomas Lisboa

Thomas Lisboa
W
Pts: 10x0
Pan American
64KG
SF
2013
4517

Laercio Fernandes

Laercio Fernandes
W
Pts: 4x2
Pan American
64KG
F
2013
4745

Geoffrey Villareal

W
Baseball choke
World Champ.
64KG
R1
2013
5112

Osvaldo Moizinho

Osvaldo Moizinho
W
Points
SF Open
70KG
SF
2013
5121

Gabriel Martins

W
Points
Houston Open
70KG
SF
2013
5122

Unknown

W
Toe hold
Rickson Cup
64KG
R1
2013
5123

Unknown

W
Armbar
Rickson Cup
64KG
4F
2013
5124

Unknown

W
Choke
Rickson Cup
64KG
SF
2013
5125

Unknown

W
Brabo choke
Rickson Cup
64KG
F
2013
5251

Samir Chantre

Samir Chantre
W
Baseball choke
Metamoris 3
ABS
SPF
2014
5706

Paulo Santana

W
Submission
World Champ.
64KG
8F
2014
5712

Kaneko

W
Choke
World Champ.
64KG
4F
2014
5713

Carlos Esquisito

Carlos Esquisito
W
Pts: 7x2
World Champ.
64KG
SF
2014
5715

Paulo Miyao

Paulo Miyao
W
Adv
World Champ.
64KG
F
2014
6181

Tsukada Ichitaro

W
Baseball choke
Rickson Cup
64KG
4F
2014
6182

Lee Hee Tae

W
Baseball choke
Rickson Cup
64KG
F
2014
6190

Nakamura Yuuta

W
Choke from back
Rickson Cup
ABS
SF
2014
6608

Abi Muradov

W
Brabo choke
Berkut Open
ABS
SPF
2015
6614

Abi Muradov

W
Toe hold
Berkut Open NoGi
ABS
SPF
2015
Guilherme Mendes Highlight

Guilherme Mendes vs Baret Yoshida

Guilherme Mendes vs Sebastian Lali

Guilherme Mendes vs Raoni Barcelos