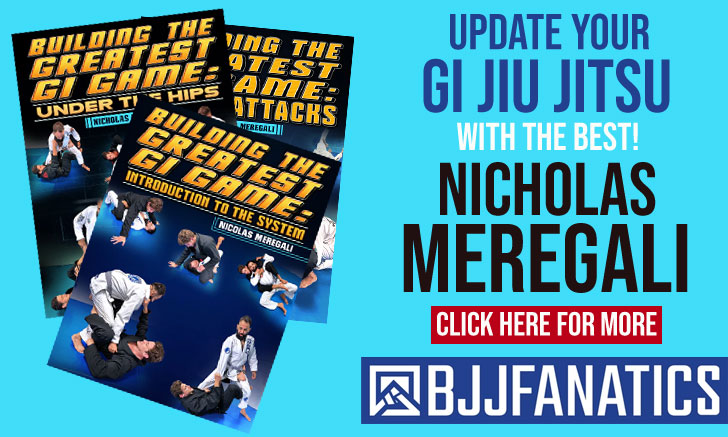 Leonardo Vieira, also known as Leozinho or simply Leo Vieira, is a Brazilian Jiu-Jitsu black belt under Romero Cavalcanti, being famous for combining one of the most crowd-pleasing games in BJJ with an amazing track record. Leo Vieira was also the co-founder of important teams such as Brasa Clube de Jiu-Jitsu and Checkmat BJJ, becoming in the process one of grappling's most important coaches by developing athletes such as Marcus Almeida 'Buchecha', Lucas Leite, João Assis, and many others. Leozinho is also one of the Top BJJ Competitors of All Time by BJJ Heroes.
Leonardo Vieira Jiu Jitsu
Full Name: Leonardo Alcantara Vieira
Nickname: "Leozinho" which means little Leonardo, or just Leo.
Lineage: Carlos Gracie > Helio Gracie > Rolls Gracie > Romero Cavalcanti > Leonardo Vieira
Main Achievements:
1st Place ADCC (2003, 2005)
1st Place IBJJF World Championship (1999)
1st Place IBJJF Pan Championship (2002/2004)
1st Place CBJJ Brazilian Nationals (1998)
2nd Place ADCC (2011/2007)
2nd Place IBJJF World Championship (1997)
3rd Place IBJJF World Championship (2000)
Main Achievements:
1st Place IBJJF World Championship (1996 brown)
Weight Division: Peso Leve (76 kg / 167 lbs)
Favorite Position/Technique: Brabo Choke, Guard Passing.
Association/Team: Checkmat
Leozinho Vieira Biography
Leonardo Vieira was born on the 23rd of March 1976, in Rio de Janeiro, Brazil.
The son of a janitor Leonardo was raised in humble conditions, starting his grappling tuition at the Academia Master with Romero Cavalcanti at the age of 6. In 1993 his Cavalcanti merged with a few of his former students from the Academia Strike to formed Team Alliance, Leo competed for this new team for many years, receiving his black belt under the Alliance banner when he was 21 years old, from the hands of his master, after winning the historic first World Championships event as a Brown Belt (1996), in a final fought against Mauricio Mariano from Gracie Barra.
The following year, his first as a black belt, Leo fought his way to the final against Marcio Feitosa in the first of many historical duels between the two. This first fight went to the Gracie Barra fighter, Feitosa, but in 1998 when the two met once again in the final, Leonardo was the victor in one of the hardest fights of the event. 1998 was the last time Leonardo won the World Championship, although he did make the final again in 1999 (losing to Royler Gracie) and placed 3rd in 2000.
His career's highest point had not been reached however, that came in 2003 when Leonardo won the World's most prestigious Submission Grappling title, the ADCC (Abu Dhabi Combat Club), a gold medal achieved again in 2005.
In between this period, Leozinho moved to Sao Paulo and was training under Fabio Gurgel at the Team Alliance HQ there until 2002 when a group of competitors joined up against the head coach Gurgel. Leonardo left the team together with most of the black belts that trained there. The argument (in broad strokes) was over the 'Mundial' (World Championships by IBJJF federation) which occurred a week after the Copa do Mundo (World Cup). As the Copa do Mundo offered a good prize money to its competitors and the Mundial didn't, Leonardo and his teammates felt they should support this organization (CBJJO – Confederação de Jiu Jitsu Olimpico) and compete in it, Gurgel however decided against it for reasons that were never made public. The fighters went on to fight at the 'Copa' and Gurgel banned them from the gym, and so Leozinho and the others formed another team, 'Master Team' to honor the gym where this group had started training in the 1980's. The Master Team later became Brasa Clube de Jiu Jitsu.
The Brasa Team went on for years and still exists today, but in 2008 Leo and his brothers decided to open another team in which they had more autonomy, this team called Checkmat.
In 2011 Leozinho came out of competitive retirement after he was invited to compete at the prestigious ADCC once again, the invitation was for the vacant slot was for the 'below 77kg' weight division, a class above what he fought throughout his career, and arguably, the hardest divisions in the tournament. Many did not give Leonardo a fighters chance, labeling him too old to be competitive, but the veteran raised quite a few eyebrows once again in the 7th ADCC of his career by defeating the cream of the crop of the new generation and placing 2nd in the competition.
Leo Vieira Grappling Record
A record of Leonardo Vieira's matches in the most important tournaments in sport jiu jitsu, both with the Gi (Kimono) and without it (No Gi/Submission Wrestling).
Leonardo Vieira Grappling Record
41 WINS
BY POINTS


BY ADVANTAGES




BY SUBMISSION




BY DECISION




BY PENALTIES




BY DQ



13 SUBMISSIONS WINS
#d1212a
Mounted X choke
8
1
#fad11b
North South choke
8
1
#f58822
Copacabana choke
8
1
#ff9124
Choke from back
8
1
13 LOSSES
BY POINTS


BY ADVANTAGES




BY SUBMISSION




BY DECISION




BY PENALTIES




BY DQ



4 SUBMISSIONS LOSSES
#5AD3D1
Terra Footlock
25
1
Leonardo Vieira Fight History
ID
Opponent
W/L
Method
Competition
Weight
Stage
Year
115

Marcio Feitosa

Marcio Feitosa
L
Adv
World Champ.
76KG
F
1997
282

Royler Gracie

Royler Gracie
L
Referee Decision
World Champ.
70KG
F
1999
388

Vitor Shaolin

Vitor Shaolin
L
Pts: 2x0
World Champ.
76KG
SF
2000
425

JJ Machado

JJ Machado
L
Pts: 9x0
ADCC
77KG
SF
2000
427

Marcio Feitosa

Marcio Feitosa
L
Adv
ADCC
77KG
3PLC
2000
459

Mark Kerr

L
Pen
ADCC
ABS
R1
2000
513

Leonardo Santos

Leonardo Santos
L
Pts: 3x0
ADCC
77KG
4F
2001
1681

Rany Yahya

Rany Yahya
L
RNC
ADCC
66KG
F
2007
2240

Rafael Mendes

Rafael Mendes
L
RNC
ADCC
66KG
SF
2009
3296

Marcelo Garcia

Marcelo Garcia
L
Triangle
ADCC
77KG
F
2011
5004

Otavio Sousa

Otavio Sousa
L
Points
ADCC
77KG
SF
2013
13460

Gabriel Marangoni

Gabriel Marangoni
L
Terra Footlock
ACBJJ 6
65KG
4F
2017
13957

Chael Sonnen

L
Referee Decision
ADCC
ABS
SPF
2017
114

R. Verissimo

W
Pts: 4x0
World Champ.
76KG
SF
1997
136

Vitor Shaolin

Vitor Shaolin
W
Pts: 24x4
Copa Pele
76KG
SPF
1997
224

Marcio Feitosa

Marcio Feitosa
W
Adv
World Champ.
76KG
F
1998
374

Marcio Feitosa

Marcio Feitosa
W
N/A
LPJJ
75KG
F
2000
414

Bob Schirmer

W
RNC
ADCC
77KG
R1
2000
420

Vitor Shaolin

Vitor Shaolin
W
Adv
ADCC
77KG
4F
2000
476

Vitor Shaolin

Vitor Shaolin
W
Pts: 6x4
Rio x Sao Paulo
75KG
SPF
2000
486

Scott Scultz

W
Copacabana choke
Pro Am
77KG
SF
2000
487

Matt Serra

Matt Serra
W
Pts: 10x4
Pro Am
77KG
F
2000
511

Morris Clifoni

W
Katagatame
ADCC
77KG
R1
2001
611

Fredson Alves

W
Points
Pan American
70KG
F
2001
640

Gabriel Willcox

W
Brabo choke
World Cup
70KG
4F
2002
641

Jair Lourenco

Jair Lourenco
W
Choke from back
World Cup
70KG
SF
2002
642

Reinaldo Ribeiro

Reinaldo Ribeiro
W
Brabo choke
World Cup
70KG
F
2002
648

Yuki Nakai

Yuki Nakai
W
Brabo choke
Ground Impact
70KG
SPF
2002
764

Allan Teo

W
Submission
ADCC
66KG
R1
2003
766

Rany Yahya

Rany Yahya
W
Pts: 9x0
ADCC
66KG
4F
2003
770

Eddie Bravo

Eddie Bravo
W
Pts: 16x0
ADCC
66KG
SF
2003
772

Baret Yoshida

Baret Yoshida
W
Pts: 6x0
ADCC
66KG
F
2003
992

Renato Migliacio

W
Pts: 14x0
Pan American
70KG
SF
2004
993

Fredson Alves

W
Pts: 4x2
Pan American
70KG
F
2004
1014

Fabio Nascimento

Fabio Nascimento
W
Referee Decision
Pan American
ABS
4F
2004
1020

S. Fukuzumi

W
Mounted X choke
Brazil v Japan
70KG
SPF
2004
1134

Baret Yoshida

Baret Yoshida
W
Pts: 19x0
Budo Challenge
77KG
SF
2005
1135

Komuro

W
Pts: 7x0
Budo Challenge
77KG
SF
2005
1163

T. Suzuki

W
Points
ADCC
66KG
R1
2005
1165

Joey Gilbert

W
Guillotine
ADCC
66KG
4F
2005
1167

Rob DiCenso

W
North South choke
ADCC
66KG
SF
2005
1168

Rany Yahya

Rany Yahya
W
Pts: 6x0
ADCC
66KG
F
2005
1485

Naoya Uematsu

W
RNC
LA Sub-X
ABS
SPF
2006
1670

Sim Go

Sim Go
W
Points
ADCC
66KG
R1
2007
1678

Jeff Glover

Jeff Glover
W
Points
ADCC
66KG
4F
2007
1679

T. Suzuki

W
Pts: 8x0
ADCC
66KG
SF
2007
2235

D. Marinakis

W
Points
ADCC
66KG
R1
2009
2239

Ryan Hall

Ryan Hall
W
Guillotine
ADCC
66KG
4F
2009
3234

Enrico Cocco

Enrico Cocco
W
Pts: 6x0
ADCC
77KG
R1
2011
3267

JT Torres

JT Torres
W
Pts: 2x0
ADCC
77KG
4F
2011
3283

Claudio Calasans

Claudio Calasans
W
Pts: 3x0
ADCC
77KG
SF
2011
4996

Sotaro Yamada

W
Pts: 6x0
ADCC
77KG
R1
2013
5001

AJ Agazarm

AJ Agazarm
W
Referee Decision
ADCC
77KG
4F
2013
28990

Cleber Luciano

W
Pts: 8x0
BJJ Stars
N/A
SPF
2021
Leo Vieira vs Baret Yoshida