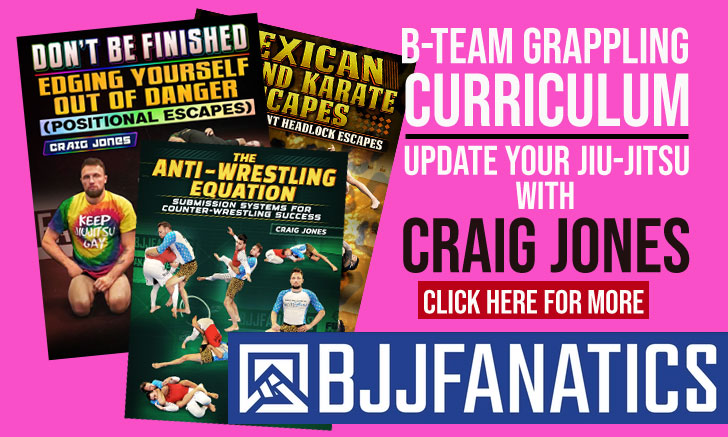 Javier Barter is a jiu-jitsu athlete from Panama and a regular face in grappling's professional circuit. Barter first made waves in the sport as a brown belt, a time when he conquered several important medals from the International Brazilian Jiu-Jitsu Federation (IBJJF) league, including at the World, Pan-American, & European Championships, while playing a crowd-friendly game with which he earned many fans. He maintained this level of gamesmanship as a pro, becoming widely regarded as one of the most fun competitors to follow in the sport.
Javier Barter Jiu-Jitsu
Full Name: Javier Arturo Barter
Nickname: N/A
Lineage: Carlos Gracie > Helio Gracie > Carlos Gracie Jr > Renzo Gracie > John Danaher>
Main Achievements:
1st Place IBJJF European Open NOGI (2023)
3rd Place IBJJF European Open NOGI (2023*)
3rd Place AJP Grand Slam, RJ (2023)
Main Achievements (Colored Belts):
1st Place IBJJF European Open (2022 brown)
3rd Place IBJJF World Championship (2021 brown)
3rd Place IBJJF Pan Championship (2021 brown)
3rd Place AJP Grand Slam, MIA (2021 brown)
* Absolute
** Weight and Absolute
Favorite Position/Technique: Well-rounded
Weight Division: Peso Pesado (94kg/207lbs)
Team/Association: Fernando Moya Jiu-Jitsu
Javier Barter Biography
Javier Barter was born on January 6, 1999, in Panama City, Panama, where he grew up.
As a young person, Barter was encouraged to be competitive by his older brother, playing several sports despite not taking any of those too seriously. During his mid-teens, Javier started practicing jiu-jitsu with a few friends as an after-school activity. Quickly, the sport of grappling became too important to work solely as a playful project and he decided to join a BJJ academy.
As soon as he started training jiu-jitsu, Javier also included mixed martial arts (MMA) into his schedule—18 months into his training, Javier decided to train on an open mat from a different team. The experience would lead him to believe his gym's quality of training was far inferior, to the extent that he felt defrauded. The feeling led to the decision to change academy, opting for Kevin Blackman's team.
Barter remained under Blackman's guidance, later traveling to Costa Rica where he trained with Fernando Moya and earned his black belt in May of 2022.
Javier Barter Grappling Record
26 WINS
BY POINTS


BY ADVANTAGES




BY SUBMISSION




BY DECISION




BY PENALTIES




BY DQ



18 SUBMISSIONS WINS
#5AD3D1
Choke from back
11
2
#f58822
Bow and arrow
6
1
#ff9124
Shoulder lock
6
1
13 LOSSES
BY POINTS


BY ADVANTAGES




BY SUBMISSION




BY DECISION




BY PENALTIES




BY DQ



0 SUBMISSION LOSSES
Javier Barter Fight History
ID
Opponent
W/L
Method
Competition
Weight
Stage
Year
34045

Gabriel Henrique

Gabriel Henrique
L
Pts: 6x0
Grand Slam RJ
94KG
4F
2022
34049

Pedro Machado

Pedro Machado
L
Pts: 6x3
Grand Slam RJ
94KG
RPC
2022
36388

Bruno Lima

Bruno Lima
L
Pts: 11x2
World Pro
94KG
SF
2022
36392

Vinicius Liberati

Vinicius Liberati
L
Pts: 6x2
World Pro
94KG
RPC
2022
37574

Paulo Merlin

L
Pts: 4x2
Atlanta WO
100KG
F
2023
37753

Caio Vinicius

Caio Vinicius
L
Pts: 6x4
Memphis Open
ABS
SF
2023
38318

Dimitrius Souza

Dimitrius Souza
L
Pts: 16x0
Pan American
ABS
4F
2023
38454

Paulo Merlin

L
Pts: 10x4
Pan American
100KG
R1
2023
39533

Fellipe Andrew

Fellipe Andrew
L
Pts: 14x0
Brasileiro
94KG
4F
2023
40355

Rider Zuchi

Rider Zuchi
L
Pts: 4x0
World Champ.
94KG
8F
2023
40671

Vinicius Liberati

Vinicius Liberati
L
Pts: 3x1
Grand Slam RJ
94KG
SF
2023
43655

Matthew Secor

L
Pts: 8x0
ADCC ECTrials
99KG
R2
2023
44189

Heikki Jussila

L
Pts: 2x0
European NoGi
ABS
F
2023
34040

Alberto Ramos

W
Pts: 21x0
Grand Slam RJ
94KG
R1
2022
36386

S. Varshavskiy

W
Armbar
World Pro
94KG
4F
2022
37571

Michael Leighton

W
Armbar
Atlanta WO
100KG
4F
2023
37572

Paulo Lanzillotti

W
Pts: 7x0
Atlanta WO
100KG
SF
2023
37580

Chris Passarrello

W
Choke from back
Atlanta WO
ABS
R1
2023
37586

Paulo Lanzillotti

W
Pts: 0x0, Adv
Atlanta WO
ABS
4F
2023
37587

Enderson Dias

Enderson Dias
W
Toe hold
Atlanta WO
ABS
SF
2023
37588

Lucas Lisboa

Lucas Lisboa
W
Toe hold
Atlanta WO
ABS
F
2023
37738

Felipe Costa

Felipe Costa
W
Choke from back
Memphis Open
100KG
SF
2023
37739

Gabriel Kaspary

W
Armbar
Memphis Open
100KG
F
2023
37747

Vinicius Coimbra

W
Cross choke
Memphis Open
ABS
R1
2023
37749

Clay Mayfield

W
N/A
Memphis Open
ABS
4F
2023
38314

Yatan Bueno

Yatan Bueno
W
Pts: 2x0
Pan American
ABS
8F
2023
39530

Matheus Henriquei

W
Bow and arrow
Brasileiro
94KG
R1
2023
40342

Felipe Pimentel

W
Pts: 6x4
World Champ.
94KG
R1
2023
40661

Patrick Gaudio

Patrick Gaudio
W
RNC
Grand Slam RJ
94KG
8F
2023
40667

Vinicius Lessa

Vinicius Lessa
W
Pts: 6x3
Grand Slam RJ
94KG
4F
2023
40675

Matheus Marques

W
RNC
Grand Slam RJ
94KG
RPC
2023
40676

Davi Souza

W
Submission
Grand Slam RJ
94KG
3RD
2023
43647

Alex Brown

W
RNC
ADCC ECTrials
99KG
R1
2023
44154

Nikola Perovic

W
Armbar
European NoGi
91KG
4F
2023
44158

Santeri Lilius

Santeri Lilius
W
Pts: 4x2
European NoGi
91KG
SF
2023
44159

Tyler Freeman

W
Armbar
European NoGi
91KG
F
2023
44176

Jakub Najdek

W
RNC
European NoGi
ABS
8F
2023
44183

Santeri Lilius

Santeri Lilius
W
Shoulder lock
European NoGi
ABS
4F
2023
44188

Freddy Vosgrone

W
RNC
European NoGi
ABS
SF
2023