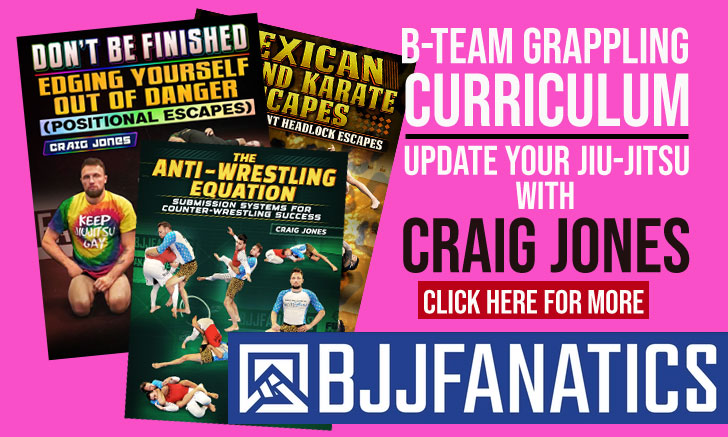 Fernando Vieira is a talented jiu jitsu fighter from Manaus, Brazil, A city that is regarded as one of the biggest hives in the world for BJJ which has brought us fighters like Saulo and Xande Ribeiro, Ronaldo Souza, Bibiano Fernandes, Jose Aldo, Kiki Melo and many others. Fernando Vieira graduated as a black belt under Cristiano Carioca, and became a world champion in 2004, he has also won the World Pro Cup championship in 2012.
Fernando Vieira Jiu Jitsu
Full Name: Luis Fernando Vieira
Nickname: N/A
Lineage: Mitsuyo Maeda > Carlos Gracie > Helio Gracie > Royler Gracie/Rolker Gracie > Guto Monteiro > Cristiano Carioca > Fernando Vieira
Main Achievements:
World Champion (2002 blue, 2003 purple, 2004 black)
World Pro Cup Champion (2012)
Amazon Meeting Champion (2010, 2011)
World Silver Medallist (2001 blue)
Favourite Position/Technique: Open guard
Weight Division: Peso Pluma (64kg/141lbs)
Team/Association: Carioca Team/Evolução Thai
Fernando Vieira Biography
Fernando Vieira was born in 1985 in Manaus, Brazil. He started training jiu jitsu when he was 10 years old because some of his friends already practiced the sport. He became an active competitor almost from the get-go and earned his blue belt just before he reached his 16th anniversary. Fernando went on to fight his first world tournament as a fresh blue belt, and impressed all by reaching an honourable 2nd place in the tournament. He returned the competition the following year to win his first world title as a blue belt. Fernando would repeat the deed as a purple belt in 2003.
Vieira earned his brown belt after the 2003 gold medal, and was preparing himself to fight the 2004 world tournament as a brown belt; however, his instructor Cristiano Carioca had other plans for him. At the time, Bibiano Fernandes (who is also from Manaus and trained at a rival academy) was the king of the pluma/light featherweight division; Bibiano hadn't been defeated in BJJ for years, though Cristiano Carioca truly believed Vieira was the man to beat him. With that in mind, Carioca promoted Fernando Vieira to black belt that same year. It turned out that Master Carioca was indeed right, and Vieira won against Bibiano Fernandes on his way to a black belt gold medal at the world championships.
Fernando Vieira's fighting career took a step in a different direction after his win at the world championships, as he was invited to come to the south of Brazil (Curitiba) to teach grappling to an MMA team. When in Curitiba, Fernando Vieira met professional fighters André Amade (Dida) and his brother Mauricio Amade (Veio) who became good friends of Vieira. It was the two brothers who invited Fernando to come and train with them at UDL (Universidade da Luta) a team where the Amade brothers trained, it was there that Fernando Vieira started training and fighting in mixed martial arts (MMA).
After a period at UDL, the Amado brothers went to Canada and Vieira stayed behind coaching at UDL, shortly after Fernando Vieira decided to start training and focussing on competing with the kimono once again. For that purpose he returned to Manaus to train at the Carioca team once again. Fernando competed the world pro cup in 2012 and won his division. He also fought the absolute and won a couple of fights against the big guys.
Winning a major tournament such as the world jiu jitsu pro cup opened a few doors to Fernando Vieira, and after that he was offered a position as grappling coach at the Evolução Thai academy in Canada, a school run by his long time friends, Andre "Dida" and Mauricio "Veio".
Fernando Vieira Grappling Record
17 WINS
BY POINTS


BY ADVANTAGES




BY SUBMISSION




BY DECISION




BY PENALTIES




BY DQ



9 SUBMISSIONS WINS
#86e620
Choke from back
33
3
#d1212a
Bow and arrow
11
1
6 LOSSES
BY POINTS


BY ADVANTAGES




BY SUBMISSION




BY DECISION




BY PENALTIES




BY DQ



1 SUBMISSION LOSSES
Fernando Vieira Fight History
ID
Opponent
W/L
Method
Competition
Weight
Stage
Year
5230

Paulo Miyao

Paulo Miyao
L
Adv
World Pro Trial
70KG
F
2014
5586

Victor Silverio

Victor Silverio
D
---
Copa Podio
77KG
GP
2014
5595

Gilbert Burns

Gilbert Burns
L
Pts: 2x0
Copa Podio
77KG
GP
2014
8630

Paulo Miyao

Paulo Miyao
L
Pts: 8x8, Adv
Grand Slam RJ
69KG
F
2015
8688

V. Silva

L
Submission
Grand Slam RJ
ABS
R1
2015
11793

Isaque Paiva

Isaque Paiva
L
Points
Manaus Nat. Pro
69KG
F
2017
14334

Rafael Mansur

Rafael Mansur
L
Pts: 0x0, Adv
Grand Slam RJ
69KG
SF
2017
1050

Bibiano Fernandes

Bibiano Fernandes
W
Pts: 4x2
World Champ.
64KG
F
2004
3451

Gilson Nunes

Gilson Nunes
W
Points
Amazon Meeting
70KG
N/A
2011
3755

Gabriel Willcox

W
Pts: 4x0
World Pro.
64KG
4F
2012
3759

Bruno Lopes

W
Choke
World Pro.
64KG
SF
2012
3761

Thiago Barreto

Thiago Barreto
W
Adv
World Pro.
64KG
F
2012
5228

Elton Tadeu

W
Submission
World Pro Trial
70KG
SF
2014
5591

M. Andre

W
Pts: 6x2
Copa Podio
77KG
GP
2014
5599

Gianni Grippo

Gianni Grippo
D
---
Copa Podio
77KG
GP
2014
8624

Laercio Barbosa

W
Choke
Grand Slam RJ
69KG
8F
2015
8625

Victor Morais

W
Bow and arrow
Grand Slam RJ
69KG
4F
2015
8629

Isaque Paiva

Isaque Paiva
W
Pts: 11x4
Grand Slam RJ
69KG
SF
2015
11789

Rodney F.

W
Submission
Manaus Nat. Pro
69KG
4F
2017
11791

Caio Santos

W
Submission
Manaus Nat. Pro
69KG
SF
2017
13616

Marcel Goncalves

Marcel Goncalves
D
---
Copa Podio
ABS
SPF
2017
14327

Bruno Corra

W
Choke from back
Grand Slam RJ
69KG
R1
2017
14328

Isaque Paiva

Isaque Paiva
W
Pts: 9x0
Grand Slam RJ
69KG
8F
2017
14331

F. Silva

W
Choke from back
Grand Slam RJ
69KG
4F
2017
14336

J Rufino

W
Choke from back
Grand Slam RJ
69KG
RPC
2017
14337

Victor Matos

W
Pts: 5x2
Grand Slam RJ
69KG
3RD
2017
Fernando Vieira vs Johnny Zemouli

Fernando Vieira vs Gabriel Wilcox

Fernando Vieira vs Gilson Nunes

Fernando Vieira vs Denis Anderle

Fernando Vieira vs Martin Svensson