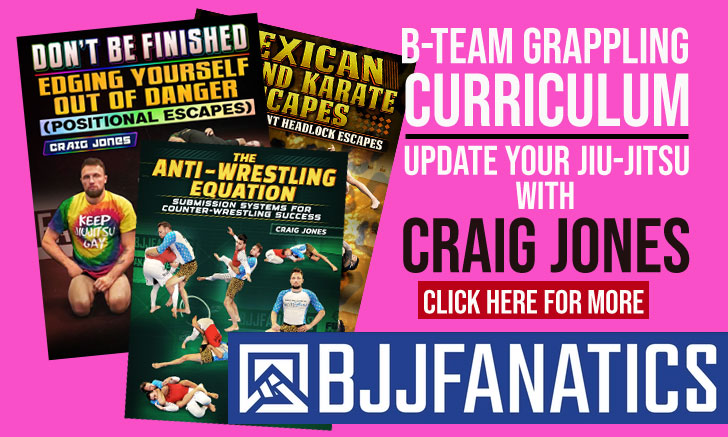 Yuri Simões is a Brazilian jiu-jitsu black belt under Ricardo Vieira, who is widely regarded as one of the top competitors of his generation. Simões made a name for himself while competing in the lower ranks of the sport, where he won several important competitions such as the IBJJF Mundial, World No-Gi Championship, and European Open before earning his black belt, going on to conquer the most important No-Gi tournament of all, the ADCC (2015). Yuri Simões is also the adopted brother of another BJJ star, Ary Farias.
Yuri Simoes Jiu-Jitsu
Full Name: Yuri Costa Simoes Martins da Silva
Nickname: "Novinho" which can mean Youngster or Brand New depending on the context. At this point, BJJ Heroes cannot assert the reason for the nickname.
Lineage: Carlos Gracie > Helio Gracie > Rolls Gracie > Romero Cavalcanti > Ricardo Vieira > Yuri Simões
Main Achievements:
1st Place ADCC World Championship (2022* / 2017 / 2015)
1st Place IBJJF World Championship No-Gi (2016**/2014** black)
1st Place IBJJF Pan American Championship (2012/2014*)
2nd Place CBJJ Brazilian Nationals (2010)
2nd Place FIVE Grappling Super League (2015)
3rd Place IBJJF Pan American Championship (2016)
3rd Place IBJJF Rio Open Championship (2010)
Main Achievements (Colored Belts):
1st Place IBJJF World Championship (2011 brown, 2009** purple)
1st Place IBJJF World Championship No-Gi (2011** brown)
1st Place IBJJF European Open (2010/2011 brown, 2009** purple)
1st Place IBJJF South American Championship Juvenile (2007)
2nd Place IBJJF European Open (2011** brown)
3rd Place IBJJF World Championship (2010 brown)
3rd Place IBJJF Pan American Championship (2010* brown)
* Absolute
** Weight and absolute
Favorite Position/Technique: Drop Seoi Nage & Open Guard
Weight Division: Meio Pesado (88kg/194lbs).
Team/Association: Caio Terra Association (CTA)
Yuri Simoes Biography
Yuri Simões was born on June 18, 1990, in Rio de Janeiro – Brazil. He started practicing through his father's influence who already trained BJJ, he was 9 years old when he first put on a kimono. Although Yuri's first instructor's name has been lost in the corners of his mind, his second coach, Maurício "Behring", was truly fundamental in Simoes's life as a competitor, it was Behring who instigated Yuri to compete and where he found his true calling.
In 2006 Mauricio Behring was shot and killed by the father of his ex-fiancé. After the shock and a natural grieving period, Yuri returned to the mats, seeking Ricardo Vieira as his new master and earning his purple and brown belt from Ricardinho at the famous Fight Zone. At Checkmat, Yuri Simoes's career started to shine with several fantastic wins at the world's most important tournaments. After a series of good results, Yuri Simoes spent some time in and out of Europe, namely in England where he trained and competed extensively in 2009.
In 2010 Yuri Simoes had a change of heart and switched camps moving with his brother to the rival Atos academy in Rio Claro (Sao Paulo). This move, however, was short-lived and he returned to Checkmat and Ricardinho Vieira's guidance.
After a tremendous year of 2011 when Yuri Simoes won the Mundial, the No-Gi Worlds (weight and absolute), and the European Open, he was awarded his long-awaited black belt by the hands of his instructor on the 29th of December, 2011. In 2013 he moved away from Checkmat, once again and joined the Caio Terra Association.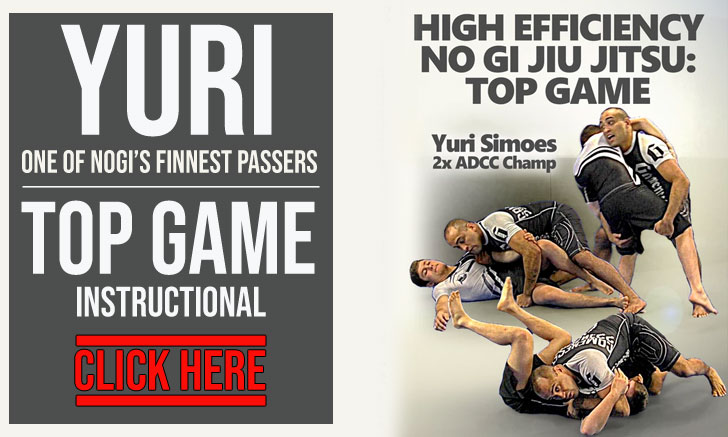 [fighter_status id=502]
Yuri Simoes Grappling Record
88 WINS
BY POINTS


BY ADVANTAGES




BY SUBMISSION




BY DECISION




BY PENALTIES




BY EBI/OT



21 SUBMISSIONS WINS
#5AD3D1
Choke from back
5
1
#ff9124
Inverted triangle
5
1
#fad223
Bow and arrow
5
1
#03861f
Mounted X choke
5
1
25 LOSSES
BY POINTS


BY ADVANTAGES




BY SUBMISSION




BY DECISION




BY PENALTIES




BY EBI/OT



4 SUBMISSIONS LOSSES
#86e620
Choke from back
25
1
#d1212a
Reverse omoplata
25
1
Yuri Simoes Fight History
ID
Opponent
W/L
Method
Competition
Weight
Stage
Year
4106

Alexandre Ribeiro

Alexandre Ribeiro
L
Pts: 3x0
World Champ.
94KG
4F
2012
4808

Rodolfo Vieira

Rodolfo Vieira
L
Pts: 8x0
World Champ.
94KG
4F
2013
5265

Jackson Sousa

Jackson Sousa
L
Pts: 2x0
European
94KG
F
2014
5274

Alexander Trans

Alexander Trans
L
Armbar
European
ABS
F
2014
5460

Keenan Cornelius

Keenan Cornelius
L
Pts: 4x0
FIVE Cali. 1
ABS
F
2014
5850

Bernardo Faria

Bernardo Faria
L
Pts: 8x5
World Champ.
100KG
SF
2014
6216

Keenan Cornelius

Keenan Cornelius
D
---
Metamoris 5
ABS
SPF
2014
6770

Leandro Lo

Leandro Lo
L
Pts: 4x2
Pan American
ABS
4F
2015
7509

Joao Rocha

Joao Rocha
L
Choke from back
World Champ.
100KG
SF
2015
7587

Rafael Barbosa

Rafael Barbosa
L
Pts: 4x2
US Open
ABS
F
2015
7770

Tim Spriggs

Tim Spriggs
L
Pts: 2x0
FIVE SL
ABS
F
2015
7998

Claudio Calasans

Claudio Calasans
L
Referee Decision
ADCC
ABS
SF
2015
8549

Felipe Pena

Felipe Pena
L
Pts: 4x2
Berkut 2
ABS
SPF
2015
9349

Luiz Panza

Luiz Panza
L
Pts: 9x0
Pan American
100KG
SF
2016
9681

Gordon Ryan

Gordon Ryan
L
EBI/OT
EBI 6
ABS
SF
2016
14574

Gordon Ryan

Gordon Ryan
L
RNC
Kasai Pro
ABS
SPF
2017
16346

Keenan Cornelius

Keenan Cornelius
L
Reverse omoplata
ACBJJ 13
95KG
SPF
2018
16611

Mahamed Aly

Mahamed Aly
L
Pts: 0x0, Adv
World Champ.
ABS
RD
2018
17816

Gustavo Batista

Gustavo Batista
L
Referee Decision
WSOG 2
O81KG
8F
2018
18695

Gordon Ryan

Gordon Ryan
L
Pts: 11x0
NoGi Worlds
O97KG
SF
2018
18720

Gordon Ryan

Gordon Ryan
L
Pts: 0x0, Adv
NoGi Worlds
ABS
F
2018
21826

Kaynan Duarte

Kaynan Duarte
L
Pts: 3x0
ADCC
O99KG
4F
2019
25090

Lucas Barbosa

Lucas Barbosa
L
Pts: 7x0
BJJ Stars 5
96KG
4F
2021
25150

Vagner Rocha

Vagner Rocha
L
Referee Decision
F2W 164
ABS
SPF
2021
25395

Nick Rodriguez

Nick Rodriguez
L
Referee Decision
WNO 7
O99KG
SPF
2021
35059

Nicholas Meregali

Nicholas Meregali
L
Referee Decision
ADCC
99KG
4F
2022
3643

Leonardo Iturralde

W
Armbar
Pan American
94KG
R1
2012
3647

Gustavo Pires

Gustavo Pires
W
Choke
Pan American
94KG
R2
2012
3651

Rafael Lovato

Rafael Lovato
W
Adv
Pan American
94KG
SF
2012
4090

Nathan Zigler

W
Toe Hold
World Champ.
94KG
R1
2012
5269

Oliver Geddes

Oliver Geddes
W
Inverted triangle
European
ABS
R1
2014
5271

Igor Silva

Igor Silva
W
Armbar
European
ABS
4F
2014
5272

Jackson Sousa

Jackson Sousa
W
Pts: 2x0
European
ABS
SF
2014
5394

Arnaldo Maidana

Arnaldo Maidana
W
Pts: 17x0
Pan American
94KG
8F
2014
5399

Jackson Sousa

Jackson Sousa
W
Adv
Pan American
94KG
4F
2014
5403

Rafael Lovato

Rafael Lovato
W
Adv
Pan American
94KG
SF
2014
5457

Sergio Rios

Sergio Rios
W
Points
FIVE Cali. 1
ABS
4F
2014
5459

JT Torres

JT Torres
W
Points
FIVE Cali. 1
ABS
SF
2014
5847

Gustavo Pires

Gustavo Pires
W
Pts: 3x2
World Champ.
100KG
4F
2014
5906

Alessandro Silva

W
Armbar
SF Open
O100KG
F
2014
6008

Ricardo Rezende

Ricardo Rezende
W
Pts: 2x0
NoGi Worlds
ABS
RDS
2014
6013

Tim Spriggs

Tim Spriggs
W
Pts: 8x2
NoGi Worlds
ABS
4F
2014
6015

Bernardo Faria

Bernardo Faria
W
Armbar
NoGi Worlds
ABS
SF
2014
6016

Keenan Cornelius

Keenan Cornelius
W
Pts: 4x0
NoGi Worlds
ABS
F
2014
6064

Felipe Bueno

W
Pts: 7x0
NoGi Worlds
O100KG
4F
2014
6068

Abraham Marte

Abraham Marte
W
Points
NoGi Worlds
O100KG
SF
2014
6069

Gabriel Lucas

Gabriel Lucas
W
Pts: 2x0
NoGi Worlds
O100KG
F
2014
6290

Carlos Farias

Carlos Farias
W
Pts: 8x0
Long Beach Pro
O94KG
SF
2014
6291

James Puopolo

James Puopolo
W
Ezekiel
Long Beach Pro
O94KG
F
2014
6459

Arnaldo Maidana

Arnaldo Maidana
W
Points
JJ World League
94KG
SF
2015
6460

Gabriel Checco

W
N/A
JJ World League
94KG
F
2015
6727

Arnaldo Maidana

Arnaldo Maidana
W
Armbar
SF Open
ABS
4F
2015
6732

Tanner Rice

Tanner Rice
W
Armbar
SF Open
ABS
SF
2015
6733

Magid Hage

W
Cross choke
SF Open
ABS
F
2015
6758

Vinicius Agudo

W
Bow and arrow
Pan American
ABS
R2
2015
6767

Gabriel Lucas

Gabriel Lucas
W
Pts: 10x2
Pan American
ABS
R3
2015
7504

James Puopolo

James Puopolo
W
Pts: 7x4
World Champ.
100KG
4F
2015
7573

Many Dias

W
Pts: 13x0
American Cup
ABS
4F
2015
7574

Diego Herzog

W
Pts: 7x0
American Cup
ABS
SF
2015
7575

Carlos Mello

W
Mounted X choke
American Cup
ABS
F
2015
7583

Eliot Kelly

Eliot Kelly
W
Choke from back
US Open
94KG
F
2015
7584

Eliot Kelly

Eliot Kelly
W
Pts: 5x2
US Open
ABS
GP
2015
7586

David Robles

W
Armbar
US Open
ABS
GP
2015
7766

James Puopolo

James Puopolo
W
Pts: 6x2
FIVE SL
ABS
4F
2015
7769

Joao Assis

Joao Assis
W
Referee Decision
FIVE SL
ABS
SF
2015
7927

Ricardo Mesquita

W
Pts: 3x0
ADCC
88KG
R1
2015
7934

Zbigniew Tyszka

W
RNC
ADCC
88KG
4F
2015
7936

Romulo Barral

Romulo Barral
W
Pts: 3x0
ADCC
88KG
SF
2015
7939

Keenan Cornelius

Keenan Cornelius
W
Pts: 3x0
ADCC
88KG
F
2015
7988

Hideki Shrek

W
Referee Decision
ADCC
ABS
R1
2015
7993

Dean Lister

Dean Lister
W
Pts: 5x3
ADCC
ABS
4F
2015
9345

Guybson Sa

Guybson Sa
W
Armbar
Pan American
100KG
4F
2016
9670

Evandro Nunes

Evandro Nunes
W
EBI/OT
EBI 6
ABS
R1
2016
9677

Garry Tonon

Garry Tonon
W
EBI/OT
EBI 6
ABS
4F
2016
10311

Dean Lister

Dean Lister
W
Referee Decision
F2W 8
86KG
SPF
2016
10356

Romulo Barral

Romulo Barral
W
Referee Decision
Berkut 3
ABS
SPF
2016
10944

Tex Johnson

Tex Johnson
W
Pts: 19x0
NoGi Worlds
O97KG
SF
2016
10946

Gustavo Dias

Gustavo Dias
W
Pts: 4x0
NoGi Worlds
O97KG
F
2016
10955

Marcus Wilson

W
Katagatame
NoGi Worlds
ABS
8F
2016
10963

Thiago Sa

Thiago Sa
W
Pts: 0x0, Adv
NoGi Worlds
ABS
4F
2016
10965

Augusto Mendes

Augusto Mendes
W
Referee Decision
NoGi Worlds
ABS
SF
2016
10967

Murilo Santana

Murilo Santana
W
Pts: 0x0, Pen
NoGi Worlds
ABS
F
2016
13523

Felipe Abad

W
Submission
San Jose Open
O100KG
F
2017
13526

Breno Bittencourt

Breno Bittencourt
W
Points
San Jose Open
ABS
SF
2017
13527

Victor Silverio

Victor Silverio
W
Pts: 2x0
San Jose Open
ABS
F
2017
13618

Travis Stevens

Travis Stevens
W
Referee Decision
F2W 44
ABS
SPF
2017
13864

Roman Dolidze

W
Pts: 2x0
ADCC
99KG
E1
2017
13870

M. Perez

W
Referee Decision
ADCC
99KG
4F
2017
13873

Jackson Sousa

Jackson Sousa
W
Pts: 3x0
ADCC
99KG
SF
2017
13875

Felipe Pena

Felipe Pena
W
Pts: 2x0
ADCC
99KG
F
2017
14970

Abdurakhman Bilarov

Abdurakhman Bilarov
W
Referee Decision
ACB 10
95KG
SPF
2018
15756

Nisar Loynab

Nisar Loynab
W
Points
San Jose Open
ABS
4F
2018
15757

Breno Bittencourt

Breno Bittencourt
W
Points
San Jose Open
ABS
SF
2018
15758

Victor Silverio

Victor Silverio
W
Referee Decision
San Jose Open
ABS
F
2018
15765

Edmund Kim

W
Pts: 7x0
San Jose NGO
ABS
SF
2018
18346

Tim Spriggs

Tim Spriggs
W
Referee Decision
F2W 94
ABS
SPF
2018
18692

Jared Dopp

Jared Dopp
W
Pts: 19x0
NoGi Worlds
O97KG
4F
2018
18700

S. Thometz

W
RNC
NoGi Worlds
ABS
R1
2018
18708

Robby Malof

W
Pts: 9x0
NoGi Worlds
ABS
R2
2018
18714

Tex Johnson

Tex Johnson
W
Pts: 5x0
NoGi Worlds
ABS
R3
2018
18718

Thiago Sa

Thiago Sa
W
Pts: 4x2
NoGi Worlds
ABS
SF
2018
19469

Rafael Lovato

Rafael Lovato
W
Referee Decision
F2W 104
ABS
SPF
2019
21816

Elliot Marshal

W
Armbar
ADCC
O99KG
R1
2019
26330

Devhonte Johnson

Devhonte Johnson
W
Referee Decision
F2W 172
124KG
SPF
2021
26768

Mahamed Aly

Mahamed Aly
W
Referee Decision
BJJ Stars
ABS
SPF
2021
27969

Fellipe Andrew

Fellipe Andrew
W
Referee Decision
F2W 185
ABS
SPF
2021
29291

Jed Hue

W
Points
Raw GC
94KG
4F
2021
29293

Taylor Pearman

W
Points
Raw GC
94KG
SF
2021
29294

Patrick Gaudio

Patrick Gaudio
W
N/A
Raw GC
94KG
F
2021
35054

Luke Griffith

W
Referee Decision
ADCC
99KG
R1
2022
35095

Lachlan Giles

Lachlan Giles
W
Pts: 0x0, Pen
ADCC
ABS
8F
2022
35105

Nick Rodriguez

Nick Rodriguez
W
Referee Decision
ADCC
ABS
4F
2022
35107

Roberto Abreu

Roberto Abreu
W
Pts: 2x0
ADCC
ABS
SF
2022
35108

Nicholas Meregali

Nicholas Meregali
W
Pts: 0x0, Pen
ADCC
ABS
F
2022
Yuri Simoes vs JT Torres (2014)