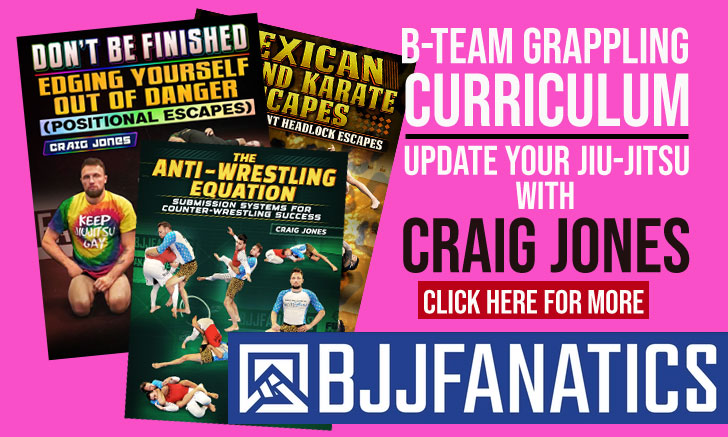 Jorge Pereira is a Brazilian jiu jitsu coral belt (7th degree) who earned his black belt training under Rickson Gracie (1986). Pereira is known as one of the defenders of the Brazilian grappling style in vale tudo (no holds barred) matches throughout the 1980/90s and 2000s as well as for having built one of the strongest jiu jitsu teams of that era, developing athletes such as Leo Dalla, Otavio "Tatá" Duarte, Paulo Guillobel, Wander Braga or Luiz "Guigo" to name a few. In 2007 Pereira was the face of a controversial fighting promotion named Rio Heroes, an organization that brought back the old values of NHB to the fight business, screened from some of the most well known slums in Brazil.
Jorge Pereira Jiu Jitsu
Full Name: Jorge Pereira
Nickname: n/a
Lineage: Mitsuyo Maeda > Carlos Gracie > Helio Gracie > Rickson Gracie > Jorge Pereira
Main Achievements:
World No Gi Champion (2008 senior 2)
Pan American Champion (2002/2003/2004 senior 1)
World No-Gi Championship Runner-up (2008 senior 2)
Pan American Championship Runner-up (2002 senior 1)
Favorite Position/Technique: n/a
Weight Division: Meio Pesado (88kg/194lbs)
Team/Association: Jorge Pereira Jiu Jitsu
Jorge Pereira Biography
Jorge Pereira was raised in the Volta Redonda municipality, state of Rio de Janeiro – Brazil.
As a youngster the Pereira family moved to Nova Ipanema in Rio's South Zone. During his days at Nova Ipanema, Jorge clashed often with one of his neighbours who used to "rough-up" a few of the kids in his condo. These quarrels with his neighbour led Jorge to seek jiu jitsu instruction.
Although Jorge did not find a suitable jiu jitsu gym nearby, soon after he started his search Marcelo Behring moved into this same condo. Although in his late teens, Marcelo was already a big name in the Rio de Janeiro's grappling scene, who would later become a legendary international figure. It was Marcelo who introduced Pereira to jiu jitsu at the age of 15, leading him all the way to blue belt.
At the time, there were not many competitions available for jiu jitsu practitioners, and one of the few (and certainly the most important) tournament was the "Liga Niteroiense de Jiu Jitsu" (LINJJI). As teams were not allowed to enter more than 2 athletes per division, most academies would have internal trial tournaments, many of which were seen as tougher than the actual LINJJI, considering the level and volume of the students inside academies such as the Gracie Academy or the Carlson Gracie team (two of the country's top gyms).
Jorge Pereira fought in the Gracie Academy trials, and his performances earned him a spot on Rickson Gracie's competition squad, a special sect of the Gracie Academy that was chosen to represent Rickson himself. Jorge started attending the group classes of these elite competitors from when he was a blue belt, he carried out training under Rickson Gracie for many years, achieving the rank of black belt in 1986.
Jorge Pereira was also a well known figure within the vale-tudo (no-holds-barred) circuit during the 1990s, having decided to retire in 2008, at the age of 42 due to a knee injury and one blind eye, both due to his wars in the cages and rings.
Throughout the many years competing as a representative of jiu jitsu in numerous NHB fights, one of Pereira's most memorable moments was his reply to a reporter in 1995 after his fight against Alessandro Stefano (Circuito de Lutas 2). The match occurred when Rio de Janeiro's "cariocas" and Sao Paulo "paulistas" were at the peak of their rivalry. Although Jorge won the fight by TKO, he ended the match with many bumps, bruises and a very bloodied face. Noticing that Stefano had drawn Pereira's blood, a reporter from SP made a caustic remark "You won, but you bled a lot, didn't you?" to which Jorge Pereira famously replied "A warrior doesn't bleed, his honor overflows" (Translated from: Guerreiro não sangra, ele transborda de honra).
In 1999 after fighting the future UFC welterweight champion Matt Hughes, Jorge Pereira decided to move to the US. His wife had been offered a position in the country, and by 2000 the couple moved definitely to Miami, where Jorge worked as a bouncer for a few years while also teaching jiu jitsu and establishing his academy.
In 2007 an American entrepreneur named Jason Atkins contacted Jorge Pereira making a proposal that turned the fighting world upside down. Backed by a few gambling companies, Atkins opened an extreme events online channel (Tough Sports) that had cock fighting and no-holds-barred as its core entertainment. The site's event was called Rio Heroes, and it sought a raw approach to mixed martial arts (MMA), which a trending sport at the time. Choosing to go back to the roots of MMA, namely vale-tudo, where headbutts, groin shots, soccer kicks and all other strikes were allowed, as well as a no time limit to each match.
Rio Heroes was broadcasted live from a satellite truck, with the fights being held in some of Brazil's scariest favelas (slums). Jorge Pereira was the frontman of Rio Heroes who reached out to fighters, was the organization's speaker and also its referee (excluding the first show which was refereed by Roberto Barão).
Although gambling is forbidden in Brazil, Rio Heroes was financed by gambling companies outside Brazil, and all the transactions involving the promotion were dealt by these companies internationally. This didn't stop the organization from being criticized overwhelmingly by the media and the Brazilian jiu jitsu federation (CBJJ/IBJJF), particularly for the rawness of the spectacle.
In the beginning of 2008, after a news report released by journalist Marlene Bergamo on the 31st of January in the "Folha de São Paulo" newspaper, the police shut down the event on suspicion that some gambling exchanges were being held in Brazilian territory. Although none of the allegations were proven by the police, the event never returned, stopping on its 14th edition.
On the 9th of December, 2013 Jorge Pereira was handed his coral belt in Brazilian jiu jitsu by the American BJJ Federation (USBJJF), an organization led by Joe Moreira. Although the IBJJF (jiu jitsu's most established governing body) will only recognize the rank after 31 years as a black belt (2017), the USBJJF bases its rank on services paid to the martial art, and given Pereira's list of accomplishments, the rank was generally accepted by the grappling community.
Famous Black Belts Under Jorge Pereira:
Leo Dalla
Otávio Duarte
Pedro Cabral
Paulo Guillobel
Wander Braga
Jorge Pereira vs Carlos Machuca

Jorge Pereira vs Roberto Godoi

Jorge Pereira inverted omoplata