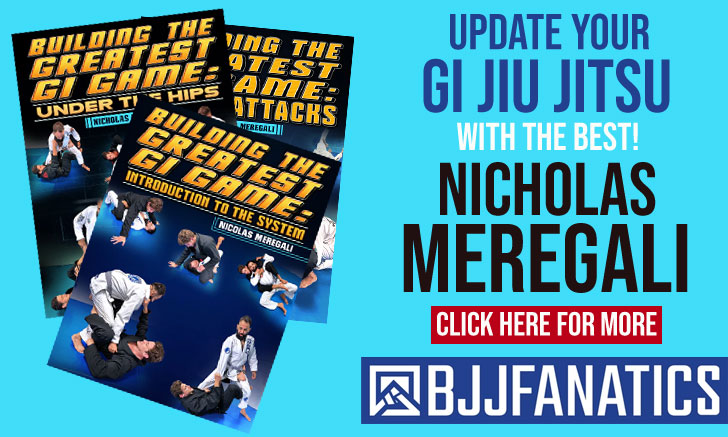 Júlio dos Anjos is a Brazilian jiu jitsu black belt under Master Júlio César Pereira, being one of the top Grappling Fight Team (GFT) representatives in the sport's lightweight division (76kg – 168lbs). A former student of Jorge Trovão (RIP), dos Anjos made a name for himself competing for GFT in the brown belt division, where he conquered numerous important titles before being promoted to black belt (2016).
Julio dos Anjos Jiu Jitsu
Full Name: Júlio Cezar dos Anjos Junior
Nickname: n/a
Lineage: Luis França > Oswaldo Fadda > Monir Salomão > Julio César > Júlio dos Anjos
Main Achievements:
1st Place IBJJF Rio Winter Open (2016)
1st Place UAEJJF Dubai National Pro (2017)
2nd Place IBJJF São Paulo Open (2016)
2nd Place UAEJJF Grand Slam, AD (2020)
Main Achievements (Colored Belts):
1st Place IBJJF Pan Championship (2016 brown, 2012 blue)
1st Place IBJJF European Open (2012 blue)
1st Place CBJJ Brazilian Team Nationals (2015 brown)
1st Place IBJJF Atlanta Pro (2016** brown)
2nd Place CBJJ Brazilian Nationals (2014 brown)
* Absolute
** Weight and absolute
Favorite Position/Technique: Triangle
Weight Division: Peso Leve (76kg/168lbs)
Team/Association: GF Team
Julio dos Anjos Biography
Júlio dos Anjos was born on February 23, 1993, in Tijuca, Rio de Janeiro – Brazil. Growing up dos Anjos moved around for a while, finally settling in Nova Iguacú at the age of 12.
The first martial art Júlio practiced was kickboxing, at 13 years of age. The owner of the gym often mentioned the benefits of jiu-jitsu. One year later dos Anjos took the word of Jorge Trovão and joined his jiu-jitsu class.
Leading Júlio's jiu-jitsu career from white to purple belt, coach Jorge Trovão became more than an instructor to Júlio, being a very strong reference in dos Anjos' upbringing also outside the mats. His passing in 2013 due to cancer was a devastating blow in Julio's life. Before his death Trovão insisted that dos Anjos carried on his grappling career, mentioning GF Team as the perfect new home for his pupil.
After a grieving period, Júlio dos Anjos followed his old Master's advice and joined GF Team, one of Rio de Janeiro's most prominent grappling academies. There, he met head instructor Júlio César Pereira who helped him earn important titles such as the Pan American Games, Team Nationals and several others before earning his black belt on June 21, 2016.
Photo by Marco Aurélio Ferreira
Julio Anjos Grappling Record
34 WINS
BY POINTS


BY ADVANTAGES




BY SUBMISSION




BY DECISION




BY PENALTIES




BY DQ



15 SUBMISSIONS WINS
19 LOSSES
BY POINTS


BY ADVANTAGES




BY SUBMISSION




BY DECISION




BY PENALTIES




BY DQ



4 SUBMISSIONS LOSSES
#214eb8
Terra footlock
25
1
#5AD3D1
Choke from back
25
1
Julio Anjos Fight History
ID
Opponent
W/L
Method
Competition
Weight
Stage
Year
10573

Gabriel Rollo

Gabriel Rollo
L
Referee Decision
Sao Paulo Open
76KG
F
2016
10991

Luan Carvalho

Luan Carvalho
L
Referee Decision
BJJ Rio Pro
82KG
SF
2016
11343

Luan Carvalho

Luan Carvalho
L
Points
Petropolis Pro
77KG
SF
2016
12594

Claudevan Oliveira

L
Pts: 4x2
WP BR Qualifier
77KG
4F
2017
14830

Lachlan Giles

Lachlan Giles
L
Pts: 2x2, Adv
Grand Slam AD
77KG
SF
2018
14833

Adriano Araujo

L
Referee Decision
Grand Slam AD
77KG
RPC
2018
16078

Adriano Araujo

L
Pts: 2x0
WP Br Qualifier
77KG
4F
2018
18016

Igor Sousa

L
Pts: 2x2, Adv
Al Ain Pro
85KG
SF
2018
20042

Tiago Bravo

Tiago Bravo
L
Pts: 0x0, Adv
WP BR Qualifier
77KG
SF
2019
22996

C. Negromonte

C. Negromonte
L
Points
Grand Slam AD
85KG
F
2020
23647

Jakub Zajkowski

Jakub Zajkowski
L
Terra footlock
Grand Slam LDN
85KG
SF
2020
23651

Renato Cardoso

Renato Cardoso
L
Pts: 2x0
Grand Slam LDN
85KG
RPC
2020
25278

Andre Cantanhede

L
Pts: 6x4
Abu Dhabi Pro
85KG
F
2021
25539

Isaque Bahiense

Isaque Bahiense
L
Pts: 4x1
Grand Slam AD
85KG
SF
2021
25618

Claudio Calasans

Claudio Calasans
L
Pts: 3x2
WP BR Qualifier
85KG
RR
2021
25621

Wellington Luis

Wellington Luis
L
Pts: 3x2
WP BR Qualifier
85KG
RR
2021
25622

Isaque Bahiense

Isaque Bahiense
L
Submission
WP BR Qualifier
85KG
RR
2021
29140

Mica Galvao

Mica Galvao
L
Choke from back
BRA Qualifiers
77KG
F
2021
29723

Alessandro Botelho

L
Kneebar
Teams Cup
N/A
RR
2021
10245

Carlos Fellini

W
Armbar
Rio Winter Open
76KG
R1
2016
10248

J. Rocha

W
Wristlock
Rio Winter Open
76KG
8F
2016
10249

Pedro Fernandes

W
Triangle
Rio Winter Open
76KG
4F
2016
10251

Caio Almeida

Caio Almeida
W
Adv
Rio Winter Open
76KG
SF
2016
10253

Claudevan Oliveira

W
Referee Decision
Rio Winter Open
76KG
F
2016
10567

Rafael Mansur

Rafael Mansur
W
Pts: 6x2
Sao Paulo Open
76KG
R1
2016
10570

Rodrigo Conceicao

Rodrigo Conceicao
W
Adv
Sao Paulo Open
76KG
4F
2016
10572

Caio Almeida

Caio Almeida
W
Adv
Sao Paulo Open
76KG
SF
2016
10987

Leo Jacinto

W
Choke
BJJ Rio Pro
82KG
4F
2016
12591

Romario Gonzales

W
Omoplata
WP BR Qualifier
77KG
R1
2017
14750

Antonio Junior

W
Pts: 4x0
Dubai Nat. Pro
77KG
4F
2017
14752

Samuel Canquerino

W
Pts: 2x2, Adv
Dubai Nat. Pro
77KG
SF
2017
14754

Ali Monfaradi

Ali Monfaradi
W
Pts: 11x2
Dubai Nat. Pro
77KG
F
2017
14826

Ali Monfaradi

Ali Monfaradi
W
Pts: 4x2
Grand Slam AD
77KG
4F
2018
16077

Celso Vinicius

Celso Vinicius
W
Pts: 0x0, Adv
WP Br Qualifier
77KG
R1
2018
18018

Robson Nascimento

W
Submission
Al Ain Pro
85KG
3RD
2018
20037

Lucas Rocha

Lucas Rocha
W
Referee Decision
WP BR Qualifier
77KG
R1
2019
20039

Leonardo Lara

Leonardo Lara
W
Referee Decision
WP BR Qualifier
77KG
4F
2019
22995

Igor Sousa

W
Pts: 3x1
Grand Slam AD
85KG
SF
2020
23189

Michael Douglas

W
Choke
Emirates Pro
85KG
SF
2020
23190

M. Murtazaliev

W
Submission
Emirates Pro
85KG
F
2020
23640

Karol Kania

W
Triangle
Grand Slam LDN
85KG
R1
2020
23643

Gilvan Costa

W
Pts: 8x1
Grand Slam LDN
85KG
4F
2020
25277

Gerson Carvalho

W
Triangle
Abu Dhabi Pro
85KG
SF
2021
25533

Nathan Santos

W
Armlock
Grand Slam AD
85KG
R1
2021
25537

Javier Valenciano

W
Pts: 2x1
Grand Slam AD
85KG
4F
2021
26899

Luiz Paulo

Luiz Paulo
W
Pts: 1x1
Asia Cont. Pro
85KG
SF
2021
27720

R. Berezovchuck

W
Armbar
Grand Slam MSK
85KG
SF
2021
27721

Andre Cantanhede

W
Pts: 2x0
Grand Slam MSK
85KG
F
2021
29137

Ygor Rodrigues

Ygor Rodrigues
W
Pts: 1x0
BRA Qualifiers
77KG
4F
2021
29139

Wallison Oliveira

W
Pts: 4x0
BRA Qualifiers
77KG
SF
2021
29697

Y. Souza

W
Armbar
Teams Cup
N/A
RR
2021
29702

Joao Bezerra

W
Triangle
Teams Cup
N/A
RR
2021
29712

Hebert Costa

W
Armbar
Teams Cup
N/A
RR
2021
Julio dos Anjos Highlight