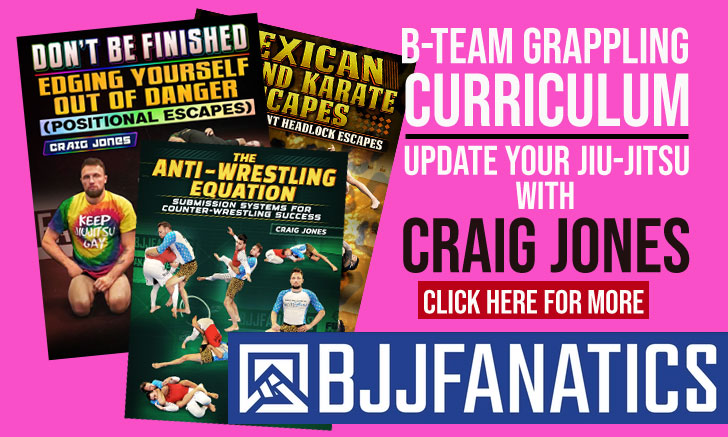 Bill Cooper, also known as 'Bill The Grill', is an American grappler who earned the rank of black belt in Brazilian jiu jitsu training under the supervision of Ricardo Miller at the Paragon jiu jitsu academy. Bill Cooper is one of the most exciting jiu jitsu competitors of his generation, being also the youngest American to have achieved a black belt in BJJ at the time of the grading. Bill Cooper has ventured into Mixed Martial Arts (MMA) as well, having competed in prestigious organizations such as Strikeforce.
Bill Cooper Jiu Jitsu
Full Name: William Cooper
Nickname: The Grill derives from his exquisite set of front teeth.
Lineage: Mitsuyo Maeda > Carlos Gracie > Helio Gracie > Rolls Gracie > Romero Cavalcanti > Ricardo Miller > William Cooper
Main Achievements:
IBJJF Pan American Champion (2007 brown belt)
IBJJF Houston International Open Champion (2010)
GQ Best of the West Champion (2007)
IBJJF World Championship Runner-up (2008/2007 absolute brown)
IBJJF World No-Gi Championship Runner-up (2007 absolute)
IBJJF World Championship 3rd Place (2010)
IBJJF World No-Gi Championship 3rd Place (2008)
Favourite Technique/Position: Open Guard
Weight Division: Peso Medio (82kg-181lbs), Peso Leve (76kg-167lbs)
Team/Association: Paragon BJJ
Bill Cooper, Bill "The Grill" Biography
Bill Cooper was born on the 5th of May, 1987 in Santa Barbara – California. He started practicing Jiu Jitsu when he was in his early teens with Ricardo Franjinha. His natural ability for the sport was evident from the get go, as he started competing in Grapplers Quest when he was a mere 15 years of age. Jeff Glover a prestigious veteran grappler from the same camp as Bill Cooper (Paragon BJJ) said of Cooper that with just one year of training he was already having trouble to submit "The Grill" and by the 3rd year he was trying not to be submitted.
In 2007 Bill Cooper fought the Pan American, winning the competition with flying colours, submitting everyone in the brown belt division. He went on to medal at the Mundial that same year (in the absolute division) where Bill was desqualified in the final – against Otavio Souza – for not wearing underwear, a very unusual event in a final of a major tournament. After the World Championships he was awarded his black belt, at age 20. Meaning he was the youngest American to have received a black belt in Brazilian Jiu Jitsu at the time.
In 2008 Bill Cooper embargoed in a career in MMA (Mixed Martial Arts) with a win against Ricardo Patino at the "Future Stars of MMA" event in Las Vegas. A fight he won by RNC in one minute. He continued his career in MMA throughout 2009 with two more wins leaving his Kimono on the shelf, but he came back strong in 2010 with some good wins and great displays of BJJ in important tournaments such as the Mundial, the Nogi Worlds.
Bill Cooper Grappling Record
48 WINS
BY POINTS


BY ADVANTAGES




BY SUBMISSION




BY DECISION




BY PENALTIES




BY EBI/OT



34 SUBMISSIONS WINS
#22c9a5
Arm in Ezekiel
3
1
#039a1f
Flying triangle
3
1
#03b41f
Power guillotine
3
1
#03c61f
Choke from back
3
1
32 LOSSES
BY POINTS


BY ADVANTAGES




BY SUBMISSION




BY DECISION




BY PENALTIES




BY DQ



15 SUBMISSIONS LOSSES
#d1212a
Arm in guillotine
7
1
#f58822
Choke from back
7
1
#ff9124
Inside heel hook
7
1
#bf1f6c
Flying armbar
7
1
Bill Cooper Fight History
ID
Opponent
W/L
Method
Competition
Weight
Stage
Year
1568

Lucas Leite

Lucas Leite
L
Points
GQ All Star Pro
72KG
F
2007
1805

Jeff Monson

L
Pts: 2x0
World NoGi
ABS
F
2007
1811

Daniel Moraes

Daniel Moraes
L
Guillotine
World NoGi
79KG
SF
2007
1945

Sergio Moraes

Sergio Moraes
L
Pts: 6x2
World Champ.
82KG
F
2008
2011

Carlos Ferreira

L
DQ
NoGi Worlds
79KG
4F
2008
2168

Carlos Ferreira

L
Points
Pan American
82KG
8F
2009
2387

Tom Manelski

L
Points
GQ All-Star Pro
ABS
NA
2009
2391

Roberto Abreu

Roberto Abreu
L
Points
GQ Del Mar
ABS
F
2009
2393

Roberto Abreu

Roberto Abreu
L
Pts: 4x4, Adv
Grapplers Quest
ABS
F
2009
2577

Carlos Esquisito

Carlos Esquisito
L
Points
Pan American
ABS
R1
2010
2756

Joao Assis

Joao Assis
L
Pts: 6x0
GQ UFC Expo
ABS
SF
2010
2769

Joao Assis

Joao Assis
L
Pts: 2x2, Adv
GQ Las Vegas
ABS
NA
2010
2817

Lucas Leite

Lucas Leite
L
Points
Grapplers Quest
82KG
F
2010
4051

Lucas Leite

Lucas Leite
L
Pts: 15x0
World Champ.
82KG
8F
2012
4233

Marcus Antelante

Marcus Antelante
L
Pts: 4x0
NoGi Worlds
82KG
R1
2012
5227

Garry Tonon

Garry Tonon
L
Heel hook
GQ King OTM
ABS
NA
2014
6179

Jake Swimney

L
Armbar
EBI
77KG
R1
2014
10304

Eddie Cummings

Eddie Cummings
L
Inside heel hook
EBI 7
65KG
F
2016
10476

R. Canuto

L
Flying armbar
P. Grounds Inv.
82KG
SPF
2016
10822

Dustin Akbari

L
Referee Decision
F2W 16
72KG
SPF
2016
11273

Edwin Najmi

Edwin Najmi
L
Darce choke
5 Super League
77KG
4F
2016
12861

Andris Brunovskis

Andris Brunovskis
L
Pts: 8x6
Las Vegas Open
82KG
SF
2017
12869

Lucas Barbosa

Lucas Barbosa
L
Armbar
Las Vegas Open
ABS
SF
2017
15711

Vagner Rocha

Vagner Rocha
L
Short choke
F2W 68
77KG
SPF
2018
16794

Vitor Oliveira

Vitor Oliveira
L
Arm in guillotine
F2W 79
82KG
SPF
2018
18516

Cole Franson

Cole Franson
L
Referee Decision
F2W 96
70KG
SPF
2018
18865

Victor Pozas

L
Heel hook
Coast Grappling
ABS
SPF
2019
21957

Diego Ramalho

Diego Ramalho
L
Botinha
World Festival
82KG
SPF
2019
22226

Lucas Valente

Lucas Valente
L
Armbar
Third Coast
82KG
SPF
2019
22943

T. Dalpra

L
Choke from back
Artista Inv.
N/A
SF
2019
29657

William Wolk

L
RNC
High Rollerz 10K
77KG
R1
2021
30760

John Combs

John Combs
L
Guillotine
F2W 196
83KG
SPF
2022
1534

Lou DeLaPena

W
Flying triangle
GQ All Star Pro
81KG
4F
2006
1536

Joe Scarola

W
Power guillotine
GQ All Star Pro
81KG
SF
2006
1537

Gregor Gracie

Gregor Gracie
W
Pts: 8x6
GQ All Star Pro
81KG
F
2006
1565

Unknown

W
Kneebar
GQ All Star Pro
72KG
4F
2007
1566

Scott Bieri

W
Triangle
GQ All Star Pro
72KG
SF
2007
1802

Wellington Dias

Wellington Dias
W
Darce choke
World NoGi
ABS
RDS
2007
1803

Wilson Reis

Wilson Reis
W
RNC
World NoGi
ABS
4F
2007
1804

Cristiano Lazzarini

Cristiano Lazzarini
W
Points
World NoGi
ABS
SF
2007
1810

Christian Uflacker

Christian Uflacker
W
Darce choke
World NoGi
79KG
4F
2007
1930

Paulo Procopio

W
Choke from back
World Champ.
82KG
R1
2008
1937

Alan Finfou

Alan Finfou
W
Lapel choke
World Champ.
82KG
R2
2008
1940

Luiz Gustavo

W
Toe hold
World Champ.
82KG
4F
2008
1943

Otavio Sousa

Otavio Sousa
W
Kneebar
World Champ.
82KG
SF
2008
2033

Mike Cusi

W
Darce choke
San Diego Pro
76KG
4F
2008
2034

Jason Bukach

W
Kimura
San Diego Pro
76KG
SF
2008
2383

Joe Stevenson

W
Pts: 4x2
UFC Expo
ABS
SPF
2009
2386

Ben Pitchford

W
Pts: 11x0
World Series
76KG
NA
2009
2388

Daniel Tavarez

W
RNC
GQ All-Star Pro
ABS
F
2009
2390

Rodrigo Cavaca

Rodrigo Cavaca
W
Triangle
GQ Del Mar
ABS
NA
2009
2392

Bruno Bastos

Bruno Bastos
W
Points
Grapplers Quest
ABS
SF
2009
2394

Seph Smith

W
Darce choke
GQ Las Vegas
ABS
NA
2009
2541

Y. Kakizawa

W
Pts: 0x0, Adv
Pan American
76KG
8F
2010
2545

Rafael Barbosa

Rafael Barbosa
W
Points
Pan American
76KG
4F
2010
2764

Rob. McConkie

W
Armbar
GQ UFC Expo
ABS
NA
2010
2765

Enrico Cocco

Enrico Cocco
W
Pts: 2x0
GQ UFC Expo
ABS
NA
2010
2766

Casey Milliken

W
Toe hold
GQ UFC Expo
ABS
NA
2010
2767

J. Hinger

W
Armbar
GQ UFC Expo
ABS
NA
2010
2768

Igor Araujo

W
Pts: 2x2, Adv
GQ Las Vegas
ABS
NA
2010
2770

Pat Miller

W
Kneebar
GQ LV Expo
ABS
NA
2010
2816

Marcel Louzado

Marcel Louzado
W
Guillotine
Grapplers Quest
82KG
SF
2010
2826

Nolan Dutcher

W
Arm in Ezekiel
GQ Nationals
ABS
NA
2011
2827

Rodrigo Ranieri

Rodrigo Ranieri
W
Pts: 2x2, Adv
GQ Nationals
ABS
NA
2011
2828

Jared Platt

W
Triangle
GQ Nat. NoGi
82KG
F
2011
3406

Hermes Franca

W
Pts: 4x2
UFC Expo
ABS
SPF
2011
4027

Felipe Oliveira

W
Choke
World Champ.
82KG
R1
2012
4040

Vitor Oliveira

Vitor Oliveira
W
Kneebar
World Champ.
82KG
R2
2012
4188

Fredson Paixao

Fredson Paixao
W
Points
GQ UFC Expo
ABS
SF
2012
4190

Marcelo Mafra

Marcelo Mafra
W
Toe hold
GQ UFC Expo
ABS
F
2012
4191

Unknown

W
Darce choke
Grapplers Quest
ABS
NA
2012
5225

Gabriel Toribio

W
Triangle
GQ King OTM
ABS
NA
2014
5226

Jordan Tabor

W
Triangle
GQ King OTM
ABS
NA
2014
10294

I. Sanders

W
EBI/OT
EBI 7
65KG
R1
2016
10300

José Domingos

W
Heel hook
EBI 7
65KG
4F
2016
10303

Geo Martinez

Geo Martinez
W
EBI/OT
EBI 7
65KG
SF
2016
10312

Jake Scovel

W
Kimura
F2W 8
72KG
SPF
2016
16310

Mark Vives

W
Armbar
F2W 73
83KG
SPF
2018
16641

Noad Lahat

W
Toe hold
F2W 76
82KG
SPF
2018
22942

Sergio Hernandez

W
Armbar
Artista Inv.
N/A
4F
2019
Bill Cooper Highlight

Bill Cooper vs Roberto Abreu

Bill Cooper featured in "All Things BJJ"

Bill Cooper's MMA debut (against Ricardo Patino)