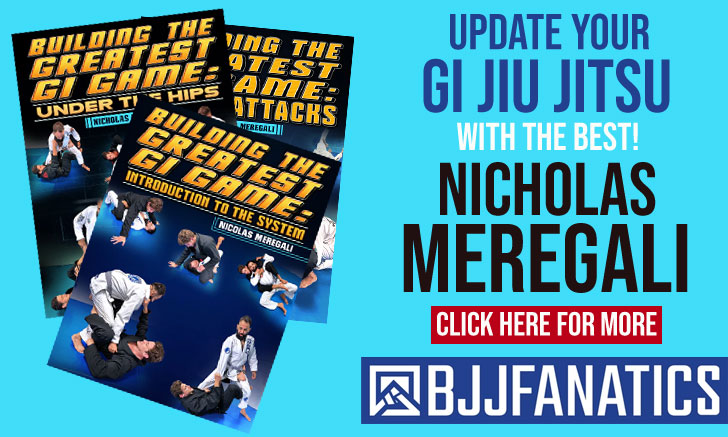 Kody Steele is an American athlete and a professional grappling competitor as well as a jiu-jitsu black belt under Rodrigo Cabral (Brucutu), who represents the Texas-based team — Brazilian Fight Factory (affiliated with Checkmat). A former wrestling standout, Steele became a well-recognized figure in BJJs pro circuit as a brown belt (2018-2019), a time when he conquered the Eddie Bravo Invitational (EBI) Combat Tournament, also beating former 2x black belt world champion DJ Jackson that year at Third Coast Grappling, among other important medals on the International Brazilian Jiu-Jitsu Federation (IBJJF) amateur league.
Kody Steele Jiu-Jitsu
Full Name: Kody Steele
Nickname: N/A
Lineage: Carlos Gracie > Helio Gracie > Rolls Gracie > Romero Cavalcanti > Leonardo Vieira >Rodrigo Cabral > Kody Steele
Main Achievements:
1st Place Marianas Open (2018 brown)
1st Place EBI Combat Jiu-Jitsu (2019)
1st Place TMS Team Grand Prix (2019)
1st Place IBJJF Austin Open (2017 purple)
1st Place IBJJF Austin Open No-Gi (2017 purple)
1st Place IBJJF Dallas Open (2017 purple)
1st Place IBJJF Dallas Open No-Gi (2017 purple)
2nd Place IBJJF World Championship No-Gi (2017 purple, 2019 brown)
3rd Place IBJJF American Nationals (2018 brown)
Favorite Position/Technique: Guard Passing
Weight Division: Peso Médio (82,30 kg / 181.5 lbs)
Team/Association: Checkmat / Brazilian Fight Factory
Kody Steele Biography
Kody Steele was born on April 21, 1995, in Port Angeles, Washington, USA, growing up in Port Angeles and Sequim (also in Washington).
A very active child from a young age, Kody played a number of sports such as baseball and football, which he competed in extensively prior to finding his calling in wrestling during middle school, as a 13-year-old. Playing club wrestling for a number of years, Steele competed in all 3 main styles of the ancient combat form — Greco-Roman, freestyle and folk-style.
Jiu-Jitsu entered Kody's life due to a lack of wrestling schools in Texas, where Steele moved to in 2013. Resigned to not having a room to practice the sport he loved, he decided to give jiu-jitsu a try, immediately finding coach Rodrigo Cabral at the Brazilian Fight Factory Academy, where the connection with BJJ proved to form just as quickly and strongly as he had previously felt with wrestling.
One could say Steele hit the ground running with his jiu-jitsu, as in less than 2 years Kody started grappling on a full-time schedule, making his mark in the sport. The Washington native's brilliant performances in the colored belt divisions — particularly in the no-gi circuit, ramped up Kody's name to compete in important professional events such as EBI Combat, Kasai, Fight 2 Win to name a few, with his record earning Steele his black belt on January 2020, from the hands of Rodrigo Cabral, the coach who guided him from white to black belt.
Kody Steele Grappling Record
17 WINS
BY POINTS


BY ADVANTAGES




BY SUBMISSION




BY DECISION




BY PENALTIES




BY EBI/OT



4 SUBMISSIONS WINS
#86e620
Outside heel hook
25
1
11 LOSSES
BY POINTS


BY ADVANTAGES




BY SUBMISSION




BY DECISION




BY PENALTIES




BY EBI/OT



3 SUBMISSIONS LOSSES
#86e620
Inside heel hook
33
1
#5AD3D1
Outside heel hook
33
1
Kody Steele Fight History
ID
Opponent
W/L
Method
Competition
Weight
Stage
Year
23172

John Combs

John Combs
L
RNC
JitzKing
82KG
SPF
2020
23793

Mason Fowler

Mason Fowler
L
EBI/OT
SUG 15
ABS
SF
2020
23806

Vagner Rocha

Vagner Rocha
L
Points
3CG Kumite III
81KG
4F
2020
24081

Dante Leon

Dante Leon
L
Referee Decision
WNO 4
77KG
SPF
2020
24324

John Combs

John Combs
L
Referee Decision
Subversiv 4
81KG
SF
2020
24331

A. Murasaki

L
Referee Decision
Subversiv 4
81KG
F
2020
24854

Tye Ruotolo

Tye Ruotolo
L
Inside heel hook
WNO 5
SPF
77KG
2020
28377

Jed Hue

L
Referee Decision
Polaris 17
80KG
SPF
2021
28870

William Tackett

William Tackett
L
Referee Decision
ADCC EC Trials
77KG
SF
2021
29683

Gregory Rodrigues

D
---
UFC Inv.
ABS
RR
2021
31411

Chris Wojcik

L
Referee Decision
ADCC WC Trials
77KG
R1
2022
43590

Nicky Ryan

Nicky Ryan
L
Outside heel hook
ADCC ECTrials
77KG
4F
2023
23195

Camron Couch

W
Pts: 8x4
Kasai Pro 7
80KG
SPF
2020
23748

Alec Baulding

Alec Baulding
W
Referee Decision
WNO
81KG
SPF
2020
23762

Mauricio Gomez

W
Points
Jitz King
82KG
SPF
2020
23790

Andy Varela

Andy Varela
W
EBI/OT
SUG 15
ABS
4F
2020
23883

David Garmo

David Garmo
W
Referee Decision
F2W 150
86KG
SPF
2020
24086

Bryan Nuro

W
Outside heel hook
SUG 18
N/A
SPF
2020
24301

Zach Greene

W
Referee Decision
Subversiv 4
81KG
R1
2020
24993

Edwin Najmi

Edwin Najmi
W
Referee Decision
Third Coast
82KG
SPF
2020
26609

Phillip Rowe

W
Referee Decision
WNO 10
83KG
SPF
2021
28826

Ruben Coronado

W
Pts: 6x0
ADCC EC Trials
77KG
R2
2021
28839

Roman Wheeler

W
RNC
ADCC EC Trials
77KG
R3
2021
28852

Adrian Gonzalez

W
Pts: 5x0
ADCC EC Trials
77KG
R4
2021
28860

Placido Santos

W
Referee Decision
ADCC EC Trials
77KG
R5
2021
28867

Jonathan Satava

Jonathan Satava
W
Pts: 0x0, Pen
ADCC EC Trials
77KG
4F
2021
28872

PJ Barch

PJ Barch
W
Referee Decision
ADCC EC Trials
77KG
3RD
2021
29674

Jason High

D
---
UFC Inv.
ABS
RR
2021
43538

John Abney

W
RNC
ADCC ECTrials
77KG
R1
2023
43556

Dakota Leonardis

W
Armbar
ADCC ECTrials
77KG
R2
2023