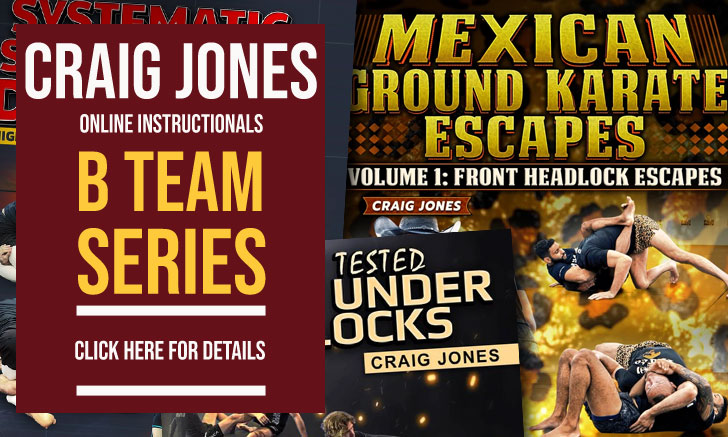 Matheus Diniz is a Brazilian jiu-jitsu black belt under the illustrious Marcelo Garcia, being part of an incredible generation of athletes produced by the respected grappling coach, a generation that included competitors such as Dillon Danis, Dominika Obelenyte, Jonathan Satava, Marcus Tinoco, and Mansher Khera. Diniz made a name for himself in the sport, competing in the brown belt division, where he conquered important titles such as the World No-Gi and Pan American.
Matheus Diniz Jiu-Jitsu
Full Name: Matheus Oliveira Diniz
Nickname: Growing up Mathias had different nicknames, but "Gorilla" is the one that stood for longest. The name is used jokingly due to Diniz's posture as he walks.
Lineage: Carlos Gracie > Helio Gracie > Rolls Gracie > Romero Cavalcanti > Fabio Gurgel >Marcelo Garcia > Matheus Diniz
Main Achievements:
1st Place ADCC World Championship (2019)
1st Place IBJJF Pan Championship NoGi (2015**)
1st Place Kasai Pro 185 lbs Grand Prix (2018)
1st Place IBJJF New York Summer Open (2015**)
1st Place IBJJF New York No-Gi Summer Open (2015**)
2nd Place IBJJF World Championship (2015*)
3rd Place IBJJF World Championship (2015 / 2019)
3rd Place IBJJF World Championship NoGi (2018)
3rd Place IBJJF Pan Championship (2017)
3rd Place IBJJF World Championship NoGi (2016 / 2018)
Main Achievements (Colored Belts):
1st Place IBJJF World No-Gi Championship (2013 / 2014 brown)
1st Place IBJJF Pan Championship (2015** brown)
1st Place IBJJF New York Spring Open (2014** brown)
2nd Place IBJJF World Championship (2012 purple)
2nd Place IBJJF World Championship (2014 brown)
* Absolute
** Weight and absolute
Position/Technique: "Blitz" Style Guard Passing
Weight Division: Meio Pesado (88kg/194lbs)
Team/Association: Alliance – Marcelo Garcia
Matheus Diniz Biography
Matheus Diniz was born on the 8th of April, 1993 in Uberlandia, State of Minas Gerais – Brazil. At a very young age, Diniz moved further down south in the state, to the town of Formiga – the birthplace of the man who would award him his black belt later in life: Marcelo Garcia.
Capoeira was Matheus' first contact with martial arts, a style he started at school when he was 10 years old. Growing up Diniz was somewhat of a troublemaker, this characteristic ended up getting him expelled from school, which put a stop to the capoeira classes. It was also this behavior that led him to jiu-jitsu in 2008.
At the age of 15, during high school, Matheus Diniz heard of a kid from a "rival" neighborhood who disliked him and wanted to fight. He knew the boy and knew that he trained jiu-jitsu at a local academy, so he decided to head down to this academy and meet the kid face to face, hoping to settle the score at his gym. The jiu-jitsu instructor there didn't allow the fight to take place and told Matheus: "No one is fighting here, from now on you will train together and become friends". This was Diniz's first contact with his (soon to be) first coach, Rodrigo Ranieri.
After a few years training with Ranieri, and after receiving his blue belt, Matheus Diniz followed a similar path to that of Formiga's most accomplished grappler (Marcelo Garcia), moving to Poços de Caldas, almost 300 kilometers away from his home, to lead the life of a jiu-jitsu athlete, living at Paulo Rezende's academy while training full time.
Coach Paulo Rezende awarded Diniz his purple and brown belts. Throughout this process, Matheus became acquainted with Garcia. Both were from the town of Formiga, and both started their full-time jiu-jitsu careers with Master Rezende. Marcelo saw great potential in Matheus and often paid for his travel expenses and tournament fees. When Matheus reached his brown belt, Marcelo invited him to come and continue his evolution at Garcia's gym in New York.
At the MG academy, Diniz' jiu-jitsu flourished, with his brown belt campaign bringing Matheus plenty of media attention, as well as a legion of fans. On April 2015 Matheus Diniz was awarded his black belt by Marcelo Garcia.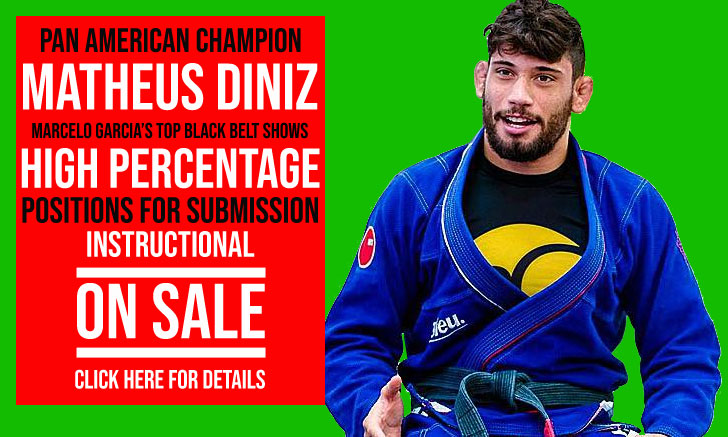 Matheus Diniz MATCH STATS
Overall Positions
CONQUERED MOVES AVERAGE 1.00
Matheus Diniz Grappling Record
77 WINS
BY POINTS


BY ADVANTAGES




BY SUBMISSION




BY DECISION




BY PENALTIES




BY EBI/OT



36 SUBMISSIONS WINS
#214eb8
Choke from back
19
7
#fad11b
Violin armlock
6
2
#f58822
Face mask choke
6
2
#ff9124
Inverted triangle
6
2
#bf1f6c
Flying triangle
3
1
#fad223
Crucifix Choke
3
1
#03f61f
Japanese necktie
3
1
#82ff5f
Brad cutter choke
3
1
31 LOSSES
BY POINTS


BY ADVANTAGES




BY SUBMISSION




BY DECISION




BY PENALTIES




BY EBI/OT



6 SUBMISSIONS LOSSES
#5AD3D1
Choke from back
17
1
#d1212a
Inside heel hook
17
1
Matheus Diniz Fight History
ID
Opponent
W/L
Method
Competition
Weight
Stage
Year
6200

Vinny Magalhaes

Vinny Magalhaes
D
---
Metamoris 5
ABS
SPF
2014
7260

Murilo Santana

Murilo Santana
L
Pts: 7x4
Boca Raton Open
88KG
F
2015
7279

Murilo Santana

Murilo Santana
L
Armbar
Boston Spring Open
88KG
SF
2015
7282

Murilo Santana

Murilo Santana
L
Armbar
Boston Spring Open
ABS
SF
2015
7357

Tarcisio Jardim

Tarcisio Jardim
L
Pts: 0x0, Adv
World Champ.
ABS
R1
2015
7460

Leandro Lo

Leandro Lo
L
Pts: 4x0
World Champ.
88KG
4F
2015
8430

Lucas Barbosa

Lucas Barbosa
L
Pts: 4x2
NoGi Worlds
85KG
SF
2015
8486

Felipe Pena

Felipe Pena
L
Pts: 10x2
NoGi Worlds
ABS
F
2015
9300

Murilo Santana

Murilo Santana
L
Choke
Pan American
88KG
8F
2016
9663

Rustam Chsiev

L
EBI/OT
EBI 6
ABS
SF
2016
10014

Leandro Lo

Leandro Lo
L
Pts: 7x0
World Champ.
88KG
4F
2016
10910

Josh Hinger

Josh Hinger
L
Pts: 4x0
NoGi Worlds
85KG
SF
2016
12073

Erberth Santos

Erberth Santos
L
Pts: 6x2
Pan American
ABS
8F
2017
12210

Leandro Lo

Leandro Lo
L
Pts: 2x0
Pan American
94KG
SF
2017
13010

Mahamed Aly

Mahamed Aly
L
Pts: 7x0
World Champ.
ABS
8F
2017
13170

Leandro Lo

Leandro Lo
L
Referee Decision
World Champ.
94KG
4F
2017
13418

Keenan Cornelius

Keenan Cornelius
L
Referee Decision
FIVE Super League
94KG
SPF
2017
15325

Tim Spriggs

Tim Spriggs
L
Pts: 7x0
Pan American
ABS
R2
2018
15400

Lucas Barbosa

Lucas Barbosa
L
Pts: 2x2, Adv
Pan American
88KG
SF
2018
16536

Lucas Barbosa

Lucas Barbosa
L
Choke from back
World Champ.
88KG
4F
2018
17425

Craig Jones

Craig Jones
L
Referee Decision
Grapple Fest
ABS
SPF
2018
18623

Josh Hinger

Josh Hinger
L
Pts: 8x5
NoGi Worlds
85KG
SF
2018
19332

Tim Spriggs

Tim Spriggs
L
Pts: 3x0
Spyder Inv.
100KG
SF
2019
19334

A. Munis

L
Referee Decision
Spyder Inv.
100KG
3RD
2019
19600

Lucas Barbosa

Lucas Barbosa
L
Pts: 0x0, Adv
Pan American
88KG
SF
2019
20422

Gabriel Arges

Gabriel Arges
L
Referee Decision
F2W 112
88KG
SPF
2019
20632

Felipe Pena

Felipe Pena
L
Pts: 2x0
World Champ.
88KG
SF
2019
23985

Gordon Ryan

Gordon Ryan
L
Inside heel hook
WNO 4
ABS
SPF
2020
24316

Otavio Sousa

Otavio Sousa
L
Pts: 0x0, Adv
BJJ Stars 4
86KG
4F
2020
26633

Lucas Barbosa

Lucas Barbosa
L
Pts: 2x0
BJJ Stars
94KG
SPF
2021
26786

Kaynan Duarte

Kaynan Duarte
L
Calf slicer
Road to ADCC
ABS
SPF
2021
29391

Otavio Sousa

Otavio Sousa
L
Referee Decision
World Champ.
88KG
8F
2021
7259

Diego Gamonal

W
Armbar
Boca Raton Open
88KG
SF
2015
7264

Nathan Mendelsohn

Nathan Mendelsohn
W
Choke from back
Boca Raton Open
ABS
4F
2015
7267

Diego Gamonal

W
Triangle
Boca Raton Open
ABS
SF
2015
7268

Ricardo Bastos

W
Wristlock
Boca Raton Open
ABS
F
2015
7278

Jordan Lutsky

W
Armbar
Boston Spring Open
88KG
4F
2015
7280

Renan Borges

W
Inverted triangle
Boston Spring Open
ABS
4F
2015
7649

C. Haraszti

W
Flying triangle
NY Summer Open
88KG
4F
2015
7650

Brian Beauty

W
Choke from back
NY Summer Open
88KG
F
2015
7657

Chris Haraszti

W
DQ
NY Summer Open
ABS
SF
2015
7664

Todd Brandon

W
Inverted triangle
NY No Gi Open
94KG
SF
2015
7665

Neiman Gracie

W
Pts: 2x0
NY No Gi Open
94KG
F
2015
7668

Jason Lees

W
Pts: 40x0
NY No Gi Open
ABS
SF
2015
7669

Gilbert Burns

Gilbert Burns
W
Pts: 8x2
NY No Gi Open
ABS
F
2015
8169

Thomas Loubersanes

W
Pts: 8x0
NoGi Pan Ams
88KG
SF
2015
8179

David Raab

David Raab
W
RNC
NoGi Pan Ams
ABS
4F
2015
8184

Gybson Sá

W
Pts: 4x0
NoGi Pan Ams
ABS
SF
2015
8185

Garry Tonon

Garry Tonon
W
Wristlock
NoGi Pan Ams
ABS
F
2015
8429

Pedro Mello

Pedro Mello
W
Pts: 6x0
NoGi Worlds
85KG
4F
2015
8457

Nicholas Liaskos

W
Mata leao
NoGi Worlds
ABS
R1
2015
8466

Garry Tonon

Garry Tonon
W
Pts: 4x0
NoGi Worlds
ABS
R1
2015
8482

Steven Patterson

W
Crucifix Choke
NoGi Worlds
ABS
4F
2015
8485

Mahamed Aly

Mahamed Aly
W
RNC
NoGi Worlds
ABS
SF
2015
9293

Diego Ramalho

Diego Ramalho
W
Pts: 13x0
Pan American
88KG
R1
2016
9655

Lucas Rocha

Lucas Rocha
W
EBI/OT
EBI 6
ABS
R1
2016
9660

Richie Martinez

Richie Martinez
W
Violin armlock
EBI 6
ABS
4F
2016
10001

Thiago Sa

Thiago Sa
W
Pts: 5x2
World Champ.
88KG
R1
2016
10009

Manny Diaz

Manny Diaz
W
Pts: 2x0
World Champ.
88KG
8F
2016
10258

Felipe Cesar

Felipe Cesar
W
Lapel choke
NY Summer Open
ABS
SF
2016
10259

Diego Ramos

W
Wristlock
NY Summer Open
88KG
RR
2016
10260

Diego Ramos

W
Violin armlock
NY Summer Open
88KG
RR
2016
10268

Daniel Mehrkar

W
Triangle
NY NoGi Open
ABS
4F
2016
10269

Felipe Cesar

Felipe Cesar
W
Pts: 8x0
NY NoGi Open
ABS
SF
2016
10270

Murilo Santana

Murilo Santana
W
Pts: 5x0
NY NoGi Open
ABS
F
2016
10389

Todd Mueckenheim

W
Points
Boston SIO
94KG
F
2016
10391

James Quinlan

W
Kimura
Boston SIO
ABS
4F
2016
10393

Lucas Valle

W
Choke from back
Boston SIO
ABS
SF
2016
10906

Kit Dale

Kit Dale
W
RNC
NoGi Worlds
85KG
4F
2016
12063

Joseph Moku

W
Pts: 0x0, Adv
Pan American
ABS
R1
2017
12203

Roberto Torralbas

W
Pts: 5x0
Pan American
94KG
8F
2017
12208

Nick Schrock

Nick Schrock
W
Pts: 5x0
Pan American
94KG
4F
2017
12373

Nicolas Penzer

W
Katagatame
NY Spring Open
94KG
SF
2017
12374

Romulo Azevedo

Romulo Azevedo
W
Choke from back
NY Spring Open
94KG
F
2017
13002

Viking Wong

W
Pts: 6x0
World Champ.
ABS
R1
2017
13160

Arnaldo Maidana

Arnaldo Maidana
W
Referee Decision
World Champ.
94KG
8F
2017
15026

Igor Paiva

Igor Paiva
W
Bread slicer
Atlanta W. Open
88KG
SF
2018
15034

Charles Mcguire

W
Wristlock
Atlanta W. Open
ABS
4F
2018
15035

Joshua Bacallao

W
Armbar
Atlanta W. Open
ABS
SF
2018
15179

Olivier Kee-Seng

W
Pts: 11x0
Continental Pro
85KG
4F
2018
15182

Murilo Santana

Murilo Santana
W
Referee Decision
Continental Pro
85KG
SF
2018
15183

Nick Calvanese

Nick Calvanese
W
Submission
Continental Pro
85KG
F
2018
15315

Max Gimenis

Max Gimenis
W
Choke from back
Pan American
ABS
R1
2018
15395

Diogo Sampaio

Diogo Sampaio
W
Pts: 0x0, Adv
Pan American
88KG
4F
2018
15846

Richie Martinez

Richie Martinez
W
Pts: 7x0
Kasai Pro 2
84KG
RR
2018
15847

Felipe Mota

Felipe Mota
W
Pts: 2x0
Kasai Pro 2
84KG
RR
2018
15849

Pierre Leclerc

W
Japanese necktie
Kasai Pro 2
84KG
RR
2018
15852

Michael Perez

Michael Perez
W
Pts: 2x0
Kasai Pro 2
84KG
F
2018
16527

Diogo Almeida

Diogo Almeida
W
Brad cutter choke
World Champ.
88KG
R1
2018
16530

C. Negromonte

C. Negromonte
W
Pts: 2x2, Adv
World Champ.
88KG
8F
2018
18387

Daniel Strauss

W
Referee Decision
GrappleFest 3
ABS
SPF
2018
18615

Vegard Randeberg

W
DQ
NoGi Worlds
85KG
R2
2018
18621

Mauricio Oliveira

Mauricio Oliveira
W
Referee Decision
NoGi Worlds
85KG
4F
2018
19330

Hyungcheul Kim

W
Pts: 13x0
Spyder Inv.
100KG
4F
2019
19593

Esdras Barbosa

W
Choke from back
Pan American
88KG
8F
2019
19596

Murilo Santana

Murilo Santana
W
Pts: 4x2
Pan American
88KG
4F
2019
20386

Gustavo Batista

Gustavo Batista
W
Referee Decision
F2W 111
85KG
SPF
2019
20623

Tarsis Humphreys

Tarsis Humphreys
W
Pts: 3x0
World Champ.
88KG
R2
2019
20629

Lucas Barbosa

Lucas Barbosa
W
Pts: 2x0
World Champ.
88KG
4F
2019
20820

Craig Jones

Craig Jones
W
Points
Third Coast
85KG
SPF
2019
21343

Josh Hinger

Josh Hinger
W
RNC
Kasai Pro 6
86KG
SPF
2019
21797

Pedro Marinho

Pedro Marinho
W
Pts: 5x0
ADCC
88KG
R1
2019
21801

Gabriel Arges

Gabriel Arges
W
Referee Decision
ADCC
88KG
4F
2019
21842

Josh Hinger

Josh Hinger
W
Pts: 3x0
ADCC
88KG
SF
2019
21844

Craig Jones

Craig Jones
W
Pts: 2x0
ADCC
88KG
F
2019
23163

Angelo Claiborne

Angelo Claiborne
W
Choke from back
Atlanta WO
88KG
SF
2020
23164

Joseph Watson

W
Pts: 3x0
Atlanta WO
88KG
F
2020
27828

David Garmo

David Garmo
W
Face mask choke
Grapple Temple
N/A
SPF
2021
29383

Juan Cleber

W
Face mask choke
World Champ.
88KG
R1
2021
Matheus Diniz vs Ricardo Bastos

Matheus Diniz vs Gilbert Burns

Matheus Diniz Highlight