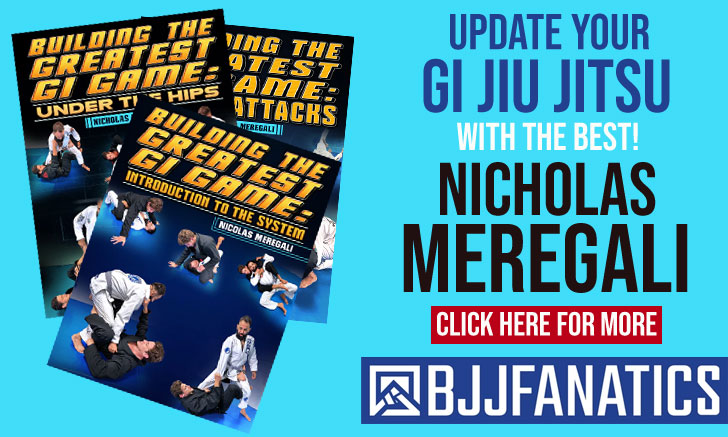 Nobuhiro Sawada is a Japanese born black belt in Brazilian jiu-jitsu under Mitsuyoshi Hayakawa, being also one of the main representatives of the Tri-Force Academy in the sport/martial art's international circuit. Sawada made a name for himself as one of Japan's brightest grapplers after his many podium placements in important tournaments such as the International Brazilian Jiu-Jitsu Federation (IBJJF) World No-Gi and American National Championships.
Nobuhiro Sawada Jiu-Jitsu
Full Name: Nobuhiro Sawada
Nickname: N/A
Lineage: Mitsuyo Maeda > Carlos Gracie > Helio Gracie > Rolls Gracie > Romero Cavalcanti (Jacaré) > Alexandre Paiva (Gi-gi) > Mitsuyoshi Hayakawa > Nobuhiro Sawada
Main Achievements:
IBJJF World No-Gi Champion (2018)
IBJJF American Nationals Champion (2017)
UAEJJF Grand Slam Tokyo Champion (2018)
JBJJF All Japan Champion (2018)
IBJJF World No-Gi Championship 3rd Place (2017)
Main Achievements (Colored Belts):
IBJJF World No-Gi Champion (2014 purple)
IBJJF Pan Champion (2015 brown)
IBJJF Asian Open Champion (2014 purple)
IBJJF European Open Champion (2014 purple)
IBJJF World Championship 2nd Place (2012 blue)
IBJJF Asian Open Championship 2nd Place (2015/2016 brown)
IBJJF World No-Gi Championship 3rd Place (2015/2016 brown)
Favorite Position/Technique: Armbar
Weight Division: Peso Galo (57.5Kg – 127.0 lbs)
Team/Association: Tri-Force
Nobuhiro Sawada Biography
Nobuhiro Sawada was born on June 23, 1991, in Urayasu, a city located in Chiba Prefecture, Japan.
Growing up Sawada's first serious sporting endeavor was karate, a martial art Nobuhiro started as a child, influenced by his father. A few years into his combat training, however, 11-year-old Sawada gained interest in ping-pong (table tennis), a sport he decided to pursue, then trading the karate-gi for the racket.
In spite of leaving martial arts, Nobuhiro continued to follow the fight-game, being a big fan of mixed martial arts events such as PRIDE Fc. Watching fighters such as Antônio Rodrigo Nogueira (Minotauro) and some of the other BJJ athletes on the ring opened Sawada's eyes to grappling and led the young Japanese to return to martial arts.
At the age of 18, Nobuhiro Sawada joined the academy of Mitsuyoshi Hayakawa, founder of the Tri-Force Academy. It was under the guidance of Hayakawa that Nobuhiro climbed the ranks of jiu-jitsu becoming one of the rising stars in Japanese grappling. His success on the mats led Sawada to quit his job with a government office on April 2017, to focus solely on his jiu-jitsu career.
Nobuhiro Sawada's sacrifice and hard work led coach Mitsuyoshi Hayakawa to promote the young Tri-Force star to black belt in a ceremony that took place on June 2017.
Cover photo by Bukuro-BJJ @bukurobjj
Nobuhiro Sawada Grappling Record
12 WINS
BY POINTS


BY ADVANTAGES




BY SUBMISSION




BY DECISION




BY PENALTIES




BY DQ



4 SUBMISSIONS WINS
#86e620
Choke from back
25
1
24 LOSSES
BY POINTS


BY ADVANTAGES




BY SUBMISSION




BY DECISION




BY PENALTIES




BY DQ



5 SUBMISSIONS LOSSES
#214eb8
Bow and arrow
40
2
Nobuhiro Sawada Fight History
ID
Opponent
W/L
Method
Competition
Weight
Stage
Year
13680

Tomoyuki Hashimoto

Tomoyuki Hashimoto
L
Points
Asian Open
57KG
SF
2017
16432

Bruno Malfacine

Bruno Malfacine
L
Bow and arrow
World Champ.
57KG
R2
2018
16692

Bebeto Oliveira

L
Pts: 6x4
American Nat.
57KG
F
2018
17315

Shohei Watanabe

L
Referee Decision
Asian Open
57KG
SF
2018
18866

Aniel Bonifacio

Aniel Bonifacio
L
Pts: 6x6, Adv
European Open
57KG
4F
2019
19413

Bebeto Oliveira

L
Pts: 4x0
Grand Slam LDN
56KG
F
2019
19473

Joao Neto

Joao Neto
L
Pts: 3x0
King of Mats
69KG
RR
2019
19476

Gabriel Sousa

Gabriel Sousa
L
Pts: 13x0
King of Mats
69KG
RR
2019
19478

Lee Ting

L
Referee Decision
King of Mats
69KG
RR
2019
19481

Hiago George

Hiago George
L
Submission
King of Mats
69KG
RR
2019
19537

Pedro Dias

Pedro Dias
L
Referee Decision
Polaris 9
62KG
SPF
2019
19558

Cleber Sousa

Cleber Sousa
L
Pts: 4x2
Pan American
57KG
SF
2019
20067

Hiago George

Hiago George
L
Katagatame
World Pro
56KG
RR
2019
20070

Carlos Alberto

L
Pts: 8x0
World Pro
56KG
RR
2019
20564

Tomoyuki Hashimoto

Tomoyuki Hashimoto
L
Pts: 4x0
World Champ.
57KG
R1
2019
21215

Gabriel Sousa

Gabriel Sousa
L
Bow and arrow
King of Mats
69KG
RR
2019
21218

Cleber Sousa

Cleber Sousa
L
Kneebar
King of Mats
69KG
RR
2019
21220

Wanki Chae

Wanki Chae
L
Pts: 4x2
King of Mats
69KG
RR
2019
22832

Rodnei Barbosa

Rodnei Barbosa
L
Referee Decision
NoGi Worlds
55KG
SF
2019
23060

Tomoyuki Hashimoto

Tomoyuki Hashimoto
L
Pts: 0x0, Adv
European Open
57KG
4F
2020
33349

Cory Walker

Cory Walker
L
Pts: 2x0
Washington DCO
58KG
4F
2022
33351

Cory Walker

Cory Walker
L
Pts: 2x0
Washington DCO
58KG
F
2022
33378

Frank Cespedes

Frank Cespedes
L
Pts: 7x0
American Nat.
58KG
SF
2022
36790

Coco Izutsu

L
Pts: 2x2, Adv
NoGi Worlds
55KG
4F
2022
13332

Chad Lundy

W
Armbar
American Nats
57KG
F
2017
16427

Alexis Alduncin

Alexis Alduncin
W
Armbar
World Champ.
57KG
R1
2018
16992

Massaki Todoroko

W
Adv
Grand Slam TYO
56KG
RR
2018
16993

Massaki Todoroko

W
Points
Grand Slam TYO
56KG
RR
2018
17114

Shohei Watanabe

W
Armbar
All Japan
57KG
SF
2018
18571

Livio Ribeiro

Livio Ribeiro
W
Referee Decision
NoGi Worlds
55KG
F
2018
19412

Fred Guimaraes

W
Pts: 6x2
Grand Slam LDN
56KG
SF
2019
19554

Sudraj Kumar

W
Referee Decision
Pan American
57KG
8F
2019
20065

Andrea Verdemare

W
Points
World Pro
56KG
RR
2019
33350

Jhonathas Ramos

W
Choke from back
Washington DCO
58KG
SF
2022
33377

Antonio Villatora

W
Pts: 2x2, Adv
American Nat.
58KG
4F
2022
36787

Christopher Tran

W
Pts: 6x4
NoGi Worlds
55KG
R1
2022
Nobuhiro Sawada vs Chad Lundy