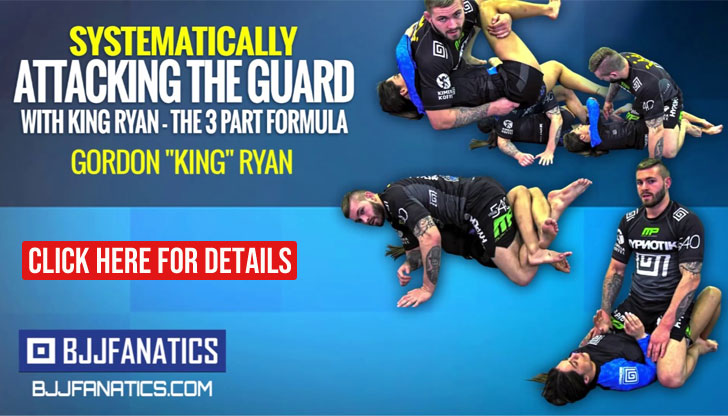 Michael Perez, commonly known as Mike Perez is a Brazilian jiu-jitsu black belt under André Galvao and a representative of the Atos JJ Academy in the sport's international circuit. Perez earned his reputation as one of the top US competitors of his generation through his wins in important tournaments such as the ADCC US Trials and International Brazilian Jiu-Jitsu Federation (IBJJF) World and Pan American No-Gi Championships.
Michael Perez Jiu-Jitsu
Full Name: Michael Anthony Perez
Nickname: Perez is often referenced as "el Patron". The name caught on during the Grappling Pro Championship tournament in 2016, where Mike was cornering teammate Lucas Barbosa. Perez showed up with mustard yellow trousers, a tiger-striped collar shirt and his hair combed back, immediately causing people to correlate the visual with that of Pablo Escobar (AKA el Patron).
Lineage: M. Maeda > Carlos Gracie > Reyson Gracie > Osvaldo Alves > L. Dagmar > André Galvão > Mike Perez
Main Achievements:
1st Place IBJJF Denver Open (2019)
2nd Place Kasai II Grand Prix( 2018)
3rd Place IBJJF Pans Championship NoGi (2018)
Main Achievements (Colored Belts):
1st Place ADCC US Trials Championship (2013/2015)
1st Place IBJJF Pans No-Gi Championship (2014 purple)
1st Place IBJJF World No-Gi Championship (2015 brown, 2014 purple)
1st Place IBJJF American Nationals NoGi (2014**/2013 purple)
1st Place IBJJF World Championship NoGi (2013 purple)
2nd Place IBJJF Juvenile World Championship  (2010)
2nd Place USBJJF/IBJJF American Championship NoGi (2013* purple, 2011 blue)
2nd Place USBJJF/IBJJF American Championship (2011 blue)
3rd Place IBJJF World Championship (2017 brown)
3rd Place IBJJF World No-Gi Championship (2013* purple)
3rd Place IBJJF Pans Championship (2017 brown, 2010 blue)
* Absolute
** Weight and absolute
Favorite Position/Technique: Well Rounded
Weight Division: Peso Pesado (94,30 kg / 208.0 lbs
Team/Association: Atos JJ
Mike Perez Biography
Michael Perez was born on September 14, 1992 in Washington DC though he grew up in between Tennessee and Texas, where his parents were located.
During his mid-teens, Mike decided he wanted to learn how to defend himself in a physical altercation, choosing to sign on to jiu-jitsu classes with Paul Thomas and Brandon Mullins for that effect. It was under the tutelage of these two coaches, at Westside MMA academy that Perez became embedded in grappling culture, going on to add wrestling to his daily routine – competing for Morton Ranch High School during his senior year.
As time went by Perez' desire to become a full-time athlete grew, and finding out about Team Lloyd Irvin's "Medal Chasers" program in Maryland – which offered shelter, food, training, and competition registration fees, he decided to apply. After his acceptance, Perez moved with all his possessions to "The Jungle", the athletes' house at TLI where he arrived as a blue belt.
In 2013 Mike decided to leave the Team Lloyd Irvin base camp, claiming maladaptation to the Maryland weather, and the long-distance from friends and family. He found a new home in San Diego, California which was rapidly becoming the sport's Mecca. He joined the Atos Jiu-Jitsu Academy of André and Angélica Galvao.
Enjoying very fruitful competitive years defending the Atos flag Mike Perez earned both his purple and brown belts, conquering also the "Atos Brown Belt of the Year Award" in 2016. His constant positive performances in the colored belt divisions of the sport made way for his promotion to black belt, shortly after the ADCC tournament world finals in which Perez participated, on October 2017.
Michael Perez Grappling Record
24 WINS
BY POINTS


BY ADVANTAGES




BY SUBMISSION




BY DECISION




BY PENALTIES




BY DQ



7 SUBMISSIONS WINS
#86e620
Outside heel hook
29
2
#5AD3D1
Choke from back
14
1
20 LOSSES
BY POINTS


BY ADVANTAGES




BY SUBMISSION




BY DECISION




BY PENALTIES




BY DQ



4 SUBMISSIONS LOSSES
#5AD3D1
Choke from back
25
1
Michael Perez Fight History
ID
Opponent
W/L
Method
Competition
Weight
Stage
Year
14243

Patrick Gaudio

Patrick Gaudio
L
Pen
ACBJJ 8
O95KG
4F
2017
14598

Erberth Santos

Erberth Santos
L
Points
ACB JJ 9
95KG
4F
2017
15411

Marcos Tinoco

Marcos Tinoco
L
Choke from back
Pan American
82KG
8F
2018
15872

Nick Calvanese

Nick Calvanese
L
Pts: 4x2
Kasai Pro 2
84KG
RR
2018
15882

Matheus Diniz

Matheus Diniz
L
Pts: 2x0
Kasai Pro 2
84KG
F
2018
16965

Francisco Iturralde

Francisco Iturralde
L
Referee Decision
W.S.O.G.
81KG
4F
2018
16977

V. Hugo

L
Armbar
W.S.O.G.
O81KG
8F
2018
17401

Max Gimenis

Max Gimenis
L
Pts: 7x0
No Gi Pan Am.
ABS
4F
2018
17444

Nick Calvanese

Nick Calvanese
L
Pts: 2x0
No Gi Pan Am.
85KG
SF
2018
18626

Athos Miranda

L
Pts: 2x2, Adv
NoGi Worlds
79KG
R1
2018
20670

Rudson Mateus

Rudson Mateus
L
Armbar
World Champ.
88KG
R2
2019
21845

Adam Wardzinski

Adam Wardzinski
L
Referee Decision
ADCC
88KG
R1
2019
21910

Patrick Gaudio

Patrick Gaudio
L
Pts: 2x0
ADCC
ABS
R1
2019
26170

Devhonte Johnson

Devhonte Johnson
L
Pts: 0x0, Adv
NoGi Pan Am.
97KG
4F
2021
28192

Andre Porfirio

Andre Porfirio
L
Pts: 0x0, Adv
NoGi Worlds
ABS
8F
2021
28303

Pedro Rocha

Pedro Rocha
L
Guillotine
NoGi Worlds
85KG
4F
2021
31312

Kyle Boehm

Kyle Boehm
L
Pts: 2x0
ADCC WC Trials
O99KG
8F
2022
36771

Roberto Abreu

Roberto Abreu
L
Pts: 15x0
NoGi Worlds
ABS
4F
2022
36824

Ellis Younger

L
Pts: 4x2
NoGi Worlds
73KG
8F
2022
45174

Inacio Santos

L
Points
Atlanta FNGO
ABS
F
2023
15254

Sergio Rios

Sergio Rios
W
Kneebar
Mexico Winter Open
88KG
SF
2018
15870

Dante Leon

Dante Leon
W
Outside heel hook
Kasai Pro 2
84KG
RR
2018
15874

Craig Jones

Craig Jones
W
Pts: 3x2
Kasai Pro 2
84KG
RR
2018
16954

Morgan Neidlinger

W
Referee Decision
W.S.O.G.
81KG
R1
2018
16959

Richar Nogueira

Richar Nogueira
W
Referee Decision
W.S.O.G.
81KG
8F
2018
17394

A. Berzin

W
Referee Decision
No Gi Pan Am.
ABS
8F
2018
17398

B. Lenyard

W
Pts: 4x2
No Gi Pan Am.
ABS
8F
2018
17439

R. Reis

W
Pts: 0x0, Adv
No Gi Pan Am.
85KG
R1
2018
17441

Chris Banghart

W
Pts: 17x2
No Gi Pan Am.
85KG
4F
2018
19542

Darragh OConaill

Darragh OConaill
W
Referee Decision
Polaris 9
85KG
SPF
2019
20461

Richar Nogueira

Richar Nogueira
W
Pts: 0x0, Adv
San Diego Open
ABS
4F
2019
20506

Marcus Salerno

W
Points
Denver Open
O100KG
SF
2019
20507

John Hansen

W
Choke from back
Denver Open
O100KG
F
2019
20663

Roberto Dib

W
Referee Decision
World Champ.
88KG
R1
2019
20861

Travis Moore

W
Guillotine
Third Coast
94KG
SPF
2019
26166

Francisco Leon

W
Pts: 2x0
NoGi Pan Am.
97KG
R1
2021
26207

Daniel Diniz

Daniel Diniz
W
Guillotine
NoGi Pan Am.
ABS
8F
2021
26215

Pedro Palhares

W
Referee Decision
NoGi Pan Am.
ABS
4F
2021
26220

Antonio Zuazo

W
Pts: 0x0, Adv
NoGi Pan Am.
ABS
SF
2021
28296

Miha Perhavec

W
Guillotine
NoGi Worlds
85KG
8F
2021
31300

Zack Holycross

W
Outside heel hook
ADCC WC Trials
O99KG
R1
2022
31306

Tom McMahon

W
Pts: 9x4
ADCC WC Trials
O99KG
R2
2022
36765

Gianni Grippo

Gianni Grippo
W
Pts: 2x0
NoGi Worlds
ABS
8F
2022
45173

Luiz Paulo

Luiz Paulo
W
N/A
Atlanta FNGO
ABS
SF
2023
Michael Perez vs Gordon Ryan (2015)

Michael Perez Black Belt Promotion