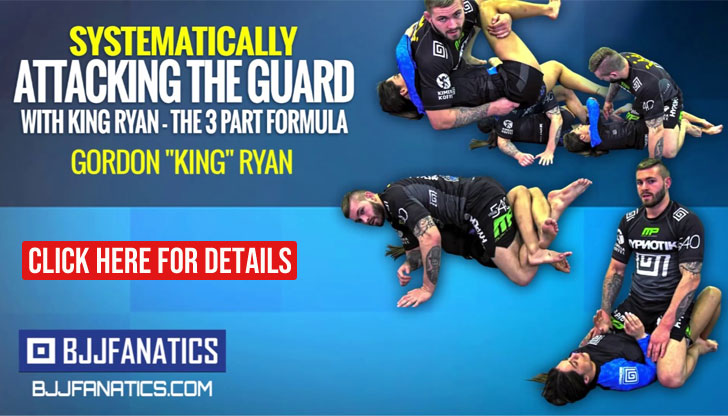 Vinicius Garcia is a Brazilian jiu jitsu black belt under Rodrigo Castro of Atrium Jiu Jitsu / NS Brotherhood, being also one of the most accomplished grapplers ever produced by the state of Goiás (Brazil). Competing primarily in the International Brazilian Jiu Jitsu Federation's circuit, Garcia conquered important medals, including at the European International Open, Brazilian Nationals as well as at the Sao Paulo and Rio International Open.
Vinicius Garcia Jiu Jitsu
Full Name: Vinicius Carvalho Garcia
Nickname: n/a
Lineage: Mitsuyo Maeda > Carlos Gracie > Crezio Chaves > Rodrigo Castro > Vinicius Garcia
Main Achievements:
IBJJF Rio International Open Champion (2012 blue)
IBJJF Brasilia International Open Champion (2016)
IBJJF Sao Paulo International Open Runner-up (2016)
IBJJF Belo Horizonte International Open Runner-up (2016)
IBJJF Brasilia International Open Runner-up (2012/2013 purple, 2015 brown)
IBJJF European Open 3rd Place (2017)
CBJJ Brazilian Nationals 3rd Place (2013 purple)
Favorite Position/Technique: Footlocks
Weight Division: Peso Meio-Pesado (88,30 kg / 195.0 lbs)
Team/Association: NS Brotherhood
Vinicius Garcia Biography
Vinicius Garcia was born on July 6, 1991 in Pires do Rio – state of Goiás, Brazil.
During his formative years Garcia became a fan of mixed martial arts (MMA), growing increasingly fond of the groundwork facet in this sport. His interest for grappling led Vinicius to jiu jitsu at the age of 16 (2008) a time when he joined Ricardo Favorito's class in Pires do Rio.
As a blue belt Vinicius moved to Goiânia (state capital), where he continued his training under the supervision of Rodrigo Castro, one of the highest ranked coaches in Goiás – at the Atrium Jiu Jitsu Academy.
As a brown belt Vinicius started coaching on a regular basis, taking the lead of a few classes at Atrium JJ while also teaching at a few other spaces. His hard work as a coach and his extensive medal tally, earned while competing in Brazil's top events led coach Rodrigo Castro to promote Vinicius to black belt on December 9, 2015.
The link between Leandro Lo and Vinicius occurred at the time Leandro visited Goiânia for a workshop. The head-coach of New School Brotherhood liked the work being performed by instructor Rodrigo Castro and accepted to be affiliated with the Atrium team. A valuable link for the Goiás and Garcia, who made the most of the training camps at NSB ahead of big events.
Vinicius Garcia Grappling Record
27 WINS
BY POINTS


BY ADVANTAGES




BY SUBMISSION




BY DECISION




BY PENALTIES




BY DQ



11 SUBMISSIONS WINS
#fad11b
Mounted X choke
9
1
#f58822
Hashimoto choke
9
1
31 LOSSES
BY POINTS


BY ADVANTAGES




BY SUBMISSION




BY DECISION




BY PENALTIES




BY DQ



15 SUBMISSIONS LOSSES
#86e620
Straight ankle lock
13
2
#224aba
Bow and arrow
7
1
#ff9124
Choke from back
7
1
Vinicius Garcia Fight History
ID
Opponent
W/L
Method
Competition
Weight
Stage
Year
9769

Claudio Mattos

Claudio Mattos
L
N/A
Brasileiro
82KG
4F
2016
10578

Jaime Canuto

Jaime Canuto
L
Armbar
Sao Paulo Open
82KG
F
2016
10608

Sergio Benini

Sergio Benini
L
Points
BH Open
82KG
F
2016
10611

Otavio Nalati

L
Points
Salvador Open
ABS
4F
2016
11608

Rodrigo Fajardo

Rodrigo Fajardo
L
Pts: 2x2, Adv
European Open
88KG
SF
2017
13135

Alec Baulding

Alec Baulding
L
Pts: 10x2
World Champ.
82KG
R1
2017
13293

Celso Vinicius

Celso Vinicius
L
Pts: 4x0
SP BJJ Pro
82KG
SF
2017
14431

Adam Wardzinski

Adam Wardzinski
L
Brabo choke
Madrid NG Open
ABS
F
2017
14520

Matheus Godoy

Matheus Godoy
L
Kneebar
Brasilia Open
94KG
F
2017
17046

Rafael Vasconcelos

Rafael Vasconcelos
L
Points
Orlando Open
ABS
SF
2018
17528

Matt Leighton

Matt Leighton
L
Armbar
Atlanta SMO
88KG
F
2018
19190

Nathan Santos

L
Points
Atlanta WO
88KG
SF
2019
19617

Alexandre Jesus

Alexandre Jesus
L
Cross choke
Pan American
82KG
R1
2019
20394

Diogo Sampaio

Diogo Sampaio
L
Points
Dallas SPO
88KG
SF
2019
20665

Esdras Mendes

L
Botinha
World Champ.
88KG
R1
2019
20945

Hunter Ewald

Hunter Ewald
L
Pts: 8x8, Adv
American Nats
88KG
SF
2019
20956

John Hansen

L
Pts: 5x4
American Nats
ABS
SF
2019
21174

Jake Watson

Jake Watson
L
Straight ankle lock
Austin SMO
88KG
SF
2019
21183

Jake Watson

Jake Watson
L
Kimura
Austin SMO
ABS
F
2019
21186

Jake Watson

Jake Watson
L
Armbar
Austin SMNGO
85KG
F
2019
21547

Pedro Rocha

Pedro Rocha
L
Pts: 2x0
Dallas SMO
88KG
F
2019
21552

Igor Paiva

Igor Paiva
L
Points
Dallas SMO
ABS
4F
2019
21556

Pedro Rocha

Pedro Rocha
L
Guillotine
Dallas SNGO
85KG
F
2019
21988

Lucas Rocha

Lucas Rocha
L
Armbar
Atlanta SM Open
ABS
SF
2019
22211

Mathias Luna

Mathias Luna
L
Points
Houston FO
88KG
SF
2019
22214

Mathias Luna

Mathias Luna
L
Adv
Houston FO
ABS
4F
2019
23308

Lucas Valente

Lucas Valente
L
Straight ankle lock
New Orleans Open
88KG
F
2020
23692

Roberto Jimenez

Roberto Jimenez
L
Bow and arrow
Houston WO
94KG
F
2020
24181

Guthierry Barbosa

Guthierry Barbosa
L
Choke from back
Pan American
82KG
4F
2020
24577

Josh McKinney

L
Terra lock
American Nats
88KG
4F
2020
25153

Robby Malof

L
Referee Decision
F2W 164
85KG
SPF
2021
9765

Rodrigo Reis

W
Adv
Brasileiro
82KG
8F
2016
10602

Matheus Souza

W
Botinha
Brasilia Open
88KG
SF
2016
10603

Marcelo Cortelassi

W
Choke
Brasilia Open
88KG
F
2016
10604

Otavio Nalati

W
Toe hold
Brasilia Open
ABS
SF
2016
10605

Alex Vieira

W
Kimura
Brasilia NG Open
85KG
F
2016
10606

Claudio Mattos

Claudio Mattos
W
Pts: 2x0
BH Open
82KG
4F
2016
10607

Elfrankli Souza

W
Points
BH Open
82KG
SF
2016
10613

Diego Cabral

W
Toe hold
Salvador NG Open
ABS
F
2016
10614

Joao Ferreira

W
Kimura
Salvador NG Open
85KG
F
2016
11600

Marcelo Cortelassi

W
Pts: 4x0
European Open
88KG
8F
2017
13292

Diego Vivaldo

Diego Vivaldo
W
Points
SP BJJ Pro
82KG
4F
2017
14519

Juan Marcel

W
Pts: xyes
Brasilia Open
94KG
SF
2017
17043

Julian Synan

W
Choke
Orlando Open
88KG
F
2018
17526

Gustavo Soares

W
Points
Atlanta SMO
88KG
SF
2018
18088

Gustavo Soares

W
N/A
Charlotte Open
88KG
F
2018
18422

Philip Raby

W
N/A
Nashville Fall Open
88KG
F
2018
18424

Ricardo Sampaio

W
N/A
Nashville Fall Open
ABS
SF
2018
18425

Pedro Palhares

W
N/A
Nashville Fall Open
ABS
F
2018
20944

Stanley Rosa

W
Points
American Nats
88KG
4F
2019
20954

Juan Cleber

W
Canto choke
American Nats
ABS
4F
2019
21178

Jean Cartagena

W
N/A
Austin SMO
ABS
4F
2019
21182

Andre Reis

W
N/A
Austin SMO
ABS
SF
2019
21987

Cody Heller

W
N/A
Atlanta SM Open
ABS
4F
2019
23307

Daniel Olivier

W
Canto choke
New Orleans Open
88KG
SF
2020
23315

Joshua Murdock

W
Points
New Orleans Open
ABS
SF
2020
23981

Kyle Raemisch

W
Mounted X choke
F2W 153
85KG
SPF
2020
24175

Kevin Vieira

W
Hashimoto choke
Pan American
82KG
8F
2020
Vinicius Garcia vs Joao Ferreira

Vinicius Garcia vs Alexandre Vieira