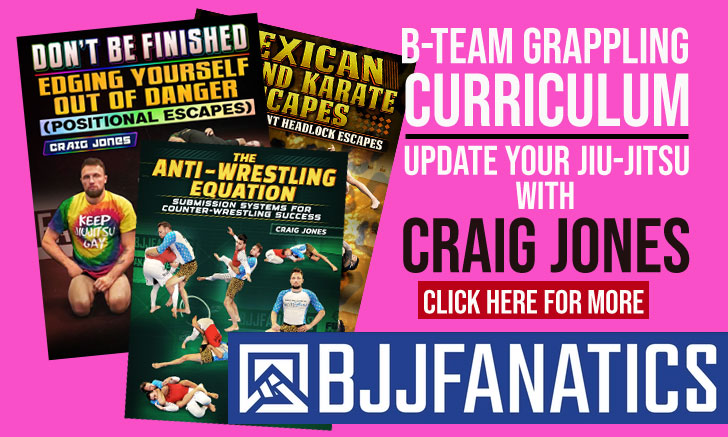 Muslim Patsarigov is a Brazilian jiu jitsu black belt of Chechen nationality, developed by coach Felipe "Gargamel" Mota from his academy in Sandnes – Norway. Known for his strong freestyle wrestling background, Patsarigov earned his reputation as one of the top super-heavyweights in the world through his performances in tournaments such as Abu Dhabi World Pro Championship, World No-Gi Championship and European Open Championship.
Muslim Patsarigov Jiu Jitsu
Full Name: Muslim Letschaevich Patsarigov
Nickname: Patsarigov is often called "Messi" as it is an easier way to say than Muslim.
Lineage: M. Maeda > Carlos Gracie > Helio G. > Rolls G. > R. Cavalcanti > O. Couto > Felipe Mota > Muslim Patsarigov
Main Achievements:
1st Place SBJJL Finland NoGi National (2016*)
2nd Place ADCC EU Trials (2019)
2nd Place IBJJF Rome Open (2017)
3rd Place IBJJF World NoGi (2016)
Main Achievements (Colored Belts):
1st Place NAGA Europe (2014)
2nd Place UAEJJF Abu Dhabi World Pro (2016 brown)
2nd Place European Open (2013 blue)
3rd Place World NoGi (2015** brown)
* Absolute
** Weight and absolute
Favorite Position/Technique: Straight Ankle Lock
Weight Division: Super Pesado (100kg/221lbs)
Team/Association: Roger Gracie Academy – Norway
Muslim Patsarigov Biography
Muslim Patsarigov was born on August 9, 1987 in Chechnya. It was there that "Messi" started wrestling – age 4, earning a spot in the Chechen national junior squad by the time he was 10 years old.
Patsarigov won every tournament in his home state's wrestling circuit, conquering also a bronze medal at the Chechnya nationals in his early teens. Although his career looked destined for greater things, that success was abruptly stopped after his 13th birthday (2000) with the start of the Second Chechen War. A time when Patsarigov and his family were forced to flee their war torn country, finding shelter in Norway.
Muslim continued to wrestle among friends, but as competitive wrestling was non-existent in Norway, Patsarigov was forced to re-think his sporting aspirations. During his late teens Patsarigov became a fan of Rickson Gracie, deciding then to look for a jiu jitsu academy. He met Felipe Mota in 2009 and immediately started to train under him.
Training at Oxy Gym with some of the best grapplers in the continent, Patsarigov earned the respect of the grappling community by winning countless medals in Scandinavia. Muslim became known for his strong pressure passing and for having never been taken down in competition, a remarkable deed considering he also never pulled guard.
After an impressive brown belt campaign, where Patsarigov earned medals in some of our sport's most prestigious events, on August 2016 Muslim was promoted to black belt by his long-time instructor Felipe Mota.
Muslim Patsarigov Grappling Record
21 WINS
BY POINTS


BY ADVANTAGES




BY SUBMISSION




BY DECISION




BY PENALTIES




BY DQ



10 SUBMISSIONS WINS
#214eb8
Straight ankle lock
90
9
18 LOSSES
BY POINTS


BY ADVANTAGES




BY SUBMISSION




BY DECISION




BY PENALTIES




BY DQ



6 SUBMISSIONS LOSSES
#214eb8
Amassa pao choke
17
1
Muslim Patsarigov Fight History
ID
Opponent
W/L
Method
Competition
Weight
Stage
Year
10630

Riku Urholin

L
Pts: 2x0
NoGi Finnish Open
O97KG
F
2016
10636

P. Tepponen

L
Pts: 2x0
NoGi Finnish Open
ABS
F
2016
10940

Jared Dopp

Jared Dopp
L
Pts: 0x0, Adv
NoGi Worlds
97KG
SF
2016
10964

Augusto Mendes

Augusto Mendes
L
Pts: 0x0, Adv
NoGi Worlds
ABS
4F
2016
11508

Claudio Calasans

Claudio Calasans
L
Amassa pao choke
European Open
ABS
8F
2017
11628

Vitor Toledo

Vitor Toledo
L
Armlock
European Open
100KG
4F
2017
12308

Mahamed Aly

Mahamed Aly
L
Cross choke
Rome Open
100KG
F
2017
12364

Riku Urholin

L
Points
European NoGi
100KG
SF
2017
12370

AJ Agazarm

AJ Agazarm
L
DQ
European NoGi
ABS
SF
2017
16186

Nelton Pontes

Nelton Pontes
L
Pts: 2x0
World Pro
110KG
R1
2018
16195

Igor Silva

Igor Silva
L
Referee Decision
World Pro
110KG
RPC
2018
17789

Perttu Tepponen

Perttu Tepponen
L
Pts: 0x0, Pen
ADCC EU Trials
99KG
F
2018
20143

Eldar Rafigaev

Eldar Rafigaev
L
Triangle
World Pro
110KG
R1
2019
20151

R. Evangelista

R. Evangelista
L
Wristlock
World Pro
110KG
3RD
2019
22197

Devhonte Johnson

Devhonte Johnson
L
Referee Decision
European NoGi
ABS
SF
2019
29242

Paulo Brasil

L
Pts: 8x1
World Pro
120KG
R1
2021
32313

Daniel Manasoiu

L
Katagatame
ADCC EU Trials
O99KG
F
2022
36052

Oliver Taza

Oliver Taza
L
Referee Decision
European NG
ABS
4F
2022
10629

Tatu Immonen

W
Straight ankle lock
NoGi Finnish Open
O97KG
SF
2016
10632

M. Männimägi

W
Straight ankle lock
NoGi Finnish Open
ABS
4F
2016
10634

Joachim Sveinson

W
Straight ankle lock
NoGi Finnish Open
ABS
SF
2016
10952

Fabio Caloi

Fabio Caloi
W
Straight ankle lock
NoGi Worlds
ABS
R1
2016
10960

Gustavo Dias

Gustavo Dias
W
Pts: 0x0, Adv
NoGi Worlds
ABS
8F
2016
11500

Mieszko Maciejewski

W
Straight ankle lock
European Open
ABS
R1
2017
12306

Francisco Caraballo

W
N/A
Rome Open
100KG
SF
2017
16192

Adolfo Correia

W
Straight ankle lock
World Pro
110KG
RPC
2018
17782

Chris Jones

W
Pts: 2x0
ADCC EU Trials
99KG
R1
2018
17784

Lukasz Lepianka

W
Straight ankle lock
ADCC EU Trials
99KG
8F
2018
17785

Ben Dyson

W
Pts: 2x0
ADCC EU Trials
99KG
4F
2018
17788

Max Bickerton

W
Straight ankle lock
ADCC EU Trials
99KG
SF
2018
19526

Martin Gobel

W
N/A
Budapest Open
O100KG
SF
2019
19527

G. Kosztolanczy

W
Pts: 4x0
Budapest Open
O100KG
F
2019
20149

Antonio Junior

W
Pts: 2x2, Adv
World Pro
110KG
RPC
2019
20150

Walter Santos

W
Straight ankle lock
World Pro
110KG
RPC
2019
32303

Aki Teraväinen

W
Referee Decision
ADCC EU Trials
O99KG
R1
2022
32306

Kornel Zapadka

W
RNC
ADCC EU Trials
O99KG
8F
2022
32308

Akseli Kaasalainen

W
Pts: 2x0
ADCC EU Trials
O99KG
4F
2022
32311

Mateusz Juskowiak

W
Pen
ADCC EU Trials
O99KG
SF
2022
36049

Manuel Pilato

W
N/A
European NG
ABS
R2
2022
Muslim Patsarigov vs Ilkka Outa

Muslim Patsarigov vs Mardo Männimägi