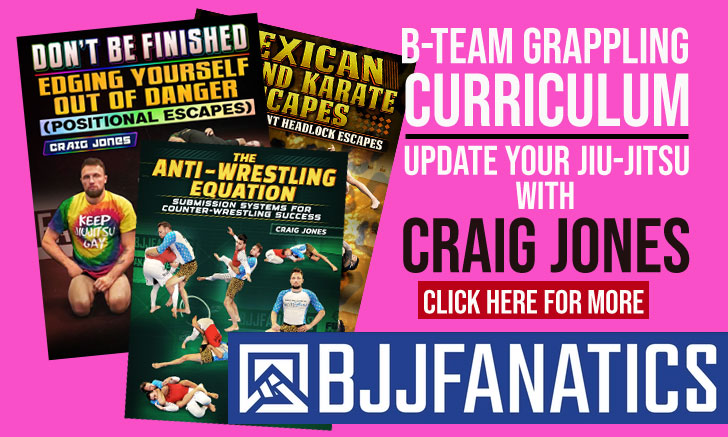 Reinaldo Ribeiro is a Brazilian jiu jitsu black belt under Leonardo Castello Branco who is widely recognized as one of the top competitors of his generation and one of the best featherweight contenders of all time. Originally from Minas Gerais in Brazil, Ribeiro solidified himself as a high level grappler in the early 2000's, bringing his wealth of knowledge to Europe (Iberian Peninsula) later in that decade where he formed successful teams in both Spain and Portugal.
Reinaldo Ribeiro Jiu Jitsu
Full Name: Reinaldo Augusto Ribeiro
Lineage: Mitsuyo Maeda > Carlos Gracie > Carlson Gracie > Fernando "Pinduka" > Leonardo Castello Branco > Reinaldo Ribeiro
Main Titles:
IBJJF European Open Champion (2008 / 2007 adult, 2011 Master 1);
CBJJE European Cup Champion (2009)
FPJJ Sao Paulo State Champion (2004 / 2003)
ADCC Brazilian Trials Champion (2000)
UAEJJF World Pro London Trials Champion (2011)
FPJJ Sao Paulo State No-Gi Champion (2006*)
Black Belt Grand Prix 2nd Place (2004)
CBJJO World Cup 2nd Place (2002 / 2004)
CBJJE Mundial de Jiu Jitsu 2nd Place (2007)
CBJJ Brazilian National 2nd Place (2001 / 2002)
CBJJ Brazilian Teams National 2nd Place (2000)
Catalunya Cup Champion (2008*)
IBJJF World Championship 3rd Place (2006 / 2003)
CBJJO World Cup 3rd Place (2003)
IBJJF European Open 3rd Place (2010)
Other Important Achievements:
IBJJF World Champion (1999 purple)
IBJJF World Championship 2nd Place (2000 brown)
* Absolute
** Weight and absolute
Weight Division: Peso Pena (70kg-154lbs)
Favourite Position/Technique: De La Riva Guard & Omoplata
Team/Association: Reinaldo Ribeiro Team (Formerly: Alliance, Checkmat, Brasa & Castello Branco)
Reinaldo Ribeiro Biography
Reinaldo Ribeiro was born on the 30th of August, 1978 in Poço de Caldas – State of Minas Gerais – Brazil. He found Jiu Jitsu when he was 11 years old as a way to vent out his energy, Reinaldo was hyper-active and caused a lot of fights at school, his family had put him in several different martial arts before BJJ, namely Judo, Karate and Capoeira, but to no avail.
His first coach, Paulo Rezende (AKA Paulão) is famed for his tough workout routines, which seemed to put Reinaldo back on track. Reinaldo went through the ranks with Mr Rezende and started teaching the kids class when he reached his blue belt.
After Ribeiro achieved his purple belt, he moved away from Poço de Caldas and Minas Gerais, picking up his training at Leonardo Castello Branco's academy, then affiliated with Alliance. Guided by Castello Branco, Reinaldo achieved his brown belt and later his black belt (in 2000).
He competed all over the world, medalling in some of the most important tournaments in the world, having legendary fights with competitors such as Fredson Paixão, Marcio Feitosa and Mario Reis. In 2006 he came to Lisbon, Portugal, to compete in the European Open. There he met a local by the nickname of "Beethoven" who invited him to give a seminar at the gym where he trained. The invitation was accepted and as these students did not have a BJJ black belt instructor at the time, Reinaldo started giving regular classes at the academy. Soon he established himself and created one of the strongest teams in the country, making several European Medallists and graduating students with the black belt, such as: Rodrigo "Rodas" Quadros, Clauber Santana, Joao "Jucao" Martins and Bruno do Ó "Ozao".
He then moved to Spain (Barcelona) where he established another school, one of the strongest in the region. He continued to compete at some of Europe's major tournaments trying his luck not only in the featherweight division, but also in the "Pesadissimo", getting a very honourable 3rd place in 2010 – losing only in the semi's to Antonio Peinado, and winning the "Super-Pesado" in 2011 as a Master, he also ventured in the absolute at the World Pro Jiu Jitsu Cup trial in London (2011) losing in the final to Lucio "Lagarto" who was the reigning Super Heavyweight European Champion, losing only by a guad pass.
Reinaldo Ribeiro vs Daniel Abu – Black Belt GP 2004

Reinaldo Ribeiro vs Marcio Feitosa – Black Belt GP 2004

Reinaldo Ribeiro vs Bernardo Pitel – European Open 2008

Reinaldo Ribeiro – European Open 2007