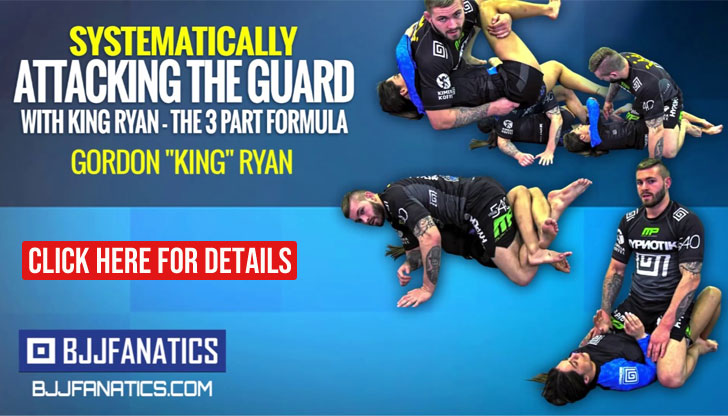 Nick Schrock, also known as "Moose" is a Brazilian jiu-jitsu black belt under JW Wright, having also worked extensively on his grappling skills with Saulo and Alexandre Ribeiro. Schrock earned his reputation as one of the top BJJ competitors of his generation in the lower belt divisions of this sport/martial art, where he conquered important titles such as IBJJF World champion and Pan American (gi and no-gi) Champion.
Nick Schrock Jiu-Jitsu
Full Name: Nick Schrock
Nickname: Nick is often referenced as "Moose", a nickname that has followed him since his blue belt days. It started while rolling with a more experienced training partner, his teammate mentioned that training with Nick felt like training with a moose. The banter started circling among his teammates and quickly became attached to Schrock's jiu-jitsu life.
Lineage: Mitsuyo Maeda > Carlos Gracie > Helio Gracie > Royler Gracie > JW Wright > Nick Schrock
Main Achievements:
1st Place IBJJF Masters World Championship (2019)
1st Place IBJJF Long Beach Open (2016**)
2nd Place FIVE Grappling Super League (2017)
2nd Place ADCC US West Coast Trials (2017)
2nd Place IBJJF Chicago Summer Open (2016)
2nd Place IBJJF Los Angeles Pro (2016)
3rd Place IBJJF World Championships No-Gi (2016)
Main Achievements (Colored Belts):
1st Place IBJJF World Championship (2013 purple)
1st Place IBJJF Pans Championship (2011 blue)
1st Place IBJJF Pans Championship No-Gi (2015 brown)
2nd Place IBJJF Pans Championship (2015 brown, 2011* blue)
3rd Place IBJJF Pans Championships (2016** brown)
* Absolute
** Weight and absolute
Favorite Position/Technique: Pressure Passing
Weight Division: Peso Pesado (94,30 kg / 208.0 lbs)
Team/Association: Ribeiro Jiu-Jitsu
Nick Schrock Biography
Nick Schrock was born on August 16, 1989 in St.Louis, Missouri – USA.
Sports were introduced to Schrock at a young age, with American football, being one of his preferred disciplines – an activity he played competitively as a linebacker throughout high school.
Nick found jiu-jitsu at the age of 19 during his school break. Although he didn't know much about the martial art he decided to try out a class and test the waters, that very first grappling experience taking place at JW Wright's academy. It only had five participating members but Schrock was sold on to the benefits of the gentle art from the get-go.
At Wright's academy, Nick befriended a judo black belt who also trained there. This judoka, nicknamed "Judo Blair", would often spend time before and after classes giving stand-up advice to Schrock. Although this exchange only happened for a short period, it greatly benefited Moose's throwing ability, to an extent that he would later earn the label of being one of the top judoka in BJJ even though he never stepped foot inside a judo club.
Always an avid competitor, Nick Schrock went through the belt system reasonably quick, under the tutelage of JW Wright – who awarded Moose his black belt on July 2016. Only a few months later, in September that year, Nick took a job for a start-up Business Development company in North San Diego, California. This move provided Schrock a chance to work with two legends of the sport, the Ribeiro Brothers (Saulo and Xande) at the University of Jiu-Jitsu academy.
Cover photo by Blanca Marisa Garcia for FIVE Grappling.
Nick Schrock Grappling Record
18 WINS
BY POINTS


BY ADVANTAGES




BY SUBMISSION




BY DECISION




BY PENALTIES




BY DQ



5 SUBMISSIONS WINS
#214eb8
Choke from back
40
2
22 LOSSES
BY POINTS


BY ADVANTAGES




BY SUBMISSION




BY DECISION




BY PENALTIES




BY DQ



7 SUBMISSIONS LOSSES
#5AD3D1
Straight ankle lock
14
1
Nick Schrock Fight History
ID
Opponent
W/L
Method
Competition
Weight
Stage
Year
10379

Tanner Rice

Tanner Rice
L
Pts: 5x5, Adv
Ch. Summer Open
94KG
F
2016
10383

Lucas Barbosa

Lucas Barbosa
L
Pts: 5x0
Ch. Summer Open
ABS
SF
2016
10713

Tarsis Humphreys

Tarsis Humphreys
L
Pts: 6x0
BJJ Pro LA
94KG
SF
2016
10935

Lucas Barbosa

Lucas Barbosa
L
Toe hold
NoGi Worlds
92KG
SF
2016
11696

Eliot Kelly

Eliot Kelly
L
Pts: 2x0
San Jose Open
100KG
F
2017
12032

Lucas Barbosa

Lucas Barbosa
L
Referee Decision
FIVE Super League
92KG
F
2017
12232

Matheus Diniz

Matheus Diniz
L
Pts: 5x0
Pan American
94KG
4F
2017
12564

Paul Ardila

Paul Ardila
L
Pts: 4x0
ADCC WC Trials
99KG
F
2017
13187

Dimitrius Souza

Dimitrius Souza
L
Pts: 8x0
World Champ.
94KG
8F
2017
13435

Horlando Monteiro

Horlando Monteiro
L
Triangle
FIVE Super League
ABS
SPF
2017
13828

Patrick Gaudio

Patrick Gaudio
L
Pts: 2x0
Grand Slam LA
94KG
4F
2017
13834

F. Tsushima

L
Pts: 0x0, Adv
Grand Slam LA
94KG
RR
2017
14265

Lucas Barbosa

Lucas Barbosa
L
Points
SJJIF Worlds
ABS
R1
2017
15256

Fellipe Andrew

Fellipe Andrew
L
Triangle
Mexico Winter Open
94KG
F
2018
15422

Renato Cardoso

Renato Cardoso
L
Triangle
Pan American
88KG
8F
2018
16332

Angel Cicero

L
Triangle
San Diego Open
88KG
SF
2018
16563

Lucas Barbosa

Lucas Barbosa
L
Pts: 4x0
World Champ.
88KG
8F
2018
16622

Leandro Lo

Leandro Lo
L
DQ
World Champ.
ABS
8F
2018
18144

Chris Dempsey

L
Pts: 0x0, Pen
ADCC EC Trials
88KG
R1
2018
19126

Diego Vazquez

L
Referee Decision
ADCC WC Trials
99KG
SF
2019
19127

Paul Ardila

Paul Ardila
L
RNC
ADCC WC Trials
99KG
3RD
2019
41640

Jose Munoz

L
Straight ankle lock
Phoenix Open
94KG
4F
2023
10378

John Gutta

W
Choke from back
Ch. Summer Open
94KG
SF
2016
10711

Arnaldo Maidana

Arnaldo Maidana
W
Estima lock
BJJ Pro LA
94KG
4F
2016
10932

Felipe Mota

Felipe Mota
W
Pts: 0x0, Adv
NoGi Worlds
92KG
4F
2016
11315

Tanner Rice

Tanner Rice
W
Pts: 0x0, Adv
Long Beach Open
94KG
F
2016
11319

AJ Agazarm

AJ Agazarm
W
Pts: 0x0, Adv
Long Beach Open
ABS
SF
2016
12025

Ezra Lenon

W
Choke from back
FIVE Super League
92KG
4F
2017
12029

Tanner Rice

Tanner Rice
W
Referee Decision
FIVE Super League
92KG
SF
2017
12228

Ahmed White

W
Pts: 2x2, Adv
Pan American
94KG
8F
2017
12550

Amin Nash

W
Kneebar
ADCC WC Trials
99KG
R1
2017
12555

Louis Villareal

W
Pts: 10x2
ADCC WC Trials
99KG
8F
2017
12561

JJ Holmes

W
Referee Decision
ADCC WC Trials
99KG
4F
2017
12563

Colin Hart

W
Pts: 5x0
ADCC WC Trials
99KG
SF
2017
14260

Diego Ramalho

Diego Ramalho
W
Points
SJJIF Worlds
94KG
SF
2017
15730

Jorge Farfan

W
Points
UMW 3
100KG
SPF
2018
16555

Bruno Emanoel

W
Pts: 0x0, Adv
World Champ.
88KG
R1
2018
19118

C. Davidson

W
Pts: 9x0
ADCC WC Trials
99KG
R1
2019
19121

L. Juarez

W
Armbar
ADCC WC Trials
99KG
R2
2019
19124

A. Perez

W
Pts: 7x0
ADCC WC Trials
99KG
4F
2019
Bishop BJJ Highlight of Nick Shrock