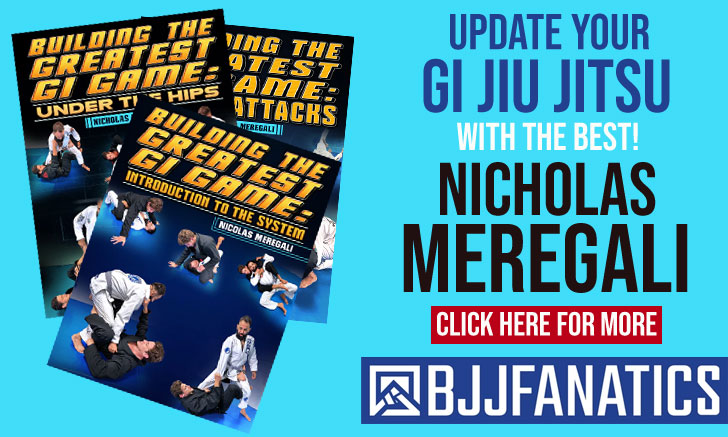 Celso Venicius (often written as Vinicius, and also named Celsinho) was arguably the best jiu-jitsu lightweight competitor of the mid-2000s period. Promoted to black belt by the legendary Roberto "Gordo", Venicius was originally a Gracie Barra academy representative, later becoming the head coach at the Ryan Gracie Academy in Sao Paulo after Gracie's tragic death in 2007. Celso Venicius has also ventured into MMA in the 2010's decade.
Celso Venicius Jiu Jitsu
Full Name: Celso Venícius Alves Pinho Júnior
Nickname: "Celsinho" means Little Celso.
Lineage: Mitsuyo Maeda > Carlos Gracie Sr. > Carlos Gracie Junior > Roberto Correa > Celso Venicius
Main Achievements (Black Belt):
1st Place IBJJF World Championship (2008/2006/2005)
1st Place IBJJF Pan American Championship (2008)
1st Place IBJJF South American Championship (2009)
1st PlaceUltimate Absolute NYC 2 Champion (2011)
2nd Place UAEJJF Abu Dhabi World Pro (2011)
3rd Place IBJJF World Championship (2007)
Favorite Position/Technique: Half Guard
Weight Division: Peso Leve (76,00 kg / 168.0 lbs)
Association/Team: Gordo JJ/Ryan Gracie JJ/ Gracie-Barra
Celso Venicius Biography
Celso Venicius was born on December 27, 1983, in Rio de Janeiro–Brazil. His interest in jiu-jitsu occurred after watching an MMA event on TV where he was amazed to see a BJJ practitioner's style for the first time, admiring the way the grappler controlled the fight on the ground. He thought the ground game made it look more like it was all about technical ability rather than athleticism and so he decided to start looking for an academy to begin his training in jiu-jitsu, he found one in 1998.
Only two years later, Celsinho started making his mark in jiu-jitsu and being noticed by the media. This happened when he fought in the "Expert Adults Division" of a major grappling tournament being just 16 years old. Celso won his way to the final where he met another fighter that was already considered a prodigy Thiago Fernandes (RIP) from Nova União, the final lasted 20 minutes. The match ended as a draw and the organization awarded both fighters with the first prize.
As the years went by, Celso won more and more competitions solidifying himself as one of the hottest lightweight prospects in the world. In 2004 after he won the World Jiu-Jitsu Championships (Mundial) in the brown belt division, Celso Venicius received his black belt while standing on the podium from the hands of his long time master Roberto Correa.
Another big moment in Celso Venicius's life came about in 2009 after the death of Ryan Gracie (jiu jitsu's original "enfant terrible"). Ryan Gracie had one of the strongest teams in the São Paulo area (which combined had around 1000 students), with his passing these academies were left without a head coach. Celso Venicius was hired to take Ryan Gracie's place. In fact, Mr Venicius said in an interview given to Tatame Magazine shortly after the takeover, that Ryan had contacted him previous to his death and asked him to join in as an assistant coach, which made the whole process easier.
At Ryan Gracie's academy, Celso also started learning MMA. He began competing in smaller shows and his career as an MMA fighter started picking up some steam in 2011.
Celso Vinicius Grappling Record
57 WINS
BY POINTS


BY ADVANTAGES




BY SUBMISSION




BY DECISION




BY PENALTIES




BY DQ



10 SUBMISSIONS WINS
#214eb8
Choke from back
20
2
#5AD3D1
Triangle armbar
10
1
#ff9124
Arm in guillotine
10
1
26 LOSSES
BY POINTS


BY ADVANTAGES




BY SUBMISSION




BY DECISION




BY PENALTIES




BY DQ



2 SUBMISSIONS LOSSES
#86e620
Arm in guillotine
50
1
Celso Vinicius Fight History
ID
Opponent
W/L
Method
Competition
Weight
Stage
Year
1152

Carlos Portugues

Carlos Portugues
L
Adv
Brasileiro
76KG
F
2005
1750

Lucas Lepri

Lucas Lepri
L
Kneebar
World Champ.
76KG
SF
2007
2518

Gilbert Burns

Gilbert Burns
L
Pts: 7x2
WPC Gr Trials
74KG
F
2010
2640

Gilbert Burns

Gilbert Burns
L
Points
World Pro.
74KG
SF
2010
2689

Michael Langhi

Michael Langhi
L
Referee Decision
World Champ.
76KG
F
2010
2914

Leandro Lo

Leandro Lo
L
Adv
World Pro.
74KG
F
2011
3113

JT Torres

JT Torres
L
Pts: 2x0
World Champ.
76KG
4F
2011
5789

Roberto Satoshi

Roberto Satoshi
L
Pts: 2x0
World Champ.
76KG
4F
2014
7879

Roberto Satoshi

Roberto Satoshi
L
Adv
Grand Slam TYO
77KG
F
2015
10010

Gabriel Arges

Gabriel Arges
L
Pts: 8x7
World Champ.
82KG
8F
2016
11053

Gabriel Rollo

Gabriel Rollo
L
Pts: 2x2, Adv
Grand Slam RJ
77KG
R2
2016
11890

Isaque Bahiense

Isaque Bahiense
L
Arm in guillotine
Copa Podio
77KG
RR
2017
13125

Jhonny Loureiro

Jhonny Loureiro
L
Pts: 0x0, Adv
World Champ.
76KG
4F
2017
13295

Luan Carvalho

Luan Carvalho
L
Referee Decision
SP BJJ Pro
82KG
F
2017
13902

JT Torres

JT Torres
L
Pts: 0x0, Pen
ADCC
77KG
4F
2017
13925

Felipe Pena

Felipe Pena
L
Pts: 6x0
ADCC
ABS
E1
2017
14300

Jaime Canuto

Jaime Canuto
L
Pts: 2x2, Adv
IBJJF Rio Pro
82KG
F
2017
14345

Jaime Canuto

Jaime Canuto
L
Referee Decision
Grand Slam RJ
77KG
8F
2017
14589

Renato Canuto

Renato Canuto
L
Referee Decision
Kasai Pro
70KG
F
2017
16043

Thiago Barreto

Thiago Barreto
L
Referee Decision
King of Mats
69KG
RR
2018
16077

Julio Anjos

Julio Anjos
L
Pts: 0x0, Adv
WP Br Qualifier
77KG
R1
2018
16508

Espen Mathiesen

Espen Mathiesen
L
DQ
World Champ.
76KG
R3
2018
16966

J. Gracie

L
Referee Decision
W.S.O.G.
81KG
4F
2018
19324

Gabriel Rollo

Gabriel Rollo
L
Adv
BJJ Stars
82KG
SPF
2019
20974

Vagner Rocha

Vagner Rocha
L
Pts: 4x2
KASAI SS Florida
77KG
SPF
2019
21863

Vagner Rocha

Vagner Rocha
L
Referee Decision
ADCC
77KG
4F
2019
1289

R. Barbosa

W
Points
World Champ.
76KG
SF
2005
1290

Tiago Alves

Tiago Alves
W
Pts: 2x0
World Champ.
76KG
F
2005
1418

Daisuke Sugie

W
Pts: 18x0
World Champ.
76KG
R1
2006
1421

Carlos Diego

W
Pts: 8x0
World Champ.
76KG
4F
2006
1426

Adriano Martins

Adriano Martins
W
Pts: 10x0
World Champ.
76KG
SF
2006
1427

Mario Reis

Mario Reis
W
Pts: 5x0
World Champ.
76KG
F
2006
1522

Unknown

W
Points
Team Nationals
88KG
4F
2006
1552

Rafael Barbosa

Rafael Barbosa
W
Pts: 2x0
Rio Teams GP
76KG
R1
2007
1553

Marcelino Freitas

Marcelino Freitas
W
Pts: 2x0
Rio Teams GP
76KG
SF
2007
1588

Michel Maia

W
Pts: 4x0
Brasileiro
76KG
F
2007
1868

Michael Langhi

Michael Langhi
W
Referee Decision
Pan American
76KG
SF
2008
1870

Lucas Lepri

Lucas Lepri
W
Pts: 4x0
Pan American
76KG
F
2008
1919

Jack McVicker

Jack McVicker
W
Pts: 21x0
World Champ.
76KG
R1
2008
1922

Daisuke

W
Pts: 14x0
World Champ.
76KG
R2
2008
1924

Rafael Rosendo

W
Triangle armbar
World Champ.
76KG
4F
2008
1928

Michael Langhi

Michael Langhi
W
Points
World Champ.
76KG
SF
2008
1929

Lucas Lepri

Lucas Lepri
W
Pts: 2x0
World Champ.
76KG
F
2008
2379

Orlando Zanetti

W
Pts: 4x2
Sul Americano
76KG
F
2009
2516

Mario Reis

Mario Reis
W
Referee Decision
WPC Gr Trials
74KG
SF
2010
2638

Oliver Geddes

Oliver Geddes
W
Pts: 16x0
World Pro.
74KG
R1
2010
2639

R. Olivier

W
Kimura
World Pro.
74KG
4F
2010
2681

Tiago Rocha

Tiago Rocha
W
Points
World Champ.
76KG
R1
2010
2682

Bruno Frazatto

Bruno Frazatto
W
Adv
World Champ.
76KG
R2
2010
2684

Davi Ramos

Davi Ramos
W
Choke from back
World Champ.
76KG
4F
2010
2688

Lucas Lepri

Lucas Lepri
W
Referee Decision
World Champ.
76KG
SF
2010
2912

Rubens Charles

Rubens Charles
W
Referee Decision
World Pro.
74KG
SF
2011
3022

Yuji Okamoto

W
Armbar
World Champ.
76KG
RDS
2011
3488

Mark Ramos

Mark Ramos
W
RNC
Ultimate Abs.
76KG
R1
2012
3493

G. Tonon

W
Points
Ultimate Abs.
76KG
4F
2012
3496

Renan Borges

W
RNC
Ultimate Abs.
76KG
SF
2012
3498

Justin Rader

Justin Rader
W
Points
Ultimate Abs.
76KG
F
2012
5784

Francisco Iturralde

Francisco Iturralde
W
Pts: 5x2
World Champ.
76KG
R1
2014
7878

Kleber Koike

W
Pts: 2x0
Grand Slam TYO
77KG
SF
2015
8251

Stephen Martinez

W
Pts: 7x0
Grand Slam LA
77KG
4F
2015
8254

Marcio Andre

Marcio Andre
W
Pts: 2x0
Grand Slam LA
77KG
SF
2015
8256

Roberto Satoshi

Roberto Satoshi
W
Injury
Grand Slam LA
77KG
F
2015
8642

Rafael Suzuki

W
Pts: 6x0
Grand Slam RJ
77KG
8F
2015
8646

Pedro Fernandes

W
Pts: 2x2, Adv
Grand Slam RJ
77KG
4F
2015
8647

Matheus Costa

Matheus Costa
W
Choke from back
Grand Slam RJ
77KG
SF
2015
8649

Lucas Valle

W
Pts: 0x0, Adv
Grand Slam RJ
77KG
F
2015
9993

AJ Sousa

AJ Sousa
W
Pts: 2x0
World Champ.
82KG
R2
2016
11886

Delson Heleno

Delson Heleno
D
---
Copa Podio
77KG
RR
2017
11898

Wellington Luis

Wellington Luis
W
Pts: 2x0
Copa Podio
77KG
RR
2017
11902

Caio Almeida

Caio Almeida
W
Points
Copa Podio
77KG
RR
2017
13115

Francisco Iturralde

Francisco Iturralde
W
Pts: 2x0
World Champ.
76KG
8F
2017
13291

Luciano Bernert

W
N/A
SP BJJ Pro
82KG
4F
2017
13293

Vinicius Garcia

Vinicius Garcia
W
Pts: 4x0
SP BJJ Pro
82KG
SF
2017
13897

Enrico Cocco

Enrico Cocco
W
Pts: 3x0
ADCC
77KG
E1
2017
14299

Luan Carvalho

Luan Carvalho
W
Adv
IBJJF Rio Pro
82KG
SF
2017
14340

Geovani Bernardo

W
Choke
Grand Slam RJ
77KG
R1
2017
14578

Edwin Ocasio

D
---
Kasai Pro
70KG
RR
2017
14581

Gianni Grippo

Gianni Grippo
D
---
Kasai Pro
70KG
RR
2017
14587

Enrico Cocco

Enrico Cocco
W
Guillotine
Kasai Pro
70KG
RR
2017
16028

Gianni Grippo

Gianni Grippo
W
Pts: 0x0, Adv
King of Mats
69KG
RR
2018
16032

Wanki Chae

Wanki Chae
W
Pts: 0x0, Adv
King of Mats
69KG
RR
2018
16038

Tiago Bravo

Tiago Bravo
W
Referee Decision
King of Mats
69KG
RR
2018
16489

Francisco Iturralde

Francisco Iturralde
W
Arm in guillotine
World Champ.
76KG
R2
2018
16961

Rafael Dutra

W
Referee Decision
W.S.O.G.
81KG
8F
2018
21859

Edwin Najmi

Edwin Najmi
W
Referee Decision
ADCC
77KG
R1
2019
28992

AJ Agazarm

AJ Agazarm
W
Pts: 0x0, Adv
BJJ Stars
76KG
SPF
2021