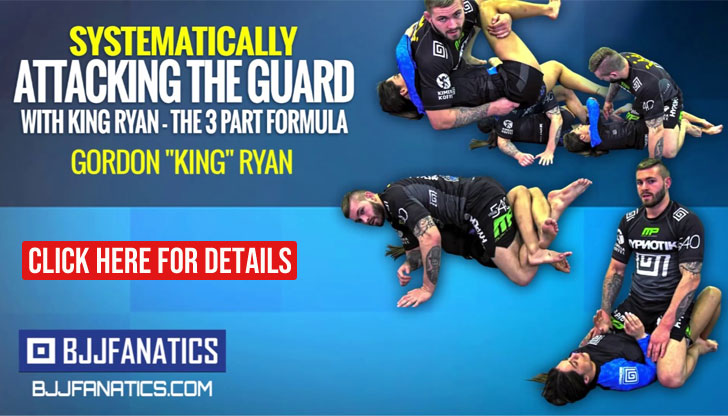 Pedro Alex, often referred to as Pedro Pimenta or Pedro "Bombom", is a jiu-jitsu black belt under Gabriel Marinho and a representative of the GF Team in the sport's international circuit. One of the top ultra-heavyweight athletes of his generation, Pedro Alex first gained notoriety competing in the colored belt divisions of the sport, particularly in the International Brazilian Jiu-Jitsu Federation (IBJJF) league, where he conquered the Brazilian National Championship title (GI and NOGI) and multiple at the World Championships medals, a good form he carried over to the black belt division.
Pedro Alex Jiu-Jitsu
Full Name: Pedro Alex dos Santos Pimenta
Nickname: In Portuguese, the word "Bom" means Good, as such, many believe the nickname was given due to Pedro's kind nature. This is not the case. The name started when Alex was young, during his early days in jiu-jitsu, while drilling positions with his older brother. During the exercise, his brother joked about his technique, saying it reminded him of the famous Brazilian TV presenter, Adriana Bombom. Pedro got angry at the comparison and – as per the rule book of young men's interactions – the more someone gets angry at a name, the easier it is for that name to stick to them. Therefore, soon the nickname Bombom started being used when referring to Pedro.
Lineage: Luis França > Oswaldo Fadda > Monir Salomão > Júlio César > Gabriel Marinho > Pedro Alex
Main Achievements:
1st Place IBJJF South American Championship (2020 / 2021)
1st Place IBJJF South American Championship NOGI (2022)
2nd Place CBJJ Brazilian Nationals (2022)
2nd Place Copa Podio HW Grand Prix (2021)
2nd Place AJP Grand Slam, RJ (2021)
3rd Place CBJJ Brazilian Nationals (2023)
Main Achievements (Colored Belts):
1st Place CBJJ Brazilian Nationals (2017 brown)
1st Place CBJJ Brazilian Nationals NOGI (2016 / 2017 purple, 2019 brown)
2nd Place IBJJF World Championship (2016 blue, 2017 purple)
2nd Place CBJJ Brazilian Nationals NOGI (2017* purple)
3rd Place IBJJF World Championship (2015 blue, 2018**)
3rd Place CBJJ Brazilian Nationals (2018 / 2019 brown)
Favorite Position/Technique:
Weight Division: Pesadíssimo
Team/Association: GF Team
Pedro Bombom Biography
Pedro Alex, or Pedro Pimenta, was born on September 17, 1996, in the Rio de Janeiro neighborhood of Guaratiba, Brazil.
Growing up Pedro Alex tested many sports, from swimming to volleyball, football (soccer), capoeira, and even "submission classes" – a generic name in Brazil for no-gi jiu-jitsu. Although he had these sports available, Pedro never liked any, nor did he train them for more than a couple of months.
In 2011, at the age of 14, Pedro was at the peak of his sedentarism, a lifestyle that led him to gain a lot of weight. Seeing his condition, Pimenta's father forced him to chose a sport to train in and lose the extra pounds. As Pedro's older brother and cousin were already training jiu-jitsu at the time, Alex decided to give it a try.
Pedro's first steps in jiu-jitsu were taken at Gabriel Marinho's academy, a well respected black belt under Master Julio Cesar's and a representative of the famous Grappling Fight Team (GFT). It was at this GF Team branch (Academia Pro Combat) that Pedro learned to love the sport, an activity he later chose as his profession.
Pedro's development in the sport grew exponentially, particularly after the purple belt, a time when "Bombom" started taking jiu-jitsu more seriously. His fantastic results on the mats earned Pedro Alex his black belt from coach Gabriel Marinho on October 16, 2020.
Pedro Alex Grappling Record
90 WINS
BY POINTS


BY ADVANTAGES




BY SUBMISSION




BY DECISION




BY PENALTIES




BY DQ



29 SUBMISSIONS WINS
#22c9a5
Arm in Ezekiel
3
1
#fad223
Choke from back
3
1
#03b41f
Shoulder pressure
3
1
#03c61f
Bow and arrow
3
1
25 LOSSES
BY POINTS


BY ADVANTAGES




BY SUBMISSION




BY DECISION




BY PENALTIES




BY DQ



9 SUBMISSIONS LOSSES
#86e620
Inside heel hook
22
2
#d1212a
Choke from back
11
1
#fad11b
Arm in Ezekiel
11
1
Pedro Alex Fight History
ID
Opponent
W/L
Method
Competition
Weight
Stage
Year
24784

Erich Munis

Erich Munis
L
Referee Decision
Grand Slam RJ
120KG
RPC
2020
24877

Darlan Casaca

L
Pts: 4x2
South American
ABS
R1
2020
25349

Erberth Santos

Erberth Santos
L
Pts: 2x0
Rio Open
O100KG
F
2021
26061

Pedro Lucas

Pedro Lucas
L
Kneebar
Copa Podio
98KG
F
2021
26461

Anderson Munis

Anderson Munis
L
Pts: 2x0
SA Cont. Pro
120KG
4F
2021
26848

Mahamed Aly

Mahamed Aly
L
Referee Decision
Big Deal Pro 3
O100KG
SPF
2021
27443

Vinicius Reis

L
Pts: 5x0
Sul Americano
ABS
8F
2021
28094

Yatan Bueno

Yatan Bueno
L
Pts: 5x0
Brasileiro
O100KG
SF
2021
28098

Erich Munis

Erich Munis
L
Pts: 4x2
Brasileiro
ABS
8F
2021
28595

Isaque Bahiense

Isaque Bahiense
L
Referee Decision
Grand Slam RJ
120KG
F
2021
29905

Wildemar Matheus

L
Pts: 0x0, Adv
Rio SMO
O100KG
F
2022
30097

Roosevelt Sousa

Roosevelt Sousa
L
Calf slicer
ADCC BR1 Trials
O99KG
F
2022
30407

Vinicius Castro

L
Referee Decision
ADCC BR2 Trials
O99KG
8F
2022
32130

Diogo Nascimento

L
Injury
Brasileiro
ABS
4F
2022
32208

Mason Fowler

Mason Fowler
L
Choke from back
Brasileiro
O100KG
F
2022
33029

Kaynan Duarte

Kaynan Duarte
L
Arm in Ezekiel
World Champ.
ABS
8F
2022
34062

Yatan Bueno

Yatan Bueno
L
Referee Decision
Grand Slam RJ
120KG
SF
2022
38138

Antonio Assef

L
DQ
Curitiba SMNGO
O97KG
F
2023
39532

Cleyton Flores

L
Referee Decision
Brasileiro
O100KG
SF
2023
39550

Victor Hugo

Victor Hugo
L
Kneebar
Brasileiro
ABS
SF
2023
40361

Roosevel Sousa

L
Pts: 2x0
World Champ.
O100KG
8F
2023
40477

Kaynan Duarte

Kaynan Duarte
L
Armbar
World Champ.
ABS
4F
2023
41524

Alejandro Tolmos

L
Inside heel hook
Austin NGO
ABS
F
2023
41595

Declan Moody

L
Inside heel hook
Sub Hunter 84
ABS
4F
2023
42347

Arnaldo Maidana

Arnaldo Maidana
L
RNC
JJ Con NG
O97KG
F
2023
24773

Everton Silva

W
Pts: 8x2
Grand Slam RJ
120KG
8F
2020
24782

Marcelo Gomide

Marcelo Gomide
W
Ezekiel
Grand Slam RJ
120KG
RPC
2020
24946

Fernando Matos

W
Arm in Ezekiel
South American
O100KG
R1
2020
24948

Igor Schneider

Igor Schneider
W
Short choke
South American
O100KG
4F
2020
24950

Cleyton Flores

W
Points
South American
O100KG
F
2020
25341

Fernando Matos

W
Pts: 5x0
Rio Open
O100KG
R1
2021
25344

Otavio Serafim

W
Referee Decision
Rio Open
O100KG
4F
2021
25347

Igor Schneider

Igor Schneider
W
Referee Decision
Rio Open
O100KG
SF
2021
26042

Luciano Alfonso

W
Pts: 3x0
Copa Podio
98KG
RR
2021
26050

G. Lambertucci

G. Lambertucci
D
---
Copa Podio
98KG
RR
2021
26053

Pedro Lucas

Pedro Lucas
D
---
Copa Podio
98KG
RR
2021
26057

Marcelo Gomide

Marcelo Gomide
W
Kneebar
Copa Podio
98KG
RR
2021
26060

Leon Brito

Leon Brito
W
Kneebar
Copa Podio
98KG
SF
2021
26457

Harryson Pereira

Harryson Pereira
W
Pts: 2x0
SA Cont. Pro
120KG
R2
2021
26467

Igor Schneider

Igor Schneider
W
Pts: 4x1
SA Cont. Pro
120KG
RPC
2021
26798

Joao Gozzano

W
Ezekiel
Rio Winter Open
O100KG
SF
2021
26799

Agnaldo Silveira

W
Pts: 8x0
Rio Winter Open
O100KG
F
2021
26800

Hemerson Leao

W
Choke from back
Rio Winter Open
ABS
R1
2021
26802

Cleyton Flores

W
Pts: 9x0
Rio Winter Open
ABS
4F
2021
26805

Lucas Lisboa

Lucas Lisboa
W
Ezekiel
Rio Winter Open
ABS
SF
2021
26806

Joao Carlos

W
Short choke
Rio Winter Open
ABS
F
2021
26814

Elionai Braz

W
Pts: 6x0
Rio Winter NGO
ABS
4F
2021
26815

Maique Azevedo

W
Pts: 2x0
Rio Winter NGO
ABS
SF
2021
27433

G. Lambertucci

G. Lambertucci
W
Referee Decision
Sul Americano
O100KG
R1
2021
27435

Cleyton Flores

W
Pts: 2x0
Sul Americano
O100KG
4F
2021
27436

Herico Hesley

W
DQ
Sul Americano
O100KG
SF
2021
27442

Jackson Bernardo

W
Pts: 5x0
Sul Americano
ABS
R1
2021
28588

Yatan Bueno

Yatan Bueno
W
Pts: 4x3
Grand Slam RJ
120KG
R1
2021
28592

Leonardo Lemos

W
Pts: 4x2
Grand Slam RJ
120KG
4F
2021
28593

Roosevelt Sousa

Roosevelt Sousa
W
DQ
Grand Slam RJ
120KG
SF
2021
29904

Deyvid Remedio

W
Choke
Rio SMO
O100KG
SF
2022
29939

Lucas Protasio

Lucas Protasio
W
Points
Rio SMNGO
ABS
SF
2022
30092

Antonio Assef

W
Referee Decision
ADCC BR1 Trials
O99KG
4F
2022
30096

Leandro Andrade

W
Pts: 4x0
ADCC BR1 Trials
O99KG
SF
2022
31041

Andrey Cerqueira

W
Clock choke
Curitiba Open
O100KG
4F
2022
31043

Raphael Guerra

W
Bread cutter
Curitiba Open
O100KG
SF
2022
31045

Gabriel Bosquet

W
RNC
Curitiba Open
O100KG
F
2022
31920

Otavio Nalati

W
N/A
Rio Fall Open
O100KG
SF
2022
31973

Wilson Bueno

W
Points
Rio Fall NGO
O97KG
SF
2022
31976

Miguel Neto

W
Shoulder pressure
Rio Fall NGO
ABS
4F
2022
31977

Matheus Paula

W
Pts: 3x0
Rio Fall NGO
ABS
SF
2022
31979

Thiago Silva

W
Pts: 8x2
Rio Fall NGO
ABS
F
2022
32103

Rafael Milioli

W
Pts: 4x1
SA Cont. Pro
120KG
4F
2022
32105

Rafael Leite

W
Submission
SA Cont. Pro
120KG
SF
2022
32106

Henrique Eirof

W
Pts: 1x1
SA Cont. Pro
120KG
F
2022
32123

Jackson Douglas

Jackson Douglas
W
Pts: 5x0
Brasileiro
ABS
R1
2022
32204

Cleyton Flores

W
Referee Decision
Brasileiro
O100KG
4F
2022
32207

Renan Marcel

W
Bow and arrow
Brasileiro
O100KG
SF
2022
33021

Clay Mayfield

W
Clock choke
World Champ.
ABS
R1
2022
34053

Raphael Santos

W
Toe hold
Grand Slam RJ
120KG
8F
2022
34060

Herico Hesley

W
Pts: 3x3
Grand Slam RJ
120KG
4F
2022
34066

Daniel Ribeiro

W
Submission
Grand Slam RJ
120KG
RPC
2022
35730

Cleyton Flores

W
Pts: 4x2
South American
O100KG
4F
2022
35740

Cleyton Flores

W
Referee Decision
South American
ABS
4F
2022
36486

Miguel Curi

W
Pts: 11x0
S.American NG
O97KG
SF
2022
36488

Juan Felippe

W
Pts: 2x0
S.American NG
O97KG
F
2022
36490

Servio Tulio

Servio Tulio
W
Points
S.American NG
ABS
R1
2022
36495

Pedro Agrizzi

Pedro Agrizzi
W
Pts: 2x0
S.American NG
ABS
4F
2022
36497

Iago Martins

W
Kimura
S.American NG
ABS
SF
2022
37022

Diogenes Augusto

W
Clock choke
Rio SMO
O100KG
SF
2023
37023

Cleyton Flores

W
Referee Decision
Rio SMO
O100KG
F
2023
37045

Lucas Alves

Lucas Alves
W
Pts: 2x0
Rio SMO
ABS
4F
2023
37047

Cleyton Flores

W
Referee Decision
Rio SMO
ABS
SF
2023
38059

Stefano Virionos

W
Armbar
Curitiba SMO
O100KG
SF
2023
38060

Wildemar Santos

W
Clock choke
Curitiba SMO
O100KG
F
2023
38087

W. Oliveira

W
Pts: 8x0
Curitiba SMO
ABS
8F
2023
38093

Gabriel Costa

Gabriel Costa
W
Pts: 0x0, Adv
Curitiba SMO
ABS
4F
2023
38095

Caio Paganini

Caio Paganini
W
N/A
Curitiba SMO
ABS
SF
2023
38097

Wallisson Oliveira

W
N/A
Curitiba SMO
ABS
F
2023
38135

Juarez Santos

W
Pts: 2x0
Curitiba SMNGO
O97KG
4F
2023
38136

Miguel Curi

W
RNC
Curitiba SMNGO
O97KG
SF
2023
38139

Marlus Salgado

W
Pts: 3x0
Curitiba SMNGO
ABS
R1
2023
38145

Miguel Curi

W
Short choke
Curitiba SMNGO
ABS
SF
2023
39530

Antonio Neto

W
DQ
Brasileiro
O100KG
4F
2023
39540

Jacson Ferreira

W
Referee Decision
Brasileiro
ABS
8F
2023
39548

Servio Tulio

Servio Tulio
W
Clock choke
Brasileiro
ABS
4F
2023
39877

Igor Schneider

Igor Schneider
W
Clock choke
Houston Open
O100KG
SF
2023
39889

Josh Cisneros

Josh Cisneros
W
Points
Houston Open
ABS
R1
2023
39896

Roberto Jimenez

Roberto Jimenez
W
Points
Houston Open
ABS
4F
2023
39898

Rodrigo Tatu

Rodrigo Tatu
W
Points
Houston Open
ABS
SF
2023
39899

Guilherme Augusto

Guilherme Augusto
W
Points
Houston Open
ABS
F
2023
40468

Pedro Moura

W
Pts: 2x0
World Champ.
ABS
8F
2023
41492

Igor Schneider

Igor Schneider
W
Points
Austin SMO
O100KG
SF
2023
41493

Elion Junior

W
Points
Austin SMO
O100KG
F
2023
41515

Igor Schneider

Igor Schneider
W
Points
Austin NGO
O97KG
F
2023
41521

Clay Mayfield

W
Points
Austin NGO
ABS
4F
2023
41522

Bruno Matias

Bruno Matias
W
Points
Austin NGO
ABS
SF
2023
41692

Travis Clark

W
Points
Dallas SMO
O100KG
SF
2023
41693

Gilberto Saraiva

W
Clock choke
Dallas SMO
ABS
4F
2023
41697

Francisco Lo

Francisco Lo
W
Points
Dallas SMO
ABS
SF
2023
42293

Colton Scott

W
Referee Decision
JJ Con
O100KG
F
2023
42346

Joshua Guerra

W
Katagatame
JJ Con NG
O97KG
SF
2023