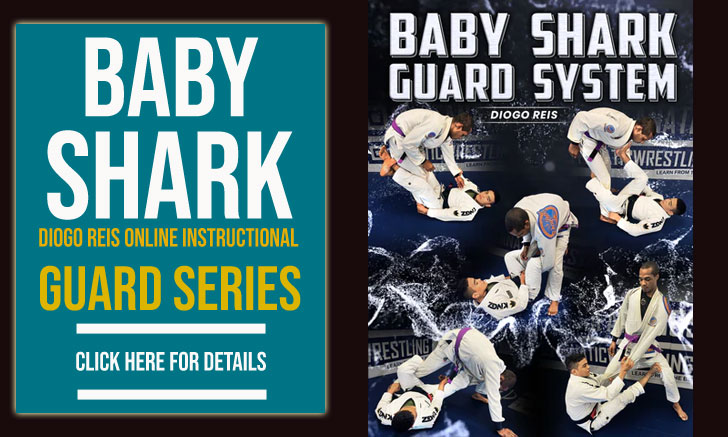 Rafael Mansur is an accomplished Brazilian jiu jitsu athlete, and black belt under Pedro Mello, also revered as one of the most talented representatives of the New School Brotherhood academy. Virtually unknown to the sport's mainstream media until reaching the black belt division, Mansur turned heads his way with amazing performances and wins over household names such as Herbert Burns and Gianni Grippo, while earning podium spots at tournaments such as the Brazilian No-Gi Championship and the Abu Dhabi Grand Slam.
Rafael Mansur
Full Name: Rafael Machado Mansur
Nickname: n/a
Lineage:  Mitsuyo Maeda > Carlos Gracie > Helio Gracie > Rolls Gracie > Romero Cavalcanti > Paulo Sérgio Santos > Pedro Mello > Rafael Mansur
Main Achievements:
CBJJ Brazilian National Champion (2018)
CBJJ Brazilian National Championship 2nd Place (2017)
CBJJ Brazilian National No-Gi Championship 2nd Place (2015)
UAEJJF Abu Dhabi Grand Slam – Rio de Janeiro 2nd Place (2017/2016)
IBJJF Curitiba International Open 2nd Place (2016)
IBJJF Pan American 3rd Place (2019)
UAEJJF Abu Dhabi Grand Slam – Rio de Janeiro 3rd Place (2015)
UAEJJF Abu Dhabi World Pro Championship 4th Place (2016)
Main Achievements (Colored Belts):
IBJJF South American Champion (2011 purple)
IBJJF Rio International Open (2014 brown)
IBJJF Floripa International Open Champion (2013/2014 brown)
CBJJ Brazilian National Championship 2nd Place (2014 brown)
IBJJF South American Championship 2nd Place (2012/2013 brown)
Favorite Position/Technique: Open Guard
Weight Division: Peso Leve (76kg/167lbs), Peso Pena (70kg/154lbs)
Team/Association: Ns Brotherhood
Rafael Mansur Biography
Rafael Mansur was born on June 21, 1990 in Florianópolis, state of Santa Catarina – Brazil.
Jiu jitsu entered Rafael's life at the age of 15, more precisely on February 2006, influenced by a friend from school who introduced Mansur to his first instructor, Alexandre Reis. Under Reis' guidance Mansur progressed through the rank system, all the way to brown belt.
After a series of internal problems at Alexandre's academy, Rafael made the hard decision of switching camps, then joining Pedro Mello's team. He continued his sporting success and remained with Pedro for 1.5 years, until coach Mello moved to the United States.
After Mello moved from Santa Catarina, Rafael was met with a chance to follow his dream of being a professional athlete by joining Cicero Costha's jiu jitsu program. At the time Mansur had two team mates (Gustavo Batista and Rafael Babilônia) who had been scouted by the famous Projeto Social Lutando Pelo Bem (Fighting for Good Social Project) – also known as PSLPB, making his move to São Paulo a smoother process.
While training at PSLPB, where he stayed from December 2014 to September 2015, Mansur earned his black belt from Pedro Mello with whom he still shared a strong bond. His black belt promotion taking place on June 2015.
After the PSLPB academy split on September 2015, Rafael followed his teammates – particularly Leandro Lo who became Mansur's head coach – out of the academy and helped establish the New School Brotherhood.
Cover photo by Anderson Almeida.
Rafael Mansur Grappling Record
59 WINS
BY POINTS


BY ADVANTAGES




BY SUBMISSION




BY DECISION




BY PENALTIES




BY DQ



14 SUBMISSIONS WINS
#214eb8
Choke from back
71
10
33 LOSSES
BY POINTS


BY ADVANTAGES




BY SUBMISSION




BY DECISION




BY PENALTIES




BY DQ



4 SUBMISSIONS LOSSES
#86e620
Choke from back
25
1
#d1212a
Straight ankle lock
25
1
Rafael Mansur Fight History
ID
Opponent
W/L
Method
Competition
Weight
Stage
Year
8311

Thiago Gaia

Thiago Gaia
L
Pts: 4x0
Brasileiro NoGi
73KG
F
2015
8648

Lucas Valle

L
Pts: 2x0
Grand Slam RJ
77KG
SF
2015
9265

Edwin Najmi

Edwin Najmi
L
Estima lock
Pan American
76KG
8F
2016
9577

Marcio Andre

Marcio Andre
L
Pts: 6x2
World Pro
69KG
SF
2016
9579

Tiago Bravo

Tiago Bravo
L
Pts: 2x0
World Pro
69KG
3RD
2016
9907

Caio Almeida

Caio Almeida
L
Pts: 4x2
Curitiba Open
76KG
F
2016
10567

Julio Anjos

Julio Anjos
L
Pts: 6x2
Sao Paulo Open
76KG
R1
2016
11040

Isaque Paiva

Isaque Paiva
L
Referee Decision
Grand Slam RJ
69KG
F
2016
11240

Michael Langhi

Michael Langhi
L
Choke from back
South American
76KG
SF
2016
12131

Osvaldo Moizinho

Osvaldo Moizinho
L
Pts: 4x2
Pan American
70KG
8F
2017
12424

Michael Langhi

Michael Langhi
L
N/A
Floripa Fall Open
76KG
4F
2017
12746

Rubens Charles

Rubens Charles
L
Pts: 4x2
Brasileiro
70KG
F
2017
13461

Augusto Mendes

Augusto Mendes
L
Points
ACBJJ 6
65KG
4F
2017
14335

Joao Neto

Joao Neto
L
Triangle
Grand Slam RJ
69KG
F
2017
14617

Hugo Marques

Hugo Marques
L
Pts: 2x0
ACB JJ Worlds
75KG
F
2017
15086

Hugo Marques

Hugo Marques
L
Pts: 4x0
ACB S. American
75KG
4F
2018
15508

Marcos Costa

Marcos Costa
L
Pts: 2x0
Grand Slam LDN
77KG
SF
2018
15560

Jan Baso

L
Pts: 4x2
ACB European
75KG
SF
2018
16480

Leo Saggioro

Leo Saggioro
L
Pts: 2x2, Adv
World Champ.
70KG
4F
2018
17162

Joao Mendes

Joao Mendes
L
Adv
Floripa W. Open
76KG
SF
2018
17559

Gianni Grippo

Gianni Grippo
L
Referee Decision
Grand Slam LA
69KG
4F
2018
17566

Vitor Moraes

L
Pts: 0x0, Adv
Grand Slam LA
69KG
RR
2018
18267

Joao Mendes

Joao Mendes
L
Referee Decision
Grand Slam RJ
69KG
SF
2018
19581

Matheus Gabriel

Matheus Gabriel
L
Pts: 4x2
Pan American
70KG
SF
2019
19982

Paulo Gabriel

Paulo Gabriel
L
Adv
San Jose Open
76KG
4F
2019
20599

Isaac Doederlein

Isaac Doederlein
L
Straight ankle lock
World Champ.
70KG
4F
2019
21662

Diego Oliveira

Diego Oliveira
L
Pts: 4x2
Grand Slam LA
69KG
SF
2019
21668

Thiago Macedo

Thiago Macedo
L
Referee Decision
Grand Slam LA
69KG
3RD
2019
22276

Kennedy Silva

L
Referee Decision
Grand Slam RJ
69KG
R2
2019
23361

Marlus Salgado

L
Points
Curitiba SO
76KG
4F
2020
25161

Marcos Martins

Marcos Martins
L
Pts: 0x0, Adv
Big Deal Pro 2
85KG
SF
2021
25162

Leonardo Lara

Leonardo Lara
L
Pts: 0x0, Adv
Big Deal Pro 2
85KG
3RD
2021
26365

Diego Oliveira

Diego Oliveira
L
Pts: 2x1
SA Cont. Pro
69KG
8F
2021
8307

Vitor Mattos

W
Pts: 4x0
Brasileiro NoGi
73KG
4F
2015
8310

Herbert Burns

Herbert Burns
W
Injury
Brasileiro NoGi
73KG
SF
2015
8632

M. Cavalcante

W
Triangle
Grand Slam RJ
77KG
R1
2015
8638

Rodrigo Barbosa

W
Pts: 0x0, Adv
Grand Slam RJ
77KG
8F
2015
8643

Rene Lima

W
Estima lock
Grand Slam RJ
77KG
4F
2015
8650

Matheus Costa

Matheus Costa
W
Pts: 6x3
Grand Slam RJ
77KG
3RD
2015
9261

Joao Ferreira

W
Pts: 6x2
Pan American
76KG
R1
2016
9569

Sergio Calderon

Sergio Calderon
W
Pts: 2x2, Adv
World Pro
69KG
R1
2016
9573

Gianni Grippo

Gianni Grippo
W
Pts: 0x0, Adv
World Pro
69KG
8F
2016
9902

Edu Conceição

W
Choke from back
Curitiba Open
76KG
4F
2016
9905

Diego Vivaldo

Diego Vivaldo
W
Pts: 2x0
Curitiba Open
76KG
SF
2016
11024

Raphael Cadena

W
Pts: 7x0
Grand Slam RJ
69KG
R1
2016
11029

Mackson Camara

W
Pts: 2x0
Grand Slam RJ
69KG
R2
2016
11035

Alexandre Vieira

Alexandre Vieira
W
Adv
Grand Slam RJ
69KG
4F
2016
11038

Tiago Bravo

Tiago Bravo
W
Referee Decision
Grand Slam RJ
69KG
SF
2016
11235

Unknown

W
Pts: 4x0
South American
76KG
R1
2016
11237

Unknown

W
Choke from back
South American
76KG
4F
2016
12128

Bruno Valdivino

W
Toe hold
Pan American
70KG
R1
2017
12422

Juliano Rocha

W
Choke from back
Floripa Fall Open
76KG
R1
2017
12737

Andre Ribeiro

W
Estima lock
Brasileiro
70KG
R1
2017
12739

Caio Nunes

W
Choke from back
Brasileiro
70KG
R2
2017
12741

Victor Moraes

W
Points
Brasileiro
70KG
4F
2017
12745

Isaque Paiva

Isaque Paiva
W
Points
Brasileiro
70KG
SF
2017
14330

Victor Moraes

W
Referee Decision
Grand Slam RJ
69KG
4F
2017
14334

Fernando Vieira

Fernando Vieira
W
Pts: 0x0, Adv
Grand Slam RJ
69KG
SF
2017
14615

Fernando Pena

W
Referee Decision
ACB JJ Worlds
75KG
SF
2017
15506

Youngam Noh

W
Pts: 2x0
Grand Slam LDN
77KG
4F
2018
15511

Bruno Borges

W
Pts: 2x2, Adv
Grand Slam LDN
77KG
RPC
2018
15512

Youngam Noh

W
Pts: 2x0
Grand Slam LDN
77KG
RPC
2018
15555

K. Suchorabski

W
Referee Decision
ACB European
75KG
R1
2018
15557

Robert Henek

W
Pts: 2x0
ACB European
75KG
4F
2018
15562

Kacper Rot

W
Pts: 4x2
ACB European
75KG
3RD
2018
15938

Lucas Barros

W
Pts: 11x2
Curitiba Open
76KG
4F
2018
15941

Rhayan Nascimento

W
Pts: 6x2
Curitiba Open
76KG
SF
2018
15942

Victor Matos

W
DQ
Curitiba Open
76KG
F
2018
16206

Rodrigo Cardoso

W
Choke from back
Brasileiro
70KG
R1
2018
16212

Nielton Soares

W
Choke from back
Brasileiro
70KG
4F
2018
16213

Marcio Andre

Marcio Andre
W
Injury
Brasileiro
70KG
SF
2018
16215

Gianni Grippo

Gianni Grippo
W
Referee Decision
Brasileiro
70KG
F
2018
16475

Brandon Walensky

Brandon Walensky
W
Pts: 2x0
World Champ.
70KG
R2
2018
17158

Rodrigo Paixao

W
Points
Floripa W. Open
76KG
4F
2018
17556

Filipe Simplicio

W
Pts: 2x0
Grand Slam LA
69KG
R1
2018
18260

Ricardo Rocha

W
Referee Decision
Grand Slam RJ
69KG
8F
2018
18264

Thiago Rosa

W
Choke from back
Grand Slam RJ
69KG
4F
2018
19572

S. Royce

W
Choke from back
Pan American
70KG
8F
2019
19579

Samir Chantre

Samir Chantre
W
Pts: 2x0
Pan American
70KG
4F
2019
20591

Raphael Cadena

W
Pts: 2x0
World Champ.
70KG
R1
2019
20598

Frederico Augusto

W
Referee Decision
World Champ.
70KG
R2
2019
21659

Ariel Tabak

Ariel Tabak
W
Pts: 0x0, Adv
Grand Slam LA
69KG
4F
2019
21666

Lee Ting

W
Referee Decision
Grand Slam LA
69KG
RPC
2019
22269

Pedro Roque

W
Pts: 2x0
Grand Slam RJ
69KG
R1
2019
22449

Yago Rodrigues

W
Choke from back
Rio BJJ Pro
70KG
4F
2019
22453

Richar Nogueira

Richar Nogueira
W
Pts: 4x4, Adv
Rio BJJ Pro
70KG
F
2019
23359

Bruno Santos

W
Points
Curitiba SO
76KG
R1
2020
25159

Denis Silva

W
Referee Decision
Big Deal Pro 2
85KG
4F
2021
26354

Gabriel MacHado

W
Choke from back
SA Cont. Pro
69KG
R1
2021
26837

Gabriel Gaudio

Gabriel Gaudio
W
Points
Big Deal Pro 3
70KG
SPF
2021
29691

Christian Lara

W
Pts: 2x1
Teams Cup
N/A
RR
2021
29700

Ademir Barreto

Ademir Barreto
W
Pts: 7x2
Teams Cup
N/A
RR
2021
29727

Diogo Reis

Diogo Reis
D
---
Teams Cup
N/A
RR
2021
Rafael Mansur vs Diego Bispo