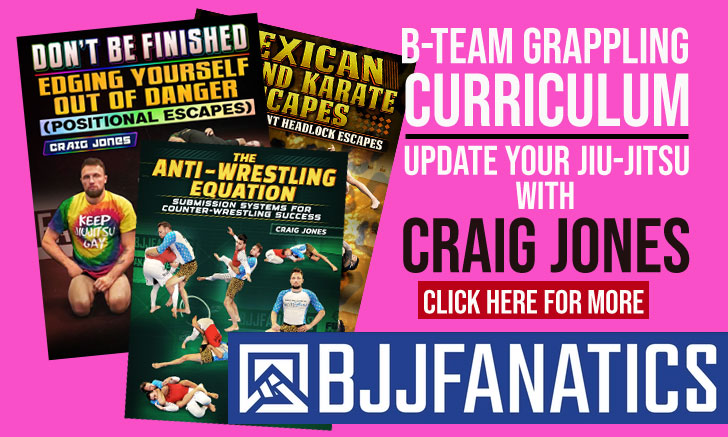 Robson Moura, also known as "Robinho", is one of the greatest competitors in jiu jitsu's super featherweight division, a weight class he dominated for years achieving 6 world titles in his career. After retiring (unofficially) from his competitive career, Robson Moura dedicated his full attention to his coaching activities in the United States where he developed his own association RMNU (Robson Moura Nations United) one of the most respected grappling affiliations in the US.
Robson Moura Jiu Jitsu
Nickname: Robinho is a friendly way of saying robson in Portuguese, kind of like "Little Robson"
Lineage: Mitsuyo Maeda > Carlos Gracie > Carlson Gracie > Andre Pederneiras > Robson Moura
Main Achievements:
IBJJF World Champion (1997, 1998, 1999, 2000, 2007)
CBJJO World Cup Champion (2002)
CBJJ Brazilian National Champion (1998)
IBJJF World Championship 3rd Place (2001)
Main Achievements (Colored Belts):
IBJJF World Champion (1996 purple)
IBJJF Pan American Champion (1996 brown)
CBJJ Brazilian National Champion (1996 brown)
Weight Division: Super Featherweight (64kg-161lbs)
Favourite Technique: Good overall game
Affiliation: RMNU
Robson Moura Biography
Robson Moura was born on the 23rd of March, 1978 in Brazil. He started training Jiu Jitsu very early in life, when he was just 10 years old with his father's backing. His very first instructor was Ailson "Jucao" Brites in his hometown of Teresópolis, which is located on the outskirts of Rio de Janeiro. Robson wanted to follow the footsteps of his BJJ idols, so he started training 2 and 3 times per day and competed for the first time in a local competition when he was only 13 years of age.
Unforeseen circumstances had "Jucao" moving away from Teresópolis, leaving "Robinho" without a coach. This however did not detour Moura from his path to becoming a Jiu Jitsu black belt. With the BJJ bug already fully installed in him he sought out the best lightweight team in the World at the time, the famous Nova Uniao led by André Pederneiras and Wendell Alexander. This new partnership proved to be very fruitful as Robson kept on winning tournaments left and right, culminating this great period with a fantastic win at the World Championships in 1996 as a purple belt.
Going against the minimum time frame guidelines approved by the Jiu Jitsu Federation, his coaches decided to promote Robson Moura to black belt the following year to compete at the highest level possible, the Mundials (World Championships). Robinho did not disappoint winning the tournament in amazing fashion.
An interesting story came with Robson Moura came out in 2010, issued by Tatame Magazine, regarding Moura's 1999 world title campaign. Robson told the acclaimed source that:
In 1999, we were going to Rio to compete in the world championship. There was me, 'Demente', my wife and a student, Rodrigo Ribas. We left Ribeirão Preto (E.N.: where Robson lived and taught BJJ at the time) and suffered a bad car crash, I was driving. We capsized, it was very ugly, the car was destroyed, I do not know how we came out alive. I looked at him (Ricardo) and said "I guess we will need to take the bus". Rodrigo was hurt and had to stay home Demente and I caught the bus and headed to Rio. We did not mention it to anyone and achieved great results. If I remember correctly, the Ricardo placed second in blue youth category I was champion.
During the following years, this Nova Uniao prodigy had successive wins in the Mundial and lot's of other important championships like the CBJJO (World Cup). He stopped competing for a few years in an attempt to establish the RMNU association (Robson Moura Nations United) in the United States. Robson had already some well established schools in Brazil, being his Ribeirao Preto academy the most famous one, but decided the USA was the future of the sport and embarked on the project of building a successful academy there.
After establishing his school, Robson decided to have another stab at the World Championship Gold Medal, it had been 5 years since his last attempt but Moura and his amazing technique came through as he won the 2007 Gold. Not only is Robinho a master competitor, but he is also a successful coach being Augusto Cruz and Ricardo Abreu his most acknowledged standouts.
Robson Moura Grappling Record
28 WINS
BY POINTS


BY ADVANTAGES




BY SUBMISSION




BY DECISION




BY PENALTIES




BY DQ



10 SUBMISSIONS WINS
#214eb8
Choke from back
20
2
6 LOSSES
BY POINTS


BY ADVANTAGES




BY SUBMISSION




BY DECISION




BY PENALTIES




BY DQ



2 SUBMISSIONS LOSSES
#214eb8
Choke from back
50
1
Robson Moura Fight History
ID
Opponent
W/L
Method
Competition
Weight
Stage
Year
255

Alexandre Soca

Alexandre Soca
L
Choke from back
Brasileiro
70KG
4F
1999
502

Royler Gracie

Royler Gracie
L
Pts: 2x0
ADCC
66KG
SF
2001
587

Ricardo Vieira

Ricardo Vieira
L
Pts: 6x5
World Champ.
64KG
SF
2001
2134

Rafael Mendes

Rafael Mendes
L
Points
World Pro.
65KG
4F
2009
3281

Rafael Mendes

Rafael Mendes
L
Points
ADCC
66KG
SF
2011
3290

Jeff Glover

Jeff Glover
L
Guillotine
ADCC
66KG
3PLC
2011
107

Armando Conde

W
Armbar
World Champ.
64KG
SF
1997
188

Luis Renato

W
Choke from back
Super Liga
64KG
F
1998
196

Renato Sampaio

W
Adv
Super Liga
ABS
SF
1998
214

Unknown

W
Choke
World Champ.
61KG
4F
1998
216

Fredson Alves

W
Points
World Champ.
61KG
F
1998
254

Unknown

W
Points
Brasileiro
70KG
R1
1999
383

Marcos Matta

Marcos Matta
W
Pts: 2x0
World Champ.
64KG
F
2000
478

Fredson Paixao

Fredson Paixao
W
Points
Rio x Sao Paulo
NA
SPF
2000
495

Hiroyuko Abe

W
RNC
ADCC
66KG
R1
2001
498

Joe Guilbert

W
Referee Decision
ADCC
66KG
4F
2001
505

Alexandre Soca

Alexandre Soca
W
Points
ADCC
66KG
3PLC
2001
637

Douglas Plata

W
N/A
World Cup
64KG
SF
2002
639

Ricardo Vieira

Ricardo Vieira
W
Pts: 2x2, Adv
World Cup
64KG
F
2002
1480

Jeff Glover

Jeff Glover
W
Pts: 6x3
LA Sub-X
ABS
SPF
2006
1556

Ulysses Gomez

W
Kneebar
GQ All Star Pro
63KG
4F
2007
1559

Ricky Lundell

W
Guillotine
GQ All Star Pro
63KG
SF
2007
1560

Wilson Reis

Wilson Reis
W
Heel hook
GQ All Star Pro
63KG
F
2007
1597

Tomoya Yanagisawa

W
Choke
Pan American
64KG
SF
2007
1599

Dai Yoshioka

W
Pts: 0x0, Adv
Pan American
64KG
F
2007
1735

Dai Yoshioka

W
Pts: 5x2
World Champ.
64KG
4F
2007
1740

Carlos Esquisito

Carlos Esquisito
W
Referee Decision
World Champ.
64KG
SF
2007
1741

Samuel Braga

Samuel Braga
W
Pts: 0x0, Adv
World Champ.
64KG
F
2007
2131

Bernardo Cruz

W
Points
World Pro.
65KG
R1
2009
2451

Nobuhiko Kitahara

W
Choke from back
Arizona Open
64KG
SPF
2010
3222

Greger Forsel

W
Pts: 3x0
ADCC
66KG
R1
2011
3261

Ryan Hall

Ryan Hall
W
Pts: 3x0
ADCC
66KG
4F
2011
6074

Marcos Matta

Marcos Matta
W
Clock choke
World Expo
ABS
SPF
2014
8032

Baret Yoshida

Baret Yoshida
D
---
Polaris 2
70KG
SPF
2015
35114

Tom Barlow

W
Referee Decision
Polaris
70KG
SPF
2022
Robson MOura vs Armando Conde – 1997 World Championship Final

Robson Moura Video Highlight from Grapplers Quest