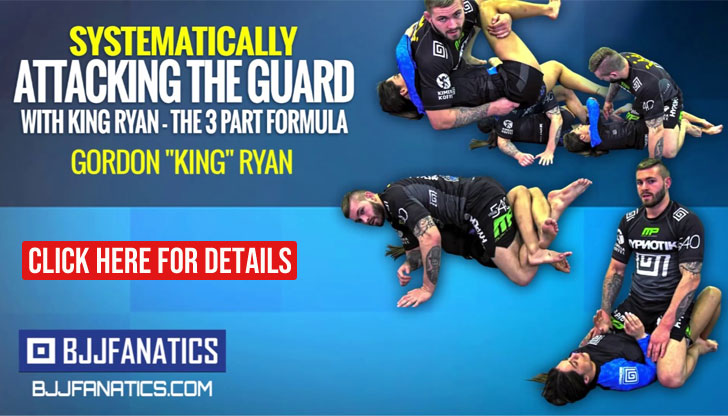 Rodrigo Antônio, commonly known as Rodrigo Feijão is a Brazilian jiu jitsu black belt under André Pederneiras, being also one of the main figures behind Nova União's lightweight dream-team of the late 1990's and early 2000's. Feijão later became one of the top grappling coaches in Brazil by developing numerous talented athletes through his academy in the small municipality of Maringá, including Alex Sodré, Anderson Muniz and Daniel Garcia Dias.
Rodrigo Feijão Jiu Jitsu
Full Name: Rodrigo Antônio Garcia da Silva
Nickname: Feijão, which literally translates "Bean". The name was given by Rodrigo's first coach who claimed he resembled a cartoon character under that name.
Lineage: Mitsuyo Maeda > Carlos Gracie > Carlson Gracie > André Pederneiras > Rodrigo Antônio
Main Achievements:
World Champion (1998 brown)
Abu Dhabi World Pro Champion (2014 Master)
World Cup Champion (2002/2003/2004/2005)
World Masters Champion (2014/2015 Master 2)
Brazilian National Champion (2001, 2008 Master)
Brazilian Teams Champion (2000/2001)
South Brazilian Champion (2015 Master)
World Championship 3rd Place (1999/2000 brown, 2001 black)
World Cup 3rd Place (2006)
Brazilian National 3rd Place (1996 purple, 1998 brown)
Favorite Position/Technique: Open Guard
Weight Division: Peso Leve (76kg/168lbs)
Team/Association: Clube Feijão Jiu Jitsu/Nova União
Rodrigo Feijão Biography
Rodrigo Antônio was born on October 28, 1977 in Teresópolis – State of Rio de Janeiro, Brazil.
Jiu jitsu appeared in Feijão's life at 9 years of age, due to an agreement worked between Rodrigo's school and a local martial arts academy where students from the school would be exempt from paying the academy's tuition fees. At this martial arts academy, Rodrigo Feijão met Aílson Brites, also known as Jucão, a pioneering jiu jitsu figure in Teresópolis who became Rodrigo's mentor.
Rodrigo earned all his belts up to blue from Jucão. Once Aílson relocated, Rodrigo remained under the guidance of Brites' student, Emerson Souza, who promoted Feijão to purple.
At 17 Feijão started travelling to Rio de Janeiro for school purposes. He took the chance to start training jiu jitsu at one of the top academies in the country, Nova União. It was at NU that Rodrigo's jiu jitsu prowess started coming through, earning many important titles for the team.
Feijão was promoted to his brown and black belts from the hands of NU's co-founder/leader, André Pederneiras. The black belt being awarded in 1999.
At black belt Rodrigo Feijão became one of the leading figures of an all-star cast. During the late 1990's NU was widely regarded as one of the top jiu jitsu team's in the world, particularly in the lighter weights through grapplers such as Robson Moura, Vitor Shaolin Ribeiro, Leo Santos, Thiago Fernandes and Feijão.
Rodrigo first came to the city of Maringá on the state of Paraná in 2000 for a seminar. He fell in love with the town and opted to open an academy there, a gym that quickly became one of the strongest producers of talent for Nova União, thanks to the efforts of Rodrigo and his students. The Maringá satellite academy of NU was one of the main catalysts for the revival of the famous Rio de Janeiro academy in the world of jiu jitsu, after it lost its ascendancy in the 2010's era.
Rodrigo Feijao vs Robson Melo

Rodrigo Feijao vs Adriano Lucio

Rodrigo Feijao Highlight