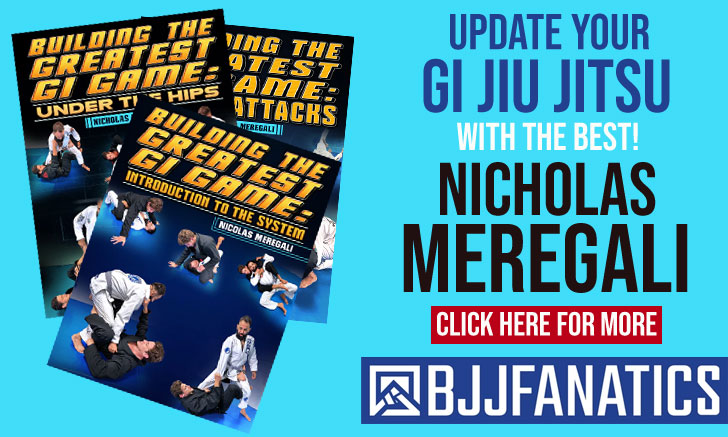 Edwin Najmi is a Brazilian jiu-jitsu black belt under Rômulo Barral of the Gracie Barra academy (Northridge branch), a gym that produced many talented grapplers including Beneil Dariush, Pedro Araújo, Gabriel Larges to name a few. One of the most talented grappling lightweights of his generation, with a crowd-pleasing submission orientated jiu-jitsu style, Edwin Najmi climbed the belt ranks, stacking wins at the sport's most revered tournaments, such as the World Championship, European Open, and Pan American Championship.
Edwin Najmi Jiu-Jitsu
Full Name: Edwin Najmi
Nickname: n/a
Lineage: Mitsuyo Maeda > Carlos Gracie > Helio Gracie > Carlos Gracie Jr > Draculino > R. Barral > Edwin Najmi
Main Achievements:
1st Place ACBJJ LW Grand Prix (2017)
1st Place IBJJF Pans Championship (2016)
1st Place FIVE Super League (2016)
2nd Place IBJJF World Championship (2016)
2nd Place ACBJJ 7 Grand Prix No-Gi (2017)
2nd Place UAEJJF Abu Dhabi Pro (2017)
3rd Place IBJJF European Open (2018)
Main Achievements (Colored Belts):
1st Place IBJJF World Championship (2015 brown, 2014* purple)
1st Place IBJJF European Open (2015 brown)
1st Place IBJJF Pans Championship (2015 brown, 2014 purple, 2012 blue)
2nd Place IBJJF World Championship (2014 brown)
2nd Place IBJJF Pans Championship (2011 blue)
* Absolute
** Weight and absolute
Favorite Position/Technique: Triangle
Weight Division: Peso Leve (76kg/168lbs)
Team/Association: Gracie Barra
Edwin Najmi Biography
Edwin Najmi was born on the 22nd of January, 1992 in Tarzana, California – United States of America. Edwin's curiosity for combat sports came at a young age, being driven towards wrestling/judo by his cousin's playful "beat downs" at the family house.
In looking for a place to learn some groundwork, Najmi found a judo dojo. The judo academy's coach was of a Gokor Chivichyan (Gene Lebell) lineage and consequentially gave some emphasis to groundwork, especially on the Friday sessions, where the students would often remove the gi and train their submission game.
The Friday's class became Edwin Najmi's favorite session, and after one year of training judo/submission wrestling, Edwin opted to find a Brazilian jiu-jitsu gym, where the focus was the ground. Not far from his house was Romulo Barral's academy, one of the most acclaimed athletes in the sport. Najmi signed up to Barral's Gracie Barra affiliate gym in 2009.
Romulo Barral soon understood he had a fantastic talent in his hands, and applied his vast experience in helping the young prodigy. Trusting that the spider guard would be Najmi's "weapon of choice" for the future, Barral often applied some unconventional methods to perfect Edwin's game. In an interview to the "The Jiu-Jitsu" website, Edwin mentioned that:
… When I just got my blue belt, Romulo made me play spider guard defense for 2-3 months in every single sparring session. He wouldn't let me submit or sweep, just defend and hold the grips. This improved my guard tremendously …
Climbing up through jiu-jitsu's belt system at full pelt, Edwin proved his worth on the competition scene with repeated wins at the top tournaments in the US. His fast climb in the sport earned him an invitation for the Copa Pódio professional event (2015), when he was a brown belt, defeating a well known black belt in Alex Cabanes at the country's challenge by submission (RNC).
After the win at CP, Edwing continued in great form, winning the World Jiu-Jitsu Championship for the 3rd time, earning his black belt on the podium, on the 30th of May 2015, from the hands of Romulo Barral.
Banner picture was taken by "Guardeiros BJJ".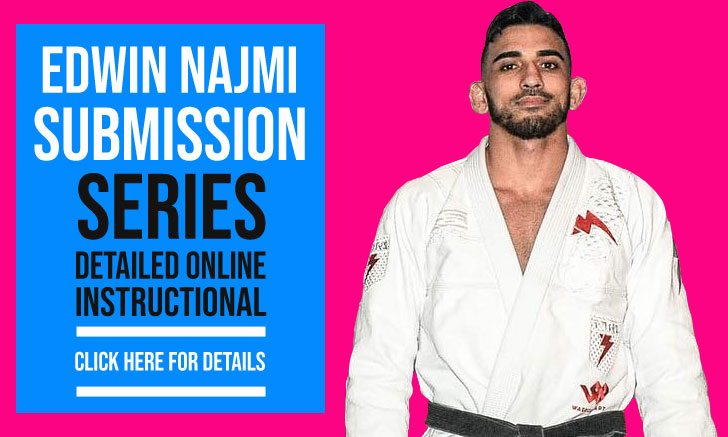 [fighter_status id=541]
Edwin Najmi Grappling Record
54 WINS
BY POINTS


BY ADVANTAGES




BY SUBMISSION




BY DECISION




BY PENALTIES




BY EBI/OT



29 SUBMISSIONS WINS
#d1212a
Choke from back
10
3
#f58822
Flying triangle
7
2
#ff9124
Bow and arrow
3
1
#22c9a5
Straight ankle lock
3
1
27 LOSSES
BY POINTS


BY ADVANTAGES




BY SUBMISSION




BY DECISION




BY PENALTIES




BY DQ



6 SUBMISSIONS LOSSES
#214eb8
Choke from back
33
2
#86e620
Inside heel hook
33
2
Edwin Najmi Fight History
ID
Opponent
W/L
Method
Competition
Weight
Stage
Year
8028

Lachlan Giles

Lachlan Giles
L
Pts: 4x4, Adv
Boa Super 8
70KG
4F
2015
8876

Dillon Danis

Dillon Danis
L
Pts: 7x0
Copa Podio
77KG
GP
2016
8881

Patrick Gaudio

Patrick Gaudio
L
Pts: 2x0
Copa Podio
77KG
GP
2016
8884

Diego Borges

Diego Borges
L
Pts: 2x2, Adv
Copa Podio
77KG
GP
2016
8937

Alex Cabanes

L
Pts: 6x6, Pen
European Open
76KG
SF
2016
9608

Jhonny Loureiro

Jhonny Loureiro
L
Pts: 2x2, Adv
World Pro
77KG
4F
2016
9988

Lucas Lepri

Lucas Lepri
L
Choke from back
World Champ.
76KG
F
2016
11453

Marcio Andre

Marcio Andre
L
Pts: 4x2
Grand Slam AD
75KG
SF
2017
12657

Gabriel Arges

Gabriel Arges
L
Pts: 2x0
World Pro
77KG
F
2017
13126

Yan Lucas

Yan Lucas
L
Pts: 2x0
World Champ.
76KG
4F
2017
13672

Marcio Andre

Marcio Andre
L
Referee Decision
ACBJJ 7
75KG
F
2017
14921

Masahiro Iwasaki

Masahiro Iwasaki
L
Pts: 2x0
European Open
76KG
SF
2018
15325

Davi Ramos

Davi Ramos
L
Referee Decision
ACBJJ 11
75KG
SPF
2018
15858

Luan Carvalho

Luan Carvalho
L
Referee Decision
ACBJJ 12
75KG
SPF
2018
16101

Thomas Keenan

L
Pts: 2x0
WP US Qualifier
77KG
RR
2018
16145

Espen Mathiesen

Espen Mathiesen
L
Pts: 0x0, Adv
World Pro
77KG
8F
2018
16159

Jaime Canuto

Jaime Canuto
L
Pts: 0x0, Adv
World Pro
77KG
RPC
2018
16510

Espen Mathiesen

Espen Mathiesen
L
Choke from back
World Champ.
76KG
4F
2018
19790

Dante Leon

Dante Leon
L
RNC
Kasai 5
79KG
SPF
2019
21859

Celso Vinicius

Celso Vinicius
L
Referee Decision
ADCC
77KG
R1
2019
21909

Garry Tonon

Garry Tonon
L
Inside heel hook
ADCC
ABS
R1
2019
22416

Jaime Canuto

Jaime Canuto
L
Referee Decision
F2W 131
81KG
SPF
2019
22650

Matheus Gabriel

Matheus Gabriel
L
Pts: 4x2
Spyder Invitational
76KG
4F
2019
23787

Jonnatas Gracie

Jonnatas Gracie
L
Referee Decision
F2W 144
79KG
SPF
2020
24993

Kody Steele

Kody Steele
L
Referee Decision
Third Coast
82KG
SPF
2020
27197

Johnny Tama

Johnny Tama
L
Inside heel hook
F2W 180
77KG
SPF
2021
27502

Jackson Nagai

Jackson Nagai
L
Triangle
F2W 182
N/A
SPF
2021
7640

Igor Mocaiber

W
Bow and arrow
Sub Series Pro
ABS
SPF
2015
8027

Michael Hoorigan

W
Darce choke
Boa Super 8
70KG
R1
2015
8888

Luan Carvalho

Luan Carvalho
W
DQ
Copa Podio
77KG
GP
2016
8926

Diego Vivaldo

Diego Vivaldo
W
Pts: 6x6, Adv
European Open
76KG
R1
2016
8934

Kevin Mahecha

Kevin Mahecha
W
Toe hold
European Open
76KG
4F
2016
9039

Ilke Bulut

Ilke Bulut
W
Referee Decision
PNBJJC
ABS
SPF
2016
9265

Rafael Mansur

Rafael Mansur
W
Estima lock
Pan American
76KG
8F
2016
9272

Michael Liera

Michael Liera
W
Pts: 4x4, Adv
Pan American
76KG
4F
2016
9276

Rodrigo Freitas

Rodrigo Freitas
W
Choke from back
Pan American
76KG
SF
2016
9278

Francisco Iturralde

Francisco Iturralde
W
Estima lock
Pan American
76KG
F
2016
9596

Adriano Araujo

W
Choke
World Pro
77KG
R2
2016
9600

Caio Almeida

Caio Almeida
W
Pts: 2x2, Adv
World Pro
77KG
8F
2016
9981

Alex Cabanes

W
Pts: 2x2, Adv
World Champ.
76KG
R2
2016
9985

Michael Liera

Michael Liera
W
Pts: 0x0, Adv
World Champ.
76KG
4F
2016
9987

Gabriel Rollo

Gabriel Rollo
W
Darce choke
World Champ.
76KG
SF
2016
10364

Osvaldo Moizinho

Osvaldo Moizinho
W
Referee Decision
Berkut 3
ABS
SPF
2016
10447

Vitor Oliveira

Vitor Oliveira
W
Darce choke
Grand Slam LA
77KG
SF
2016
10448

Victor Silverio

Victor Silverio
W
Injury
Grand Slam LA
77KG
F
2016
10688

Kevin Mahecha

Kevin Mahecha
W
Straight ankle lock
Guatemala Open
76KG
SPF
2016
11273

Bill Cooper

Bill Cooper
W
Darce choke
5 Super League
77KG
4F
2016
11277

Marcelo Mafra

Marcelo Mafra
W
Referee Decision
5 Super League
77KG
SF
2016
11279

John Combs

John Combs
W
Estima lock
5 Super League
77KG
F
2016
11450

Adriano Araujo

W
Darce choke
Grand Slam AD
75KG
4F
2017
11455

Alexandre Cavaliere

Alexandre Cavaliere
W
RNC
Grand Slam AD
75KG
3RD
2017
11774

Nathan Mendelsohn

Nathan Mendelsohn
W
Referee Decision
F2W 24
82KG
SPF
2017
11950

Daud Adaev

W
Flying triangle
ACBJJ 4
75KG
4F
2017
11954

Michael Langhi

Michael Langhi
W
Referee Decision
ACBJJ 4
75KG
SF
2017
11956

Marcio Andre

Marcio Andre
W
Triangle
ACBJJ 4
75KG
F
2017
12646

Hamzeh Rashid

W
Choke
World Pro
77KG
R1
2017
12650

Oliver Lovell

W
RNC
World Pro
77KG
4F
2017
12651

Jonathan Satava

Jonathan Satava
W
Pts: 2x0
World Pro
77KG
SF
2017
13121

Kevin Mahecha

Kevin Mahecha
W
Choke from back
World Champ.
76KG
8F
2017
13669

Thiago Abreu

Thiago Abreu
W
Darce choke
ACBJJ 7
75KG
4F
2017
13670

Davi Ramos

Davi Ramos
W
RNC
ACBJJ 7
75KG
SF
2017
14913

Espen Mathiesen

Espen Mathiesen
W
Pts: 2x2, Adv
European Open
76KG
R1
2018
14918

Ricardo Rocha

W
Darce choke
European Open
76KG
4F
2018
16100

Thomas Keenan

W
Choke from back
WP US Qualifier
77KG
RR
2018
16102

Thomas Keenan

W
Referee Decision
WP US Qualifier
77KG
RR
2018
16157

Oliver Lovell

W
Pts: 6x2
World Pro
77KG
RPC
2018
16342

Rodrigo Caporal

Rodrigo Caporal
W
RNC
ACBJJ 13
75KG
SPF
2018
16490

Dainis Nguyen

W
Pts: 5x0
World Champ.
76KG
R2
2018
16509

Ricardo Rocha

W
Pts: 2x0
World Champ.
76KG
R3
2018
17796

Tarsis Humphreys

Tarsis Humphreys
W
Referee Decision
WSOG 2
81KG
R1
2018
20864

Gianni Grippo

Gianni Grippo
W
Points
Third Coast
75KG
SPF
2019
21257

DJ Jackson

DJ Jackson
W
Referee Decision
F2W 120
82KG
SPF
2019
21512

Mansher Khera

Mansher Khera
W
Referee Decision
Polaris 11
77KG
SPF
2019
21959

Mathias Luna

Mathias Luna
W
RNC
World Festival
ABS
SPF
2019
22799

Ben Leny

W
Darce choke
Third Coast III
90KG
SPF
2019
23419

Johnny Tama

Johnny Tama
W
Referee Decision
F2W 136
77KG
SPF
2020
23507

N/A

W
Flying triangle
Mamba Cup
ABS
SF
2020
23733

Ben Henderson

W
Triangle
F2W 141
77KG
SPF
2020
23815

Osvaldo Moizinho

Osvaldo Moizinho
W
RNC
F2W 146
75KG
SPF
2020
23950

Michael Liera

Michael Liera
W
Referee Decision
F2W 152
77KG
SPF
2020
26981

Jeremy Kennedy

W
EBI/OT
SUG 25
N/A
SPF
2021
Edwin Najmi vs Nicholas Meregali

Edwin Najmi vs Mansher Khera

Edwin Najmi vs Guttenberg Pereira

Edwin Najmi Hightlight – World Championship 2015