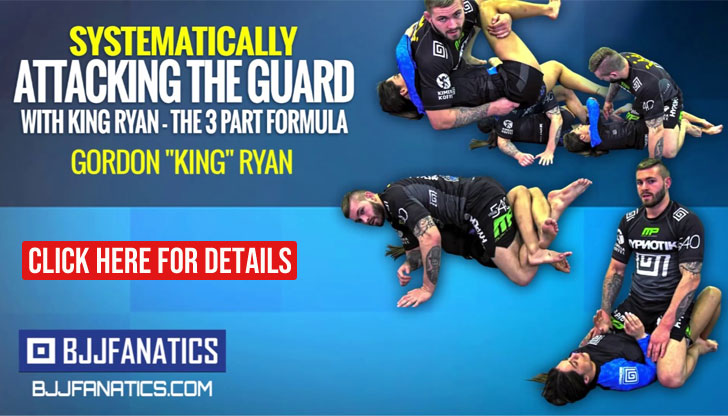 Vinicius Alves Lessa Paula, commonly known as Vinicius Lessa in the sport of jiu-jitsu, is a professional grappler and a black belt under Claudio Calasans & Álvaro Borges Junior, who worked extensively with coach André Papini during his colored belt career. Vinicius Lessa first made waves in jiu-jitsu after his 2021 win at the Abu Dhabi Jiu-Jitsu Pro Tour (AJP) as a brown belt, a good form that he proved consistent as a black belt, particularly while competing on the International Brazilian Jiu-Jitsu Federation (IBJJF) circuit.
Vinicius Lessa Jiu-Jitsu
Full Name: Vinicius Alves Lessa Paula
Nickname: N/A
Lineage: Carlos Gracie > Reyson Gracie > Osvaldo Alves > Sergio Lisboa > Erivaldo Junior > Claudio Calasans > Vinicius Lessa
Main Achievements:
1st Place IBJJF Brasilia Open (2022)
1st Place IBJJF Rio Fall Open (2022)
2nd Place IBJJF Rio Summer Open (2023)
Main Achievements (Colored Belts):
1st Place AJP Abu Dhabi World Pro (2021 brown)
2nd Place AJP Grand Slam, ABD (2021 brown)
3rd Place IBJJF European Open NOGI (2019 brown)
Favorite Position/Technique: Open Guard
Weight Division: Super Pesado (100,50 kg / 222.0 lbs)
Team/Association: Esporte Dez / Calasans Camargo
Vinicius Lessa Biography
Vinicius Lessa was born on December 09, 1997, in Maceió, Alagoas, Brazil, where he grew up.
Jiu-jitsu appeared in Vinicius' life in his mid-teens through the influence of a couple of friends – Jonas Melo and Davi Melo – who were purple belts and taught the martial art, locally.
Although he enjoyed training under the Melo brothers, shortly after he started Lessa became interested in competing which required a more tournament-driven class. For that reason, he became a student of André Papini at the Solara social project, a satellite academy of team Cicero Costha, one of the biggest jiu-jitsu talent producers in Brazil.
With time Vinicius became more and more invested in the sport, to the point where jiu-jitsu was where he spent every single spare time in his day. Seeing his dedication, coach Papini started sponsoring Vinicius, paying for trips to competitions and paying for the tournament fees, as he did with a selected few in his team who showed more willingness to train and compete.
In April 2021, Vinicius Lessa traveled to Abu Dhabi to compete at the World Pro of the AJP federation. While in the UAE, Vinicius met and befriended one of his idols, former AJP World Pro, IBJJF World, and ADCC champion Claudio Calasans. The two got on very well and by the end of the week, Calasans invited Vinicius to visit his training center in São José dos Campos (São Paulo, Brazil).
When back in Brazil, Vinicius visited São Paulo and trained with Calasans at his academy. The trip was supposed to be a short one, but Lessa kept postponing his return to Alagoas as he was thoroughly enjoying the quality of training experienced at Calasan's team. As time went by, Vinicius was eventually invited to be part of Claudio's squad and represent their team in future events, an offer accepted by Lessa.
Vinicius arrived a Calasan's team as a brown belt but his tournament results quickly propelled him to the next stage. Lessa was promoted to black belt by Claudio Calasans and fellow Calasans coach Álvaro Borges Junior on November 23, 2021.
Vinicius Lessa Grappling Record
32 WINS
BY POINTS


BY ADVANTAGES




BY SUBMISSION




BY DECISION




BY PENALTIES




BY DQ



7 SUBMISSIONS WINS
#214eb8
Choke from back
29
2
#fad11b
Choke from mount
14
1
25 LOSSES
BY POINTS


BY ADVANTAGES




BY SUBMISSION




BY DECISION




BY PENALTIES




BY DQ



10 SUBMISSIONS LOSSES
#214eb8
Choke from back
30
3
#d1212a
Anaconda choke
10
1
#224aba
Outside heel hook
10
1
Vinicius Lessa Fight History
ID
Opponent
W/L
Method
Competition
Weight
Stage
Year
32186

Hygor Brito

Hygor Brito
L
Botinha
Brasileiro
94KG
R1
2022
34039

Pedro Machado

Pedro Machado
L
Pts: 2x0
Grand Slam RJ
94KG
R1
2022
34325

Maique Azevedo

L
Anaconda choke
Brasileiro NoGi
97KG
4F
2022
34480

Walllace Costa

D
---
AJP SA Team
120KG
SF
2022
34493

Helder Jr

L
Pts: 3x2
AJP SA Team
120KG
3RD
2022
35732

Luis Oliveira

Luis Oliveira
L
Pts: 2x0
South American
100KG
SF
2022
36653

Gabriel Henrique

Gabriel Henrique
L
Pts: 2x2, Adv
Brasilia Open
ABS
SF
2022
37029

Elionai Braz

L
Pts: 0x0, Pen
Rio SMO
100KG
F
2023
37133

Jansen Gomes

Jansen Gomes
L
Choke from back
European Open
ABS
R1
2023
37241

Vinicius Liberati

Vinicius Liberati
L
Pts: 5x0
European Open
100KG
R1
2023
38064

Erich Munis

Erich Munis
L
Armbar
Curitiba SMO
100KG
F
2023
38609

Icaro Vidal

L
Choke
Rio Fall Open
ABS
R1
2023
38964

Gabriel Volante

Gabriel Volante
L
Referee Decision
BJJS Confere
ABS
SF
2023
39531

Wildemar Souza

L
Referee Decision
Brasileiro
100KG
4F
2023
39549

Luis Oliveira

Luis Oliveira
L
Choke from back
Brasileiro
ABS
8F
2023
40141

Alex Munis

Alex Munis
L
Pts: 2x0
Floripa FO
100KG
4F
2023
40155

Meyram Maquine

Meyram Maquine
L
Pts: 4x0
Floripa FO
ABS
4F
2023
40332

Italo Lima

L
Triangle
World Champ.
94KG
R1
2023
40485

Victor Hugo

Victor Hugo
L
Choke
World Champ.
ABS
8F
2023
40654

Javier Barter

L
Pts: 6x3
Grand Slam RJ
94KG
4F
2023
40660

Davi Souza

L
Pts: 2x0
Grand Slam RJ
94KG
RPC
2023
40957

Elionai Julio

L
Pts: 2x0
Brasileiro CBJJE
ABS
4F
2023
41430

Jardel Oliveira

L
Outside heel hook
ADCC SP
91KG
SF
2023
41830

Gabriel Brod

L
Pts: 2x2, Adv
Vitoria Open
94KG
SF
2023
42763

Caio Paganini

Caio Paganini
L
DQ
Sul Americano
94KG
4F
2023
42801

Anderson Munis

Anderson Munis
L
Choke from back
Sul Americano
ABS
8F
2023
31916

Yuri Korzen

W
Points
Rio Fall Open
100KG
4F
2022
31918

Rinaldo Filho

W
Points
Rio Fall Open
100KG
SF
2022
31919

Gabriel Ventura

W
Points
Rio Fall Open
100KG
F
2022
34459

Danilo Crecencio

D
---
AJP SA Team
120KG
RR
2022
34473

Gabriel Barbosa

W
Choke from back
AJP SA Team
120KG
RR
2022
35730

Elionai Braz

W
Pts: 4x0
South American
100KG
4F
2022
36637

Joao Machado

W
Kimura
Brasilia Open
100KG
SF
2022
36639

Marcus Ruiz

W
Kneebar
Brasilia Open
100KG
F
2022
36643

Carlos Geovanni

W
Pts: 2x0
Brasilia Open
ABS
R1
2022
36649

Yann Cathalat

W
Pts: 2x0
Brasilia Open
ABS
4F
2022
37025

Isaac Dull

W
Pts: 6x0
Rio SMO
100KG
4F
2023
37028

Victor Maciel

W
Toe hold
Rio SMO
100KG
SF
2023
38061

Joao Freitas

W
Referee Decision
Curitiba SMO
100KG
4F
2023
38063

Lucas Campos

W
Pts: 4x2
Curitiba SMO
100KG
SF
2023
38595

Victor Costa

Victor Costa
W
Choke from mount
Rio Fall Open
100KG
4F
2023
38597

Wildemar Matheus

W
Referee Decision
Rio Fall Open
100KG
SF
2023
38884

Kelvin Cruz

W
Pts: 2x0
Salvador FO
100KG
SF
2023
38886

Paulo Otavio

W
N/A
Salvador FO
100KG
F
2023
38898

Jose Edicharles

W
Pts: 4x2
Salvador FO
ABS
R1
2023
38906

Kelvin Cruz

W
Pts: 2x0
Salvador FO
ABS
8F
2023
38962

Romulo Leandro

W
Kneebar
BJJS Confere
ABS
4F
2023
40152

Vital Neto

W
Referee Decision
Floripa FO
ABS
8F
2023
40471

Servio Tulio

Servio Tulio
W
Referee Decision
World Champ.
ABS
R1
2023
40647

Higor Eleuterio

W
Choke from back
Grand Slam RJ
94KG
8F
2023
41068

Matheus Nascimento

W
Referee Decision
Betim Open
94KG
SF
2023
41070

Walisson Pardim

W
Pts: 0x0, Adv
Betim Open
94KG
F
2023
41284

Matheus Henriquei

W
Referee Decision
SP BJJ Pro
94KG
4F
2023
41285

Gabriel Henrique

Gabriel Henrique
W
Referee Decision
SP BJJ Pro
94KG
SF
2023
41286

Alex Munis

Alex Munis
W
Referee Decision
SP BJJ Pro
94KG
F
2023
41423

Tyrone Gonsalves

W
Referee Decision
ADCC SP
91KG
R1
2023
41427

Joao Nicolite

W
Referee Decision
ADCC SP
91KG
4F
2023
41433

Stefano Correa

W
Referee Decision
ADCC SP
91KG
3RD
2023
42799

Leo Brocca

W
Pts: 2x0
Sul Americano
ABS
R1
2023