Luiz Panza is a Brazilian Jiu Jitsu black belt under Marco Barbosa who is one of the top heavyweight competitors of his generation. A former professional model, Luiz Panza traded the catwalk for Jiu Jitsu, turning professional in 2013. On his first year as a black belt competitor, Luiz immediately made a name for himself piling up medals at the highest level of BJJ, including the Mundial, Pan American (gi and no gi), Brazilian Nationals AKA the Brasileiro (gi and no gi) as well as the world pro cup trials. In October 2014, after a successful year as a black belt where Panza won the Pan American Championship, Luiz moved to the United States, changing to the Checkmat team camp.
Luiz Panza Jiu Jitsu
Full Name: Luiz Fernando de Azevedo Panza
Nickname: n/a
Lineage: Mitsuyo Maeda > Carlos Gracie > Helio Gracie > Rickson Gracie > Marcelo Behring > Waldomiro Perez > Roberto Godoi > Marco Barbosa > Luiz Panza
Main Achievements:
IBJJF World No-Gi Champion (2016)
IBJJF Pan American Champion (2016/2014)
IBJJF Pan American Champion No-Gi (2013**)
CBJJ Brazilian National No-Gi Champion (2013**)
ACBJJ Berkut GP 95kg Champion (2017)
UAEJJF Abu Dhabi Grand Slam LA Champion (2016)
IBJJF BJJ Pro LA Champion (2016)
IIBJJF World Championship 3rd Place (2017**/2013)
IBJJF Pan American Championship 3rd Place (2013)
IBJJF Brazilian Nationals Championship 3rd Place (2013)
* Absolute
** Weight and absolute
Favorite Position/Technique: Closed Guard & 50/50 Guard
Weight Division: Super Pesado (up to 100kg/223lbs)
Team/Association: Checkmat Jiu Jitsu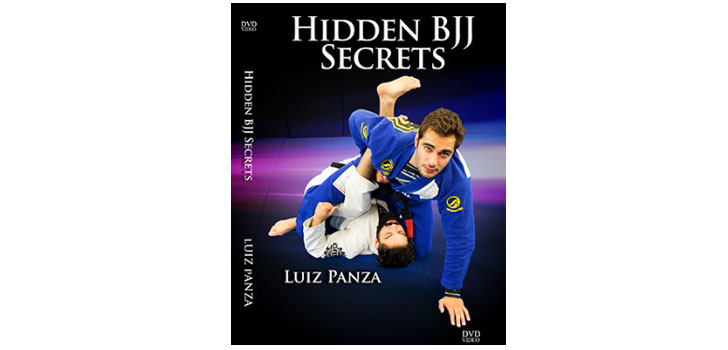 Luiz Panza Biography
Luiz Panza was born on the 2nd of February 1990 in the north side of São Paulo, growing up in a middle class neighborhood. Being a very energetic kid, the Panza family hold decided to introduce Luiz to martial arts early on, and by the age of 7 he started practising Kung Fu, later moving on to Karate (Shotokan), a style he practiced for many years, earning a black belt in the Japanese fighting art.
Panza always envisioned competing in MMA but being a teenager (around 15 at the time) he could not afford to pay for a membership at an MMA gym. With that in mind, he saved up money given by his family in festive events such as birthdays/Christmas and by the age of 16 he had a decent sum of cash with which he walked into the Lotus academy. At Lotus he asked if he could train there with their MMA fighters. The money wasn't enough for him to take classes for too long, so instead he asked if he could just come in during the MMA sparring sessions and spar with their athletes, a request that was accepted by the gym administration.
This MMA training went on for a while until the moment when Luiz had a street fight (with a guy who was trying to mess with his girfriend). Luiz hurt the other man badly and was forbidden to train by his mother who believed that training MMA made him more aggressive. At the time Luiz' best friend, Felipe Marques, trained BJJ and the two (Felipe and Luiz) got together with Mrs Panza and managed to convince her to let Luiz start Jiu Jitsu. This was in 2007 and Luiz Panza started training with coach Edilberto da Ponte, of A.O.A. team. Luiz became a big fan of Jiu Jitsu and started competing regularly reaching his blue and purple belts under the supervision of Mr Ponte.
At purple belt level, Luiz Panza started looking for a more competitive team where he could continue to grow in the sport, Panza decided to switch to Barbosa Jiu Jitsu, one of the top teams in the state where he received both his brown belt and his black belt (on the 17th of December, 2012).
Before deciding on becoming a professional athlete, Luiz Panza was an emerging model who was also finishing his degree while working at a bank. With a bright future ahead of him as both a model or a banker, Panza decided to give up on these well paid professions to dedicate himself fully to Brazilian Jiu Jitsu. His first year as a black belt was a huge success and proved that the young Panza had what was necessary to make in among the elite grapplers of the world, stacking up an impressive medal tally.
Luiz Panza Grappling Record
59 WINS
BY POINTS


BY ADVANTAGES




BY SUBMISSION




BY DECISION




BY PENALTIES




BY DQ



44 SUBMISSIONS WINS
#bf1f6c
Flying triangle
2
1
#fad223
Choke from back
2
1
#03861f
Straight ankle lock
2
1
26 LOSSES
BY POINTS


BY ADVANTAGES




BY SUBMISSION




BY DECISION




BY PENALTIES




BY DQ



8 SUBMISSIONS LOSSES
#86e620
Choke from back
25
2
Luiz Panza Fight History
Luiz Panza vs Rafael Zilio

Luiz Panza vs Diogo Almeida

Luiz Panza vs Pedro Henrique

Luiz Panza vs Ronnie Wuest

Luiz Panza vs Rodrigo Faria