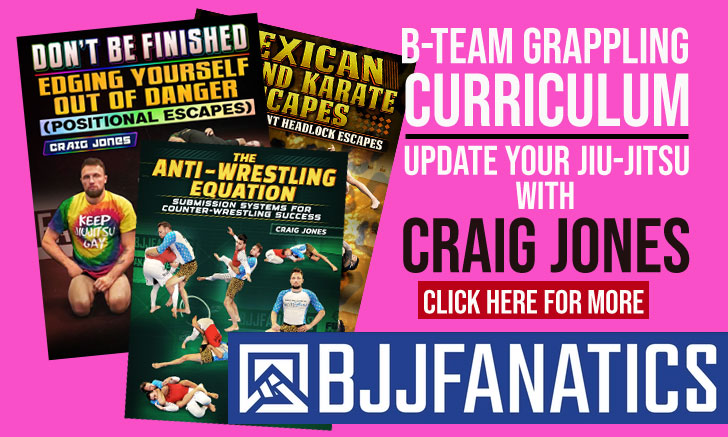 Another extravagant night of jiu jitsu is set for the 14th event of the ACBJJ promotion, a grappling league that has quickly grown into one of the biggest professional BJJ outlets. For this historic 14th episode ACB is bringing some of its finest athletes to Moscow – a perfect setting for this Russian based company.
As it has happened in the last few editions of ACBJJ, the card will feature 3 title matches as well as an array of high level super-fights suited for any other jiu jitsu show's main event. ACBJJ 14 will also feature a few matches between local Eastern European talent, which will be mixed in with the more worldly recognized bouts.
TITLE MATCHES
The most anticipated part of the ACBJJ 14 card will likely lie on the 3 main event matches, where the fate of the 60, 75 and 95 kilogram divisions will be decided.
João Miyao (champion) vs Ary Farias (challenger)
First on deck will be the lighter division at ACB, which will feature the champion João Miyao versus the challenger Ary Farias. Farias poses a huge threat to the title, having beaten Miyao a few weeks ago at the IBJJF World Championship.
Stylistically this match may prove to be a tough sell for the fans. Both men are very evenly matched, know each other's games and don't mind playing strategy. Either way, in the current BJJ scene, Farias is one of very few men who can pose a threat to Miyao's 60 kg crown, and that in itself is more than worth the airtime.
Davi Ramos (champion) vs Lucas Lepri (challenger)
Contrary to the previous match-up, this one should be an absolute barn burner, two athletes who like to push the pace and have very complete styles. Expect to see Ramos and Lepri battle for top position, with lots of scrambles and (dare we say) a possible submission.
The reigning champ of the ACB 75 kilogram division, Davi Ramos was the only man to submit Lucas Lepri during his lengthy black belt career. An event that took place at the 2015 ADCC finals. Lepri has since avenged his loss to Ramoa, but was unable to reciprocate the finish. Lepri is currently the IBJJF World champion and arguably the best/most accomplished lightweight of all time.
Felipe Pena (champion) vs Lucas Barbosa (challenger)
Another match, another exciting affair between two current IBJJF world champions, both of which earned that title for the first time as black belts this year. Pena and Barbosa do not know how to be in a boring match, it is not a part of their DNA so expect these two to go to war.
Pena and Barbosa have only met once at black belt, and that was last year at ACBJJ 9 nogi Grand Prix. Preguiça took that match by submission, though the gi is Hulk's weapon of choice and we expect this to be a much closer bout than their previous one.
MATCH OF THE NIGHT?
Hard to chose a match of the night for this event as there are is so much potential to spread around. A very interesting clash will be that of Nicholas Meregali vs João Gabriel Rocha, as their styles clash very well – Rocha's relentless pressure vs Meregali's flair and killer instinct.
Other very interesting super fights will be Márcio André vs Lucas Rocha as well as Isaac Doederlein vs Bruno Frazatto. Two huge matchups between the very best in each category, currently not holding an ACB strap.
SPECIAL MMA GUESTS
This BJJ card will also feature a few mixed martial arts fighters currently under contract with ACB's MMA league. These athletes will showcase their skills in a nogi jiu jitsu environment, with the biggest name on this batch being former UFC title challenger Diego Sanchez.
DATE: June 30, 2018
TIME: 6PM (Moscow time)
23. RODNEI BARBOSA x SAMIR CHANTRE 60kg GI⠀
22. MARCOS OLIVEIRA x GABRIEL LUCAS 95kg GI
21. MARCELO MAFRA x MICHAEL LANGHI 75kg GI
20. JOSH HINGER x RÔMULO BARRAL 85kg (cancelled)
19. THIAGO SÁ x AYUB MAGOMADOV 85kg GI
18. KIM TERRA x AUGUSTO MENDES 65kg GI
17. GABRIEL MARANGONI x OSVALDO MOIZINHO 65kg GI
16. ALI BAGOV x GADZHIMURAD HIRAMAGOMEDOV 82kg NOGI
15. MÁRCIO ANDRÉ x LUCAS ROCHA 75kg GI
14. MURAD MACHAEV x ADLAN BATAEV NOGI
13. ISAAC DOEDERLEIN x BRUNO FRAZATTO 65kg GI
12. YUSUF RAISOV x GEORGI KARAKHANYAN NOGI
11. IGOR SILVA x ABDURAKHMAN BILAROV 95kg GI
10. ABDUL-AZIZ ABDULVAKHABOV x EDUARD VARTANYAN NOGI
9. NICHOLAS MEREGALI x JOÃO ROCHA 95kg GI
8. MAGOMED ISMAILOV x ALBERT DURAEV 92kg NOGI
7. LUIZ PANZA x RODRIGO CAVACA 95kg GI
6. ASLAMBEK SAIDOV x MUKHAMED BERKHAMOV 82kg NOGI
5. ARY FARIAS x JOÃO MIYAO 60 kg (Title) GI
4. ZUBAIRA TUKHUGOV x JOSH EMMETT 73kg NOGI
3. LUCAS LEPRI x DAVI RAMOS 75kg (Title) GI
2. DIEGO SANCHEZ x MAIRBEK TAISUMOV NOGI
1. LUCAS BARBOSA x FELIPE PENA 95kg (Title) GI