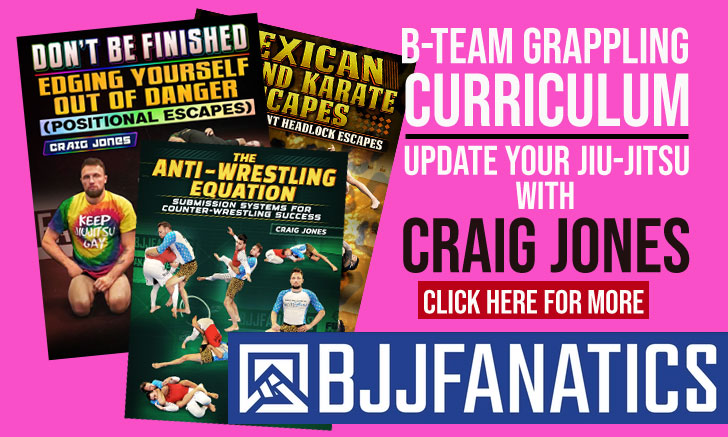 One of the most unique combat promotions in the world, the ACB is returning to jiu jitsu. To jump start their no-gi league, ACBJJ (also known as Berkut Grand Prix) is bringing an army of the top lightweight and middleweight challengers who will battle in Rio de Janeiro, Brazil for the 75 and 85 kilogram belts.
The line-up for ACBJJ 7 will rival with some of the world's best events in the level of talent brought to the mat with ADCC, Worlds and Pans champions and a wide range of nationalities. Certainly one of the most eclectic and well structured professional events in the sport today. Below is a run-down of the athletes and respective categories on display this weekend.
ACBJJ 7 - No-Gi Grand Prix Card
Location: Barra da Tijuca
Date: September 9
Stream: acbjj.com/live
Start Time: 6pm (Rio Time)
75 KILOGRAM CARD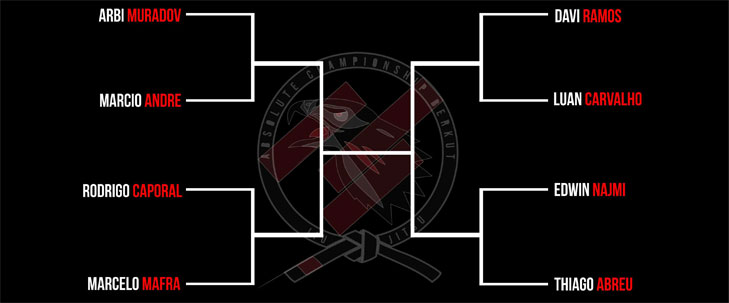 ARBI MURADOV – Berkut BJJ
Muradov is a veteran competitor for the Russian promotion and a coach at Berkut's BJJ team, one of the strongest grappling clubs in Eastern Europe. This year Arbi conquered a valiant bronze medal at the UAEJJF Abu Dhabi Pro in the Masters division.
MÁRCIO ANDRÉ – Nova Uniao / Gustavo Dantas
One of the best gi competitors of his generation, André does not focus on the no-gi facet of the sport very often, but when he does he is usually very successful. Always dangerous and fun to watch, expect Márcio to challenge for the podium in Rio de Janeiro.
RODRIGO CAPORAL – Atos HK
One of the original big players in the Atos academy, Caporal moved to Hong Kong a few years ago where he pursued a more mixed martial arts geared career while maintaining a gym in this Chinese territory. Caporal is very a very physical for this weight class and has plenty of grappling mileage making him a very tough competitor, particularly under these settings where his durability might come to play a factor.
MARCELO MAFRA – Checkmat
A 2x World No-Gi Champion, "Lapela" Mafra is one of the favorites for gold at 75 kilograms. A seasoned veteran with very few holes in his game, Mafra can wrestle, play guard and guard pass, while being excellent also at time management. Expect Lapela to have a strong say in this Grand Prix.
DAVI RAMOS – Team Nogueira
The current ADCC champion is not competing at this year's Abu Dhabi competition but will be present at this ACBJJ event, a clear show of how much weight this tournament carries among the elite jiu jitsu players.
Davi Ramos' style is world famous and can only be described as a grappling hurricane. Fast, strong and with great timing, Ramos' only flaw has been his gas tank which could cause a problem under the ACBJJ rules set.
LUAN CARVALHO – Nova Uniao Macaé
A tremendous athlete from Nova Uniao is Luan Carvalho who has spent most of this past year building his own team at a brand new facility (OAK jiu jitsu) in Macaé – Brazil. Carvalho is very durable, has excellent distance management and a well rounded game. He will meet an ADCC champion in the very first round, arguably the toughest man to beat on the card – an achievement that is very well in Luan's grasp. A testament to how talent dense this event really is.
EDWIN NAJMI – Gracie Barra Northridge
We don't remember the last time we saw Najmi compete without the gi, certainly not at black belt, but one thing is for sure – Edwin Najmi is coming prepared. Working with one of the most successful and complete jiu jitsu camps in the world, surrounded by World No-Gi Champions and ADCC medalists, expect the young American to come in with a lesson well learned. Given that we do not know a whole lot about his no-gi game Najmi will be coming in as an underdog, but the current ACBJJ gi champion will likely cause plenty of damage to the division.
THIAGO ABREU – Checkmat Santos
Abreu, commonly known as 'Baiano' is one of the head coaches at The House Fight Company – home to some of the best jiu jitsu competitors in the country while remaining active in the sport as a competitor. Maybe not as well known as some of the bigger names on the card, Abreu has wins over some very serious athletes and a world title in No-Gi back in 2014.
85 KILOGRAM CARD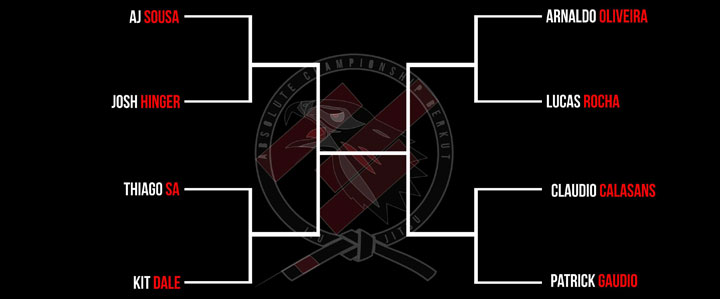 ISAQUE BAHIENSE / AJ SOUSA
The much anticipated return of AJ Sousa to ACBJJ has been postponed due to Hurricane Irma, currently passing through Florida – but rest assured the Florida based grappler has been adequately replaced. For Sousa's vacant spot the promotion called on Alliance rising star Bahiense, a middleweight with cat like reflexes and a forward moving game. Isaque won the IBJJF European No-Gi Open this year and his first match against Hinger (first round) should be one of the most exciting fights in the whole tournament.
JOSH HINGER – Atos HQ
Players don't come in riding much higher than Hinger at 85 kg. The Atos representative has been on a tear this year, particularly in no-gi where he's won numerous IBJJF International Open tournaments. Hinger is a very exciting grappler to watch with strong wrestling and excellent passing skills as well as one of the best killer instincts in the game right now. Keep your eyes on this competitor and don't blink – his subs come in fast!
THIAGO SÁ – Checkmat
One of the top competitors in Checkmat, Sá has a no nonsense approach to jiu jitsu: If you want to stall from standing he will pull, if you want to stall from the guard he will push the pace from a top position. A very straight forward style of play, Thiago makes of the Single Leg X guard one of his main weapons – something that works very well in no-gi. Highly underrated, Thiago Sá will be a force in this division.
HUGO MARQUES / KIT DALE
Due to visa issues the Australian Kit Dale was forced out of the tournament, instead Soul Fighters' young gun Hugo Marques will take his place. Although usually a lightweight, Marques is strong, fast as well as aggressive and although he is coming off a disappointing performance at Copa Podio just a few weeks ago – like the warrior that he is, Marques is back to prove to all the doubters that he belongs on this division.
ARNALDO MAIDANA – Checkmat
A regular call in the ACBJJ league is Maidana (often referenced as Arnaldo Oliveira), a strong guard player who reached the semi final of the 85 kilogram grand prix (with gi) earlier this year. Arnaldo has in his guard his strongest game.
LUCAS ROCHA – ZR Team
Another seasoned veteran is Lucas Rocha who regularly competes in a wide range of grappling rules. Rocha is aggressive and very well rounded, being also one of the driving forces behind the ZR Team in the United States.
CLAUDIO CALASANS – Atos / Calasans Camargo JJ
The current ADCC open weight champion returns to the ACBJJ grand prix, being one of the strongest challengers to the title. Calasans may not be the most entertaining athlete on the card, but he is not often worried about giving a show he is worried about winning and that he does with perfection. Calasans plays the clock like very few competitors in the world today, having strengths from the guard, on top and with his takedowns.
PATRICK GAUDIO – GF Team Recreio
If you don't know of Gaudio, you haven't been following the sport over the past couple of years. Patrick is the current Pan American and Brazilian national champion as well as the silver medallist at the Worlds. He is not often seen shedding the gi but when he has, Gaudio has been very capable as his 2nd spot at the Brazilian ADCC trials would attest.