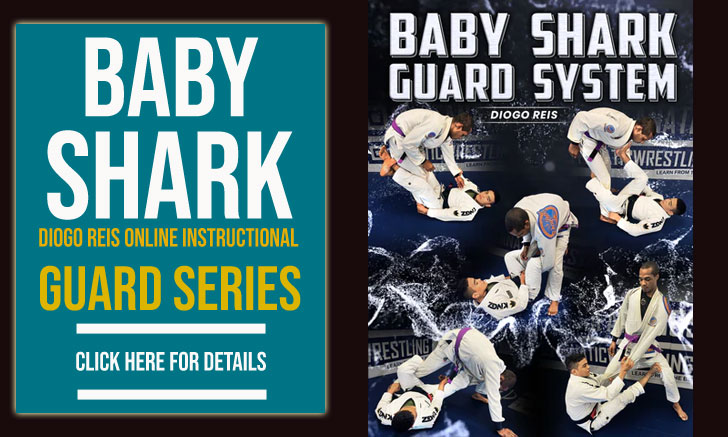 FULL RESULTS OF POLARIS 3 HERE
Even though Polaris has not yet released the full card for its 3rd event, taking place on April 2nd 2016 in the Poole – England, the buzz surrounding this invitational grappling competition has been overwhelming. Particularly over the intriguing match-up between Rousimar "Toquinho" Palhares and Garry Tonon, both devastating footlock specialists who have proved their worth while battling in two different realms of combat sports, jiu jitsu and mixed martial arts (MMA).
Though there will be a very considerable size and strength advantage to Toquinho, the similarities between these two submission artists are plenty; they both come from very strong jiu jitsu lineages with a strong no-gi backbone. Both have been highly successful in their respective sports, both thrive in the scramble game and both love to heel hook the living daylights out of their opponents. Any grappling fan can draw plenty of parallel lines in their games, but the two also have different approaches to the end result – the submission.
FULL RESULTS OF POLARIS 3 HERE
The first big difference, and perhaps a key point in this match is positioning. While both competitors will relinquish top control to dive on submissions, Tonon's approach seems to be more contained and precise. His passing skills are on par with the rest of his game. A testament to that would be his match against Rodrigo Freitas (who has some of the best guard retention in the game) at last year's No-Gi Pan Ams final, where Garry was able to secure the 3 points.
Though competing in a very different environment from that of strict grappling, Palhares' passing has not been seen at the highest level. Neither in MMA nor in the his brief appearance at the 2011 ADCC tournament. Rousimar's style appears to have less layers than that of Tonon, who will chose to secure a solid position before advancing for the submission at times, Palhares has shown less interest in the positioning game, always hunting for the submission.
This is not to say Toquinho does not have good guard passing, he most certainly does, having trained with some of the world's best grapplers for over a decade, but his style is wild and top control is not a key element of his game.
FULL RESULTS OF POLARIS 3 HERE
If there is one thing for which none of these two is known for is defence. Two entertainers of the highest calibre, we do not often see Tonon or Palhares on the back pedal, but they do, however, have plenty of defensive tricks in their arsenal. If we have seen Garry get out of some tough spots (that magic escape against Cyborg at the 2013 ADCC springs to mind), through a combination of tenacity, technique and spacial awareness, the same cannot be said of Rousimar who's toughest exchanges have come from André Galvao's back take at the 2011 ADCC and Alan Beltcher's truck control (UFC on Fox 3 – Diaz vs. Miller).
In neither of the two circumstances (Galvao or Beltcher) was Palhares in eminent danger of being tapped. He looked poised and in no rush to make a mistake, waiting for his turn to counter as seen on the clip below:
Against Jake Shields Palhares was also mounted at one point, but Shields never got close to a finishing grip. Toquinho has never been submitted in his professional career, submission grappling or MMA. Tonon has only been submitted twice as a black belt (Kron Gracie in 2013 and Matheus Diniz in 2015), but he has also exposed himself against higher calibre grapplers of all weight classes, having gone "toe to toe" against much heavier men such as Buchecha and Cyborg.
When it comes to Rousimar and Tonon, submission isn't seen as the best outcome, but the only outcome. Garry holds an incredible 78% submission rate since competing as a black belt, while
Palhares
won 83% of his MMA matches by submission and has 100% finish rate in the ADCC. Truly impressive stuff.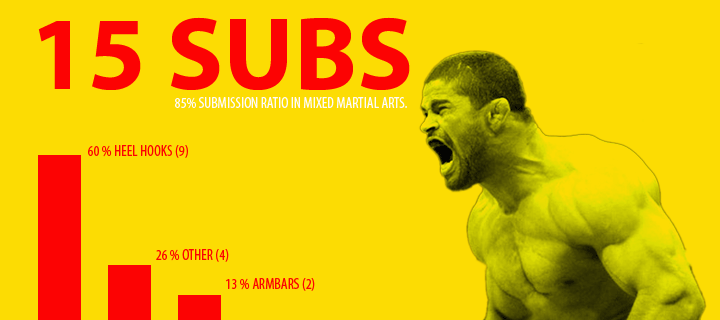 The big difference between the two is the method. Toquinho is a limb collector. In 12 years of competing at the highest level (MMA and ADCC), only once did Palhares choke an opponent, that was back in 2007 against the famous thai boxer, Helio Dipp who had limited grappling experience. The vast majority of his submissions have come from devastating heel hooks, but he is not adverse to collecting an arm, if given half a chance.
Tonon on the other hand, although also known for his reverse heel hook game, has plenty of tools in his workshop, with a fantastic "kimura trap to guillotine" system, that he has demonstrated a few times (see below) as well as great back attacks with the RNC.
It is hard to imagine a match between Toquinho and Tonon where the two will not be hanging off each other's heels, looked-up in a footsie's battle. But who will win?
Although they are both savage heel hook specialists, when observing their games with a keen eye, it is hard not to discern one approach from the other. Toquinho relies heavily on his power to finish his heel hooks. His entries come from a variety of angles, from fake double leg takedown attempts, to guard pulling and the odd scramble, nothing different there. Most expert leg lockers will have similar set ups, but Toquinho more than often chooses not to block his opponent's hips from rolling, believing in his superior strength and speed for a quick tap. Tonon on the other hand will more often hunt for the control before locking in the submission.
See Toquinho's Heel Hook Control/Structure: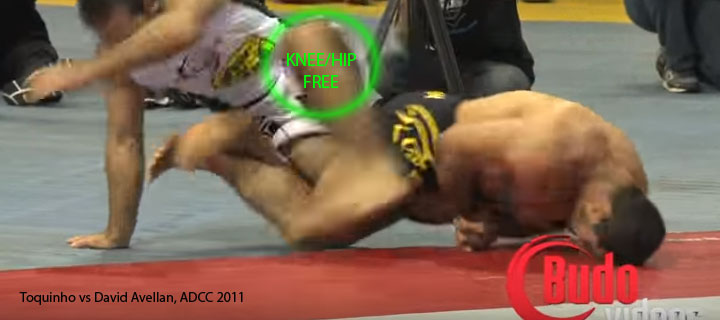 See Tonon's Heel Hook Control/Structure: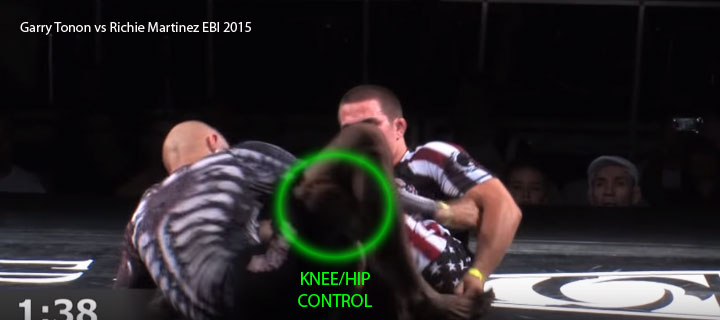 Even though Rousimar did finish the submission attempt depicted above, if you see the footage (available below), Avellan was on his way out of the submission and was victim of a poor restart by the referee.
Palhares' "hasty" maneuver, when facing a knowledgeable footlock defence artist often causes him to miss his chance, as it happened with Jake Shields, Andre Galvao and Beltcher (see examples)::
Andre Galvao escape ADCC 2011
Alan Beltcher escape UFC 2012
Tonon on the other hand, more often than not, will hunt for the leg reap over the 50/50 guard, and the far knee control. once this has been established, he will proceed with the heel hook. A more "rule-book" approach to the position, that seems to secure the position and avoid the scramble.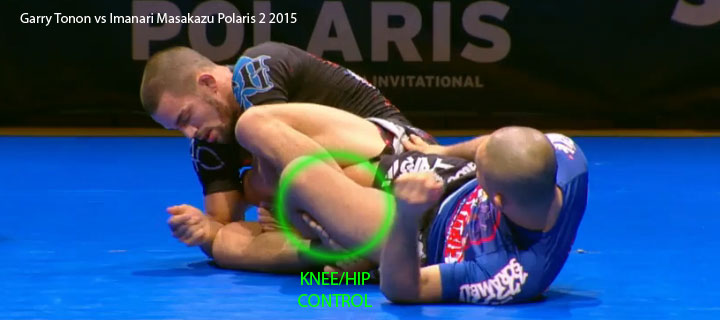 Tonon also seems to have a more varied system than that of Toquinho's; meaning, Tonon has a chain of movements he will apply for different circumstances if his initial plan does not follow through, often going for his trademark double leg reap (crossing his legs over his opponent's thighs) if he tries to spin. He will also use the 50/50 guard to finish his heel looks.
In their similarities, Tonon and Palhares have plenty of differences. Palhares is a force of nature, his strength and movement are his greatest allies. He has fantastic set ups, and entries for his favorite footlock, but in his approach leaves a few gaps which a savvy grappler may avail to his advantage.
Tonon has in both Tom deBlass and John Danaher, two connoisseurs of the footlock game, and will likely spot those kinks in Rousimar Palhares' armour. Which leaves us with two key differentiators, Toquinho's power vs Tonon's system. Which will prevail? We will find out on April 2nd.
Garry Tonon vs Rodrigo Ranieri

Toquinho vs David Avellan

Garry Tonon Highlight

Rousimar Palhares Highlight