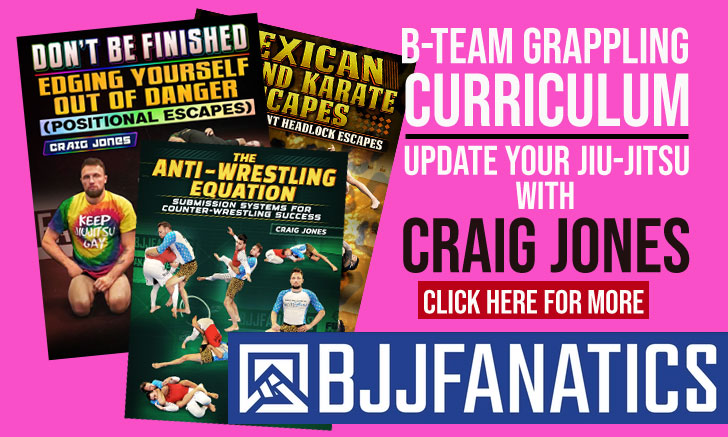 This past weekend saw the first edition of the IBJJF Irvine Open. The tournament gathered a few of the top athletes in the sport, people such as former light featherweight world champion Gabriel Moraes, World No-Gi Champion Samir Chantre, and some of the youngest up and coming stars of the sport, including Tanner Rice and Gabriel Arges.
The event was Gabriel Arges' debut as a black belt. Arges has been pointed out by many as one of the rising talents in the game, being on our website's Top Brown Belts of 2015 ranking published earlier this year.
Gabriel had some tough challenges in the tournament, particularly in the medium heavyweight bracket where he was set to face the explosive Lucas "Hulk" in his first match, Lucas who was coming off an amazing performance at the World No-Gi Championship, where he won a gold medal.
Arges ended up facing the "Incredible Hulk" not once, but 3 times throughout the tournament (2x in weight division: round robin + final, and 1x in the semi final of the absolute), beating the Atos athlete on all three occasions, while cementing his spot as one of the top black belts in the division.
Check the results below
Light Feather
1st – Gabriel Moraes – Alliance SP
2nd – Gustavo Carpio – Connect BJJ
3rd – Andre Pontes – Ribeiro Jiu-Jitsu
3rd – Luis Felipe Pinto – Brazil Academy USA
Gabrielzinho was on fire at the Irvine Open winning all his matches by choke. Moraes, who recently switched teams (from Checkmat to Alliance) has been on fire as of late, controling a very game Gustavo Carpio in the final.
Feather
1st – Samir Chantre – Ares BJJ
2nd – Rick Slomba Jr. – Atos Jiu-Jitsu
3rd – Jose Albor – Renzo Gracie Mexico
3rd – Vitor Paschoal – Caio Terra Association
One of the coaches at the prestigious Art of Jiu Jitsu academy, Slomba is one of the up and coming talent being brought up by the Atos team. Rick looked on point against Paschoal (who ended the match injured), however his victorious run ended up being blocked by the experience of Samir Chantre, who took the final on advantages.
Light
1st – Thiago Macedo – Rodrigo Pinheiro
2nd – Marcelo Motta – Prime Jiu-Jitsu Center
3rd – Nicollas Welker – Ryan Gracie Team
3rd – Ken Primola – Brasa Caio Terra
Thiago Macedo stole the show, beating a very strong Marcelo Motta in the final with a sweep.
Middle
1st – Procópio da Fonseca – Brazilian Top Team
2nd – Gabriel Goulart – Alliance Los Angeles
3rd – Joshua Hinger – Atos Jiu-Jitsu
3rd – Sergio Rios – Brasa/99
Procópio narrowly escaped Josh Hinger's armbar, beating the American by 9×6 before facing the talented Goulart whom he beat by 2 points.
Medium Heavy
1st – Gabriel Arges – Gracie Barra
2nd – Lucas Daniel Barbosa – Atos Jiu-Jitsu
3rd – Andrew Wooten – Gracie Barra
As mentioned above, Gabriel Arges stole the show with a masterful display of competitive jiu jitsu.
Heavy
1st – Tanner Rice – Amazonas Rice Bros BJJ
2nd – Inacio Neto – Gracie Barra
3rd – Jason Ackerman – Kron Gracie Jiu Jitsu
A tough day for Jason Ackerman, who lost against both Neto (9×0) and Rice (bow and arrow choke). Tanner would win against GB's Inácio Neto on a referee decision.
Super Heavy
1st – Nathan Mendelsohn – Coalition 95
2nd – Alessandro da Silva – Gracie Fighter
Only two competitors in the division, Mendleshon took the win on points.
Open Class
1st – Gabriel Arges – Gracie Barra
2nd – Inacio Neto – Gracie Barra
3rd – Lucas Daniel Barbosa – Atos Jiu-Jitsu
3rd – Thiago Macedo – Rodrigo Pinheiro
Gabriel Arges continued the good form displayed in his weight division, going through the enormous Carlos Farias in the ¼ finals and then winning against Lucas Barbosa in the semi final before closing out the bracket with his team mate Inácio Neto.
Female / Open Class
1st – Sarah Black – GD Jiu-Jitsu Association
2nd – Kiri Noelle Liao – Ribeiro Jiu-Jitsu
3rd – Jill Marie Baker – TRUJITSU / Bakersfield