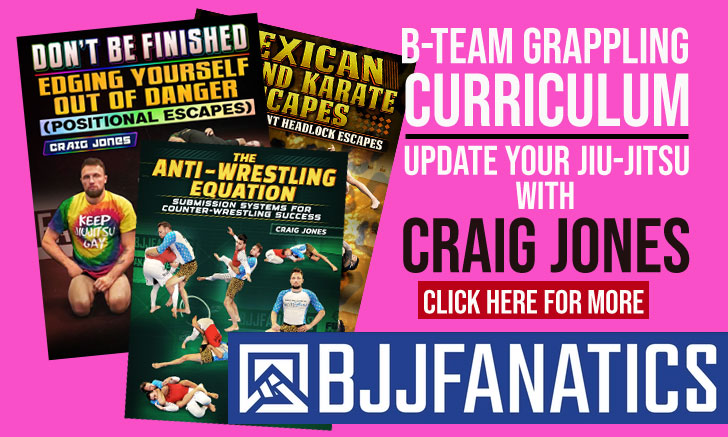 The 2022 #1 ranked brown belt of the International Brazilian Jiu-Jitsu Federation (IBJJF) league, Steffen Banta (check profile here), made his much anticipated black belt debut this weekend at the Oklahoma Open, a tournament that could have escaped the radar of a few grappling fans given the sheer number of top-level tournaments taking place this weekend across the globe such as the South Brazil Championship (read coverage here) and the AJP Sydney Grand Slam (check coverage here).
A student of João Gabriel Rocha (check profile here) and a member of team Alliance, Banta had only two matches to test the waters of the pro-division (one in the gi ruleset and another in no-gi), with both affairs being clean sweep wins for the 2022 No-Gi Worlds double gold medalist. Steffen imposed his game at will putting wide points margins on the scoreboard before submitting both his opponents via armbar, proving that he is ready for a tougher challenge next time around.
Steffen opted to close the gi division with his training partner Davi Cabral (check profile here), and in no-gi with his mentor, João Gabriel.
Also on deck in Oklahoma was rookie black belt Emily Fernandez (check profile here) of team LEAD, one of the top lightweight division prospects. Emily lost in the final of the 64-kilo weight class to the veteran Hawaiian player, Tracey Goodell, via advantages but managed to return to the winning column in the absolute, taking out the much heavier, Heather Dunn, via advantages.
Still in the female division, we finally had the opportunity of seeing two of the top rooster/light featherweights of today face off on the mats. Although both are professionals and compete often in the pro-circuit, we were yet to see Thamires Aquino (GFT) face Eduarda "Duda" Tozoni (The Match Champ) in competition. Both being very aggressive athletes, we expected an exciting match from these two, and they did not disappoint, as the clash was well-fought and fun to follow, arguably the best match of the weekend. Aquino got ahead on the scoreboard midway through the match, from there conquering the match-defining armbar and another gold medal for the Atos Jiu-Jitsu Academy.
OKLAHOMA CITY OPEN CHAMPIONS (Adult, black belt, gi)
64KG: Carlos Alberto
70KG: Fernando Soares
76KG: Danilo Moreira
82KG: Alef Brito
100KG: Steffen Banta & Davi Cabral closeout
ABS-M: Steffen Banta & João Gabriel Rocha closeout
53KG: Thamires Aquino
64KG: Tracey Goodell
ABS-F:  Emily Fernandez