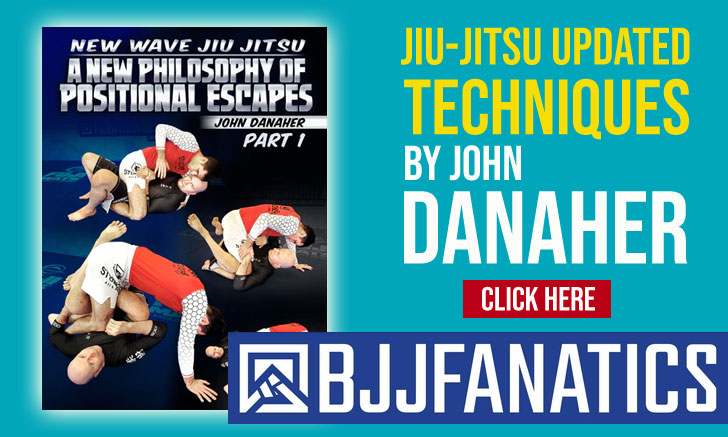 Ariel Tabak is a South African-Australian grappler and black belt under coach Cicero Costha, who worked extensively with Levi Jones-Leary, Daniel Keane, Daniel Sainty, as well as Daniel Shaw, and represents the Cicero Costha Association in the sport's international tour. Tabak is widely recognized as one of Australia's top competitors, a status he earned through a crowd-pleasing grappling style that saw him through important wins against well-known names of the sport while medaling in tournaments of the International Brazilian Jiu-Jitsu Federation (IBJJF) and Abu Dhabi Jiu-Jitsu Pro (AJP) leagues.
Ariel Tabak Jiu-Jitsu
Full Name: Ariel Tabak
Nickname: N/A
Lineage: Carlos Gracie > Helio Gracie > Rickson Gracie > Marcelo Behring > Waldomiro Perez > Roberto Godoi > Marco Barbosa > Cicero Costha > Ariel Tabak
Main Achievements:
1st Place IBJJF Pan-Pacific Championship (2019 / 2022*)
1st Place IBJJF Houston Open (2022)
2nd Place IBJJF Pan-Pacific Championship (2022)
3rd Place AJP Grand Slam, RJN (2019)
3rd Place ADCC Oceania & Asia Trials (2022)
Favorite Position/Technique: Modern Guard
Weight Division: Peso Leve (76,00 kg / 168.0 lbs)
Team/Association: Cicero Costha
Ariel Tabak Biography
Ariel Tabak was born on February 21, 1994, in South Africa, but moved to New Zealand as an infant for a brief period before reaching Melbourne, Australia, at the age of 6, where he grew up.
The first sport practiced by Tabak, at a competitive level, was basketball. An activity he kept for 7 years, playing in local events with the A-grade team.
Martial arts were also introduced into Ariel's life early on, with you young South African joining a taekwondo class at the age of 7, going on to earn the rank of Cho Dan Bo (red belt with a stripe) during his 5 years of training.
After reaching his mid-teens, Ariel decided to try a martial art with bigger self-defense potential, opting to join a local mixed martial arts (MMA) gym in 2009, where he had his first taste of grappling. Although originally intended to focus on MMA, Tabak quickly fell in love with jiu-jitsu, both the training and the culture/comradery surrounding the sport. This sentiment was ultimately behind his decision of shifting his focus toward the kimono.
Under the guidance of Daniel Keane and Daniel Shaw, Tabak grew exponentially fonder of jiu-jitsu, a love that led to many trips to Brazil's Rio de Janeiro and São Paulo, two hubs regarded as the Mecca of Jiu-Jitsu.
During one of those trips to South America, Ariel visited the Cicero Costha Academy in São Paulo (2018) alongside his partner – another well-known BJJ competitor – Hope Douglass. The comradery and quality of training at Cicero's gym, allied with the fact that Tabak had family living in São Paulo led the young athlete to join the Costha squad, visiting the training center every chance he could and representing the PSLPB banner in the tournament scene.
Ariel Tabak's solid form and development led coach Cicero Costha to promote him to the black belt rank on June 4, 2019.
Among Ariel's main influences are also black belts Levi Jones-Leary, Daniel Sainty, and Gui Neves.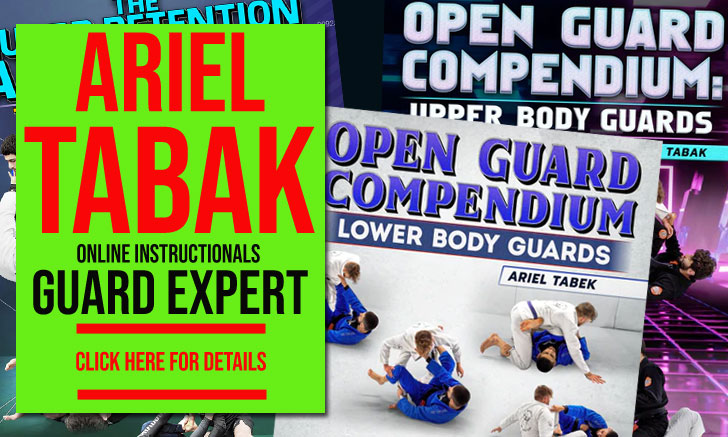 Ariel Tabak Grappling Record
30 WINS
BY POINTS


BY ADVANTAGES




BY SUBMISSION




BY DECISION




BY PENALTIES




BY DQ



13 SUBMISSIONS WINS
#214eb8
Straight ankle lock
31
4
#86e620
Choke from back
31
4
18 LOSSES
BY POINTS


BY ADVANTAGES




BY SUBMISSION




BY DECISION




BY PENALTIES




BY DQ



4 SUBMISSIONS LOSSES
#214eb8
Choke from back
25
1
#86e620
Inside heel hook
25
1
Ariel Tabak Fight History
ID
Opponent
W/L
Method
Competition
Weight
Stage
Year
21662

Rafael Mansur

Rafael Mansur
L
Pts: 0x0, Adv
Grand Slam LA
69KG
4F
2019
21670

Thiago Macedo

Thiago Macedo
L
Pts: 9x2
Grand Slam LA
69KG
RPC
2019
22292

Gabriel Figueiro

Gabriel Figueiro
L
Pts: 2x0
Grand Slam RJ
69KG
SF
2019
22967

Israel Sousa

Israel Sousa
L
Points
Grand Slam AD
69KG
4F
2020
22975

Thiago Macedo

Thiago Macedo
L
Pts: 3x2
Grand Slam AD
69KG
3RD
2020
23082

Alex Sodre

Alex Sodre
L
Pts: 2x2, Adv
European Open
70KG
R2
2020
30713

Cooper Burnham

L
Adv
Boa Super 8
N/A
83KG
2022
32504

Kevin Mahecha

Kevin Mahecha
L
Pts: 6x4
Atlanta SPO
76KG
F
2022
32621

Joao Mendes

Joao Mendes
L
Pts: 4x0
Denver Open
70KG
F
2022
32895

Diego Sodre

Diego Sodre
L
Choke from back
World Champ.
70KG
8F
2022
33162

Jeremy Skinner

Jeremy Skinner
L
Inside heel hook
ADCC AUS Trials
66KG
SF
2022
35852

Murilo Amaral

Murilo Amaral
L
Referee Decision
Pan Pacific
76KG
F
2022
36326

Kalel Santos

L
Terra lock
World Pro
69KG
R1
2022
36339

Matias Estevez

Matias Estevez
L
Pts: 2x0
World Pro
69KG
RPC
2022
37190

Leon Larman

Leon Larman
L
N/A
European Open
76KG
R1
2023
37506

Thiago Macedo

Thiago Macedo
L
Pts: 2x2
Grand Slam SYD
69KG
F
2023
38755

Murilo Amaral

Murilo Amaral
L
Pts: 0x0, Adv
Sydney Open
76KG
F
2023
40254

Murilo Amaral

Murilo Amaral
L
Triangle
World Champ.
76KG
R1
2023
21667

Alberto Serrano

W
Pts: 6x0
Grand Slam LA
69KG
RPC
2019
22223

Mile Ivankovic

W
Straight ankle lock
Pan Pac
76KG
4F
2019
22224

Chris Nini

W
Points
Pan Pac
76KG
SF
2019
22225

Tomoshige Sera

W
Triangle
Pan Pac
76KG
F
2019
22275

Evandro Filho

W
Pts: 2x2, Adv
Grand Slam RJ
69KG
R1
2019
22283

Walter Alamo

W
Pts: 2x0
Grand Slam RJ
69KG
8F
2019
22287

Kennedy Silva

W
Pts: 8x0
Grand Slam RJ
69KG
4F
2019
22294

Pedro Neto

W
Choke from back
Grand Slam RJ
69KG
RPC
2019
22296

Marlus Salgado

W
Pts: 4x2
Grand Slam RJ
69KG
3RD
2019
22972

Diogo Freitas

W
Straight ankle lock
Grand Slam AD
69KG
RPC
2020
22974

Abdullah Nabas

W
Straight ankle lock
Grand Slam AD
69KG
RPC
2020
23075

Brian Mahecha

Brian Mahecha
W
Choke from back
European Open
70KG
R1
2020
30711

Sean Gourrierec

W
Adv
Boa Super 8
N/A
83KG
2022
30712

Eoin Coughlan

W
Triangle
Boa Super 8
N/A
83KG
2022
32502

Matheus Galvao

W
Straight ankle lock
Atlanta SPO
76KG
SF
2022
32620

Michael Diaz

W
Choke from back
Denver Open
70KG
SF
2022
32747

Alef Silva

W
Points
Houston Open
70KG
SF
2022
32749

Brian Mahecha

Brian Mahecha
W
Referee Decision
Houston Open
70KG
F
2022
32888

Jun Yong Cho

W
Pts: 4x2
World Champ.
70KG
R1
2022
33154

Mykelti Klink

W
RNC
ADCC AUS Trials
66KG
R1
2022
33157

Samil Atlihan

W
RNC
ADCC AUS Trials
66KG
R2
2022
33159

Michael Marco

W
Footlock
ADCC AUS Trials
66KG
4F
2022
33164

Sean He

W
Pts: 5x0
ADCC AUS Trials
66KG
3RD
2022
35851

Hanhee Kim

W
Choke from back
Pan Pacific
76KG
SF
2022
35855

Ramon Rosa

W
Points
Pan Pacific
ABS
4F
2022
35857

Marcelo Gomide

Marcelo Gomide
W
Points
Pan Pacific
ABS
F
2022
36334

Jose Rios

W
Pts: 14x0
World Pro
69KG
RPC
2022
36335

D. Razmadze

W
Pts: 9x0
World Pro
69KG
RPC
2022
36336

Haidar Abbas

W
Pts: 4x2
World Pro
69KG
RPC
2022
37505

Vinicius Soares

W
Pts: 6x2
Grand Slam SYD
69KG
SF
2023