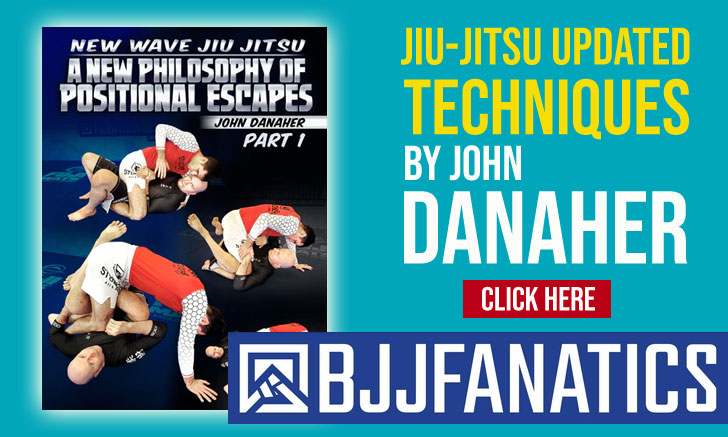 Leandro Lo was one of the most accomplished Brazilian jiu-jitsu athletes to have ever competed in the gi class (kimono) and a record holder for most IBJJF World titles in different weight classes (5) — light, middle, medium-heavy, heavy and open weight, a 20-year-old record broken in 2020 (more details here). A former student of Cicero Costha, Leandro Lo's first steps towards grappling stardom were taken in April 2011 when he defeated Michael Langhi (who had been unbeaten for 3 years), on his way to the top of the podium of the UAEJJF World Pro. Since that win, Leandro Lo cemented himself as one of the best "Pound for Pound" grapplers to have ever graced a mat, with repeated wins at the World Championships, the prestigious Copa Pódio, and Pan American Championships. Lo was shot and killed at a public event in August 2022 at the age of 33 (see below for details).
Leandro Lo Jiu-Jitsu
Full Name: Leandro Lo Pereira do Nascimento
Nickname: n/a
Lineage: Carlos Gracie > Helio Gracie > Rickson Gracie > Marcelo Behring > Waldomiro Perez > Roberto Godoi > Marco Barbosa > Cicero Costha > Leandro Lo
Main Achievements:
1st Place IBJJF Pans Championship (2012 / 2014 / 2015 / 2016 / 2017** / 2018**)
1st Place IBJJF European Open (2017**)
1st Place CBJJ Brazilian Nationals (2011 / 2012 / 2017**)
1st Place CBJJ Brazilian Nationals No-Gi (2011 / 2012**)
1st Place Copa Podio Lightweight GP (2011 / 2013 / 2014 / 2016)
1st Place Copa Podio Middleweight GP (2012 / 2016)
1st Place Copa Podio Heavyweight GP (2016)
1st Place UAEJJF Abu Dhabi Pro (2011 / 2013 / 2014 / 2015)
2nd Place Copa Podio Heavyweight GP (2014)
2nd Place IBJJF World Championship (2017** / 2019*)
2nd Place IBJJF World NoGi Championship (2012*)
2nd Place IBJJF Pans Championship (2016/2014*)
3rd Place IBJJF World Championship (2021)
Main Achievements (Colored Belts):
1st Place IBJJF World Championship (2005 junior blue)
1st Place CBJJ Brazilian National (2009 / 2010 brown)
1st Place CBJJE Brazilian Cup (2008 purple)
2nd Place IBJJF World Championship (2006 junior blue)
2nd Place CBJJ Brazilian Nationals (2008 purple)
* Absolute
** Weight and absolute
Weight Division: N/A
Favorite Position/Technique: Spider Guard, Toreando Guard Pass
Association/Team: New School Brotherhood
Leandro Lo Biography
Leandro Lo was born on the 11th of May, 1989 on the east side of São Paulo – Brazil. He started practicing Jiu-Jitsu through the Projecto Social Lutando Pelo Bem (PSLPB) a social project for underprivileged children in 2004, a project led by Cicero Costha.
Leandro was a natural athlete and won many important titles as a junior, such as the Mundial in 2005, medalling again in 2006. Known as a spider guard /triangle type of grappler, when he was a purple belt, Lo's game would change due to an injury suffered when he was a purple belt, which kept him away from competitions for a few months. Not having the pressure to perform every weekend, it was during his "competition-free" phase that Lo started working on his top game, a game for which he would become known during his black belt heyday.
In 2007 the world's biggest organization (CBJJ/IBJJF) moved its most important tournament, the Mundial, to the United States seeking worldwide recognition. With the change, many Brazilian competitors (Leandro included) lost their window, the best way to showcase their skills to a wider audience, as they did not have the means to travel to America. These grapplers were left with smaller events, most of which were won by Lo.
It was on April 14th of 2011 that Leandro finally turned a few heads his way. After winning the trials in the south of Brazil (Gramado), Lo went on to defeat two legends in the tournament's final stage, Celso Vinicius and Michael Langhi. Langhi was widely considered the best lightweight in the world and hadn't lost a competition in 3 years. In 2012 Leandro Lo settled his name as the best lightweight competitor in the world, after wins at the Mundial (World Championship) the Pan American, and the Brazilian Nationals. Leandro also established himself as a force to be reckoned with in the open weight divisions with a win at the Brazilian No-Gi Nationals and second place at the No-Gi World Championship.
After winning all the main competitions at lightweight, Leandro Lo went up a weight division. Fighting at middleweight did not faze his performance as he kept winning all the top grappling competitions with and without the gi.
In late September 2015, Leandro Lo and a few of his teammates severed their bonds with the PSLPB team, moving on to form their own academy, led by Lo. Jiu-Jitsu New School Brotherhood was the name of the new team.  Among the most significant athletes who left with Leandro, were: Luiza Monteiro, Helio Dias, Gustavo "Braguinha", Ygor Schneider, Anderson Lira, and Wellington Luís.
In June 2018 Leandro was hoping to match Saulo Ribeiro's 4 IBJJF world titles in 4 different weight classes, after coming up short in 2017.  He reached the final against Mahamed Aly but was forced to quit after a shoulder injury from a throw dislocated his shoulder. Although still scheduled to compete in the final of the open weight class against Marcus Almeida, the injury prevented him from stepping on the mat and all hope of matching Ribeiro's record was lost. That was until Marcus chose to forfeit the title and not to challenge Leandro, this way awarding the São Paulo native his first absolute title and his 4th world title in a different weight class.
LEANDRO LO'S DEATH
Leandro Lo died on Saturday evening 06, 2022, from a gun-inflicted wound to his head. The tragic events took place at the Clube Sírio showroom, in Indianópolis a neighborhood of São Paulo, Brazil, where Leandro was attending a musical performance by the pagode-style band Pixote. According to several witnesses, the shooter, an off-duty military police officer named Henrique Velozo, approached the table where Lo and his friends were sitting and behaved wrongfully by stealing a drink from the table. Leandro confronted Mr. Velozo and the two engaged in a brief physical altercation where Lo took control of the action. Once separated by the bystanders, Lo returned to his table but Henrique followed him there and shot him in the head at close range.
Despite being immediately rushed to the hospital, Leandro was found to have irreparably lost all brain function. Henrique Velozo fled the crime scene but was later arrested by the police.
Cover picture was taken by BJJPix.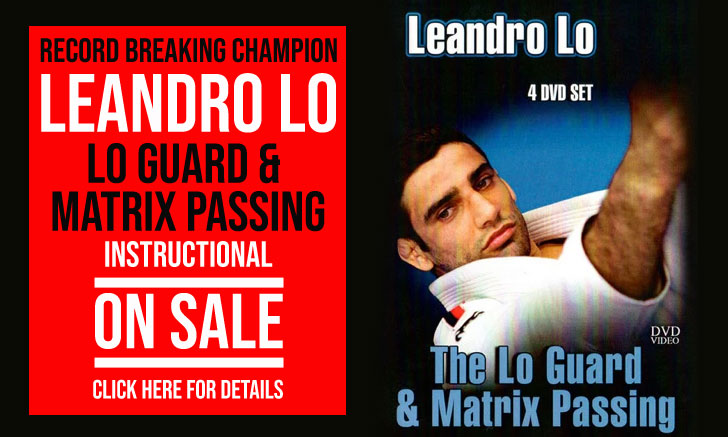 [fighter_status id=256]
Leandro Lo Grappling Record
268 WINS
BY POINTS


BY ADVANTAGES




BY SUBMISSION




BY DECISION




BY PENALTIES




BY DQ



55 SUBMISSIONS WINS
#214eb8
Cross choke
27
15
#86e620
Choke from back
15
8
#fad11b
Bow and arrow
11
6
#224aba
Mounted X choke
5
3
#fad223
Triangle armbar
2
1
39 LOSSES
BY POINTS


BY ADVANTAGES




BY SUBMISSION




BY DECISION




BY PENALTIES




BY DQ



10 SUBMISSIONS LOSSES
#214eb8
Choke from back
40
4
#5AD3D1
Flying triangle
10
1
#f58822
Arm in Ezekiel
10
1
Leandro Lo Fight History
ID
Opponent
W/L
Method
Competition
Weight
Stage
Year
2805

Gilbert Burns

Gilbert Burns
L
Pts: 2x0
World Pro Trials
77KG
SF
2011
2878

Augusto Mendes

Augusto Mendes
L
Pts: 4x0
Pan American
76KG
R1
2011
3110

Kron Gracie

Kron Gracie
L
Choke from back
World Champ.
76KG
4F
2011
3404

Marcus Almeida

Marcus Almeida
L
Pts: 6x6, Adv
Pan Am CBJJE
ABS
SF
2011
3551

Antonio Carlos

Antonio Carlos
L
Flying triangle
Pan American
ABS
R2
2012
3691

Otavio Sousa

Otavio Sousa
D
---
Copa Podio
85KG
GP
2012
3781

Lucas Lepri

Lucas Lepri
L
Points
World Pro.
76KG
SF
2012
3852

Antonio Peinado

Antonio Peinado
L
Referee Decision
Brasileiro
ABS
R1
2012
3904

Antonio Carlos

Antonio Carlos
L
Pts: 2x2, Adv
World Champ.
ABS
R2
2012
4229

Augusto Mendes

Augusto Mendes
L
Pts: 9x0
NoGi Worlds
76KG
SF
2012
4281

Alexandre Ribeiro

Alexandre Ribeiro
L
Pts: 0x0, Adv
NoGi Worlds
ABS
F
2012
4520

Orlando Sanchez

Orlando Sanchez
L
Referee Decision
Pan American
ABS
R2
2013
4594

Vitor Oliveira

Vitor Oliveira
L
Points
Pan American
82KG
4F
2013
4757

Bernardo Faria

Bernardo Faria
L
Points
World Champ.
ABS
4F
2013
5108

Gilbert Burns

Gilbert Burns
L
Pts: 3x0
NoGi Worlds
79KG
SF
2013
5323

Andre Galvao

Andre Galvao
L
Adv
Pan American
ABS
F
2014
5584

Rodolfo Vieira

Rodolfo Vieira
L
Choke from back
Copa Podio
94KG
F
2014
5632

Rodolfo Vieira

Rodolfo Vieira
L
Choke from back
World Pro.
ABS
4F
2014
5716

Keenan Cornelius

Keenan Cornelius
L
Pts: 6x4
World Champ.
ABS
RD 4
2014
6774

Bernardo Faria

Bernardo Faria
L
Lapel choke
Pan American
ABS
F
2015
7197

Marcus Almeida

Marcus Almeida
L
Pts: 2x2, Adv
World Pro
ABS
SF
2015
7395

Bernardo Faria

Bernardo Faria
L
Armbar
World Champ.
ABS
SF
2015
9396

Bernardo Faria

Bernardo Faria
L
Arm in Ezekiel
Pan American
ABS
F
2016
9548

Victor Honorio

Victor Honorio
L
Pts: 0x0, Adv
World Pro
ABS
8F
2016
12027

Tarsis Humphreys

Tarsis Humphreys
L
Referee Decision
FIVE Super League
92KG
4F
2017
13044

Marcus Almeida

Marcus Almeida
L
Pts: 2x2, Adv
World Champ.
ABS
F
2017
13199

Nicholas Meregali

Nicholas Meregali
L
Pts: 2x0
World Champ.
94KG
F
2017
13762

Marcus Almeida

Marcus Almeida
L
Pts: 0x0, Adv
IBJJF Pro GP
ABS
F
2017
13877

Craig Jones

Craig Jones
L
RNC
ADCC
88KG
E1
2017
16596

Mahamed Aly

Mahamed Aly
L
Injury
World Champ.
100KG
F
2018
19328

Nicholas Meregali

Nicholas Meregali
L
Pts: 4x0
BJJ Stars
100KG
SPF
2019
19654

Adam Wardzinski

Adam Wardzinski
L
Choke from back
Pan American
94KG
SF
2019
19689

Lucas Barbosa

Lucas Barbosa
L
Referee Decision
Pan American
ABS
F
2019
20694

Kaynan Duarte

Kaynan Duarte
L
Pts: 5x3
World Champ.
94KG
F
2019
22026

Gustavo Batista

Gustavo Batista
L
Pts: 0x0, Adv
BJJ Stars
ABS
SF
2019
22659

Kaynan Duarte

Kaynan Duarte
L
Pts: 0x0, Adv
Spyder Invitational
100KG
4F
2019
23876

Lucas Barbosa

Lucas Barbosa
L
Pts: 2x0
BJJ Stars
N/A
SPF
2020
23925

Nicholas Meregali

Nicholas Meregali
D
---
BJJ Bet
ABS
SPF
2020
27082

Lucas Barbosa

Lucas Barbosa
L
RNC
BJJ Bet
88KG
F
2021
29553

Gustavo Batista

Gustavo Batista
L
Referee Decision
World Champ.
88KG
SF
2021
32047

Mica Galvao

Mica Galvao
L
Pts: 0x0, Adv
BJJ Stars
83KG
4F
2022
2911

Zak Maxwell

Zak Maxwell
W
Pts: 6x0
World Pro.
74KG
4F
2011
2913

Michael Langhi

Michael Langhi
W
Pts: 4x0
World Pro.
74KG
SF
2011
2914

Celso Vinicius

Celso Vinicius
W
Adv
World Pro.
74KG
F
2011
2958

JT Torres

JT Torres
W
Points
Brasileiro
76KG
4F
2011
2960

Augusto Mendes

Augusto Mendes
W
Points
Brasileiro
76KG
SF
2011
2961

Michael Langhi

Michael Langhi
W
Adv
Brasileiro
76KG
F
2011
3025

Tatsuya Kaneko

W
Armbar
World Champ.
76KG
RDS
2011
3031

Unknown

W
Points
World Champ.
76KG
RDS
2011
3399

Claudio Daniel

W
Referee Decision
Pan Am CBJJE
ABS
NA
2011
3400

R. Evangelista

R. Evangelista
W
Bow and arrow
Pan Am CBJJE
ABS
NA
2011
3401

Fabiano Boi

W
Points
Pan Am CBJJE
ABS
NA
2011
3429

Moacir Mendes

Moacir Mendes
W
Pts: 2x2, Adv
Copa Podio
76KG
GP
2011
3432

JT Torres

JT Torres
D
---
Copa Podio
76KG
GP
2011
3440

Ed Ramos

W
Pts: 7x0
Copa Podio
76KG
GP
2011
3445

Denilson Pimenta

Denilson Pimenta
W
Pts: 12x0
Copa Podio
76KG
GP
2011
3447

Vinicius Marinho

Vinicius Marinho
W
Pts: 5x2
Copa Podio
76KG
SF
2011
3449

Claudio Mattos

Claudio Mattos
W
Choke from back
Copa Podio
76KG
F
2011
3453

Claudevam Martins

W
Pts: 45x0
Amazon Meeting
76KG
SF
2011
3454

Antônio Carlos

W
Bow and arrow
Amazon Meeting
76KG
F
2011
3456

Antonio Crivelari

W
Pts: 2x0
Brasileiro NoGi
73KG
4F
2011
3457

Tiago Bravo

Tiago Bravo
W
Pts: 8x2
Brasileiro NoGi
73KG
SF
2011
3459

Theodoro Canal

Theodoro Canal
W
Pts: 10x0
Brasileiro NoGi
73KG
F
2011
3463

Rodrigo Martins

W
Choke from back
Int. de Jiu-Jitsu
76KG
4F
2011
3464

Ivan

W
Pts: 13x0
Int. de Jiu-Jitsu
76KG
SF
2011
3465

Eduardo Silva

W
Lapel choke
Int. de Jiu-Jitsu
76KG
F
2011
3469

Luiz Supp

W
Cross choke
Brasil Sul Cup
ABS
4F
2012
3470

Alexandre Souza

Alexandre Souza
W
Pts: 2x0
Brasil Sul Cup
ABS
SF
2012
3471

Ricardo Bastos

W
Pts: 2x0
Brasil Sul Cup
ABS
F
2012
3545

Victor Schlosser

W
Pts: 6x6, Adv
Pan American
ABS
R1
2012
3605

Italo Lins

Italo Lins
W
Points
Pan American
76KG
R2
2012
3612

Zak Maxwell

Zak Maxwell
W
Pts: 13x2
Pan American
76KG
4F
2012
3614

Philipe Della Monica

W
Pts: 16x0
Pan American
76KG
SF
2012
3615

Lucas Lepri

Lucas Lepri
W
Pts: 2x0
Pan American
76KG
F
2012
3676

Dimitrius Souza

Dimitrius Souza
W
Pts: 2x0
Copa Podio
85KG
GP
2012
3679

Felipe Preguiça

D
---
Copa Podio
85KG
GP
2012
3688

Rafael Barbosa

Rafael Barbosa
W
Pts: 3x0
Copa Podio
85KG
GP
2012
3693

Ricardo Bastos

W
Pts: 8x2
Copa Podio
85KG
SF
2012
3696

Dimitrius Souza

Dimitrius Souza
W
Pts: 7x0
Copa Podio
85KG
F
2012
3775

Antonio Farias

W
Points
World Pro.
76KG
R2
2012
3843

Ed Ramos

W
Points
Brasileiro
76KG
SF
2012
3844

Michael Langhi

Michael Langhi
W
Pts: 2x0
Brasileiro
76KG
F
2012
3897

Alexandre Ceconi

Alexandre Ceconi
W
Pts: 0x0, Adv
World Champ.
ABS
R2
2012
4011

Alessandro Ferreia

W
Pts: 23x0
World Champ.
76KG
R2
2012
4017

Theodoro Canal

Theodoro Canal
W
Points
World Champ.
76KG
R3
2012
4022

Rodrigo Caporal

Rodrigo Caporal
W
Pts: 21x0
World Champ.
76KG
4F
2012
4025

Roberto Satoshi

Roberto Satoshi
W
Pts: 7x2
World Champ.
76KG
SF
2012
4026

Lucas Lepri

Lucas Lepri
W
Pts: 2x0
World Champ.
76KG
F
2012
4163

Lucas Lepri

Lucas Lepri
W
Pts: 0x0, Adv
IBJJF Pro League
82KG
F
2012
4227

Raymond Ayalla

W
Pts: 45x0
NoGi Worlds
76KG
4F
2012
4269

Diego Herzog

W
Pts: 4x0
NoGi Worlds
ABS
R1
2012
4276

DJ Jackson

DJ Jackson
W
Pts: 0x0, Adv
NoGi Worlds
ABS
4F
2012
4280

Antonio Peinado

Antonio Peinado
W
Pts: 0x0, Adv
NoGi Worlds
ABS
SF
2012
4363

Lucas Rocha

Lucas Rocha
W
Choke from back
Arizona Open
82KG
F
2013
4365

Augusto Mendes

Augusto Mendes
W
Points
Arizona Open
ABS
F
2013
4375

Jake Shields

Jake Shields
D
---
World Expo
ABS
SPF
2013
4376

Renato Cardoso

Renato Cardoso
W
Pts: 15x4
Pan Am. CBJJE
ABS
NA
2013
4377

Rodrigo Ribeiro

Rodrigo Ribeiro
W
Points
Pan Am. CBJJE
ABS
NA
2013
4378

Jake Mackenzie

Jake Mackenzie
W
Points
Pan Am. CBJJE
ABS
NA
2013
4398

Augusto Mendes

Augusto Mendes
W
Pts: 5x2
Copa Podio
ABS
SPF
2013
4400

Felipe Preguiça

W
Pts: 3x2
Copa Podio
ABS
SPF
2013
4505

Bernardo Filho

W
Mounted X choke
Pan American
ABS
R1
2013
4590

Sean Roberts

Sean Roberts
W
Mounted X choke
Pan American
82KG
R2
2013
4662

Roberto Satoshi

Roberto Satoshi
W
Points
World Pro
76KG
SF
2013
4663

Lucas Lepri

Lucas Lepri
W
Pts: 0x0, Adv
World Pro
76KG
F
2013
4685

Claudio Calasans

Claudio Calasans
W
Points
Copa Podio
82KG
SPF
2013
4739

Luis Rosa

W
N/A
World Champ.
ABS
RDS
2013
4751

Orlando Sanchez

Orlando Sanchez
W
Pts: 6x0
World Champ.
ABS
RDS
2013
4791

Vinicius Marinho

Vinicius Marinho
W
Pts: 6x2
World Champ.
76KG
4F
2013
4794

Lucas Lepri

Lucas Lepri
W
Adv
World Champ.
76KG
SF
2013
4795

Michael Langhi

Michael Langhi
W
Pts: 2x0
World Champ.
76KG
F
2013
4852

Diego Borges

Diego Borges
W
Adv
Copa Podio
76KG
GP
2013
4856

Brandon Magana

W
Pts: 18x0
Copa Podio
76KG
GP
2013
4863

Clark Gracie

Clark Gracie
W
Pts: 13x0
Copa Podio
76KG
GP
2013
4868

Juan Kamezawa

Juan Kamezawa
W
Pts: 10x0
Copa Podio
76KG
GP
2013
4870

DJ Jackson

DJ Jackson
W
Pts: 6x2
Copa Podio
76KG
SF
2013
4872

Diego Borges

Diego Borges
W
Adv
Copa Podio
76KG
F
2013
4878

Leandro Brassoloto

W
Bow and arrow
Brasileiro CBJJE
ABS
NA
2013
4879

Rodrigo Ribeiro

Rodrigo Ribeiro
W
Armbar
Brasileiro CBJJE
ABS
NA
2013
4881

Cassio Francis

Cassio Francis
W
Points
Brasileiro CBJJE
ABS
NA
2013
4888

Juarez Harles

W
Kimura
Mundial CBJJE
82KG
4F
2013
4889

Alan Finfou

Alan Finfou
W
Pts: 2x0
Mundial CBJJE
82KG
SF
2013
4890

Diogo Almeida

Diogo Almeida
W
Pts: 12x0
Mundial CBJJE
82KG
F
2013
4896

Diogo Almeida

Diogo Almeida
W
Points
Mundial CBJJE
ABS
4F
2013
4897

Leandro Brassoloto

W
Cross choke
Mundial CBJJE
ABS
SF
2013
4924

Augusto Vieira

W
N/A
Rio Open
82KG
SF
2013
4926

Alan Finfou

Alan Finfou
W
Armbar
Rio Open
82KG
F
2013
4931

Unknown

W
Points
Rio Open
ABS
4F
2013
4932

Felipe Pena

Felipe Pena
W
Pts: 0x0, Adv
Rio Open
ABS
SF
2013
4934

Joao Rocha

Joao Rocha
W
Pts: 0x0, Adv
Rio Open
ABS
F
2013
5122

James Puopolo

James Puopolo
W
Adv
NoGi Worlds
ABS
SF
2013
5304

John Roberts

W
Cross choke
Pan American
ABS
R2
2014
5312

Fabiano Leite

W
Points
Pan American
ABS
R3
2014
5319

Victor Estima

Victor Estima
W
Points
Pan American
ABS
4F
2014
5321

Alexander Trans

Alexander Trans
W
Points
Pan American
ABS
SF
2014
5367

Julian Marquez

W
DQ
Pan American
82KG
R1
2014
5374

C. Negromonte

C. Negromonte
W
Pts: 4x2
Pan American
82KG
4F
2014
5377

Victor Estima

Victor Estima
W
Pts: 5x0
Pan American
82KG
SF
2014
5378

Otavio Sousa

Otavio Sousa
W
Adv
Pan American
82KG
F
2014
5569

Alexandre Souza

Alexandre Souza
W
Pts: 4x0
Copa Podio
94KG
GP
2014
5572

Faisal Kitbe

W
Pts: 0x0, Adv
Copa Podio
94KG
GP
2014
5575

Alan Belcher

Alan Belcher
W
Choke from back
Copa Podio
94KG
GP
2014
5580

Rodolfo Vieira

Rodolfo Vieira
D
---
Copa Podio
94KG
GP
2014
5581

Luiz Panza

Luiz Panza
W
Pts: 6x4
Copa Podio
94KG
SF
2014
5587

Hamzeh Rasheed

W
Armbar
Copa Podio
77KG
GP
2014
5593

S. Franceschini

W
Cross choke
Copa Podio
77KG
GP
2014
5597

Gregor Gracie

Gregor Gracie
W
Pts: 8x2
Copa Podio
77KG
GP
2014
5603

Victor Silverio

Victor Silverio
W
Pts: 8x0
Copa Podio
77KG
SF
2014
5606

Gregor Gracie

Gregor Gracie
W
Armbar
Copa Podio
77KG
F
2014
5615

Luke Costello

W
Points
World Pro.
ABS
R1
2014
5624

Rodrigo Fajardo

Rodrigo Fajardo
W
Pts: 14x0
World Pro.
ABS
R2
2014
5629

Nivaldo Oliveira

Nivaldo Oliveira
W
Pts: 9x0
World Pro.
ABS
R3
2014
5653

Luca Anacoreta

Luca Anacoreta
W
Pts: 4x0
World Pro.
82KG
4F
2014
5655

Otavio Sousa

Otavio Sousa
W
Points
World Pro.
82KG
SF
2014
5657

Victor Estima

Victor Estima
W
Referee Decision
World Pro.
82KG
F
2014
5703

Omar Saba

W
Cross choke
World Champ.
ABS
R2
2014
5804

Kawazoe

W
Pts: 28x0
World Champ.
82KG
RDS
2014
5811

Tulio Rosario

W
Mounted X choke
World Champ.
82KG
RDS
2014
5814

Sean Roberts

Sean Roberts
W
Pts: 6x0
World Champ.
82KG
RDS
2014
5816

Victor Silverio

Victor Silverio
W
Adv
World Champ.
82KG
4F
2014
5821

Victor Estima

Victor Estima
W
Pts: 7x2
World Champ.
82KG
SF
2014
5822

Otavio Sousa

Otavio Sousa
W
Pts: 9x6
World Champ.
82KG
F
2014
5934

Caio Almeida

Caio Almeida
W
Cross choke
Mundial CBJJE
ABS
SF
2014
5935

Claudio Calasans

Claudio Calasans
W
Pts: 4x2
Mundial CBJJE
ABS
F
2014
6115

Keenan Cornelius

Keenan Cornelius
W
Pts: 6x2
NYC Pro
94KG
F
2014
6191

Gilbert Burns

Gilbert Burns
W
Cross choke
Copa Podio
82KG
SPF
2014
6320

L. Valle

W
Pts: 10x0
The Team
76KG
RR
2014
6335

Takahiro Kanda

W
Pts: 21x0
All Japan NoGi
88KG
F
2014
6336

Ryo Chonan

W
Pts: 4x0
All Japan NoGi
ABS
F
2014
6337

Ichitaro Tsukada

W
Cross choke
All Japan
ABS
F
2014
6760

Yuto Hirao

W
Brabo choke
Pan American
ABS
R2
2015
6766

James Puopolo

James Puopolo
W
Pts: 13x0
Pan American
ABS
R3
2015
6770

Yuri Simoes

Yuri Simoes
W
Pts: 4x2
Pan American
ABS
4F
2015
6773

Leo Nogueira

Leo Nogueira
W
Pts: 2x0
Pan American
ABS
SF
2015
6831

Cris Atkins

W
Brabo choke
Pan American
82KG
R2
2015
6834

Bruno Antunes

W
Pts: 13x0
Pan American
82KG
R3
2015
6840

Felipe Cesar

Felipe Cesar
W
Cross choke
Pan American
82KG
4F
2015
6844

Victor Estima

Victor Estima
W
Pts: 4x2
Pan American
82KG
SF
2015
6846

Otavio Sousa

Otavio Sousa
W
Pts: 5x2
Pan American
82KG
F
2015
7119

Max Carvalho

Max Carvalho
W
Pts: 6x0
World Pro
85KG
R1
2015
7124

Igor Basilio

W
Cross choke
World Pro
85KG
R2
2015
7129

Felipe Sagat

W
Toe hold
World Pro
85KG
4F
2015
7130

AJ Sousa

AJ Sousa
W
Points
World Pro
85KG
SF
2015
7133

Victor Estima

Victor Estima
W
Pts: 0x0, Adv
World Pro
85KG
F
2015
7185

Victor Silverio

Victor Silverio
W
Pts: 4x2
World Pro
ABS
R2
2015
7190

Felipe Bueno

W
Pts: 0x0, Adv
World Pro
ABS
R2
2015
7194

Max Carvalho

Max Carvalho
W
Pts: 3x0
World Pro
ABS
4F
2015
7198

Keenan Cornelius

Keenan Cornelius
W
Pts: 4x2
World Pro
ABS
3RD
2015
7327

Sergio Moraes

Sergio Moraes
W
Pts: 6x0
Copa Podio
ABS
SPF
2015
7391

Tarcísio Jardim

W
Pts: 9x4
World Champ.
ABS
8F
2015
7393

Keenan Cornelius

Keenan Cornelius
W
Pts: 8x6
World Champ.
ABS
4F
2015
7479

Matheus Diniz

Matheus Diniz
W
Pts: 4x0
World Champ.
88KG
4F
2015
7484

Renato Cardoso

Renato Cardoso
W
Pts: 15x2
World Champ.
88KG
SF
2015
7485

Tarsis Humphreys

Tarsis Humphreys
W
Pts: 7x0
World Champ.
88KG
F
2015
8004

Rodrigo Freitas

Rodrigo Freitas
W
Pts: 0x0, Adv
Santa Cruz Pro
82KG
SF
2015
8005

Julian Marquez

W
Cross choke
Santa Cruz Pro
82KG
F
2015
8879

Davi Ramos

Davi Ramos
W
Pts: 6x2
Copa Podio
77KG
GP
2016
8883

AJ Sousa

AJ Sousa
W
Pts: 13x0
Copa Podio
77KG
GP
2016
8887

Lucas Lepri

Lucas Lepri
W
Pts: 2x2, Adv
Copa Podio
77KG
GP
2016
8890

Felipe Cesar

Felipe Cesar
W
Pts: 7x0
Copa Podio
77KG
GP
2016
8894

Dillon Danis

Dillon Danis
W
Pts: 2x0
Copa Podio
77KG
SF
2016
8896

Lucas Lepri

Lucas Lepri
W
Pts: 2x0
Copa Podio
77KG
F
2016
9316

Alessandro Silva

W
Bow and arrow
Pan American
88KG
8F
2016
9323

Gabriel Arges

Gabriel Arges
W
Pts: 12x6
Pan American
88KG
4F
2016
9326

Renato Cardoso

Renato Cardoso
W
Toe hold
Pan American
88KG
SF
2016
9327

Romulo Barral

Romulo Barral
W
Pts: 2x0
Pan American
88KG
F
2016
9375

Dany Gerard

Dany Gerard
W
Cross choke
Pan American
ABS
R2
2016
9387

Guilherme Augusto

Guilherme Augusto
W
Pts: 3x0
Pan American
ABS
8F
2016
9395

Andre Galvao

Andre Galvao
W
Pts: 2x0
Pan American
ABS
SF
2016
9541

K. Dzieniszewski

W
Armbar
World Pro
ABS
8F
2016
9629

Lucas Rego

W
Choke
World Pro
85KG
8F
2016
9632

Patrick Gaudio

Patrick Gaudio
W
Pts: 4x2
World Pro
85KG
4F
2016
9636

Renato Cardoso

Renato Cardoso
W
Pts: 2x0
World Pro
85KG
SF
2016
9638

Claudio Calasans

Claudio Calasans
W
Referee Decision
World Pro
85KG
F
2016
10030

C. Negromonte

C. Negromonte
W
Pts: 8x0
World Champ.
88KG
8F
2016
10033

Matheus Diniz

Matheus Diniz
W
Pts: 7x0
World Champ.
88KG
4F
2016
10038

Keenan Cornelius

Keenan Cornelius
W
Pts: 4x2
World Champ.
88KG
SF
2016
10039

Romulo Barral

Romulo Barral
W
Pts: 5x0
World Champ.
88KG
F
2016
10083

Ricardo Rezende

Ricardo Rezende
W
Pts: 11x0
World Champ.
ABS
R2
2016
10098

Gustavo Dias

Gustavo Dias
W
Pts: 7x0
World Champ.
ABS
8F
2016
10104

Keenan Cornelius

Keenan Cornelius
W
Pts: 2x0
World Champ.
ABS
4F
2016
10163

N. Meregali

W
Pts: 4x2
Copa Podio
86KG
GP
2016
10168

Dillon Danis

Dillon Danis
W
Pts: 0x0, Adv
Copa Podio
86KG
GP
2016
10174

Max Gimenis

Max Gimenis
W
Pts: 2x0
Copa Podio
86KG
GP
2016
10179

Diego Borges

Diego Borges
W
Pts: 2x0
Copa Podio
86KG
SF
2016
10184

Erberth Santos

Erberth Santos
W
Pts: 6x0
Copa Podio
86KG
F
2016
10766

I. Bahiense

W
Pts: 2x0
Copa Podio
105KG
RR
2016
10770

Cassio Francis

Cassio Francis
W
Toe hold
Copa Podio
105KG
RR
2016
10779

F. Trovo

W
Pts: 8x0
Copa Podio
105KG
RR
2016
10783

Nelton Pontes

Nelton Pontes
W
Pts: 0x0, Adv
Copa Podio
105KG
SF
2016
10784

Alexander Trans

Alexander Trans
W
Pts: 2x0
Copa Podio
105KG
F
2016
11504

Andreas Perales

W
Cross choke
European Open
ABS
R1
2017
11513

Thomas Johannessen

W
Pts: 7x0
European Open
ABS
8F
2017
11517

Isaque Bahiense

Isaque Bahiense
W
Pts: 11x2
European Open
ABS
4F
2017
11519

Mahamed Aly

Mahamed Aly
W
Pts: 3x0
European Open
ABS
SF
2017
11521

Claudio Calasans

Claudio Calasans
W
Pts: 4x0
European Open
ABS
F
2017
11618

Tony Ferraz

W
Pts: 24x0
European Open
94KG
8F
2017
11622

Karim Khalifa

W
Pts: 6x2
European Open
94KG
4F
2017
11624

Jesse Urholin

Jesse Urholin
W
Pts: 0x0, Adv
European Open
94KG
SF
2017
11625

Tanner Rice

Tanner Rice
W
Armbar
European Open
94KG
F
2017
12101

Lucas Rocha

Lucas Rocha
W
Brabo choke
Pan American
ABS
8F
2017
12104

Dany Gerard

Dany Gerard
W
Pts: 2x0
Pan American
ABS
4F
2017
12108

Nicholas Meregali

Nicholas Meregali
W
Pts: 3x0
Pan American
ABS
SF
2017
12110

Joao Rocha

Joao Rocha
W
Toe hold
Pan American
ABS
F
2017
12226

Jared Revel

W
Pts: 10x0
Pan American
94KG
8F
2017
12231

Nicholas Meregali

Nicholas Meregali
W
Pts: 2x0
Pan American
94KG
4F
2017
12234

Matheus Diniz

Matheus Diniz
W
Pts: 2x0
Pan American
94KG
SF
2017
12235

Tanner Rice

Tanner Rice
W
Pts: 2x0
Pan American
94KG
F
2017
12570

Gordon Ryan

Gordon Ryan
W
Pts: 4x0
ADCC WC Trials
ABS
SPF
2017
12701

Moises Junior

W
Choke from back
Brasileiro
ABS
RDS
2017
12708

Rodrigo Ribeiro

Rodrigo Ribeiro
W
Pts: 5x0
Brasileiro
ABS
RDS
2017
12714

Otavio Nalati

W
Pts: 6x0
Brasileiro
ABS
4F
2017
12718

Renato Cardoso

Renato Cardoso
W
Pts: 7x2
Brasileiro
ABS
SF
2017
12719

Erberth Santos

Erberth Santos
W
Pts: 6x4
Brasileiro
ABS
F
2017
12813

Andre Rudolfo

W
Choke from back
Brasileiro
100KG
R1
2017
12815

Diego Lima

W
Points
Brasileiro
100KG
4F
2017
12819

Fernando Reis

Fernando Reis
W
Pts: 2x0
Brasileiro
100KG
SF
2017
12820

Erberth Santos

Erberth Santos
W
Pts: 5x0
Brasileiro
100KG
F
2017
12891

Romeu Patrick

W
Brabo choke
Salvador Spring O.
100KG
SF
2017
12892

Talison Costa

W
N/A
Salvador Spring O.
ABS
SF
2017
12894

Dimitrius Souza

Dimitrius Souza
W
Bow and arrow
Salvador Spring O.
ABS
F
2017
13000

Marcos Goulart

W
Bow and arrow
Curitiba Fall Open
94KG
SF
2017
13008

Italo Santos

W
Choke from back
Curitiba Fall Open
ABS
R1
2017
13009

Adriano Sousa

W
Brabo choke
Curitiba Fall Open
ABS
4F
2017
13012

Marcos Goulart

W
Pts: 12x0
Curitiba Fall Open
ABS
SF
2017
13014

Erberth Santos

Erberth Santos
W
Pts: 2x0
Curitiba Fall Open
ABS
F
2017
13033

Dany Gerard

Dany Gerard
W
Pts: 2x0
World Champ.
ABS
8F
2017
13039

Joao Rocha

Joao Rocha
W
Pts: 2x0
World Champ.
ABS
4F
2017
13042

Luiz Panza

Luiz Panza
W
Pts: 3x2
World Champ.
ABS
SF
2017
13190

Tex Johnson

Tex Johnson
W
Brabo choke
World Champ.
94KG
8F
2017
13195

Matheus Diniz

Matheus Diniz
W
Referee Decision
World Champ.
94KG
4F
2017
13198

Guilherme Augusto

Guilherme Augusto
W
Pts: 8x0
World Champ.
94KG
SF
2017
13758

R. Evangelista

R. Evangelista
W
Kimura
IBJJF Pro GP
ABS
4F
2017
13761

Andre Galvao

Andre Galvao
W
Pts: 0x0, Adv
IBJJF Pro GP
ABS
SF
2017
14975

Otavio Sousa

Otavio Sousa
W
Points
ACB 10
85KG
SPF
2018
15352

John Combs

John Combs
W
Pts: 6x0
Pan American
ABS
R2
2018
15360

Keenan Cornelius

Keenan Cornelius
W
Pts: 7x2
Pan American
ABS
SF
2018
15361

Gutemberg Pereira

Gutemberg Pereira
W
Pts: 2x0
Pan American
ABS
F
2018
15437

Matheus Godoy

Matheus Godoy
W
Cross choke
Pan American
94KG
4F
2018
15441

Fellipe Andrew

Fellipe Andrew
W
Pts: 3x0
Pan American
94KG
SF
2018
15442

Tanner Rice

Tanner Rice
W
Pts: 2x0
Pan American
94KG
F
2018
16350

Gabriel Arges

Gabriel Arges
W
Points
ACBJJ 13
85KG
SPF
2018
16592

Rodrigo Ribeiro

Rodrigo Ribeiro
W
Pts: 2x2, Adv
World Champ.
100KG
4F
2018
16594

Nelton Pontes

Nelton Pontes
W
Pts: 2x0
World Champ.
100KG
SF
2018
16622

Nick Schrock

Nick Schrock
W
DQ
World Champ.
ABS
8F
2018
16631

Luiz Panza

Luiz Panza
W
Pts: 2x0
World Champ.
ABS
4F
2018
16635

Victor Honorio

Victor Honorio
W
Pts: 4x0
World Champ.
ABS
SF
2018
19652

Vinicius Trator

Vinicius Trator
W
Referee Decision
Pan American
94KG
4F
2019
19676

Devhonte Johnson

Devhonte Johnson
W
Pts: 2x0
Pan American
ABS
R2
2019
19685

Rudson Mateus

Rudson Mateus
W
Referee Decision
Pan American
ABS
4F
2019
19687

Gustavo Batista

Gustavo Batista
W
Pts: 2x0
Pan American
ABS
SF
2019
20687

Dominique Bell

Dominique Bell
W
Pts: 17x0
World Champ.
94KG
R2
2019
20691

Jackson Sousa

Jackson Sousa
W
Pts: 2x0
World Champ.
94KG
4F
2019
20692

Vinicius Trator

Vinicius Trator
W
DQ
World Champ.
94KG
SF
2019
20734

Gustavo Dias

Gustavo Dias
W
Pts: 5x0
World Champ.
ABS
R2
2019
20736

Luiz Panza

Luiz Panza
W
Triangle armbar
World Champ.
ABS
4F
2019
20739

Keenan Cornelius

Keenan Cornelius
W
Referee Decision
World Champ.
ABS
SF
2019
22024

Dimitrius Souza

Dimitrius Souza
W
Pts: 0x0, Adv
BJJ Stars
ABS
4F
2019
24415

Jaime Canuto

Jaime Canuto
W
Pts: 0x0, Adv
BJJ Stars 4
86KG
4F
2020
24417

Claudio Calasans

Claudio Calasans
W
Pts: 7x0
BJJ Stars 4
86KG
SF
2020
24419

Isaque Bahiense

Isaque Bahiense
W
Adv
BJJ Stars 4
86KG
F
2020
25097

Alex Munis

Alex Munis
W
Cross choke
BJJ Stars 5
88KG
SPF
2021
26845

Henrique Cardoso

Henrique Cardoso
W
Pts: 0x0, Adv
Big Deal Pro 3
94KG
SPF
2021
27076

Rafael Paganini

Rafael Paganini
W
Pts: 10x0
BJJ Bet
88KG
4F
2021
27081

William Tackett

William Tackett
W
Injury
BJJ Bet
88KG
SF
2021
29547

N. Mendelshon

W
Pts: 2x0
World Champ.
88KG
8F
2021
29551

Otavio Sousa

Otavio Sousa
W
Pts: 2x0
World Champ.
88KG
4F
2021
31683

Bruno Tosto

W
Choke from back
Pan American
88KG
R1
2022
31692

Jansen Gomes

Jansen Gomes
W
Pts: 5x0
Pan American
88KG
4F
2022
32966

Rafael Anjos

Rafael Anjos
W
Brabo choke
World Champ.
88KG
8F
2022
32969

Andre Porfirio

Andre Porfirio
W
Pts: 4x0
World Champ.
88KG
4F
2022
32974

Bruno Lima

Bruno Lima
W
Pts: 2x0
World Champ.
88KG
SF
2022
32975

Isaque Bahiense

Isaque Bahiense
W
Pts: 2x0
World Champ.
88KG
F
2022
Leandro Lo vs Claudevam Martins

Leandro Lo vs Davi Ramos

Leandro Lo vs Keenan Cornelius