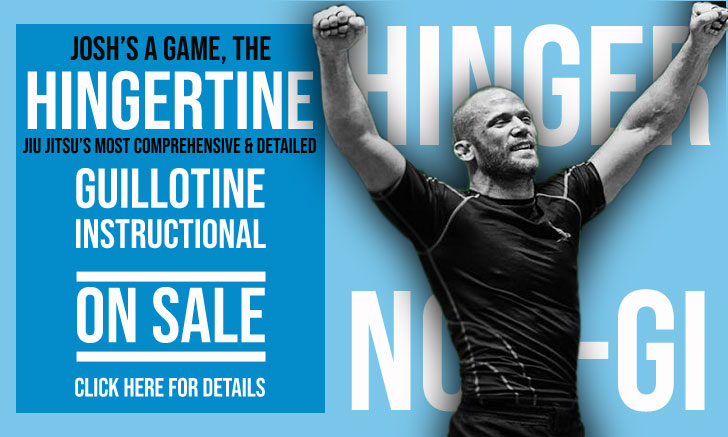 Leandro Lo is one of the top Brazilian jiu jitsu competitors of his generation and a record holder for most IBJJF World titles in different weight classes (4): light, middle, medium heavy and open weight), a record shared with Saulo Ribeiro. A black belt under Cicero Costha, Leandro Lo's first steps towards grappling stardom were taken on April 2011 when he defeated Michael Langhi (who had been unbeaten for 3 years), on his way to the top of the podium of the UAEJJF World Pro. Since this win Leandro Lo cemented himself as one of the best "Pound for Pound" grapplers to have ever graced a mat, with repeated wins at the World Championships, the prestigious Copa Pódio and Pan American Championships.
Leandro Lo Jiu Jitsu
Full Name: Leandro Lo Pereira do Nascimento
Nickname: n/a
Lineage: Mitsuyo Maeda > Carlos Gracie > Helio Gracie > Rickson Gracie > Marcelo Behring > Waldomiro Perez > Roberto Godoi > Marco Barbosa > Cicero Costha > Leandro Lo
Main Achievements:
IBJJF Pan American Champion (2012/2014/2015/2016/2017**/2018**)
IBJJF European International Open Champion (2017**)
CBJJ Brazilian National Champion (2011/2012/2017**)
CBJJ Brazilian National No-Gi Champion (2011, 2012**)
Copa Podio Lightweight GP Champion (2011/2013/2014/2016)
Copa Podio Middleweight GP Champion (2012/2016)
Copa Podio Heavyweight GP Champion (2016)
IBJJ Rio International Open Champion (2011)
UAEJJF Abu Dhabi World Pro Champion (2011/2013/2014/2015)
World League Pro Jiu Jitsu Champion (2010)
Copa Podio Heavyweight GP 2nd Place (2014)
IBJJF World Championship 2nd Place (2017**)
IBJJF World No Gi Championship 2nd Place (2012*)
IBJJF Pan American Championship 2nd Place (2016/2014*)
Main Achievements (Colored Belts):
IBJJF World Champion (2005 junior blue)
CBJJ Brazilian National Champion (2009/2010 brown)
CBJJE Brazilian Cup Champion (2008 purple)
IBJJF World Championship 2nd Place (2006 junior blue)
CBJJ Brazilian National Championship 2nd Place (2008 purple)
* Absolute
** Weight and absolute
Weight Division: Peso Leve (76kg-167lbs), Médio (82kg/181lbs), Meio Pesado (88kg/194lbs)
Favourite Position/Technique: Spider Guard, Toreando Guard Pass
Association/Team: Jiu Jitsu New School Brotherhood (formerly PSLPB)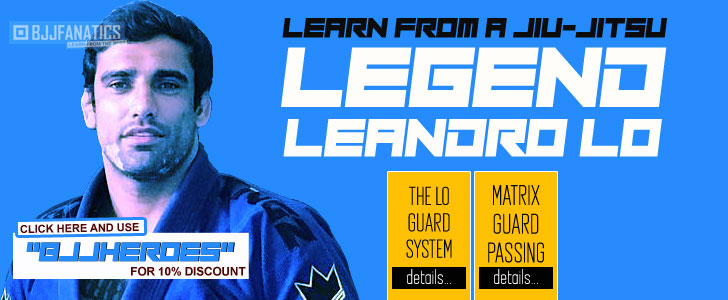 Leandro Lo Biography
Leandro Lo was born on the 11th of May, 1989 on the east side of São Paulo – Brazil. He started practising Jiu Jitsu through the Projecto Social Lutando Pelo Bem (PSLPB) a social project for underprivileged children in 2004, a project led by Cicero Costha.
Leandro was a natural athlete and won many important titles as a junior, such as the Mundial in 2005, medalling again in 2006. Known as a spider guard /triangle type of grappler, when he was a purple belt, Lo's game would change due to an injury suffered when he was a purple belt, which kept him away from competitions for few months. Not having the pressure to perform every weekend, it was during his "competition free" phase that Lo started working on his top game, a game for which he would become known during his black belt heyday.
In 2007 the world's biggest organization (CBJJ/IBJJF) moved its most important tournament, the Mundial, to the United States seeking world wide recognition. With the change many Brazilian competitors (Leandro included) lost their window, the best way to showcase their skills to a wider audience, as they did not have the means to travel to America. These grapplers were left with smaller events, most of which were won by Lo.
It was on April 14th of 2011 that Leandro finally turned a few heads his way. After winning the trials in the south of Brazil (Gramado), Lo went on to defeat two legends in the tournament's final stage, Celso Vinicius and Michael Langhi. Langhi was widely considered the best lightweight in the world, and hadn't lost a competition in 3 years. In 2012 Leandro Lo settled his name as the best lightweight competitor in the world, after wins at the Mundial (World Championship) the Pan American and the Brazilian Nationals. Leandro also established himself as force to be reckoned with in the open weight divisions with a win at the Brazilian No Gi Nationals and a second place at the No Gi World Championship.
After winning all the main competitions at lightweight, Leandro Lo went up a weight division. Fighting at middleweight did not faze his performance as he kept winning all the top grappling competitions with and without the gi.
On late September, 2015. Leandro Lo and a few of his team mates severed their bonds with the PSLPB team, moving on to form their own academy, led by Lo. Jiu Jitsu New School Brotherhood was the name for the new team.  Among the most significant athletes who left with Leandro, were: Luiza Monteiro, Helio Dias, Gustavo "Braguinha", Ygor Schneider, Anderson Lira and Wellington Luís.
On June 2018 Leandro was hoping to match Saulo Ribeiro's 4 IBJJF world titles in 4 different weight classes, after came up short in 2017.  He reached the final against Mahamed Aly but was forced to quit after a shoulder injury from a throw dislocated his shoulder. Although still scheduled to compete in the final of the open weight class against Marcus Almeida, the injury prevented him from stepping on the mat and all hope of matching Ribeiro's record was lost. That was until Marcus chose forfeit the title and not to challenge Leandro, this way awarding the São Paulo native his first absolute title and his 4th world title in a different weight class.
Cover picture taken by BJJPix.
Leandro Lo Grappling Record
246 WINS
BY POINTS


BY ADVANTAGES




BY SUBMISSION




BY DECISION




BY PENALTIES




BY DQ



51 SUBMISSIONS WINS
#214eb8
Cross choke
27
14
#5AD3D1
Choke from back
14
7
#d1212a
Bow and arrow
12
6
#224aba
Mounted X choke
6
3
32 LOSSES
BY POINTS


BY ADVANTAGES




BY SUBMISSION




BY DECISION




BY PENALTIES




BY DQ



9 SUBMISSIONS LOSSES
#214eb8
Choke from back
44
4
#86e620
Flying triangle
11
1
#fad11b
Arm in ezekiel
11
1
Leandro Lo Fight History
ID
Opponent
W/L
Method
Competition
Weight
Stage
Year
2785

Gilbert Burns

Gilbert Burns
L
Pts: 2x0
World Pro Trials
77KG
SF
2011
2858

Augusto Mendes

Augusto Mendes
L
Pts: 4x0
Pan American
76KG
R1
2011
3090

Kron Gracie

Kron Gracie
L
Choke from back
World Champ.
76KG
4F
2011
3382

Marcus Almeida

Marcus Almeida
L
Pts: 6x6, Adv
Pan Am CBJJE
ABS
SF
2011
3529

Antonio Carlos

Antonio Carlos
L
Flying triangle
Pan American
ABS
R2
2012
3669

Otavio Sousa

Otavio Sousa
D
---
Copa Podio
85KG
GP
2012
3759

Lucas Lepri

Lucas Lepri
L
Points
World Pro.
76KG
SF
2012
3831

Antonio Peinado

Antonio Peinado
L
Referee Decision
Brasileiro
ABS
R1
2012
3883

Antonio Carlos

Antonio Carlos
L
Pts: 2x2, Adv
World Champ.
ABS
R2
2012
4208

Augusto Mendes

Augusto Mendes
L
Pts: 9x0
NoGi Worlds
76KG
SF
2012
4260

Alexandre Ribeiro

Alexandre Ribeiro
L
Pts: 0x0, Adv
NoGi Worlds
ABS
F
2012
4493

Orlando Sanchez

Orlando Sanchez
L
Referee Decision
Pan American
ABS
R2
2013
4568

Vitor Oliveira

Vitor Oliveira
L
Points
Pan American
82KG
4F
2013
4731

Bernardo Faria

Bernardo Faria
L
Points
World Champ.
ABS
4F
2013
5080

Gilbert Burns

Gilbert Burns
L
Pts: 3x0
NoGi Worlds
82KG
SF
2013
5287

Andre Galvao

Andre Galvao
L
Adv
Pan American
ABS
F
2014
5544

Rodolfo Vieira

Rodolfo Vieira
L
Choke from back
Copa Podio
94KG
F
2014
5592

Rodolfo Vieira

Rodolfo Vieira
L
Choke from back
World Pro.
ABS
4F
2014
5676

Keenan Cornelius

Keenan Cornelius
L
Pts: 6x4
World Champ.
ABS
RD 4
2014
6722

Bernardo Faria

Bernardo Faria
L
Lapel choke
Pan American
ABS
F
2015
7144

Marcus Almeida

Marcus Almeida
L
Pts: 2x2, Adv
World Pro
ABS
SF
2015
7342

Bernardo Faria

Bernardo Faria
L
Armbar
World Champ.
ABS
SF
2015
9331

Bernardo Faria

Bernardo Faria
L
Arm in ezekiel
Pan American
ABS
F
2016
9478

Victor Honorio

Victor Honorio
L
Pts: 0x0, Adv
World Pro
ABS
8F
2016
11902

Tarsis Humphreys

Tarsis Humphreys
L
Referee Decision
FIVE Super League
92KG
4F
2017
12901

Marcus Almeida

Marcus Almeida
L
Pts: 2x2, Adv
World Champ.
ABS
F
2017
13056

Nicholas Meregali

Nicholas Meregali
L
Pts: 2x0
World Champ.
94KG
F
2017
13607

Marcus Almeida

Marcus Almeida
L
Pts: 0x0, Adv
IBJJF Pro GP
ABS
F
2017
13722

Craig Jones

Craig Jones
L
RNC
ADCC
88KG
E1
2017
16339

Mahamed Aly

Mahamed Aly
L
Injury
World Champ.
100KG
F
2018
18853

Nicholas Meregali

Nicholas Meregali
L
Pts: 4x0
BJJ Stars
100KG
SPF
2019
19152

Adam Wardzinski

Adam Wardzinski
L
Choke from back
Pan American
94KG
SF
2019
19187

Lucas Barbosa

Lucas Barbosa
L
Referee Decision
Pan American
ABS
F
2019
2891

Zak Maxwell

Zak Maxwell
W
Pts: 6x0
World Pro.
74KG
4F
2011
2893

Michael Langhi

Michael Langhi
W
Pts: 4x0
World Pro.
74KG
SF
2011
2894

Celso Vinicius

Celso Vinicius
W
Adv
World Pro.
74KG
F
2011
2938

JT Torres

JT Torres
W
Points
Brasileiro
76KG
4F
2011
2940

Augusto Mendes

Augusto Mendes
W
Points
Brasileiro
76KG
SF
2011
2941

Michael Langhi

Michael Langhi
W
Adv
Brasileiro
76KG
F
2011
3005

Tatsuya Kaneko

W
Armbar
World Champ.
76KG
RDS
2011
3011

Unknown

W
Points
World Champ.
76KG
RDS
2011
3377

Claudio Daniel

W
Referee Decision
Pan Am CBJJE
ABS
NA
2011
3378

R. Evangelista

R. Evangelista
W
Bow and arrow
Pan Am CBJJE
ABS
NA
2011
3379

Fabiano Boi

W
Points
Pan Am CBJJE
ABS
NA
2011
3407

Moacir Mendes

Moacir Mendes
W
Pts: 2x2, Adv
Copa Podio
76KG
GP
2011
3410

JT Torres

JT Torres
D
---
Copa Podio
76KG
GP
2011
3418

Ed Ramos

W
Pts: 7x0
Copa Podio
76KG
GP
2011
3423

Denilson Pimenta

Denilson Pimenta
W
Pts: 12x0
Copa Podio
76KG
GP
2011
3425

Vinicius Marinho

Vinicius Marinho
W
Pts: 5x2
Copa Podio
76KG
SF
2011
3427

Claudio Mattos

Claudio Mattos
W
Choke from back
Copa Podio
76KG
F
2011
3431

Claudevam Martins

W
Pts: 45x0
Amazon Meeting
76KG
SF
2011
3432

Antônio Carlos

W
Bow and arrow
Amazon Meeting
76KG
F
2011
3434

Antonio Crivelari

W
Pts: 2x0
Brasileiro NoGi
73KG
4F
2011
3435

Tiago Bravo

Tiago Bravo
W
Pts: 8x2
Brasileiro NoGi
73KG
SF
2011
3437

Theodoro Canal

Theodoro Canal
W
Pts: 10x0
Brasileiro NoGi
73KG
F
2011
3441

Rodrigo Martins

W
Choke from back
Int. de Jiu-Jitsu
76KG
4F
2011
3442

Ivan

W
Pts: 13x0
Int. de Jiu-Jitsu
76KG
SF
2011
3443

Eduardo Silva

W
Lapel choke
Int. de Jiu-Jitsu
76KG
F
2011
3447

Luiz Supp

W
Cross choke
Brasil Sul Cup
ABS
4F
2012
3448

Alexandre Souza

Alexandre Souza
W
Pts: 2x0
Brasil Sul Cup
ABS
SF
2012
3449

Ricardo Bastos

W
Pts: 2x0
Brasil Sul Cup
ABS
F
2012
3523

Victor Schlosser

W
Pts: 6x6, Adv
Pan American
ABS
R1
2012
3583

Italo Lins

Italo Lins
W
Points
Pan American
76KG
R2
2012
3590

Zak Maxwell

Zak Maxwell
W
Pts: 13x2
Pan American
76KG
4F
2012
3592

Philipe Della Monica

W
Pts: 16x0
Pan American
76KG
SF
2012
3593

Lucas Lepri

Lucas Lepri
W
Pts: 2x0
Pan American
76KG
F
2012
3654

Dimitrius Souza

Dimitrius Souza
W
Pts: 2x0
Copa Podio
85KG
GP
2012
3657

Felipe Preguiça

D
---
Copa Podio
85KG
GP
2012
3666

Rafael Barbosa

Rafael Barbosa
W
Pts: 3x0
Copa Podio
85KG
GP
2012
3671

Ricardo Bastos

W
Pts: 8x2
Copa Podio
85KG
SF
2012
3674

Dimitrius Souza

Dimitrius Souza
W
Pts: 7x0
Copa Podio
85KG
F
2012
3753

Antonio Farias

W
Points
World Pro.
76KG
R2
2012
3822

Ed Ramos

W
Points
Brasileiro
76KG
SF
2012
3823

Michael Langhi

Michael Langhi
W
Pts: 2x0
Brasileiro
76KG
F
2012
3876

Alexandre Ceconi

Alexandre Ceconi
W
Pts: 0x0, Adv
World Champ.
ABS
R2
2012
3990

Alessandro Ferreia

W
Pts: 23x0
World Champ.
76KG
R2
2012
3996

Theodoro Canal

Theodoro Canal
W
Points
World Champ.
76KG
R3
2012
4001

Rodrigo Caporal

Rodrigo Caporal
W
Pts: 21x0
World Champ.
76KG
4F
2012
4004

Roberto Satoshi

Roberto Satoshi
W
Pts: 7x2
World Champ.
76KG
SF
2012
4005

Lucas Lepri

Lucas Lepri
W
Pts: 2x0
World Champ.
76KG
F
2012
4142

Lucas Lepri

Lucas Lepri
W
Pts: 0x0, Adv
IBJJF Pro League
82KG
F
2012
4206

Raymond Ayalla

W
Pts: 45x0
NoGi Worlds
76KG
4F
2012
4248

Diego Herzog

W
Pts: 4x0
NoGi Worlds
ABS
R1
2012
4255

DJ Jackson

DJ Jackson
W
Pts: 0x0, Adv
NoGi Worlds
ABS
4F
2012
4259

Antonio Peinado

Antonio Peinado
W
Pts: 0x0, Adv
NoGi Worlds
ABS
SF
2012
4340

Lucas Rocha

Lucas Rocha
W
Choke from back
Arizona Open
82KG
F
2013
4342

Augusto Mendes

Augusto Mendes
W
Points
Arizona Open
ABS
F
2013
4352

Jake Shields

Jake Shields
D
---
World Expo
ABS
SPF
2013
4353

Renato Cardoso

Renato Cardoso
W
Pts: 15x4
Pan Am. CBJJE
ABS
NA
2013
4354

Rodrigo Ribeiro

Rodrigo Ribeiro
W
Points
Pan Am. CBJJE
ABS
NA
2013
4355

Jake Mackenzie

Jake Mackenzie
W
Points
Pan Am. CBJJE
ABS
NA
2013
4375

Augusto Mendes

Augusto Mendes
W
Pts: 5x2
Copa Podio
ABS
SPF
2013
4377

Felipe Preguiça

W
Pts: 3x2
Copa Podio
ABS
SPF
2013
4478

Bernardo Filho

W
Mounted X choke
Pan American
ABS
R1
2013
4564

Sean Roberts

W
Mounted X choke
Pan American
82KG
R2
2013
4636

Roberto Satoshi

Roberto Satoshi
W
Points
World Pro
76KG
SF
2013
4637

Lucas Lepri

Lucas Lepri
W
Pts: 0x0, Adv
World Pro
76KG
F
2013
4659

Claudio Calasans

Claudio Calasans
W
Points
Copa Podio
82KG
SPF
2013
4713

Luis Rosa

W
N/A
World Champ.
ABS
RDS
2013
4725

Orlando Sanchez

Orlando Sanchez
W
Pts: 6x0
World Champ.
ABS
RDS
2013
4765

Vinicius Marinho

Vinicius Marinho
W
Pts: 6x2
World Champ.
76KG
4F
2013
4768

Lucas Lepri

Lucas Lepri
W
Adv
World Champ.
76KG
SF
2013
4769

Michael Langhi

Michael Langhi
W
Pts: 2x0
World Champ.
76KG
F
2013
4826

Diego Borges

Diego Borges
W
Adv
Copa Podio
76KG
GP
2013
4830

Brandon Magana

W
Pts: 18x0
Copa Podio
76KG
GP
2013
4837

Clark Gracie

Clark Gracie
W
Pts: 13x0
Copa Podio
76KG
GP
2013
4842

Juan Kamezawa

Juan Kamezawa
W
Pts: 10x0
Copa Podio
76KG
GP
2013
4844

DJ Jackson

DJ Jackson
W
Pts: 6x2
Copa Podio
76KG
SF
2013
4846

Diego Borges

Diego Borges
W
Adv
Copa Podio
76KG
F
2013
4852

Leandro Brassoloto

W
Bow and arrow
Brasileiro CBJJE
ABS
NA
2013
4853

Rodrigo Ribeiro

Rodrigo Ribeiro
W
Armbar
Brasileiro CBJJE
ABS
NA
2013
4855

Cassio Francis

Cassio Francis
W
Points
Brasileiro CBJJE
ABS
NA
2013
4862

Juarez Harles

W
Kimura
Mundial CBJJE
82KG
4F
2013
4863

Alan Finfou

Alan Finfou
W
Pts: 2x0
Mundial CBJJE
82KG
SF
2013
4864

Diogo Almeida

Diogo Almeida
W
Pts: 12x0
Mundial CBJJE
82KG
F
2013
4870

Diogo Almeida

Diogo Almeida
W
Points
Mundial CBJJE
ABS
4F
2013
4871

Leandro Brassoloto

W
Cross choke
Mundial CBJJE
ABS
SF
2013
4898

Augusto Vieira

W
N/A
Rio Open
82KG
SF
2013
4900

Alan Finfou

Alan Finfou
W
Armbar
Rio Open
82KG
F
2013
4903

Unknown

W
Points
Rio Open
ABS
4F
2013
4904

Felipe Pena

Felipe Pena
W
Pts: 0x0, Adv
Rio Open
ABS
SF
2013
4906

Joao Rocha

Joao Rocha
W
Pts: 0x0, Adv
Rio Open
ABS
F
2013
5092

James Puopolo

James Puopolo
W
Adv
NoGi Worlds
ABS
SF
2013
5268

John Roberts

W
Cross choke
Pan American
ABS
R2
2014
5276

Fabiano Leite

W
Points
Pan American
ABS
R3
2014
5283

Victor Estima

Victor Estima
W
Points
Pan American
ABS
4F
2014
5285

Alexander Trans

Alexander Trans
W
Points
Pan American
ABS
SF
2014
5331

Julian Marquez

W
DQ
Pan American
82KG
R1
2014
5338

C. Negromonte

C. Negromonte
W
Pts: 4x2
Pan American
82KG
4F
2014
5341

Victor Estima

Victor Estima
W
Pts: 5x0
Pan American
82KG
SF
2014
5342

Otavio Sousa

Otavio Sousa
W
Adv
Pan American
82KG
F
2014
5529

Alexandre Souza

Alexandre Souza
W
Pts: 4x0
Copa Podio
94KG
GP
2014
5532

Faisal Kitbe

W
Pts: 0x0, Adv
Copa Podio
94KG
GP
2014
5535

Alan Belcher

Alan Belcher
W
Choke from back
Copa Podio
94KG
GP
2014
5540

Rodolfo Vieira

Rodolfo Vieira
D
---
Copa Podio
94KG
GP
2014
5541

Luiz Panza

Luiz Panza
W
Pts: 6x4
Copa Podio
94KG
SF
2014
5547

Hamzeh Rasheed

W
Armbar
Copa Podio
77KG
GP
2014
5553

S. Franceschini

W
Cross choke
Copa Podio
77KG
GP
2014
5557

Gregor Gracie

Gregor Gracie
W
Pts: 8x2
Copa Podio
77KG
GP
2014
5563

Victor Silverio

Victor Silverio
W
Pts: 8x0
Copa Podio
77KG
SF
2014
5566

Gregor Gracie

Gregor Gracie
W
Armbar
Copa Podio
77KG
F
2014
5575

Luke Costello

W
Points
World Pro.
ABS
R1
2014
5584

Rodrigo Fajardo

Rodrigo Fajardo
W
Pts: 14x0
World Pro.
ABS
R2
2014
5589

Nivaldo Oliveira

Nivaldo Oliveira
W
Pts: 9x0
World Pro.
ABS
R3
2014
5613

Luca Anacoreta

Luca Anacoreta
W
Pts: 4x0
World Pro.
82KG
4F
2014
5615

Otavio Sousa

Otavio Sousa
W
Points
World Pro.
82KG
SF
2014
5617

Victor Estima

Victor Estima
W
Referee Decision
World Pro.
82KG
F
2014
5663

Omar Saba

W
Cross choke
World Champ.
ABS
R2
2014
5764

Kawazoe

W
Pts: 28x0
World Champ.
82KG
RDS
2014
5771

Tulio Rosario

W
Mounted X choke
World Champ.
82KG
RDS
2014
5774

Sean Roberts

W
Pts: 6x0
World Champ.
82KG
RDS
2014
5776

Victor Silverio

Victor Silverio
W
Adv
World Champ.
82KG
4F
2014
5781

Victor Estima

Victor Estima
W
Pts: 7x2
World Champ.
82KG
SF
2014
5782

Otavio Sousa

Otavio Sousa
W
Pts: 9x6
World Champ.
82KG
F
2014
5894

Caio Almeida

Caio Almeida
W
Cross choke
Mundial CBJJE
ABS
SF
2014
5895

Claudio Calasans

Claudio Calasans
W
Pts: 4x2
Mundial CBJJE
ABS
F
2014
6075

Keenan Cornelius

Keenan Cornelius
W
Pts: 6x2
NYC Pro
94KG
F
2014
6151

Gilbert Burns

Gilbert Burns
W
Cross choke
Copa Podio
82KG
SPF
2014
6273

L. Valle

W
Pts: 10x0
The Team
76KG
RR
2014
6288

Takahiro Kanda

W
Pts: 21x0
All Japan NoGi
88KG
F
2014
6289

Ryo Chonan

W
Pts: 4x0
All Japan NoGi
ABS
F
2014
6290

Ichitaro Tsukada

W
Cross choke
All Japan
ABS
F
2014
6708

Yuto Hirao

W
Brabo choke
Pan American
ABS
R2
2015
6714

James Puopolo

James Puopolo
W
Pts: 13x0
Pan American
ABS
R3
2015
6718

Yuri Simoes

Yuri Simoes
W
Pts: 4x2
Pan American
ABS
4F
2015
6721

Leo Nogueira

Leo Nogueira
W
Pts: 2x0
Pan American
ABS
SF
2015
6779

Cris Atkins

W
Brabo choke
Pan American
82KG
R2
2015
6782

Bruno Antunes

W
Pts: 13x0
Pan American
82KG
R3
2015
6788

Felipe Cesar

Felipe Cesar
W
Cross choke
Pan American
82KG
4F
2015
6792

Victor Estima

Victor Estima
W
Pts: 4x2
Pan American
82KG
SF
2015
6794

Otavio Sousa

Otavio Sousa
W
Pts: 5x2
Pan American
82KG
F
2015
7066

Max Carvalho

Max Carvalho
W
Pts: 6x0
World Pro
85KG
R1
2015
7071

Igor Basilio

W
Cross choke
World Pro
85KG
R2
2015
7076

Felipe Sagat

W
Toe hold
World Pro
85KG
4F
2015
7077

AJ Sousa

AJ Sousa
W
Points
World Pro
85KG
SF
2015
7080

Victor Estima

Victor Estima
W
Pts: 0x0, Adv
World Pro
85KG
F
2015
7132

Victor Silverio

Victor Silverio
W
Pts: 4x2
World Pro
ABS
R2
2015
7137

Felipe Bueno

W
Pts: 0x0, Adv
World Pro
ABS
R2
2015
7141

Max Carvalho

Max Carvalho
W
Pts: 3x0
World Pro
ABS
4F
2015
7145

Keenan Cornelius

Keenan Cornelius
W
Pts: 4x2
World Pro
ABS
3RD
2015
7274

Sergio Moraes

Sergio Moraes
W
Pts: 6x0
Copa Podio
ABS
SPF
2015
7338

Tarcísio Jardim

W
Pts: 9x4
World Champ.
ABS
8F
2015
7340

Keenan Cornelius

Keenan Cornelius
W
Pts: 8x6
World Champ.
ABS
4F
2015
7426

Matheus Diniz

Matheus Diniz
W
Pts: 4x0
World Champ.
88KG
4F
2015
7431

Renato Cardoso

Renato Cardoso
W
Pts: 15x2
World Champ.
88KG
SF
2015
7432

Tarsis Humphreys

Tarsis Humphreys
W
Pts: 7x0
World Champ.
88KG
F
2015
7951

Rodrigo Freitas

Rodrigo Freitas
W
Pts: 0x0, Adv
Santa Cruz Pro
82KG
SF
2015
7952

Julian Marquez

W
Cross choke
Santa Cruz Pro
82KG
F
2015
8816

Davi Ramos

Davi Ramos
W
Pts: 6x2
Copa Podio
77KG
GP
2016
8820

AJ Sousa

AJ Sousa
W
Pts: 13x0
Copa Podio
77KG
GP
2016
8824

Lucas Lepri

Lucas Lepri
W
Pts: 2x2, Adv
Copa Podio
77KG
GP
2016
8827

Felipe Cesar

Felipe Cesar
W
Pts: 7x0
Copa Podio
77KG
GP
2016
8831

Dillon Danis

Dillon Danis
W
Pts: 2x0
Copa Podio
77KG
SF
2016
8833

Lucas Lepri

Lucas Lepri
W
Pts: 2x0
Copa Podio
77KG
F
2016
9251

Alessandro Silva

W
Bow and arrow
Pan American
88KG
8F
2016
9258

Gabriel Arges

Gabriel Arges
W
Pts: 12x6
Pan American
88KG
4F
2016
9261

Renato Cardoso

Renato Cardoso
W
Toe hold
Pan American
88KG
SF
2016
9262

Romulo Barral

Romulo Barral
W
Pts: 2x0
Pan American
88KG
F
2016
9310

Dany Gerard

Dany Gerard
W
Cross choke
Pan American
ABS
R2
2016
9322

Guilherme Augusto

Guilherme Augusto
W
Pts: 3x0
Pan American
ABS
8F
2016
9330

Andre Galvao

Andre Galvao
W
Pts: 2x0
Pan American
ABS
SF
2016
9471

K. Dzieniszewski

W
Armbar
World Pro
ABS
8F
2016
9559

Lucas Rego

W
Choke
World Pro
85KG
8F
2016
9562

Patrick Gaudio

Patrick Gaudio
W
Pts: 4x2
World Pro
85KG
4F
2016
9566

Renato Cardoso

Renato Cardoso
W
Pts: 2x0
World Pro
85KG
SF
2016
9568

Claudio Calasans

Claudio Calasans
W
Referee Decision
World Pro
85KG
F
2016
9959

C. Negromonte

C. Negromonte
W
Pts: 8x0
World Champ.
88KG
8F
2016
9962

Matheus Diniz

Matheus Diniz
W
Pts: 7x0
World Champ.
88KG
4F
2016
9967

Keenan Cornelius

Keenan Cornelius
W
Pts: 4x2
World Champ.
88KG
SF
2016
9968

Romulo Barral

Romulo Barral
W
Pts: 5x0
World Champ.
88KG
F
2016
10012

Ricardo Rezende

Ricardo Rezende
W
Pts: 11x0
World Champ.
ABS
R2
2016
10027

Gustavo Elias

Gustavo Elias
W
Pts: 7x0
World Champ.
ABS
8F
2016
10033

Keenan Cornelius

Keenan Cornelius
W
Pts: 2x0
World Champ.
ABS
4F
2016
10092

N. Meregali

W
Pts: 4x2
Copa Podio
86KG
GP
2016
10097

Dillon Danis

Dillon Danis
W
Pts: 0x0, Adv
Copa Podio
86KG
GP
2016
10103

Max Gimenis

Max Gimenis
W
Pts: 2x0
Copa Podio
86KG
GP
2016
10108

Diego Borges

Diego Borges
W
Pts: 2x0
Copa Podio
86KG
SF
2016
10113

Erberth Santos

Erberth Santos
W
Pts: 6x0
Copa Podio
86KG
F
2016
10688

I. Bahiense

W
Pts: 2x0
Copa Podio
105KG
RR
2016
10692

Cassio Francis

Cassio Francis
W
Toe hold
Copa Podio
105KG
RR
2016
10701

F. Trovo

W
Pts: 8x0
Copa Podio
105KG
RR
2016
10705

Nelton Pontes

Nelton Pontes
W
Pts: 0x0, Adv
Copa Podio
105KG
SF
2016
10706

Alexander Trans

Alexander Trans
W
Pts: 2x0
Copa Podio
105KG
F
2016
11397

Andreas Perales

W
Cross choke
European Open
ABS
R1
2017
11406

Thomas Johannessen

W
Pts: 7x0
European Open
ABS
8F
2017
11410

Isaque Bahiense

Isaque Bahiense
W
Pts: 11x2
European Open
ABS
4F
2017
11412

Mahamed Aly

Mahamed Aly
W
Pts: 3x0
European Open
ABS
SF
2017
11414

Claudio Calasans

Claudio Calasans
W
Pts: 4x0
European Open
ABS
F
2017
11511

Tony Ferraz

W
Pts: 24x0
European Open
94KG
8F
2017
11515

Karim Khalifa

W
Pts: 6x2
European Open
94KG
4F
2017
11517

Jesse Urholin

Jesse Urholin
W
Pts: 0x0, Adv
European Open
94KG
SF
2017
11518

Tanner Rice

Tanner Rice
W
Armbar
European Open
94KG
F
2017
11976

Lucas Rocha

Lucas Rocha
W
Brabo choke
Pan American
ABS
8F
2017
11979

Dany Gerard

Dany Gerard
W
Pts: 2x0
Pan American
ABS
4F
2017
11983

Nicholas Meregali

Nicholas Meregali
W
Pts: 3x0
Pan American
ABS
SF
2017
11985

Joao Rocha

Joao Rocha
W
Toe hold
Pan American
ABS
F
2017
12101

Jared Revel

W
Pts: 10x0
Pan American
94KG
8F
2017
12106

Nicholas Meregali

Nicholas Meregali
W
Pts: 2x0
Pan American
94KG
4F
2017
12109

Matheus Diniz

Matheus Diniz
W
Pts: 2x0
Pan American
94KG
SF
2017
12110

Tanner Rice

Tanner Rice
W
Pts: 2x0
Pan American
94KG
F
2017
12436

Gordon Ryan

Gordon Ryan
W
Pts: 4x0
ADCC WC Trials
ABS
SPF
2017
12567

Moises Junior

W
Choke from back
Brasileiro
ABS
RDS
2017
12574

Rodrigo Ribeiro

Rodrigo Ribeiro
W
Pts: 5x0
Brasileiro
ABS
RDS
2017
12580

Otavio Nalati

W
Pts: 6x0
Brasileiro
ABS
4F
2017
12584

Renato Cardoso

Renato Cardoso
W
Pts: 7x2
Brasileiro
ABS
SF
2017
12585

Erberth Santos

Erberth Santos
W
Pts: 6x4
Brasileiro
ABS
F
2017
12679

Andre Rudolfo

W
Choke from back
Brasileiro
100KG
R1
2017
12681

Diego Lima

W
Points
Brasileiro
100KG
4F
2017
12685

Fernando Reis

Fernando Reis
W
Pts: 2x0
Brasileiro
100KG
SF
2017
12686

Erberth Santos

Erberth Santos
W
Pts: 5x0
Brasileiro
100KG
F
2017
12753

Romeu Patrick

W
Brabo choke
Salvador Spring O.
100KG
SF
2017
12754

Talison Costa

W
N/A
Salvador Spring O.
ABS
SF
2017
12756

Dimitrius Souza

Dimitrius Souza
W
Bow and arrow
Salvador Spring O.
ABS
F
2017
12857

Marcos Goulart

W
Bow and arrow
Curitiba Fall Open
94KG
SF
2017
12865

Italo Santos

W
Choke from back
Curitiba Fall Open
ABS
R1
2017
12866

Adriano Sousa

W
Brabo choke
Curitiba Fall Open
ABS
4F
2017
12869

Marcos Goulart

W
Pts: 12x0
Curitiba Fall Open
ABS
SF
2017
12871

Erberth Santos

Erberth Santos
W
Pts: 2x0
Curitiba Fall Open
ABS
F
2017
12890

Dany Gerard

Dany Gerard
W
Pts: 2x0
World Champ.
ABS
8F
2017
12896

Joao Rocha

Joao Rocha
W
Pts: 2x0
World Champ.
ABS
4F
2017
12899

Luiz Panza

Luiz Panza
W
Pts: 3x2
World Champ.
ABS
SF
2017
13047

Aaron Johnson

Aaron Johnson
W
Brabo choke
World Champ.
94KG
8F
2017
13052

Matheus Diniz

Matheus Diniz
W
Referee Decision
World Champ.
94KG
4F
2017
13055

Guilherme Augusto

Guilherme Augusto
W
Pts: 8x0
World Champ.
94KG
SF
2017
13603

R. Evangelista

R. Evangelista
W
Kimura
IBJJF Pro GP
ABS
4F
2017
13606

Andre Galvao

Andre Galvao
W
Pts: 0x0, Adv
IBJJF Pro GP
ABS
SF
2017
14757

Otavio Sousa

Otavio Sousa
W
Points
ACB 10
85KG
SPF
2018
15122

John Combs

John Combs
W
Pts: 6x0
Pan American
ABS
R2
2018
15130

Keenan Cornelius

Keenan Cornelius
W
Pts: 7x2
Pan American
ABS
SF
2018
15131

Gutemberg Pereira

Gutemberg Pereira
W
Pts: 2x0
Pan American
ABS
F
2018
15207

Matheus Godoy

W
Cross choke
Pan American
94KG
4F
2018
15211

Fellipe Andrew

Fellipe Andrew
W
Pts: 3x0
Pan American
94KG
SF
2018
15212

Tanner Rice

Tanner Rice
W
Pts: 2x0
Pan American
94KG
F
2018
16092

Gabriel Arges

Gabriel Arges
W
Points
ACBJJ 13
85KG
SPF
2018
16335

Rodrigo Ribeiro

Rodrigo Ribeiro
W
Pts: 2x2, Adv
World Champ.
100KG
4F
2018
16337

Nelton Pontes

Nelton Pontes
W
Pts: 2x0
World Champ.
100KG
SF
2018
16365

Nick Schrock

Nick Schrock
W
DQ
World Champ.
ABS
8F
2018
16374

Luiz Panza

Luiz Panza
W
Pts: 2x0
World Champ.
ABS
4F
2018
16378

Victor Honorio

Victor Honorio
W
Pts: 4x0
World Champ.
ABS
SF
2018
19150

Vinicius Trator

Vinicius Trator
W
Referee Decision
Pan American
94KG
4F
2019
19174

Devhonte Johnson

Devhonte Johnson
W
Pts: 2x0
Pan American
ABS
R2
2019
19183

Rudson Mateus

Rudson Mateus
W
Referee Decision
Pan American
ABS
4F
2019
19185

Gustavo Batista

Gustavo Batista
W
Pts: 2x0
Pan American
ABS
SF
2019
Leandro Lo vs Claudevam Martins

Leandro Lo vs Davi Ramos

Leandro Lo vs Keenan Cornelius