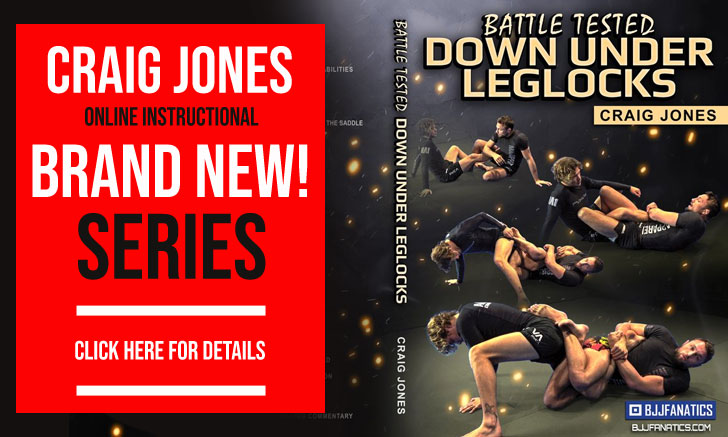 Bernardo Faria is a former IBJJF World Jiu Jitsu champion associated with the Alliance academy, being widely regarded as one of the most important super-heavyweights of his generation, an athlete with titles in the sport's top tournaments. This included gold medals at the European Open, Pan American and Brazilian Nationals.
Bernardo Faria Jiu Jitsu
Full Name: Bernardo Rocha de Faria
Nickname: Bernardo is often called "Bê", short for Bernardo.
Lineage: Mitsuyo Maeda > Carlos Gracie > Carlson Gracie > Sergio Souza > Ricardo Marques > Bernardo Faria
Main Achievements/Record (Black Belt):
IBJJF Pro League Champion (2014)
IBJJF Pro Cup Champion (2011*)
IBJJF World Champion (2010, 2013, 2015**)
IBJJF Pan American Champion (2016*/2015/2010**)
CBJJ Brazilian National Champion (2010*)
IBJJF European Champion (2010/2011/2012)
IBJJF World Championship Runner-up (2017/2011**)
IBJJF European Open Championship Runner-up (2012*)
IBJJF World Championship 3rd Place (2009)
IBJJF European Championship 3rd Place (2010*/2011*)
Favorite Position/Technique: Wheel Sweep, Half Guard
Weight Division: Super-Heavyweight (100kg – 221lbs) or Heavyweight (94kg – 201lbs)
Association/Team: Alliance Jiu Jitsu (former BTT-Juiz de Fora/Academia Vida e Saúde)
DVD Releases: The Faria Guard / The Z Guard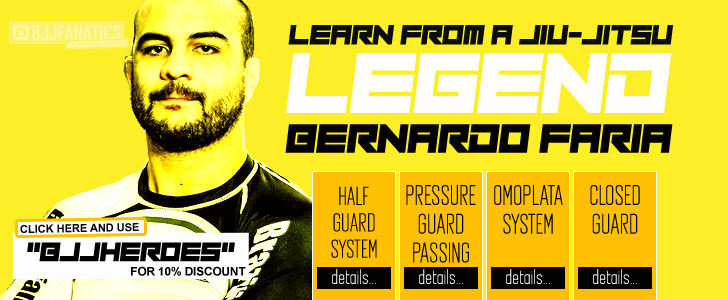 Bernardo Faria Biography
Bernardo Faria was born on the 26th of January, 1987 in Juiz de Fora, a small town on the State of Minas Gerais, Brazil. He started training Jiu Jitsu in 2001 when he was 14 years old because one of his best friends (Pedro Cid) invited him to train at his gym. That gym was run by Ricardo Marques.
Bernardo' first major competition try out was the World Cup (CBJJO) as a Junior in 2003, which he lost due to lack of experience. Faria came back strong the next year (still as a Junior) and got the Silver Medal in his weight class and Bronze in the open weight division. He reached his blue belt that same year and there he stayed until 2005 getting 2 Silver Medals at the Mundial (World Championships) and one Bronze in the meantime. Bernardo Faria earned his Purple Belt in 2006, becoming Brazilian National Cup Champion and a World Champion in the Absolute Division that same year (among many other important trophies) and so it didn't come as a surprise when he was awarded his brown belt in 2007.
Although he wanted to try his luck at the Brazilian Nationals again in 2007, an appendicitis operation took him off the mats for a while and he was unable to compete, he did manage to compete in the World Championship reaching second place in his division. The next year a meniscus problem took him out of the World Championship. In 2009 after Bernardo received the Black Belt, he took a big step in his career. Understanding that he wanted to follow Jiu Jitsu as a career, he moved to Sao Paulo to join a bigger more structured team, the decision was taken his master Ricardo Marques' consent and full support. He decided to join Alliance as he felt great admiration for Fabio Gurgel, "The General" of the team' Sao Paulo Head Quarters.
Bernardo Faria Grappling Record
95 WINS
BY POINTS


BY ADVANTAGES




BY SUBMISSION




BY DECISION




BY PENALTIES




BY DQ



49 SUBMISSIONS WINS
#f58822
Choke from back
8
4
#ff9124
Triangle armbar
4
2
#22c9a5
Mounted X choke
2
1
#fad223
Dogbar/Kneebar
2
1
#03b41f
Baseball choke
2
1
#03f61f
Bow and arrow
2
1
#82ff5f
Arm in ezekiel
2
1
26 LOSSES
BY POINTS


BY ADVANTAGES




BY SUBMISSION




BY DECISION




BY PENALTIES




BY DQ



10 SUBMISSIONS LOSSES
#5AD3D1
Triangle-armbar
10
1
#d1212a
Mounted X choke
10
1
#fad11b
Choke from back
10
1
Bernardo Faria Fight History
Bernardo Faria vs Tiago Gaia (Nova Uniao)

Bernardo Farias European 2010 (Absolute Division)