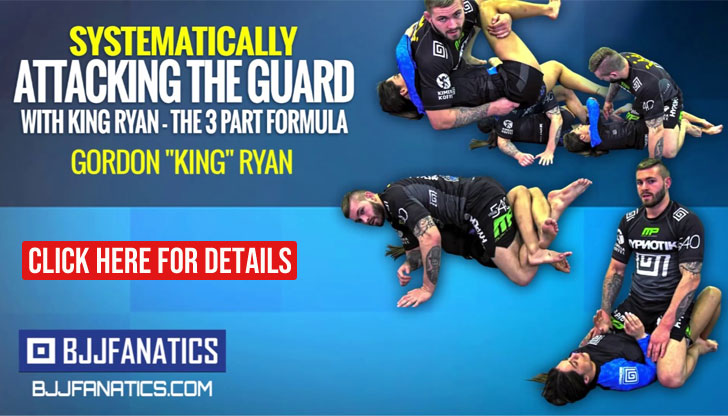 Brandon Walensky is a Brazilian jiu-jitsu black belt under Clark Gracie, also working extensively with coach Paulo Fernando Augusto during his formative years. One of the most exciting grapplers of his generation, Walenski broke out to a mainstream audience while competing as a brown belt, particularly through his performances at the Eddie Bravo Invitational (EBI), Metamoris and International Brazilia Jiu-Jitsu Federation (IBJJF) World No-Gi Championship, he would later cement his status in the black belt division.
Brandon Walensky Jiu-Jitsu
Full Name: Brandon Woodly Walensky
Nickname: N/A
Lineage:  Mitsuyo Maeda > Carlos Gracie > Carley Gracie > Clark Gracie > Brandon Walensky
Main Achievements:
IBJJF Mexico Summer Open Champion (2017)
IBJJF Mexico Summer No-Gi Open Champion (2017)
IBJJF Chicago Summer Open Champion (2016)
IBJJF Chicago Summer Open No-Gi Champion (2016)
IBJJF San Jose Summer Open 2nd Place (2017)
IBJJF Denver Open 2nd Place (2018)
IBJJF Denver Fall Open 2nd Place (2018)
IBJJF Miami Fall Open 2nd Place (2017)
IBJJF San Diego Open 3rd Place (2018)
Main Achievements (Colored Belts):
IBJJF World No-Gi Champion (2013/2015 brown)
IBJJF American Nationals No-Gi Champion (2013 brown)
Metamoris Challenger 2nd Place (2015)
IBJJF World No-Gi 3rd Place (2014 brown)
EBI I 3rd Place (2014)
IBJJF American Nationals 3rd Place (2013 brown)
Favorite Position/Technique: Triangle Choke
Weight Division: Peso Pena (70,00 kg / 154.5 lbs)
Team/Association: Clark Gracie JJ
Brandon Walensky
Brandon Walensky was born on April 5, 1992, in Oceanside, California, United States of America, moving on to neighboring San Marcos at the age of 5 where he grew up.
As a child, and into his pre-teens, Brando was involved in football (soccer) and basketball at a competitive level, as he grew older, however, his interest started shifting towards martial arts – much due to his father's influence.
At the age of 13, after some persuasion from his father (who believed martial arts would be beneficial to his son), Brandon signed on to judo classes at a BJJ + Judo gym that had opened in San Marcos. Although tentative at the start, Walensky did end up loving the experience.
After two years in judo, Brandon decided to add jiu-jitsu to his weekly schedule, combining both judo and BJJ for a while, before opting to focus solely on the submissions aspect of grappling.
Coach Paulo Fernando Augusto was responsible for Brandon's development up to brown belt, a time when Walensky moved to San Diego's Clark Gracie Academy (CGA). It was also at CGA that Walensky was introduced to coaching, a trade he picked up as a brown belt, and perfected with the help of his mentor.
On December 16, 2016, after a string of outstanding results in his brown belt career, Brandon Walensky was promoted to black belt by Clark Gracie.
Brandon Walensky Grappling Record
27 WINS
BY POINTS


BY ADVANTAGES




BY SUBMISSION




BY DECISION




BY PENALTIES




BY DQ



23 SUBMISSIONS WINS
#86e620
Bow and arrow
13
3
#224aba
Triangle armbar
4
1
#ff9124
Reverse triangle
4
1
#22c9a5
Choke from back
4
1
#fad223
Crucifix Choke
4
1
23 LOSSES
BY POINTS


BY ADVANTAGES




BY SUBMISSION




BY DECISION




BY PENALTIES




BY EBI/OT



8 SUBMISSIONS LOSSES
#5AD3D1
Choke from back
13
1
#d1212a
Cachecol choke
13
1
#fad11b
Crucifix choke
13
1
#f58822
Inside heel hook
13
1
Brandon Walensky Fight History
ID
Opponent
W/L
Method
Competition
Weight
Stage
Year
11987

Isaac Doederlein

Isaac Doederlein
L
Choke from back
LA National Pro
69KG
F
2017
11997

Isaac Doederlein

Isaac Doederlein
L
Points
LA National Pro
U77KG
SF
2017
12135

Rubens Charles

Rubens Charles
L
Points
Pan American
70KG
8F
2017
12471

Ricky Lule

L
Pts: 2x0
ADCC WC Trials
66KG
4F
2017
13444

Leo Saggioro

Leo Saggioro
L
Cachecol choke
FIVE Super League
70KG
4F
2017
13514

Joe Scovel

L
Points
San Jose Open
70KG
F
2017
13796

Brian Mahecha

Brian Mahecha
L
Pts: 2x0
Grand Slam LA
69KG
SF
2017
13799

Alexandre Vieira

Alexandre Vieira
L
Crucifix choke
Grand Slam LA
69KG
RR
2017
14193

Silvio Duran

Silvio Duran
L
Pts: 6x2
Miami FO
70KG
SF
2017
14228

Nathan Orchard

L
EBI/OT
EBI 13
70KG
R1
2017
14504

Marvin Castelle

L
Inside heel hook
F2W 56
70KG
SPF
2017
14656

Gianni Grippo

Gianni Grippo
L
Short choke
NoGi Worlds
67KG
R1
2017
15381

Osvaldo Moizinho

Osvaldo Moizinho
L
Pts: 6x2
Pan American
70KG
8F
2018
15989

Thiago Macedo

Thiago Macedo
L
Pts: 7x0
Denver Open
70KG
F
2018
16326

Pablo Mantovani

Pablo Mantovani
L
Pts: 10x0
San Diego Open
70KG
SF
2018
16475

Rafael Mansur

Rafael Mansur
L
Pts: 2x0
World Champ.
70KG
R2
2018
18454

Adam Benayoun

Adam Benayoun
L
Points
Denver Open
70KG
F
2018
18591

Gabriel Marangoni

Gabriel Marangoni
L
Pts: 12x0
NoGi Worlds
67KG
R2
2018
19578

Jamil Hill-Taylor

Jamil Hill-Taylor
L
Armbar
Pan American
70KG
8F
2019
20443

Kennedy Maciel

Kennedy Maciel
L
Choke
San Diego Open
70KG
4F
2019
20516

Deandre Corbe

Deandre Corbe
L
Points
Chicago SPO
70KG
SF
2019
22387

Israel Sousa

Israel Sousa
L
Armbar
Long Beach Open
70KG
F
2019
24132

Giovanni Carvalho

L
Pts: 6x4
Pan American
70KG
R1
2020
11985

Ronald Henderson

W
Crucifix Choke
LA National Pro
69KG
SF
2017
12129

Juan Gomez

W
Armlock
Pan American
70KG
R1
2017
12456

Eric Medina

W
Darce choke
ADCC WC Trials
66KG
RS
2017
12458

Chris Hans

W
Triangle
ADCC WC Trials
66KG
RS
2017
12465

Ben Eddy

W
Triangle
ADCC WC Trials
66KG
8F
2017
13513

Manny Moreno

W
Bow and arrow
San Jose Open
70KG
SF
2017
13720

Carlos Quintero

W
Bow and arrow
Mexico City Open
70KG
F
2017
13731

Carlos Quintero

W
Triangle
Mexico NG Open
67KG
F
2017
13793

Felipe Simplicio

W
Triangle
Grand Slam LA
69KG
4F
2017
14192

Brian Mahecha

Brian Mahecha
W
Armbar
Miami FO
70KG
4F
2017
15986

N/A

W
Loop choke
Denver Open
70KG
SF
2018
15987

Bruno Valdivino

W
Triangle
Denver Open
70KG
SF
2018
16323

Rene Lopez

W
Bow and arrow
San Diego Open
70KG
4F
2018
16469

Joao Neto

Joao Neto
W
Pts: 2x0
World Champ.
70KG
R1
2018
18163

B. Penado

W
RNC
Fighting Ind.
66KG
RR
2018
18164

Junior Andrade

W
RNC
Fighting Ind.
66KG
RR
2018
18165

Cristobal Chavez

W
Toe hold
Fighting Ind.
66KG
RR
2018
18166

Alessandro Costa

W
Toe hold
Fighting Ind.
66KG
RR
2018
18453

Jonathan Buren

W
Points
Denver Open
70KG
SF
2018
18582

Frank Rosenthal

Frank Rosenthal
W
Pts: 4x2
NoGi Worlds
67KG
R1
2018
19569

Orlando Fernando

W
Triangle armbar
Pan American
70KG
R1
2019
20515

Max DeBeen

W
Armbar
Chicago SPO
70KG
4F
2019
21935

Joao Figueiredo

W
Points
Phoenix Open
70KG
F
2019
22383

Aubrey Koenig

W
Reverse triangle
Long Beach Open
70KG
4F
2019
22385

Takahito Yoshioka

W
Triangle
Long Beach Open
70KG
SF
2019
23485

Chris Jones

W
Choke
San Jose Open
70KG
SF
2020
23486

Rodrigo Cardoso

W
Choke from back
San Jose Open
70KG
F
2020
Brandon Walensky vs Carlos Sanchez