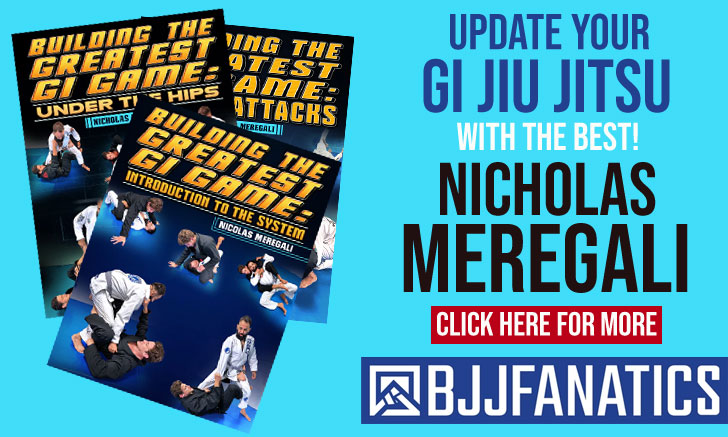 Gabriela Pereira is a professional grappler and a jiu-jitsu black belt under Carlos Durlin who represents the Vision Jiu-Jitsu Academy of Qatar in the sport's international scene, with great success in the International Brazilian Jiu-Jitsu Federation (IBJJF) and Abu Dhabi Jiu-Jitsu Tour (AJP) circuits. Gabi Pereira first broke through in jiu-jitsu during her colored belt career by winning the IBJJF World Championships and South American Championships in her division.
Gabriela Pereira Jiu-Jitsu
Full Name: Gabriela Andrelevicius Pereira
Nickname: "Gabi", short for Gabriela.
Lineage: Carlos Gracie > Helio Gracie > Rickson Gracie > Marcelo Behring > Waldomiro Perez > Roberto Godoi > César Tozi > Carlos Durlin > Gabriela Pereira
Main Achievements:
1st Place AJP Grand Slam, ABD (2022)
2nd Place IBJJF European Open (2022)
2nd Place CBJJ Brazilian Nationals (2023)
2nd Place AJP Grand Slam, LDN (2022)
3rd Place IBJJF World Championship (2023)
Main Achievements (Colored Belts):
1st Place IBJJF World Championship (2021 brown)
1st Place IBJJF South American Championship (2018 purple, 2017 / 2016** blue)
3rd Place CBJJ Brazilian Nationals (2021 brown, 2018 purple)
3rd Place IBJJF World Championship (2017 blue)
3rd Place AJP Grand Slam, RJN (2020 brown)
* Absolute
** Weight and Absolute
Favorite Position/Technique: N/A
Weight Division: Peso Pena (58,50 kg / 129.0 lbs)
Team/Association: Vision BJJ
Gabriela Pereira Biography
Gabriela Pereira was born on May 12, 1999, in Campinas, a Brazilian municipality in São Paulo State, Brazil, where she grew up.
Sports were a big part of Gabi's upbringing, starting during her first primary school year, age of 6. The learning institution offered two sports as a part of the extra-curricular activities, ballet, and judo. Despite Pereira's initial choice of pursuing ballet, her behavior got her expelled from the class, leading the young Paulista to judo.
After two years of practicing the Japanese art of throwing, Pereira joined a local jiu-jitsu academy where she became a student of Ricardo Oliveira, going through all juvenile belts under his guidance, later joining César Tozi's workgroup.
As a purple belt, Gabi Pereira began working with Carlos Durlin, also in Campinas who awarded her the brown and black belt ranks, the latter, on December 18, 2021.
Prior to her black belt promotion, Gabriela was invited to the Abu Dhabi World Pro camp in Qatar, alongside the local Vision Team, one of the most successful academies in the region. After the experience, Pereira was invited to become a part of the squad, an offer accepted by the athlete.
Gabriela Pereira Grappling Record
35 WINS
BY POINTS


BY ADVANTAGES




BY SUBMISSION




BY DECISION




BY PENALTIES




BY DQ



10 SUBMISSIONS WINS
#86e620
Choke from back
20
2
#5AD3D1
Triangle armlock
10
1
15 LOSSES
BY POINTS


BY ADVANTAGES




BY SUBMISSION




BY DECISION




BY PENALTIES




BY DQ



2 SUBMISSIONS LOSSES
Gabriela Pereira Fight History
ID
Opponent
W/L
Method
Competition
Weight
Stage
Year
26642

Thalyta Silva

Thalyta Silva
L
Pts: 2x0
Gramado Pro
N/A
F
2021
30664

Anna Rodrigues

Anna Rodrigues
L
Pts: 0x0, Adv
European Open
58KG
F
2022
31174

Anna Rodrigues

Anna Rodrigues
L
Pts: 6x6
Grand Slam LDN
55KG
F
2022
33065

Amanda Monteiro

Amanda Monteiro
L
Referee Decision
World Champ.
58KG
SF
2022
34095

Dyna Sena

L
Referee Decision
Grand Slam RJ
55KG
SF
2022
34668

Amanda Monteiro

Amanda Monteiro
L
Pts: 2x0
Grand Slam MIA
55KG
SF
2022
34868

Julia Alves

Julia Alves
L
Referee Decision
UAE Nat Pro
62KG
RR
2022
35353

Julia Alves

Julia Alves
L
Armbar
Asia Pro
62KG
RR
2022
37294

Luiza Monteiro

Luiza Monteiro
L
Pts: 6x0
European Open
64KG
SF
2023
38282

Maria Claudia

L
Referee Decision
AJPGD LDN
62KG
SF
2023
39613

Bianca Basilio

Bianca Basilio
L
Pts: 6x0
Brasileiro
58KG
F
2023
40425

Bianca Basilio

Bianca Basilio
L
Kimura
World Champ.
58KG
SF
2023
42973

B. Gutierrez

L
Pts: 9x2
ADGS Miami
55KG
SF
2023
43479

Julia Alves

Julia Alves
L
Pts: 3x3
EU Cont Pro
69KG
F
2023
44778

Rose Sharouni

Rose Sharouni
L
Pts: 3x3
World Pro
55KG
R1
2023
30662

Ashley Bendle

W
Triangle
European Open
58KG
SF
2022
31167

Z. Szawernowska

W
Pts: 2x0
Grand Slam LDN
55KG
R1
2022
31169

Alexa Yanes

W
Pts: 2x0
Grand Slam LDN
55KG
4F
2022
31173

Rafaela Rosa

W
Pts: 4x1
Grand Slam LDN
55KG
SF
2022
31793

Laurie Oliveira

W
Pts: 1x0
Italy Pro
55KG
F
2022
32398

Laurie Oliveira

W
Pts: 2x1
Grand Slam AD
55KG
4F
2022
32401

Alexa Yanes

W
Pts: 2x0
Grand Slam AD
55KG
SF
2022
32402

Anna Rodrigues

Anna Rodrigues
W
Pts: 2x1
Grand Slam AD
55KG
F
2022
33063

Larissa Campos

Larissa Campos
W
Pts: 0x0, Adv
World Champ.
58KG
4F
2022
34089

Thaina Freitas

W
Pts: 1x1
Grand Slam RJ
55KG
R1
2022
34093

Carolina Bonfada

W
Pts: 7x0
Grand Slam RJ
55KG
4F
2022
34098

Randryely Souza

W
Pts: 1x1
Grand Slam RJ
55KG
RPC
2022
34099

Maria Nunes

W
Triangle
Grand Slam RJ
55KG
3RD
2022
34670

Maha Alhanaee

W
Triangle armlock
Grand Slam MIA
55KG
RPC
2022
34672

Rose Sharouni

Rose Sharouni
W
Pts: 11x0
Grand Slam MIA
55KG
3RD
2022
34867

M. Urdabayeva

W
Triangle
UAE Nat Pro
62KG
RR
2022
35351

Aneta Pokorna

W
Pts: 6x2
Asia Pro
62KG
RR
2022
37290

Lauriane Thurin

W
Armbar
European Open
64KG
4F
2023
38278

Emilia Lang

W
Pts: 24x0
AJPGD LDN
62KG
R1
2023
38285

Eliamar Guimaraes

W
Pts: 2x0
AJPGD LDN
62KG
RPC
2023
38286

Zafeiria S.

W
Pts: 3x2
AJPGD LDN
62KG
3RD
2023
39608

Laura Peretti

W
Choke from back
Brasileiro
58KG
4F
2023
39612

Jaine Fragoso

W
Pts: 0x0, Adv
Brasileiro
58KG
SF
2023
40423

Larissa Campos

Larissa Campos
W
Pts: 4x2
World Champ.
58KG
4F
2023
42969

Giulia Gregorut

Giulia Gregorut
W
Pts: 4x3
ADGS Miami
55KG
4F
2023
42977

C. Vinhaes

W
Pts: 2x1
ADGS Miami
55KG
RPC
2023
42978

Alexa Yanes

W
Pts: 2x1
ADGS Miami
55KG
3RD
2023
43478

Dayane Bazzoni

W
Submission
EU Cont Pro
69KG
SF
2023
44574

Ariadne Oliveira

Ariadne Oliveira
W
Pts: 1x0
ADWP Qualifier
55KG
RR
2023
44575

Bia Campos

W
Pts: 5x2
ADWP Qualifier
55KG
RR
2023
44788

I. Maggioni

W
Verbal tap
World Pro
55KG
RPC
2023
44789

Astrid Scholin

W
Choke
World Pro
55KG
RPC
2023
44791

O. Zhuravleva

W
Pts: 6x0
World Pro
55KG
RPC
2023
44792

M. Ganbaatar

W
Choke from back
World Pro
55KG
RPC
2023
44794

Tamara Toros

W
Pts: 4x0
World Pro
55KG
3RD
2023