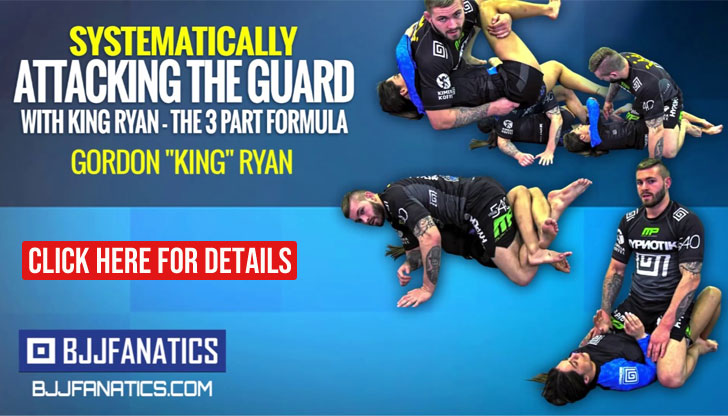 Sam McNally is a professional grappler from the Republic of Ireland who represents Dublin's East Coast Jiu-Jitsu Academy (ECJJA) in the sport's global circuit. A black belt in Jiu-Jitsu under Darragh O'Conaill, McNally gained worldwide notoriety in 2022 after two big performances in the International Brazilian Jiu-Jitsu Federation (IBJJF) European Open – where Sam earned a bronze medal – and in the Abu Dhabi Combat Club (ADCC) European Trials – gold medal, breaking through as one of the top athletes in his division.
Sam McNally Jiu-Jitsu
Full Name: Sam McNally
Nickname: N/A
Lineage: Carlos Gracie > Helio Gracie > Royler Gracie > Saulo Ribeiro > (Xande Ribeiro >) Darragh O'Conaill > Sam McNally
Main Achievements:
1st Place ADCC European Trials (2022)
1st Place IBJJF London Fall Open (2019)
1st Place IBJJF Dublin Open (2022)
3rd Place IBJJF European Open (2022)
Main Achievements (Colored Belts):
1st Place IBJJF Ireland Nationals (2019 brown)
1st Place AJP British National Pro (2019 brown)
1st Place AJP Spain National Pro (2019 brown)
3rd Place IBJJF Pan Championship (2019 brown)
3rd Place AJP Grand Slam, LDN (2017 purple)
Favorite Position/Technique: Modern JJ Style
Weight Division: Peso Pena (70,00 kg / 154.5 lbs)
Team/Association: East Coast Jiu-Jitsu
Sam McNally Biography
Sam McNally was born in November 1994, in Dublin, the capital city of the Republic of Ireland.
Despite not being particularly sporty as a child, not in a competitive environment at least, McNally had a short-lived experience with martial arts through his high school which taught judo as a part of its sport's curriculum. This episode drove Sam to look for grappling as an extra-curricular activity, finding what he was looking for in jiu-jitsu.
McNally joined Darragh O'Conaill's school at the age of 16, the gym that would later become East Coast Jiu-Jitsu, one of the most prestigious grappling schools in Europe. Sam went from white to black belt under the guidance of O'Conaill, with his black belt promotion taking place on June 29, 2019,
Sam McNally Grappling Record
19 WINS
BY POINTS


BY ADVANTAGES




BY SUBMISSION




BY DECISION




BY PENALTIES




BY DQ



9 SUBMISSIONS WINS
#86e620
Bow and arrow
11
1
16 LOSSES
BY POINTS


BY ADVANTAGES




BY SUBMISSION




BY DECISION




BY PENALTIES




BY DQ



5 SUBMISSIONS LOSSES
#214eb8
Terra footlock
20
1
#86e620
Straight ankle lock
20
1
#d1212a
Hashimoto choke
20
1
Sam McNally Fight History
ID
Opponent
W/L
Method
Competition
Weight
Stage
Year
22123

Gabriel Marangoni

Gabriel Marangoni
L
Terra footlock
Rome Fall Open
70KG
SF
2019
22147

Cole Franson

Cole Franson
L
Straight ankle lock
European NoGi
67KG
R1
2019
22186

Fabio Caloi

Fabio Caloi
L
Adv
European NoGi
ABS
R1
2019
22427

Matheus Godoy

Matheus Godoy
L
Pts: 6x0
Amsterdam Open
ABS
4F
2019
23532

Guilherme Rocha

Guilherme Rocha
L
Pts: 4x0
London WO
70KG
F
2020
23612

Ali Monfaradi

Ali Monfaradi
L
Pts: 4x3
Grand Slam LDN
69KG
4F
2020
29477

Alex Sodre

Alex Sodre
L
Armbar
World Champ.
70KG
8F
2021
30563

Diego Sodre

Diego Sodre
L
Hashimoto choke
European Open
70KG
SF
2022
31090

Hiago George

Hiago George
L
Pts: 3x0
Grand Slam LDN
62KG
SF
2022
31094

Marcos Froede

L
Pts: 2x1
Grand Slam LDN
62KG
3RD
2022
32887

Ismael Santos

Ismael Santos
L
Pts: 6x6, Adv
World Champ.
70KG
R1
2022
35005

Josh Cisneros

Josh Cisneros
L
Referee Decision
ADCC
66KG
4F
2022
36055

Anthony Oliveira

L
Referee Decision
European NG
67KG
SF
2022
37160

Keito Oyanagi

L
DQ
European Open
70KG
R1
2023
37633

Minho Yoon

L
Points
London Open
70KG
SF
2023
38516

Keith Krikorian

Keith Krikorian
L
RNC
GrappleFest
70KG
SPF
2023
22039

Thiago Abud

Thiago Abud
W
Pts: 4x0
London FO
70KG
SF
2019
22040

Jobson Apolinaro

W
Armbar
London FO
70KG
F
2019
23530

Samuel Kahn

W
Armbar
London WO
70KG
SF
2020
29470

Danilo Moreira

Danilo Moreira
W
Referee Decision
World Champ.
70KG
R1
2021
30557

Yaroslav Blazhko

W
Referee Decision
European Open
70KG
R1
2022
30561

Eduardo Roque

Eduardo Roque
W
Pts: 4x4, Adv
European Open
70KG
4F
2022
31086

Bruno Borges

W
Armbar
Grand Slam LDN
62KG
4F
2022
32012

Mitchel Silva

W
Bow and arrow
Dublin Open
70KG
SF
2022
32014

Pablo Mantovani

Pablo Mantovani
W
Referee Decision
Dublin Open
70KG
F
2022
32243

I. Dziubałtowski

W
RNC
ADCC EU Trials
66KG
R1
2022
32249

Mohammod Alim

W
Armbar
ADCC EU Trials
66KG
R2
2022
32251

Yarin Chriki

W
Armbar
ADCC EU Trials
66KG
R3
2022
32254

Sam Gibbs

W
Armbar
ADCC EU Trials
66KG
4F
2022
32257

Daniel De-Groot

W
Heel hook
ADCC EU Trials
66KG
SF
2022
32258

Roine Bohlin

W
Pts: 3x0
ADCC EU Trials
66KG
F
2022
34997

Garry Tonon

Garry Tonon
W
Pts: 3x0
ADCC
66KG
R1
2022
36054

Rafael Colonhese

W
Adv
European NG
67KG
4F
2022
37684

Konstantinos Lampos

W
N/A
London NGO
67KG
SF
2023
37686

Tommy Yip

W
Pts: 0x0, Adv
London NGO
67KG
F
2023