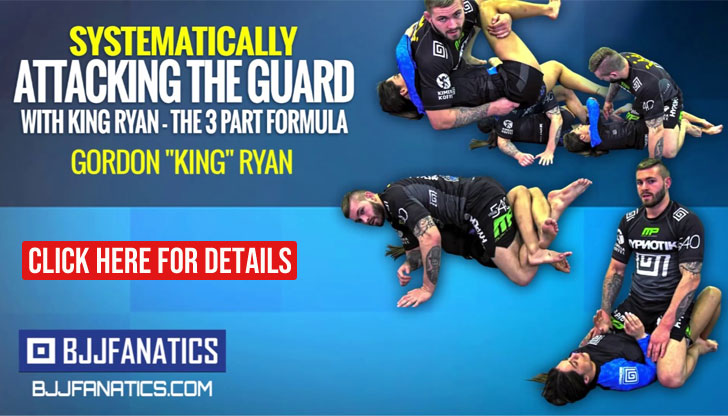 Jurandir Conceição is a Brazilian jiu-jitsu black belt under Roberto Godoy, being one of the main representatives of the G13 team in the sport/martial art's international circuit while also owning a successful academy of his own in São Paulo, Brazil (Academia Rock Fight). One of the most exciting guard players of his generation, Conceição earned important medals in tournaments such as the South American Championship, São Paulo Open, Miami Open and many more.
Jurandir Conceição Jiu-Jitsu
Full Name: Jurandir Vieira da Conceição
Nickname: N/A
Lineage: Mitsuyo Maeda > Carlos Gracie > Helio Gracie > Rickson Gracie > Marcelo Behring > Waldomiro Perez > Roberto Godoi > Jurandir Conceição
Main Achievements:
1st Place CBJJ Sul Brasileiro (2015)
1st Place IBJJF Miami Spring Open (2016)
2nd Place BJJ Stars Grand Prix (2019*)
2nd Place IBJJF Miami Spring Open (2017)
3rd Place IBJJF São Paulo Open (2013)
3rd Place IBJJF Belo Horizonte Summer Open (2017)
3rd Place UAEJJF South America Continental Pro (2018).
Main Achievements (Colored Belts):
1st Place IBJJF Pan American (2012 brown)
2nd Place IBJJF World Championship (2012 brown)
Favorite Position/Technique: Omoplata
Weight Division: Meio Pesado (88,30 kg / 195.0 lbs)
Team/association: G13
Jurandir Conceição Biography
Jurandir Conceição was born on May 10, 1989, in São Paulo, Brazil, growing up in the Brooklin neighborhood (SP).
During his childhood, Jurandir was a victim of bullying. The oppression/intimidation by his school's peers led Conceição to seek martial arts as a way to better himself and prevent bodily harm, starting with judo at the age of 8 and progressing to capoeira, boxing and finally jiu-jitsu, which he started as a 15YO.
Roberto Godoy was Jurandir's first instructor in BJJ and a strong figure in his upbringing. More so after Conceição's father committed suicide, an action that led young Jurandir to spiral downwards into his own depression. During these tragic events, Jurandir focussed on the only perceived positive activity in his life: jiu-jitsu, which became a lifeline for his return back into a more positive frame of mind.
While training under Roberto Godoy, Jurandir also developed an interest for coaching, a trait he started working on as a blue belt and developed as he progressed through the belt system, particularly once he started leading his own class at the Rock Fight Academy in Brooklin, São Paulo.
In 2012 Jurandir earned his black belt from his longtime supporter, Godoy. Soon after his promotion, Conceição became a majority associate of the Rock Fight gym he worked at. For the following years, Conceição worked hard on learning business management, marketing and accountancy to improve his skills as a gym owner, a process that led to fantastic results. The gym prospered and flourished, becoming recognized as one of the main affiliates of the G13 team.
Jurandir Conceicao Grappling Record
34 WINS
BY POINTS


BY ADVANTAGES




BY SUBMISSION




BY DECISION




BY PENALTIES




BY DQ



21 SUBMISSIONS WINS
#ff9124
Triangle wristlock
5
1
27 LOSSES
BY POINTS


BY ADVANTAGES




BY SUBMISSION




BY DECISION




BY PENALTIES




BY DQ



9 SUBMISSIONS LOSSES
#5AD3D1
Choke from back
11
1
Jurandir Conceicao Fight History
ID
Opponent
W/L
Method
Competition
Weight
Stage
Year
4605

Andre Galvao

Andre Galvao
L
Armbar
Pan American
88KG
R1
2013
4892

Renato Cardoso

Renato Cardoso
L
Botinha
Mundial CBJJE
88KG
4F
2013
5298

Andre Galvao

Andre Galvao
L
Pts: 14x0
Pan American
ABS
R2
2014
5384

Murilo Santana

Murilo Santana
L
Points
Pan American
88KG
R1
2014
5525

R. Evangelista

R. Evangelista
L
Botinha
Brasileiro
ABS
R1
2014
5923

Rodrigo Fajardo

Rodrigo Fajardo
L
Adv
Sul Brasileiro
88KG
F
2014
5927

Paulo Miyao

Paulo Miyao
L
Choke from back
Sul Brasileiro
ABS
F
2014
6509

Igor Silva

Igor Silva
L
Armbar
European
ABS
4F
2015
6605

Henrique Lima

L
DQ
European
94KG
R1
2015
6755

James Puopolo

James Puopolo
L
Pts: 7x0
Pan American
ABS
R2
2015
6871

Marcelo Mafra

Marcelo Mafra
L
Points
Pan American
94KG
R2
2015
7549

Rafael Lovato

Rafael Lovato
L
Armbar
Curitiba Open
94KG
F
2015
8956

Gabriel Arges

Gabriel Arges
L
Pts: 8x4
European Open
88KG
R1
2016
9896

Roberto Abreu

Roberto Abreu
L
Submission
Miami SPO
ABS
4F
2016
10342

Rodrigo Fajardo

Rodrigo Fajardo
L
N/A
Gramado Open
88KG
F
2016
11832

Thiago Sa

Thiago Sa
L
Pts: 4x0
BH Summer Open
88KG
SF
2017
11841

Erberth Santos

Erberth Santos
L
Cross choke
BH Summer Open
ABS
4F
2017
12939

DJ Jackson

DJ Jackson
L
Pts: 3x0
Miami SPO
88KG
F
2017
15105

Andre Cavalcanti

L
N/A
ACB S. American
95KG
R2
2018
15275

Renato Cardoso

Renato Cardoso
L
Pts: 0x0, Adv
SA Continental Pro
94KG
SF
2018
16252

Felipe Cesar

Felipe Cesar
L
Adv
Brasileiro
82KG
4F
2018
19333

Luis Marques

L
Pts: 0x0, Adv
BJJ Stars
ABS
F
2019
23278

Harryson Pereira

Harryson Pereira
L
Kimura
Sul Brasileiro
ABS
4F
2020
25331

Matheus Godoy

Matheus Godoy
L
Pts: 2x0
Rio Open
94KG
SF
2021
27316

Maique Azevedo

L
Pts: 2x0
Goiania Pro
94KG
F
2021
28082

Anderson Munis

Anderson Munis
L
Pts: 9x0
Brasileiro
100KG
R1
2021
28099

Henrique Cardoso

Henrique Cardoso
L
Pts: 6x2
Brasileiro
ABS
8F
2021
5292

Tanner Rice

Tanner Rice
W
Footlock
Pan American
ABS
R1
2014
5921

Felipe Souza

W
Omoplata
Sul Brasileiro
88KG
4F
2014
5922

Douglas Bueno

W
Points
Sul Brasileiro
88KG
SF
2014
5926

Vitor Toledo

Vitor Toledo
W
Adv
Sul Brasileiro
ABS
SF
2014
6399

Giovanne Dellamea

W
Submission
Sul Brasileiro
88KG
SF
2015
6400

Silas Oliveira

W
Submission
Sul Brasileiro
88KG
F
2015
6497

Tero Pyylampi

W
Pts: 2x0
European
ABS
R2
2015
6505

Henrique Lima

W
Armbar
European
ABS
R3
2015
7548

Henrique Lima

W
N/A
Curitiba Open
94KG
SF
2015
8854

Ricardo Mesquita

W
Points
BJJ Stars
ABS
SPF
2016
9888

Victor Silverio

Victor Silverio
W
Points
Miami SPO
88KG
SF
2016
9890

Ricardo Rezende

Ricardo Rezende
W
Omoplata
Miami SPO
88KG
F
2016
9895

Victor Genovesi

Victor Genovesi
W
Pts: 2x2, Adv
Miami SPO
R1
4F
2016
10341

Michael Reihner

W
N/A
Gramado Open
88KG
SF
2016
11830

Henrique Feijo

W
Omoplata
BH Summer Open
88KG
4F
2017
11840

Levy Oliveira

W
Cross choke
BH Summer Open
ABS
R1
2017
12937

Jose Portillo

W
Points
Miami SPO
88KG
SF
2017
15104

Joao Oliveira

W
N/A
ACB S. American
95KG
R1
2018
15273

Gustavo Saraiva

W
Submission
SA Continental Pro
94KG
4F
2018
15277

Luis Quinterio

W
Submission
SA Continental Pro
94KG
3RD
2018
16241

N/A

W
N/A
Brasileiro
82KG
R1
2018
16242

N/A

W
Triangle wristlock
Brasileiro
82KG
R2
2018
16244

N/A

W
Omoplata
Brasileiro
82KG
8F
2018
19331

Rodrigo Serafim

W
Triangle
BJJ Stars
ABS
4F
2019
19332

Adriano Silva

Adriano Silva
W
Points
BJJ Stars
ABS
SF
2019
23271

Harryson Pereira

Harryson Pereira
W
Omoplata
Sul Brasileiro
100KG
SF
2020
23272

Paulo Dantas

W
Wristlock
Sul Brasileiro
100KG
F
2020
23275

Gabriel Mendonca

W
Kimura
Sul Brasileiro
ABS
R1
2020
23386

Romulo Almeida

W
Wristlock
Curitiba SO
O100KG
R1
2020
23388

Andre Rudolfo

W
Omoplata
Curitiba SO
O100KG
4F
2020
23390

Raul Almeida

W
Armbar
Curitiba SO
O100KG
SF
2020
23392

Yatan Bueno

Yatan Bueno
W
Omoplata
Curitiba SO
O100KG
F
2020
25326

Felipe Pinheiro

W
Triangle
Rio Open
94KG
4F
2021
27315

Tyrone Gonsalves

W
Pts: 1x0
Goiania Pro
94KG
SF
2021
Jurandir Conceição vs Henrique Feijó

Jurandir Conceição 2017