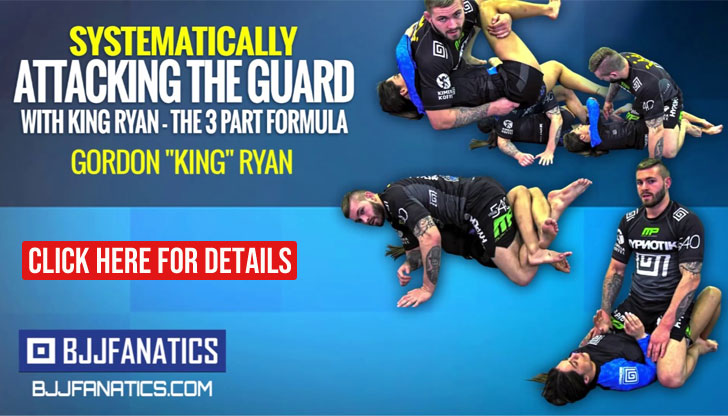 Kron Gracie is the son of jiu-jitsu legend Rickson Gracie, and a top contestant in the sport's black belt division with medals in the International Brazilian Jiu-Jitsu Federation (IBJJF) World Jiu-Jitsu Championship and an ADCC title (2013). A fierce competitor since his early teenage years,  Kron Gracie made a name for himself in the grappling scene at the lower belt divisions through an incredible run in some of the sport's most important tournaments, where he managed to establish a 51 straight submission win streak. Kron Gracie is also known by his "fundamentals" based jiu-jitsu style and for his exciting submission orientated grappling game, a style he used to transition to mixed martial arts (MMA). In MMA Kron Gracie has competed for important promotions such as RIZIN (Japan) and the Ultimate Fighting Championship (UFC).
Kron Gracie Jiu-Jitsu
Full Name: Kron Gracie
Nickname: "Ice Cream Kron" (unknown as to when it started).
Lineage: Mitsuyo Maeda > Carlos Gracie > Helio Gracie > Rickson Gracie > Kron Gracie
Main Achievements:
1st Place ADCC World Championship (2013)
1st Place IBJJF European Open (2009)
2nd Place IBJJF World Championship (2011)
2nd Place IBJJF Pans Championship (2009)
3rd Place IBJJF Pans Championship (2012**)
Main Achievements (Colored Belts):
1st Place IBJJF World Champion (2006 purple, 2007 brown)
1st Place CBJJO World Cup Champion (2006 purple)
1st Place Pro Sub League: X-Mission Champion (2006 purple)
1st Place IBJJF Pan American Champion (2005 purple, 2007/2008** brown)
* Absolute
** Weight and absolute
Favorite Position/Technique: Closed Guard
Weight Division: Peso Médio (82kg – 181lbs)
Team/Association: Rickson Gracie
Kron Gracie Biography
Kron Gracie was born in 1988 in Rio de Janeiro, Brazil, though he lived most of his life in Los Angeles, California – United States. Being the youngest son of Rickson Gracie and grandson of Gracie jiu-jitsu Grandmaster Helio Gracie, Kron Gracie became naturally involved with BJJ from his toddler years. A very young Kron Gracie can be seen playing jiu-jitsu with his father in the famous Rickson Gracie documentary entitled "Choke" from 1995. His first record of a competitive medal in BJJ dates back to 1998 when Kron was 10 years old at the American International Championship where Kron achieved first place in the yellow belt division.
On December 2000 tragedy hit the Gracie family as Kron's older brother Rockson Gracie passed away. Though young, Rockson was already an important member of the family with great charisma and his death caused great distress within the household. Kron was only 12 years old at the time, but nonetheless, he became the center of media attention, being seen as the next in line to defend the family's honor on the mats for the foreseeable future. Kron did not disappoint, his competitive record in the lower belt divisions was astounding, especially from his blue belt onward when he won the "Mundial" (World Championship), Pan American (on 4 occasions) and many other important tourneys.
After Kron Gracie won the Pan American championship in 2008 in both his weight division and the open weight, submitting everyone in his path, many in internet forums believed that he should have fought at the black belt division as he was clearly a cut above the rest of the competitors. As a result of such a magnificent display, Kron Gracie was promoted to black belt by his father and fought at the 2008 World Championships as an American fan favorite to win the trophy. This favoritism would not materialize as Kron lost in his first fight as a black belt being submitted by Sergio Moraes, a fighter virtually unknown by the American public at the time (though he had won the Mundial the previous year in the brown belt division). The defeat came as a blow to both the fans and Kron himself, but he managed to pick himself up and win the Europeans on the following year in a very special and emotional day, as it was only two days after the death of his grandfather, Grandmaster Helio Gracie.
Kron Gracie matured as a competitor in the years that followed, becoming one of the most venerated grapplers in the jiu-jitsu circuit, later joining the MMA world, a career he started in 2014, spending much of his fighting training with California's famous Scrap Pack group, a group known for stars such as the Diaz Brothers (Nick and Nate), Gilbert Melendez and more.
Kron Gracie Grappling Record
29 WINS
BY POINTS


BY ADVANTAGES




BY SUBMISSION




BY DECISION




BY PENALTIES




BY DQ



23 SUBMISSIONS WINS
#fad11b
Choke from back
9
2
11 LOSSES
BY POINTS


BY ADVANTAGES




BY SUBMISSION




BY DECISION




BY PENALTIES




BY DQ



3 SUBMISSIONS LOSSES
#214eb8
Arm in Ezekiel
33
1
Kron Gracie Fight History
Kron Gracie vs Victor Estima (2012)

Kron Gracie vs Otavio Sousa (2008)

Kron Gracie Brown Belt Highlight