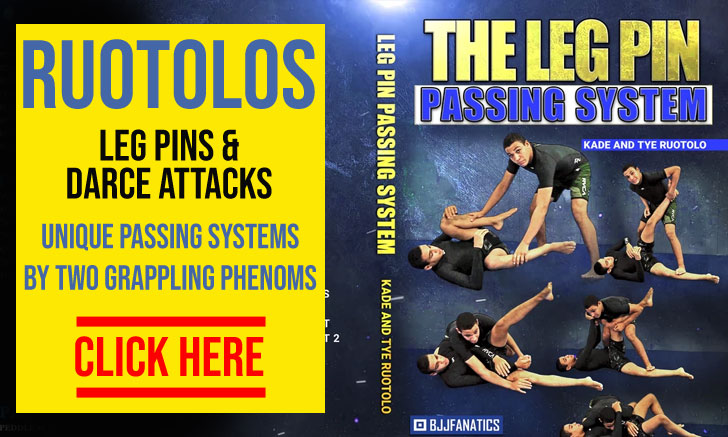 Kevin Mahecha is a respected jiu-jitsu black belt under Jonatas Gurgel, who is well known for his technical grappling style, one heavily reliant on modern techniques such as the berimbolo and crab-ride – a style he shares with his twin brother, the equally successful, Brian Mahecha. Although born in New York, Kevin is mostly known as one of Florida's foremost grapplers, the state he adopted during his adulthood. Kevin has defeated many of jiu-jitsu's top athletes, including Tim Spriggs, Michael Liera Jr, Rodrigo Freitas.
Kevin Mahecha Jiu-Jitsu
Full Name: Kevin Javier Mahecha
Nickname: n/a
Lineage: Carlos Gracie > Helio Gracie > Carlson Gracie > André Pederneiras > João Roque > Jonatas Gurgel > Kevin Mahecha
Main Achievements:
1st Place IBJJF Miami Open (2014*/2015)
1st Place IBJJF Miami Fall Open (2016)
1st Place IBJJF Miami Summer Open (2016)
1st Place Guatemala Open (2016)
1st Place IBJJF Boston Spring Open (2015)
1st Place IBJJF Atlanta Winter Open(2016)
2nd Place IBJJF American Nationals (2015)
2nd Place IBJJF Atlanta Spring Open (2017)
2nd Place IBJJF New York Summer Open (2013*)
2nd Place IBJJF Miami Summer Open (2017)
3rd Place IBJJF Dallas Open (2021)
3rd Place IBJJF Atlanta Winter Open (2016)
3rd Place IBJJF New York Pro Championship (2015)
3rd Place IBJJF New York Spring Open (2015)
3rd Place IBJJF New York Summer Open (2013)
Main Achievements (Colored Belts):
2nd Place IBJJF Pans Championship (2014 brown)
2nd Place IBJJF Miami Open (2013 brown)
3rd Place IBJJF World Championship (2010** blue)
3rd Place IBJJF Pans No-Gi Championship (2012 purple, 2013 brown)
3rd Place IBJJF American National No-Gi Championship (2012 brown)
3rd Place IBJJF Miami Open (2012 brown)
* Weight
** Weight and absolute
Favorite Position/Technique: Open Guard/Blitz Style Guard Passing
Weight Division: Peso Leve (76kg/167lbs)
Team/Association: American Top Team
Kevin Mahecha Biography
Kevin Mahecha was born on October 3rd, 1988 in Manhattan – New York, USA.
Growing up, both Kevin and his twin brother Brian felt strongly connected with martial arts/combat sports. This connection led Kevin Kevin to join a Kung Fu and Kickboxing club at the age of 15. His brother following his footsteps shortly after.
Over the next couple of years, the Mahecha brothers gravitated towards Kickboxing. With strong work ethics and a great mentor/role model by their side, coach Jarett "JP" Perelmutter, the two New Yorkers started making a name in the sport. Their strongest achievements being a silver medal at the prestigious IFK World Championship – 2008 (Kevin under muay Thai rules, Brian under international rules).
Mr. Perelmutter instilled in both athletes the drive to compete, pushing the Mahecha's to their limits from their formative years, onwards. This developed the revered work ethics that would characterize the brothers in their jiu-jitsu careers.
Jiu-jitsu was gradually implemented in the Mahecha's lives. The brothers first started playing with grappling concepts through Bas Rutten's DVDs, attempting to implement the techniques watched between themselves and often with their striking coach, Mr. Perelmutter. That curiosity eventually led the Brian and Kevin to the American Top Team academy (ATT) on November 2007, where both introduced to a jiu-jitsu curriculum by the illustrious Ricardo Libório.
The initial contact with Libório helped cement the two brothers' interest for jiu-jitsu. Another source of inspiration for the Mahechas was coach Emyr "Shark" Bussade who also led many of Brian and Kevin's early classes.
July 2008 brought a defining moment in the Mahecha bros lives when Kevin and Brian were awarded their respective blue belts by Master Ricardo Libório. It was after this proud moment that the brothers decided to make the decisive switch from striking to grappling, committing 100% to Brazilian jiu-jitsu.
Early in 2009, when coach Bussade opened his own academy in Wellington (still under the ATT umbrella) both of the Mahecha's followed the instructor, who promoted them to purple belt later that year. It was at ATT Wellington that the two brothers would start being a part of the coaching staff, developing a style of teaching heavily influenced by their coach.
In 2012 Kevin and his brother straightened their bond with another ATT coach, Jonatas "Tagarela" Gurgel who ran two team affiliates in the nearby area: Coconut Creek and Aventura. Tagarela and Shark both awarded the brothers their brown belts in a combined effort back in 2012. Two years later, on June 2014 it would be Gurgel who promoted the Mahecha clan to black belt.
Visit the Mahecha Brothers techniques website: mahechabjj.com
Kevin Mahecha Grappling Record
80 WINS
BY POINTS


BY ADVANTAGES




BY SUBMISSION




BY DECISION




BY PENALTIES




BY DQ



34 SUBMISSIONS WINS
#d1212a
Choke from back
6
2
#f58822
Outside heel hook
3
1
69 LOSSES
BY POINTS


BY ADVANTAGES




BY SUBMISSION




BY DECISION




BY PENALTIES




BY DQ



21 SUBMISSIONS LOSSES
#86e620
Choke from back
19
4
#224aba
Straight ankle lock
5
1
#bf1f6c
Straight armlock
5
1
Kevin Mahecha Fight History
ID
Opponent
W/L
Method
Competition
Weight
Stage
Year
6111

AJ Agazarm

AJ Agazarm
L
Pts: 7x5
NYC Pro
82KG
4F
2014
6281

Ricardo Rezende

Ricardo Rezende
L
Pts: 2x0
FIVE NAIC
ABS
F
2014
6305

Luan Carvalho

Luan Carvalho
L
Pts: 2x2
Miami Open
76KG
4F
2014
6423

AJ Agazarm

AJ Agazarm
L
Points
World Pro Trials
86KG
SF
2015
6813

AJ Agazarm

AJ Agazarm
L
Points
Pan American
76KG
4F
2015
7015

Ed Ramos

L
Kneebar
NY Spring Open
76KG
SF
2015
7026

Francisco Iturralde

Francisco Iturralde
L
Choke
NY Spring Open
ABS
4F
2015
7101

Lucas Lepri

Lucas Lepri
L
Choke
World Pro
75KG
R2
2015
7292

Renan Borges

L
Points
Boston Spring Open
76KG
SF
2015
7424

Mario Reis

Mario Reis
L
Armbar
World Champ.
70KG
8F
2015
7622

Osvaldo Moizinho

Osvaldo Moizinho
L
Armbar
American Nat.
76KG
SF
2015
8003

Vitor Oliveira

Vitor Oliveira
L
Pts: 2x2, Adv
Santa Cruz Open
82KG
4F
2015
8535

Otavio Sousa

Otavio Sousa
L
Pts: 2x0
IBJJF NY Pro
82KG
SF
2015
8598

Brian Mahecha

Brian Mahecha
L
Points
Houston Nat. Pro
77KG
F
2015
8601

Brian Mahecha

Brian Mahecha
L
Points
Houston Nat. Pro
O77KG
F
2015
8934

Edwin Najmi

Edwin Najmi
L
Toe hold
European Open
76KG
4F
2016
9050

Diego Bispo

Diego Bispo
L
N/A
Atlanta W. Open
76KG
SF
2016
9262

Masahiro Iwasaki

Masahiro Iwasaki
L
Pts: 4x2
Pan American
76KG
R1
2016
9543

Dany Gerard

Dany Gerard
L
Pts: 2x0
World Pro
ABS
8F
2016
9585

AJ Agazarm

AJ Agazarm
L
Pts: 2x0
World Pro
77KG
R1
2016
9980

Michael Langhi

Michael Langhi
L
Pts: 4x2
World Champ.
76KG
R2
2016
10445

Bruno Alves

Bruno Alves
L
Pts: 4x2
Grand Slam LA
77KG
4F
2016
10688

Edwin Najmi

Edwin Najmi
L
Straight ankle lock
Guatemala Open
76KG
SPF
2016
10705

G. Batista

L
Armbar
Guatemala Open
ABS
SPF
2016
11574

Luan Carvalho

Luan Carvalho
L
Botinha
European Open
76KG
4F
2017
12164

Andris Brunovskis

Andris Brunovskis
L
Armbar
Pan American
76KG
8F
2017
12877

Gilson Nunes

Gilson Nunes
L
Pts: 4x2
Atlanta Spring O.
76KG
F
2017
12933

Gilson Nunes

Gilson Nunes
L
Pts: 0x0, Adv
Miami SPO
76KG
F
2017
12942

Roberto Abreu

Roberto Abreu
L
Armbar
Miami SPO
ABS
4F
2017
13121

Edwin Najmi

Edwin Najmi
L
Choke from back
World Champ.
76KG
8F
2017
13343

Renato Canuto

Renato Canuto
L
Wristlock
American Nats
76KG
4F
2017
14194

Thiago Macedo

Thiago Macedo
L
Pts: 2x2, Adv
Miami FO
70KG
SF
2017
14213

Roberto Abreu

Roberto Abreu
L
Straight armlock
Miami FO
ABS
R2
2017
14404

Silvio Duran

Silvio Duran
L
Pts: 2x0
BJJ NY Pro
70KG
SF
2017
14533

Alexandre Molinaro

Alexandre Molinaro
L
Pts: 2x0
San Antonio Open
76KG
F
2017
14898

Isaac Doederlein

Isaac Doederlein
L
Choke from back
European Open
70KG
R1
2018
15374

Jonathan Van Buren

L
Referee Decision
Pan American
70KG
R1
2018
15887

Gilson Nunes

Gilson Nunes
L
Pts: 13x2
Atlanta Sp. Open
76KG
F
2018
15901

Alexandre Molinaro

Alexandre Molinaro
L
Points
Boston Sp. Open
76KG
SF
2018
16395

Gilson Nunes

Gilson Nunes
L
Points
Miami SPO
76KG
SF
2018
16476

Marcio Andre

Marcio Andre
L
Pts: 2x2, Adv
World Champ.
70KG
R2
2018
16699

Thiago Macedo

Thiago Macedo
L
Pts: 2x0
American Nat.
70KG
SF
2018
17269

Alexandre Molinaro

Alexandre Molinaro
L
Points
Las Vegas Open
76KG
4F
2018
17856

Gianni Grippo

Gianni Grippo
L
Choke from back
Miami FO
76KG
SF
2018
18891

Levi Jones

Levi Jones
L
Pts: 2x0
European Open
76KG
R1
2019
19592

Alexandre Molinaro

Alexandre Molinaro
L
Pts: 6x4
Pan American
76KG
8F
2019
20610

Yan Lucas

Yan Lucas
L
Referee Decision
World Champ.
76KG
R1
2019
21429

Alexandre Molinaro

Alexandre Molinaro
L
Pts: 4x2
Las Vegas Open
76KG
SF
2019
22203

Lucas Valente

Lucas Valente
L
Botinha
Miami FO
76KG
SF
2019
25193

Johnatha Alves

Johnatha Alves
L
Choke from back
Dallas Open
76KG
SF
2021
26265

Johnatha Alves

Johnatha Alves
L
Botinha
Miami Open
76KG
F
2021
26662

Italo Lins

Italo Lins
L
Pts: 2x2, Adv
American Nats
76KG
4F
2021
27244

Caio Caetano

Caio Caetano
L
Toe hold
Grand Slam MIA
77KG
4F
2021
27248

Fabricio Barbarotti

Fabricio Barbarotti
L
Pts: 3x2
Grand Slam MIA
77KG
RPC
2021
27574

Rodrigo Freitas

Rodrigo Freitas
L
Pts: 4x4, Adv
Pan American
76KG
4F
2021
29022

Daniel Diniz

Daniel Diniz
L
Adv
JJ CON
76KG
R1
2021
29496

Matheus Gabriel

Matheus Gabriel
L
50/50 armbar
World Champ.
76KG
8F
2021
31651

Sergio Soares

L
Pts: 8x6
Pan American
76KG
R2
2022
32907

Igor Feliz

Igor Feliz
L
Pts: 2x2, Adv
World Champ.
76KG
R1
2022
33675

Pablo Lavaselli

Pablo Lavaselli
L
Pts: 4x2
Austin SMO
76KG
SF
2022
33747

Elijah Dorsey

Elijah Dorsey
L
Pts: 4x2
Orlando SMO
76KG
4F
2022
34587

Ademir Barreto

Ademir Barreto
L
Pts: 6x4
Grand Slam MIA
69KG
R1
2022
34714

Alef Brito

Alef Brito
L
Pts: 2x2, Adv
JJ Con
76KG
4F
2022
35197

Pablo Lavaselli

Pablo Lavaselli
L
Pts: 2x0
Atlanta FO
76KG
F
2022
36168

Pablo Lavaselli

Pablo Lavaselli
L
Points
Nashville Open
76KG
F
2022
37165

Max Lindblad

Max Lindblad
L
Pts: 4x2
European Open
76KG
R1
2023
38370

Johnatha Alves

Johnatha Alves
L
Pts: 0x0, Adv
Pan American
76KG
4F
2023
39653

Lukete Silva

Lukete Silva
L
Pts: 2x0
Atanta SPO
76KG
SF
2023
40156

Joao Machado

L
Pts: 2x0
World Champ.
76KG
R1
2023
6265

Michael Liera

Michael Liera
W
Pts: 6x0
FIVE NAIC
82KG
F
2014
6310

Marcelo Salazar

Marcelo Salazar
W
Toe Hold
Miami Open
ABS
4F
2014
6311

Diogo Almeida

Diogo Almeida
W
Pts: 12x0
Miami Open
ABS
SF
2014
6426

AJ Sousa

AJ Sousa
W
Pts: 0x0, Adv
World Pro Trials
ABS
4F
2015
6803

Brian Miller

W
Armbar
Pan American
76KG
R1
2015
7014

Nicollas Welker

W
Toe Hold
NY Spring Open
76KG
4F
2015
7096

Higor Almo

W
Armbar
World Pro
75KG
R1
2015
7289

Garrett Beck

W
Pts: 10x0
Boston Spring Open
76KG
4F
2015
7291

Diego Bispo

Diego Bispo
W
Toe Hold
Boston Spring Open
76KG
SF
2015
7293

Renan Borges

W
Points
Boston Spring Open
76KG
F
2015
7616

John Lawrence

W
Armbar
American Nat.
76KG
R1
2015
7619

Rodrigo Freitas

Rodrigo Freitas
W
Pts: 6x2
American Nat.
76KG
4F
2015
7621

Vitor Paschoal

W
Points
American Nat.
76KG
SF
2015
8289

Vitor Riciotti

W
Armbar
Miami Open
76KG
SF
2015
8290

Marcel Goncalves

Marcel Goncalves
W
Toe hold
Miami Open
76KG
F
2015
8532

Brian Beaury

Brian Beaury
W
Points
IBJJF NY Pro
82KG
4F
2015
8597

Jose Portillo

W
Pts: 6x2
Houston Nat. Pro
77KG
SF
2015
8600

Spencer Guilliam

W
Armbar
Houston Nat. Pro
O77KG
SF
2015
8929

Rafael Fernandes

W
Armbar
European Open
76KG
R1
2016
8932

Sandro Vieira

W
Pts: 2x0
European Open
76KG
R2
2016
9049

Jef. Cummings

W
Adv
Atlanta W. Open
76KG
4F
2016
9512

Andre Arruda

W
Toe hold
World Pro
ABS
R1
2016
9882

Gabriel Goulart

Gabriel Goulart
W
Pts: 2x2, Adv
Miami SPO
76KG
SF
2016
9883

Matias Simonelli

W
Armbar
Miami SPO
76KG
F
2016
9966

Choi Choi

W
Pts: 0x0, Adv
World Champ.
76KG
R1
2016
10695

Rodrigo Barros

W
Armbar
Guatemala Open
76KG
4F
2016
10699

Isaac Doederlein

Isaac Doederlein
W
Adv
Guatemala Open
76KG
SF
2016
10701

Osvaldo Moizinho

Osvaldo Moizinho
W
Adv
Guatemala Open
76KG
F
2016
11569

Bruno Martins

W
Injury
European Open
76KG
8F
2017
12145

Frederico Silva

W
Pts: 4x2
Pan American
76KG
R1
2017
12876

Glaudiston Simczak

W
Armbar
Atlanta Spring O.
76KG
SF
2017
12930

G. Simczak

W
Armbar
Miami SPO
76KG
4F
2017
12932

Frederico Alves

W
Pts: 6x4
Miami SPO
76KG
SF
2017
13112

Johnny Tama

Johnny Tama
W
Pts: 2x2, Adv
World Champ.
76KG
R1
2017
13341

Johnny Tama

Johnny Tama
W
Pts: 4x2
American Nats
76KG
R1
2017
14211

Unknown

W
Pts: 2x0
Miami FO
ABS
R1
2017
14399

Darson Hemmings

Darson Hemmings
W
Pts: 2x2, Adv
BJJ NY Pro
70KG
R1
2017
14402

Gianni Grippo

Gianni Grippo
W
Pts: 6x6, Adv
BJJ NY Pro
70KG
4F
2017
14531

James Guyton

W
Points
San Antonio Open
76KG
RR
2017
15897

Filipe Desouza

W
N/A
Boston Sp. Open
76KG
4F
2018
16394

Julio Tavares

W
Armbar
Miami SPO
76KG
4F
2018
16464

Wellington Dias

Wellington Dias
W
Pts: 5x0
World Champ.
70KG
R1
2018
16695

Eduardo Botega

W
Pts: 4x2
American Nat.
70KG
4F
2018
16873

Chris Kriebel

W
Points
Nashville Open
70KG
SF
2018
16875

Deandre Corbe

Deandre Corbe
W
Armbar
Nashville Open
70KG
F
2018
17036

Raphael Cadena

W
Points
Orlando Open
70KG
SF
2018
17267

Rafael Domingos

W
N/A
Las Vegas Open
76KG
R1
2018
17848

Eduardo Mulki

W
Armbar
F2W 89
N/A
SPF
2018
17853

Rene Arango

W
Points
Miami FO
76KG
4F
2018
19084

Brandon Oakes

W
Armbar
ADCC WC Trials
77KG
R1
2019
19088

Enrique Galarza

W
RNC
ADCC WC Trials
77KG
R2
2019
19590

Rodrigo Freitas

Rodrigo Freitas
W
Pts: 0x0, Adv
Pan American
76KG
8F
2019
20201

Sam Eckstein

W
Armbar
Sub Stars
77KG
R1
2019
20202

Solan Thomas

W
Armbar
Sub Stars
77KG
4F
2019
20203

Benjamin Kunzle

W
Kneebar
Sub Stars
77KG
SF
2019
20204

Gabriel Mees

W
Outside heel hook
Sub Stars
77KG
F
2019
20475

Felipe Linhares

Felipe Linhares
W
Armbar
Miami SPO
76KG
SF
2019
21423

Joel Santiago

W
Armbar
Las Vegas Open
76KG
R1
2019
21427

Thiago Lemos

W
Pts: 4x2
Las Vegas Open
76KG
4F
2019
22201

Brian Gomez

W
N/A
Miami FO
76KG
4F
2019
25985

Dylan Whyte

W
Armbar
SUBVERSIV 5
77KG
SPF
2021
26260

Rodrigo Gortari

W
Points
Miami Open
76KG
4F
2021
26264

Gianni Grippo

Gianni Grippo
W
Referee Decision
Miami Open
76KG
SF
2021
26537

Giovanni Carvalho

W
Choke from back
Atlanta Open
76KG
SF
2021
26538

Charles Murdock

W
Armbar
Atlanta Open
76KG
F
2021
27240

Diego Lopes

W
Pts: 4x2
Grand Slam MIA
77KG
R1
2021
27566

Giann Moramarco

W
Armbar
Pan American
76KG
R1
2021
29489

Wellington Dias

Wellington Dias
W
Pts: 2x2, Adv
World Champ.
76KG
R1
2021
30680

Fabricio Barbarotti

Fabricio Barbarotti
W
Pts: 2x0
Miami WO
76KG
SF
2022
30681

Kennedy Maciel

Kennedy Maciel
W
Choke from back
Miami WO
76KG
F
2022
31645

Lucas Gualberto

Lucas Gualberto
W
Pts: 0x0, Adv
Pan American
76KG
R1
2022
32498

Joao Machado

W
Pts: 4x4, Adv
Atlanta SPO
76KG
4F
2022
32501

Frederico Alves

W
Pts: 10x4
Atlanta SPO
76KG
SF
2022
32502

Ariel Tabak

Ariel Tabak
W
Pts: 6x4
Atlanta SPO
76KG
F
2022
35194

Theodore Sanders

W
Kneebar
Atlanta FO
76KG
4F
2022
35195

Colon Santana

W
Pts: 8x2
Atlanta FO
76KG
SF
2022
37762

Bernardo Delibero

W
Armbar
Tampa Open
76KG
4F
2023
37767

Ryan Vargas

W
Armbar
Tampa Open
76KG
SF
2023
37768

Leo Silva

Leo Silva
W
Referee Decision
Tampa Open
76KG
F
2023
38358

Matheus Galvao

W
Pts: 7x0
Pan American
76KG
R1
2023
Kevin Mahecha vs Tim Spriggs (2013)

Kevin Mahecha vs Marcel Goncalves (2015)