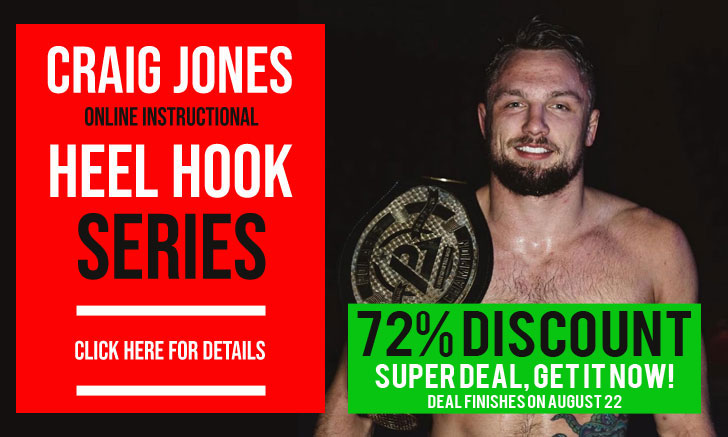 Antonio Carlos Junior, also known as "Cara de Sapato" (shoe face) is a Brazilian Jiu Jitsu black belt under Helder "Bob Esponja" Medeiros from the Checkmat Team (Paraíba state affiliate), who was ranked as the "#1 BJJ Fighter to Watch" in 2011 by the well established Gracie Magazine. With an extensive list of medals in important tournaments such as the Mundial and the Brazilian Nationals, Antonio Carlosbecame part of an exciting generation of competitors that started making a name for themselves at international tournaments at the turn of the 2010 decade. Cara de Sapato has since moved to a career in Mixed Martial Arts, where he earned his spot at the The Ultimate Fighter house in the TUF Brazil heavyweights season (Wanderlei Silva x Chael Sonnen), the UFC's reality show.
Antonio Carlos Jiu Jitsu
Full Name: Antonio Carlos Coelho de Figueiredo Barbosa Júnior
Nickname: "Cara de Sapato" which literally means shoe face (shoe shaped chin), the nickname first came up when Ricardo Vieira was giving a seminar at Antonio's academy. Vieira is renowned for giving funny nicknames to everyone he meets, and he saw Antonio as having a bigger chin then his(!), thus the name.
Lineage: Mitsuyo Maeda > Carlos Gracie > Helio Gracie > Rolls Gracie > Romero Cavalcanti > Ricardo Vieira > Helder Medeiros > Antonio Carlos
Main Achievements:
IBJJF Pan American Champion (2012*)
CBJJ Brazilian National Champion (2012*)
UAEJJF Pro Cup Trials Champion – RJ (2011**)
IBJJF Pan American 2nd Place (2012)
Main Achievements (Colored Belts):
IBJJF World Champion (2010** brown)
CBJJ Brazilian Champion (2011 / 2010** brown, 2009 /purple, 2008** blue)
CBJJ Juvenile Brazilian Champion (2007**)
IBJJF South American Champion (2008** purple, 2007 blue junior)
IBJJF Juvenile South American Champion (2007)
CBJJBrazilian National Teams Champion (2008 / 2007)
* Absolute
** Weight and absolute
Favorite Position/Technique: Taking the back from De La Riva Guard
Weight Division: Peso Pesado (94kg/207lbs)
Team/Association: Checkmat
Antonio Carlos Junior Biography
Antonio Carlos Junior was born on the 16th of March, 1990 in João Pessoa, state of Paraíba – Brazil. He lived in Salvador da Bahia for a while, and it was there that he began his jiu jitsu training in 2005 with Renato Velame as an instructor. It was Renato Velame who graduated Antonio Carlos with the blue belt, Antonio then moved back to his hometown of Joao Pessoa, picking up where he had left off, training with the acclaimed instructor and competitor, Helder Medeiros – nicknamed "Bob Esponja" (Sponge Bob Square Pants) – it was training under Medeiros that Antonio Carlos blossomed to BJJ with several significant victories in many important state, national and international level competitions.
Cara de Sapato was pointed out by Gracie Mag as the number 1 fighter to watch in 2011 (see article here) after his victory at the Mundial earlier in 2010 where he won both his weight and the open weight division, closing both finals with his team mate Marcos Buchecha. "Cara de Sapato" would receive his black belt while still on the podium of the World Pro Cup Trials, after he submitted several high caliber competitors in the mixed brown and black belt division.
In 2013 Antonio Carlos Junior decided to put a hold on his competitive Jiu Jitsu career to try his shot at an MMA (mixed martial arts) career. "Cara de Sapato" had a rampant start with 3 straight submission wins in the professional circuit in Brazil, which earned him a spot at The Ultimate Fighter House in the TUF Brazil heavyweights season (Wanderlei Silva x Chael Sonnen), reaching the final of the event.
Antonio Carlos Grappling Record
18 WINS
BY POINTS


BY ADVANTAGES




BY SUBMISSION




BY DECISION




BY PENALTIES




BY EBI/OT



8 SUBMISSIONS WINS
#214eb8
Flying triangle
25
2
#f58822
Triangle-armbar
13
1
8 LOSSES
BY POINTS


BY ADVANTAGES




BY SUBMISSION




BY DECISION




BY PENALTIES




BY DQ



3 SUBMISSIONS LOSSES
#5AD3D1
Reverse triangle
33
1
Antonio Carlos Fight History
ID
Opponent
W/L
Method
Competition
Weight
Stage
Year
2907

Rodolfo Vieira

Rodolfo Vieira
L
Points
World Pro.
92KG
SF
2011
2917

Andre Galvao

Andre Galvao
L
Points
World Pro.
ABS
4F
2011
2974

Rafael Lovato

Rafael Lovato
L
Triangle
World Champ.
ABS
R2
2011
3642

Bernardo Faria

Bernardo Faria
L
Pts: 10x5
Pan American
O100KG
F
2012
3802

Alexandre Ribeiro

Alexandre Ribeiro
L
Armbar
World Pro.
99KG
SF
2012
3898

Leo Nogueira

Leo Nogueira
L
Pts: 9x2
World Champ.
ABS
SF
2012
11383

Gordon Ryan

Gordon Ryan
L
Reverse triangle
Sapateiro 6
ABS
4F
2017
18019

Hygor Brito

Hygor Brito
L
Pts: 2x0
South American
94KG
4F
2018
2906

Bernardo Faria

Bernardo Faria
W
Triangle-armbar
World Pro.
92KG
4F
2011
2950

Fabiano Boi

W
Pts: 2x0
Brasileiro
100KG
NA
2011
2959

Ryan Beuregard

W
Pts: 6x2
World Champ.
ABS
R1
2011
3108

Roberto Alencar

Roberto Alencar
W
Pts: 4x2
World Champ.
94KG
4F
2011
3528

Ben Baxter

Ben Baxter
W
Choke
Pan American
ABS
R1
2012
3535

Leandro Lo

Leandro Lo
W
Flying triangle
Pan American
ABS
R2
2012
3543

Wander Costa

W
Verbal tap
Pan American
ABS
4F
2012
3545

Bernardo Faria

Bernardo Faria
W
Pts: 4x2
Pan American
ABS
SF
2012
3639

David Gill

W
Submission
Pan American
O100KG
4F
2012
3641

Felipe Bueno

W
RNC
Pan American
O100KG
SF
2012
3800

Marcel Fortuna

Marcel Fortuna
W
N/A
World Pro.
99KG
4F
2012
3839

Antonio Peinado

Antonio Peinado
W
Kimura
Brasileiro
ABS
4F
2012
3840

Romulo Barral

Romulo Barral
W
Pts: 4x0
Brasileiro
ABS
SF
2012
3889

Leandro Lo

Leandro Lo
W
Pts: 2x2, Adv
World Champ.
ABS
R2
2012
3894

Romulo Barral

Romulo Barral
W
Pts: 2x0
World Champ.
ABS
4F
2012
4102

James Puopolo

James Puopolo
W
Points
World Champ.
100KG
R2
2012
11375

Marcel Goncalves

Marcel Goncalves
W
EBI/OT
Sapateiro 6
ABS
R1
2017
11572

Garry Tonon

Garry Tonon
W
Flying triangle
SUG 3
ABS
SPF
2017
Antonio Carlos Jr vs Leandro Lo (Mundial 2012)

Antonio Carlos Jr vs Bernardo Faria (World Pro Cup 2011)

Antonio Carlos vs Antonio Peinado (Brasileiro 2012)

Antonio Carlos Jr vs Romulo Barral (Brasileiro 2012)

Antonio Carlos vs unknown (Brasileiro 2011)