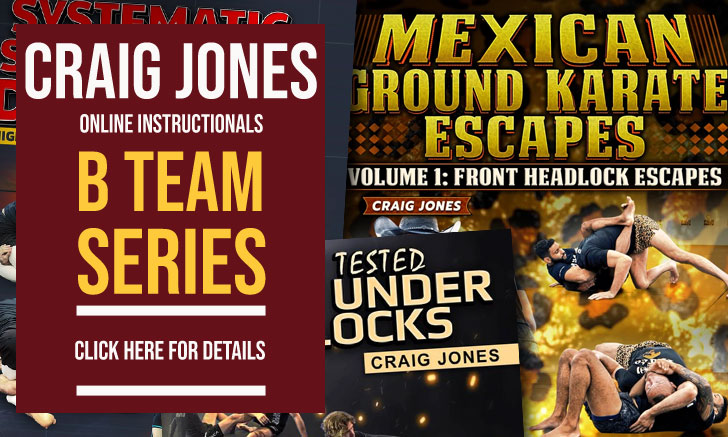 Michael Langhi is a Brazilian Jiu-Jitsu black belt under the legendary Rubens Charles "Cobrinha" and widely regarded as one of the top lightweight competitors of his generation. Known for his very technical guard, Langhi's sporting accolades earned him the title of "BJJ Fighter of the year" by the press in 2009, his second year as a black belt, Langhi would later become the head coach of the Alliance Headquarters Academy in Brazil. Michael is also the older brother of another former grappling star, Michel Langhi who was awarded his black belt in 2011.
Michael Langhi Jiu Jitsu
Full Name: Michael Alexandre Langhi
Nickname: n/a
Lineage: Mitsuyo Maeda > Carlos Gracie > Helio Gracie > Rolls Gracie > Romero Cavalcanti > Alexandre Paiva > Fernando Augusto > Rubens Charles > Michael Langhi
Main Achievements:
1st Place IBJJF World Championship (2009 / 2010 / 2015)
1st Place IBJJF World Championship No-Gi (2015)
1st Place IBJJF Pan Championship (2009 / 2010 / 2011 / 2013 / 2014)
1st Place CBJJ Brazilian Nationals (2008 / 2009 / 2013 / 2016 / 2017)
1st Place CBJJ Brazilian Nationals No-Gi (2009)
1st Place IBJJF European Open (2009 / 2010 / 2011 / 2013 / 2014 / 2015 / 2018)
1st Place IBJJF European Open No-Gi (2012)
Weight Category: Peso Leve (76,00 kg / 168.0 lbs)
Favorite Position: Spider Guard/Open Guard
Affiliation/Team: Team Alliance
Michael Langhi Biography
Michael was born in 1985 in Sao Carlos, a city in the State of Sao Paulo – Brazil. He started his martial arts career at an early age in the Brazilian art of capoeira in the town of Londrina. It was at the capoeira gym that he met Rubens Charles, who would later become one of the best featherweight jiu-jitsu athletes of all time.
Langhi's first contact with jiu-jitsu came about by the end of 2001 when Rubens invited Langhi to participate in one of his classes. Rubens Charles, also known as "Cobrinha", was a purple belt then and was kick-starting his new grappling academy in Londrina (Paraná).
Langhi immediately fell in love with jiu-jitsu, earning his first international title at the age of 19 by winning the IBJJF World Championship as a blue belt. He repeated the deed in 2006 (purple), and 2007 (brown) before earning his black belt from Cobrinha (2008).
One year after earning his black belt, Michael Langhi won all 4 top tournaments in the IBJJF jiu-jitsu circuit (European Open, Brazilian National, World Championship and Pan American), one of the toughest achievements in the sport, earning him the recognition as the best jiu-jitsu competitor of 2009.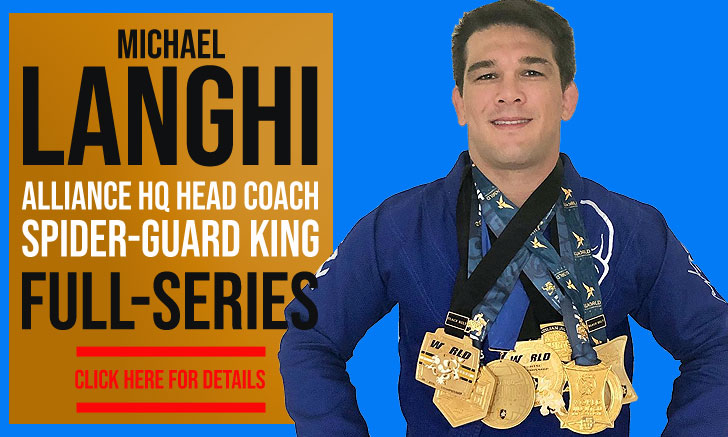 Michael Langhi Grappling Record
87 WINS
BY POINTS


BY ADVANTAGES




BY SUBMISSION




BY DECISION




BY PENALTIES




BY DQ



35 SUBMISSIONS WINS
#214eb8
Choke from back
37
13
#5AD3D1
Bow and arrow
9
3
#22c9a5
Choke f/ omoplata
3
1
#039a1f
Arm in Ezekiel
3
1
16 LOSSES
BY POINTS


BY ADVANTAGES




BY SUBMISSION




BY DECISION




BY PENALTIES




BY DQ



1 SUBMISSION LOSSES
Michael Langhi Fight History
ID
Opponent
W/L
Method
Competition
Weight
Stage
Year
1863

Celso Vinicius

Celso Vinicius
L
Referee Decision
Pan American
76KG
SF
2008
1923

Celso Vinicius

Celso Vinicius
L
Points
World Champ.
76KG
SF
2008
2909

Leandro Lo

Leandro Lo
L
Pts: 4x0
World Pro.
74KG
SF
2011
2926

Rodolfo Vieira

Rodolfo Vieira
L
Armbar
World Pro.
ABS
4F
2011
2957

Leandro Lo

Leandro Lo
L
Adv
Brasileiro
76KG
F
2011
3134

Kron Gracie

Kron Gracie
L
Referee Decision
World Champ.
76KG
SF
2011
3503

Roberto Satoshi

Roberto Satoshi
L
Pts: 4x4, Adv
European Open
76KG
SF
2012
3838

Leandro Lo

Leandro Lo
L
Pts: 2x0
Brasileiro
76KG
F
2012
4789

Leandro Lo

Leandro Lo
L
Pts: 2x0
World Champ.
76KG
F
2013
5787

JT Torres

JT Torres
L
Pts: 4x4, Adv
World Champ.
76KG
SF
2014
7228

Luan Carvalho

Luan Carvalho
L
Referee Decision
Brasileiro
76KG
SF
2015
9977

Gabriel Rollo

Gabriel Rollo
L
Referee Decision
World Champ.
76KG
4F
2016
11948

Edwin Najmi

Edwin Najmi
L
Referee Decision
ACBJJ 4
75KG
SF
2017
13116

Roberto Satoshi

Roberto Satoshi
L
Pts: 2x0
World Champ.
76KG
4F
2017
16498

Renato Canuto

Renato Canuto
L
Pts: 2x2, Adv
World Champ.
76KG
R3
2018
20610

Renato Canuto

Renato Canuto
L
Pts: 2x0
World Champ.
76KG
4F
2019
1862

Rafael Barbosa

Rafael Barbosa
W
Pts: 2x0
Pan American
76KG
4F
2008
1889

Michel Maia

W
Choke from back
Brasileiro
76KG
SF
2008
1890

Vinicius Marinho

Vinicius Marinho
W
Pts: 4x0
Brasileiro
76KG
F
2008
1918

F. Sabatini

W
Arm in Ezekiel
World Champ.
76KG
4F
2008
2058

Cleber Lopes

W
Points
Capital Challenge
77KG
4F
2008
2061

Yan Cabral

W
Referee Decision
Capital Challenge
77KG
SF
2008
2063

Sergio Moraes

Sergio Moraes
W
Triangle
Capital Challenge
77KG
F
2008
2097

Thibaut Olivier

Thibaut Olivier
W
Choke
European
76KG
SF
2009
2098

Daisuke Sugie

W
Cross choke
European
76KG
F
2009
2104

Unknown

W
Choke from back
European
ABS
R1
2009
2135

Marcelo Garcia

Marcelo Garcia
W
Adv
World Pro.
76KG
F
2009
2159

Augusto Mendes

Augusto Mendes
W
Armbar
Pan American
76KG
SF
2009
2197

Helder Medeiros

Helder Medeiros
W
Pts: 0x0, Adv
Brasileiro NoGi
76KG
F
2009
2330

Augusto Mendes

Augusto Mendes
W
Pts: 4x4, Adv
World Champ.
76KG
4F
2009
2333

Philipe Monica

W
Pts: 4x2
World Champ.
76KG
SF
2009
2334

Gilbert Burns

Gilbert Burns
W
Pts: 9x2
World Champ.
76KG
F
2009
2484

Unknown

W
Armbar
European
76KG
4F
2010
2486

JT Torres

JT Torres
W
Adv
European
76KG
SF
2010
2540

Rodrigo Freitas

Rodrigo Freitas
W
Bow and arrow
Pan American
76KG
4F
2010
2542

Jonatas Gurgel

Jonatas Gurgel
W
Choke from back
Pan American
76KG
SF
2010
2681

Bernardo Campos

W
Bow and arrow
World Champ.
76KG
4F
2010
2683

Gilbert Burns

Gilbert Burns
W
Referee Decision
World Champ.
76KG
SF
2010
2685

Celso Vinicius

Celso Vinicius
W
Referee Decision
World Champ.
76KG
F
2010
2798

Kleidson Viana

W
Triangle
World Pro Trials
77KG
4F
2011
2800

J. Carlos

W
Armbar
World Pro Trials
77KG
SF
2011
2802

Gilbert Burns

Gilbert Burns
W
Points
World Pro Trials
77KG
F
2011
2877

JT Torres

JT Torres
W
Choke from back
Pan American
76KG
SF
2011
2955

Davi Ramos

Davi Ramos
W
Points
Brasileiro
76KG
SF
2011
3026

Unknown

W
DQ
World Champ.
76KG
RDS
2011
3030

Carlos Vieira

W
Submission
World Champ.
76KG
RDS
2011
3107

Davi Ramos

Davi Ramos
W
Pts: 4x0
World Champ.
76KG
4F
2011
3415

Wesley Fe

W
Brabo choke
FL BJJ Open
76KG
F
2011
3498

Pakisi Nginga

W
Bow and arrow
European Open
76KG
4F
2012
3692

Claudio Mattos

Claudio Mattos
W
Pts: 8x4
Copa Podio
ABS
SPF
2012
3836

A. Souza

W
N/A
Brasileiro
76KG
SF
2012
4286

Nic Ruben

Nic Ruben
W
Pts: 11x0
European NoGi
82KG
SF
2012
4287

Matheus Barros

W
N/A
European NoGi
82KG
F
2012
4294

Pedro Bessa

W
Choke from back
London Open
82KG
F
2012
4442

Vinicius Marinho

Vinicius Marinho
W
Pts: 9x4
European Open
76KG
F
2013
4564

Yoshinobu Kakizawa

W
Points
Pan American
76KG
R2
2013
4569

JT Torres

JT Torres
W
Choke
Pan American
76KG
SF
2013
4783

Zak Maxwell

Zak Maxwell
W
Pts: 8x2
World Champ.
76KG
4F
2013
4787

Rodrigo Caporal

Rodrigo Caporal
W
Pts: 6x4
World Champ.
76KG
SF
2013
5248

Uknown

W
Monoplata
European
76KG
4F
2014
5249

Sandro Vieira

W
Choke from back
European
76KG
SF
2014
5347

Julian Vega

W
Pts: 8x0
Pan American
76KG
R1
2014
5353

Marcel Goulart

W
Choke from back
Pan American
76KG
4F
2014
5357

Della Monica

W
Choke f/ omoplata
Pan American
76KG
SF
2014
5777

H. Takamoto

W
N/A
World Champ.
76KG
R1
2014
5780

Helton Ambo

W
Choke from back
World Champ.
76KG
8F
2014
5784

Philipe Furão

W
Triangle
World Champ.
76KG
4F
2014
6430

Lucas Ramos

W
Armbar
Brazil Nat. Pro
75KG
4F
2015
6545

Alex Cabanes

W
Pts: 21x0
European
76KG
R2
2015
6552

Thibaut Olivier

Thibaut Olivier
W
Pts: 12x0
European
76KG
4F
2015
6556

Sandro Vieira

W
Pts: 4x0
European
76KG
SF
2015
6558

Gabriel Rollo

Gabriel Rollo
W
Referee Decision
European
76KG
F
2015
7225

Unknown

W
Choke from back
Brasileiro
76KG
4F
2015
7430

AJ Sousa

AJ Sousa
W
Points
World Champ.
76KG
8F
2015
7438

Samuel Hertzog

W
Pts: 2x0
World Champ.
76KG
4F
2015
7443

JT Torres

JT Torres
W
Pts: 2x2, Adv
World Champ.
76KG
SF
2015
8404

Cristian Lopez

W
RNC
NoGi Worlds
73KG
8F
2015
8411

Garry Tonon

Garry Tonon
W
Pts: 4x2
NoGi Worlds
73KG
4F
2015
8416

Thiago Abreu

Thiago Abreu
W
Pts: 0x0, Adv
NoGi Worlds
73KG
SF
2015
8417

Mansher Khera

Mansher Khera
W
Pts: 0x0, Adv
NoGi Worlds
73KG
F
2015
9739

Julio da Silva

W
N/A
Brasileiro
76KG
8F
2016
9746

Almir Dantas

W
N/A
Brasileiro
76KG
4F
2016
9748

Theodoro Canal

Theodoro Canal
W
N/A
Brasileiro
76KG
SF
2016
9974

Kevin Mahecha

Kevin Mahecha
W
Pts: 4x2
World Champ.
76KG
R2
2016
11234

Rafael Mansur

Rafael Mansur
W
Choke from back
South American
76KG
SF
2016
11945

Rodrigo Caporal

Rodrigo Caporal
W
Points
ACBJJ 4
75KG
4F
2017
12418

Rafael Mansur

Rafael Mansur
W
N/A
Floripa Fall Open
76KG
4F
2017
12421

Luciano Bernert

W
N/A
Floripa Fall Open
76KG
SF
2017
12743

Eric Lopez

W
Choke from back
Brasileiro
76KG
R1
2017
12754

Andre Baccarin

W
Armbar
Brasileiro
76KG
R2
2017
12756

Ricardo Rocha

W
Choke from back
Brasileiro
76KG
4F
2017
12761

Matheus Costa

Matheus Costa
W
DQ
Brasileiro
76KG
SF
2017
12762

Gabriel Rollo

Gabriel Rollo
W
Pts: 2x0
Brasileiro
76KG
F
2017
13115

Caio Almeida

Caio Almeida
W
Choke from back
World Champ.
76KG
8F
2017
14903

John Combs

John Combs
W
Armlock
European Open
76KG
R1
2018
14912

Tommi Pulkkanen

W
Pts: 5x0
European Open
76KG
4F
2018
14915

Hugo Marques

Hugo Marques
W
Armbar
European Open
76KG
SF
2018
14916

Masahiro Iwasaki

Masahiro Iwasaki
W
Pts: 0x0, Adv
European Open
76KG
F
2018
15315

Marcio Andre

Marcio Andre
W
Referee Decision
ACBJJ 11
75KG
SPF
2018
16333

Victor Silverio

Victor Silverio
W
Referee Decision
ACBJJ 13
75KG
SPF
2018
16493

Yan Cabral

W
Pts: 7x2
World Champ.
76KG
R2
2018
20602

Fabricio Barbarotti

Fabricio Barbarotti
W
Pts: 2x0
World Champ.
76KG
R1
2019
26712

Claudio Mattos

Claudio Mattos
W
Pts: 2x0
BJJ Stars
ABS
82KG
2021
Michael Langhi Highlight

Michael Langhi vs Gilbert Burns (Atos Team) Final of 2009 Mundial

Michael Langhi vs Gilbert Burns WJJPC trials

Michael Langui x Daisuke Sugie – Europeans 2009