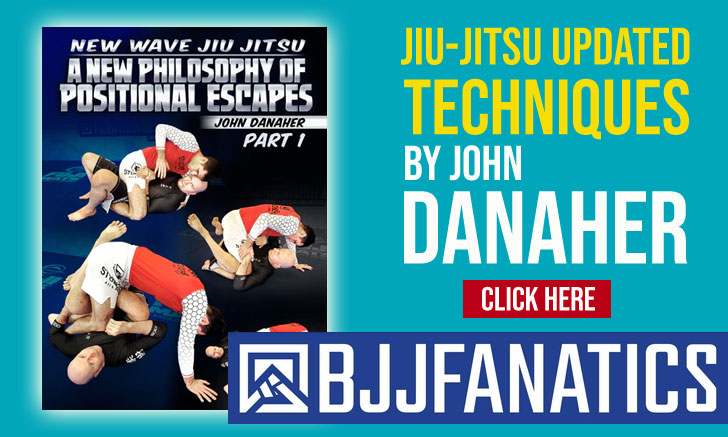 João Mendes, often referenced as João "Bisnaga", is a jiu-jitsu black belt under André Galvão, being also one of the main representatives of the Atos Jiu-Jitsu Academy in this sport/martial art's international competitive circuit. Bisnaga is also one of the top grapplers of the featherweight division (70,00 kg / 154.5 lbs), a status conquered after several important wins in the International Brazilian Jiu-Jitsu Federation (IBJJF) tour.
João Mendes Jiu Jitsu
Full Name: João Pedro Bueno Mendes
Nickname: "Bisnaga" is a Portuguese term for a Water Gun or an Ointment Tube, although it is also used colloquially to represent a "momma's boy" of sorts, in João's case, the name is a reference to the latter. Back in 2017, in an interview to BJJ Heroes, João explained the event that led to his nickname – "The first day when my dad dropped me at the [BJJ] academy, in the spur of the moment he told the coach 'take good care of my Bisnaga'. I tried to deny the nickname on the spot, but was too quiet in my attempt and everyone started calling me this from then on".
Lineage: Carlos Gracie > R. Gracie > Osvaldo Alves > Luis Dagmar > André Galvão> João Mendes
Main Achievements:
1st Place Fresno Open (2019)
1st Place IBJJF Floripa Open (2018)
1st Place IBJJF Curitiba Spring Open (2018)
2nd Place IBJJF American Nationals (2021)
2nd Place UAEJJF Grand Slam, RJ (2018)
3rd Place IBJJF European Open (2019)
3rd Place UAEJJF Grand Slam, MIA (2020)
Main Achievements:
1st Place IBJJF World Championship (2016 purple)
1st Place IBJJF World Championship Juvenile (2013**/2014**)
1st Place IBJJF Pan Championship Juvenile (2014**)
1st Place CBJJ Brazilian Nationals Juvenile (2013**/2014)
1st Place IBJJF Sul Brasileiro Championship (2015 purple)
1st Place IBJJF San Diego Open (2017 brown)
1st Place IBJJF Las Vegas Open (2017 brown)
1st Place UAEJJF Curitiba Pro (2016 purple)
2nd Place IBJJF World Championship (2017 brown)
2nd Place IBJJF Pan Championship (2018 brown)
3rd Place IBJJF World Championship (2018 brown)
3rd Place CBJJ Brazilian Nationals (2015 blue)
* Absolute
** Weight and absolute
Favorite Position/Technique: Omoplata, Open Guard
Weight Division: Peso Pena (70,00 kg / 154.5 lbs)
Team/Association: Atos Jiu-Jitsu
João Mendes Biography
João Pedro Mendes was born on July 21, 1997, in Curitiba, the capital and largest city of the Brazilian state of Paraná.
Growing up in the metropolitan area of Curitiba (Colombo), João was not prone to the sporting lifestyle. He was also small for his age and shy in nature, traits that pressed his parents to enroll young Mendes in jiu-jitsu classes as a child, hoping a combat sport/martial art would help overcome any physical and mental limitations he had.
Although seemingly harsh, the competition-focused environment found in jiu-jitsu did indeed bring out the best in João Pedro, who went on to win his first Brazilian National title as an orange belt (junior) in 2011, a podium placement he would revisit repeatedly throughout his career.
Although living in a more remote area of Brazil, one not often identified with this sport, and training in a small gym, Mendes was able to break through these barriers and become one of the most promising athletes of his generation. Much of this evolution can be pinned to Alexandre Nunes, commonly referenced as Bokão. Nunes was Bisnaga's first instructor and figure of tremendous importance in his life on the mats, standing by João's side for most of his colored belt career.
In 2016 Bisnaga decided to do the IBJJF World Championship training camp in San Diego, California, at the Atos team headquarters with coaches André and Angélica Galvão. João's work rate and talent earned him an invitation to return to the team, then becoming part of the academy's workgroup.
After two years training alongside the Galvão's, on June 8, 2018, João Pedro Mendes was promoted to black belt by André Galvão.
Joao Mendes Grappling Record
60 WINS
BY POINTS


BY ADVANTAGES




BY SUBMISSION




BY DECISION




BY PENALTIES




BY DQ



12 SUBMISSIONS WINS
#5AD3D1
Choke from back
17
2
25 LOSSES
BY POINTS


BY ADVANTAGES




BY SUBMISSION




BY DECISION




BY PENALTIES




BY DQ



8 SUBMISSIONS LOSSES
#86e620
Choke from back
25
2
#fad11b
Inside heel hook
13
1
Joao Mendes Fight History
ID
Opponent
W/L
Method
Competition
Weight
Stage
Year
18033

Hiago George

Hiago George
L
Points
Rio BJJ Pro
70KG
SF
2018
18271

Isaque Paiva

Isaque Paiva
L
Armbar
Grand Slam RJ
69KG
F
2018
18888

Isaac Doederlein

Isaac Doederlein
L
Pts: 2x2, Adv
European Open
70KG
SF
2019
19581

Isaac Doederlein

Isaac Doederlein
L
Armlock
Pan American
70KG
4F
2019
20446

Kennedy Maciel

Kennedy Maciel
L
Pts: 2x0
San Diego Open
70KG
SF
2019
20598

Matheus Gabriel

Matheus Gabriel
L
Pts: 6x4
World Champ.
70KG
R2
2019
20927

Kennedy Maciel

Kennedy Maciel
L
Points
American Nats
70KG
SF
2019
21424

Israel Sousa

Israel Sousa
L
Referee Decision
Las Vegas Open
70KG
SF
2019
21658

Eric Phan

Eric Phan
L
Armbar
Grand Slam LA
69KG
R1
2019
22390

Connor Donaldson

L
Armlock
Long Beach Open
76KG
4F
2019
22474

Lucas Valente

Lucas Valente
L
Choke from back
SJJIF Worlds
76KG
F
2019
24013

Kennedy Maciel

Kennedy Maciel
L
Pts: 2x1
Grand Slam MIA
69KG
4F
2020
24149

Richar Nogueira

Richar Nogueira
L
Pts: 0x0, Adv
Pan American
70KG
4F
2020
24686

Davi Oliveira

L
RNC
Grand Slam RJ
69KG
8F
2020
26114

Kieran Kichuk

Kieran Kichuk
L
Inside heel hook
NoGi Pan Am.
73KG
4F
2021
26660

Richar Nogueira

Richar Nogueira
L
Pts: 4x4, Adv
American Nats
70KG
F
2021
27556

Fabricio Andrey

Fabricio Andrey
L
Choke from back
Pan American
70KG
8F
2021
29460

Yuta Shimada

Yuta Shimada
L
Pts: 0x0, Adv
World Champ.
64KG
8F
2021
29967

Matheus Galvao

L
Points
Austin WO
76KG
F
2022
31633

Thiago Macedo

Thiago Macedo
L
Pts: 2x0
Pan American
70KG
R2
2022
37935

Pablo Lavaselli

Pablo Lavaselli
L
Pts: 2x0
LA Open
76KG
F
2023
38371

Marcio Andre

Marcio Andre
L
Pts: 4x2
Pan American
70KG
8F
2023
39051

Jonata Gomes

Jonata Gomes
L
Referee Decision
Santa Cruz O
76KG
SF
2023
39488

Alex Sodre

Alex Sodre
L
Pts: 2x0
Brasileiro
70KG
4F
2023
40256

Diego Sodre

Diego Sodre
L
Referee Decision
World Champ.
70KG
4F
2023
17157

Carlos Alberto

W
Pts: 40x0
Floripa W. Open
76KG
4F
2018
17162

Rafael Mansur

Rafael Mansur
W
Adv
Floripa W. Open
76KG
SF
2018
17163

Luciano Bernert

W
Triangle
Floripa W. Open
76KG
F
2018
17895

Higor Paterra

W
Submission
Curitiba SPO
70KG
4F
2018
17896

Andrey Adam

W
Triangle
Curitiba SPO
70KG
SF
2018
17898

Gabriel Marangoni

Gabriel Marangoni
W
Adv
Curitiba SPO
70KG
F
2018
18031

Tiago Barros

Tiago Barros
W
Points
Rio BJJ Pro
70KG
4F
2018
18260

Gabriel Vilella

W
Pts: 0x0, Adv
Grand Slam RJ
69KG
R1
2018
18266

Victor Moraes

W
Pts: 4x4, Adv
Grand Slam RJ
69KG
4F
2018
18270

Rafael Mansur

Rafael Mansur
W
Referee Decision
Grand Slam RJ
69KG
SF
2018
18887

Gabriel Marangoni

Gabriel Marangoni
W
Pts: 4x4, Adv
European Open
70KG
4F
2019
19150

Jacob Sandoval

W
N/A
OC Open
70KG
SF
2019
19151

Spencer Nogawa

W
Pts: 22x0
OC Open
70KG
F
2019
19571

Hiroaki Otsuka

W
Pts: 8x0
Pan American
70KG
8F
2019
19981

Jose Leon

W
Pts: 45x0
San Jose Open
70KG
SF
2019
19983

Cole Franson

Cole Franson
W
Pts: 4x4, Adv
San Jose Open
70KG
F
2019
20442

Geoff Villareal

W
Armbar
San Diego Open
70KG
4F
2019
20591

Hiroaki Otsuka

W
Pts: 13x0
World Champ.
70KG
R1
2019
20925

G. Villareal

W
Cross choke
American Nats
70KG
4F
2019
21130

Esdras Bezerra

W
Points
Fresno Open
70KG
F
2019
21418

Joshua Prestley

W
Choke from back
Las Vegas Open
70KG
R1
2019
21420

Eric Phan

Eric Phan
W
Pts: 4x2
Las Vegas Open
70KG
4F
2019
21756

Edward Kang

W
Referee Decision
F2W 126
70KG
SPF
2019
22471

Gabriel Revoredo

W
Points
SJJIF Worlds
76KG
4F
2019
22473

Kauan Barboza

Kauan Barboza
W
Points
SJJIF Worlds
76KG
SF
2019
22801

Cole Franson

Cole Franson
W
Referee Decision
F2W 133
70KG
SPF
2019
24010

Danilo Moreira

Danilo Moreira
W
Pts: 3x0
Grand Slam MIA
69KG
R1
2020
24019

Raphael Cadena

W
Pts: 4x0
Grand Slam MIA
69KG
RPC
2020
24020

Giovanni Carvalho

W
Pts: 2x1
Grand Slam MIA
69KG
3RD
2020
24144

Thiago Abud

Thiago Abud
W
Pts: 6x4
Pan American
70KG
8F
2020
24679

Everton Freitas

W
Pts: 9x3
Grand Slam RJ
69KG
R1
2020
26103

Mauricio Gomez

W
Pts: 14x0
NoGi Pan Am.
73KG
R1
2021
26113

Francisco Cuneo

Francisco Cuneo
W
Pts: 0x0, Adv
NoGi Pan Am.
73KG
8F
2021
26594

Diogo Reis

Diogo Reis
W
Pts: 2x0
EUG 2
65KG
SPF
2021
26657

Danilo Moreira

Danilo Moreira
W
Referee Decision
American Nats
70KG
4F
2021
26658

Daniel Maira

Daniel Maira
W
Pts: 4x0
American Nats
70KG
SF
2021
28663

Felipe Makoto

W
Pts: 6x6, Adv
Nashville Open
70KG
4F
2021
28668

Edmaicon Silva

W
Triangle
Nashville Open
70KG
SF
2021
28669

Matheus Honda

W
Pts: 6x0
Nashville Open
70KG
F
2021
29964

Carlos Castro

W
Pts: 0x0, Adv
Austin WO
76KG
4F
2022
29965

Arthur Detanico

Arthur Detanico
W
Pts: 8x4
Austin WO
76KG
SF
2022
31626

Brian Mahecha

Brian Mahecha
W
Pts: 8x4
Pan American
70KG
R1
2022
32432

Michael Alvarez

W
Armbar
SD Open
70KG
4F
2022
32434

Nathanael Martinez

W
Pts: 20x0
SD Open
70KG
SF
2022
32436

Pedro Serrano

Pedro Serrano
W
Points
SD Open
70KG
F
2022
32617

Victor Mota

W
Pts: 5x0
Denver Open
70KG
4F
2022
32619

Thiago Cintra

W
Botinha
Denver Open
70KG
SF
2022
32621

Ariel Tabak

Ariel Tabak
W
Pts: 4x0
Denver Open
70KG
F
2022
35270

Manny Moreno

W
Points
Art Suave Elite
77KG
SPF
2022
37724

Jose Mazariegos

W
Choke from back
Memphis Open
76KG
4F
2023
37726

Gabriel Sousa

Gabriel Sousa
W
Pts: 7x2
Memphis Open
76KG
F
2023
37867

Pablo Lavaselli

Pablo Lavaselli
W
Pts: 2x0
Dallas Open
76KG
SF
2023
37868

Danilo Moreira

Danilo Moreira
W
Pts: 4x0
Dallas Open
76KG
F
2023
38363

David Mosleh

W
Wristlock
Pan American
70KG
R1
2023
39484

Artur Oliveira

W
Katagatame
Brasileiro
70KG
R1
2023
40246

Matheus Onda

W
Pts: 2x0
World Champ.
70KG
R1
2023
40248

Minho Yoon

W
Pts: 2x2, Adv
World Champ.
70KG
8F
2023
42884

Guilherme Fernandes

Guilherme Fernandes
W
Pts: 2x2
ADGS Miami
69KG
8F
2023
42891

Stefano Iturralde

W
Pts: 29x0
ADGS Miami
69KG
4F
2023
42894

Kevin Mahecha

Kevin Mahecha
W
Pts: 7x6
ADGS Miami
69KG
SF
2023
Joao Pedro Mendes 2017 Highlight