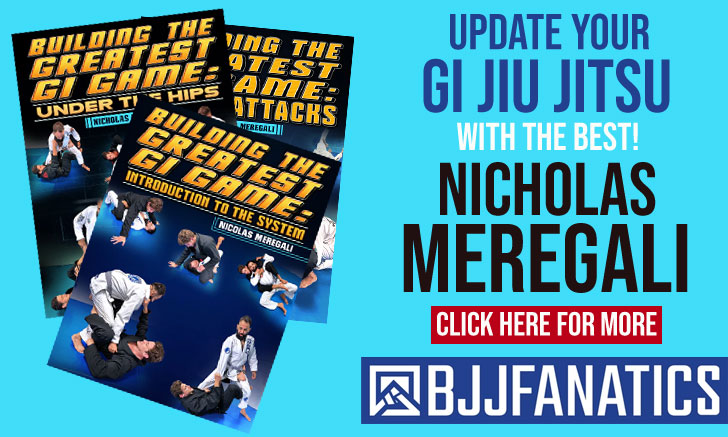 Rodrigo Conceição Barbosa, more commonly known as Rodrigo "Akilis" (also spelled Aquiles or Achilles), is one of the top Brazilian Jiu Jitsu black belts in the lightweight division who competes for the Alliance Academy, Rodrigo Aquiles is also part of an incredible tradition of BJJ competitors from the Cantagalo slums in Rio de Janeiro, an area of the city that has produced several big names of the sport such as Fernando Tererê, Jackson Sousa, Alan "Finfou" and many others.
Rodrigo Conceição Jiu Jitsu
Full Name: Rodrigo da Conceição Barbosa
Nickname: Aquiles (Achilles) was a self-imposed nickname. Rodrigo identified himself with the Greek mythology hero.
Lineage: Mitsuyo Maeda > Carlos Gracie > Helio Gracie > Rolls Gracie > Romero Cavalcanti > Alexandre Paiva > Rodrigo Conceição
Main Achievements:
IBJJF European Open Champion (2019 Master 1)
IBJJF Rome Open 2nd Place (2018)
IBJJF Rio Winter Open 2nd Place (2017)
IBJJF Rio Winter Open 3rd Place (2016)
Main Achievements (Colored Belts):
CBJJ Brazilian National Champion (2011/2010** brown)
CBJJ Brazilian National No Gi Champion (2012/2010 brown)
IBJJF Rio Open Champion (2011 brown, 2010/2009* purple)
CBJJ Brazilian National Silver Medallist (2012 brown)
CBJJ Brazilian National No Gi 2nd Place (2012* brown)
CBJJ Brazilian National No Gi 3rd Place (2012 purple)
* Absolute
** Weight and absolute
Favorite Position/Technique: Butterfly Guard and Spider Guard
Weight Division: Peso Leve (76kg/167lbs)
Team/Association: Alliance
Rodrigo Akilis Biography
Rodrigo Conceição was born on the 11th of November, 1987 in Rio de Janeiro, Brazil. Conceição grew up the the (now) famous slums of Cantagalo, a place that has produced numerous BJJ champions, such as Tererê, Finfou, Jackson Sousa, Leu Martins and many others.
It was through Rodrigo's mother that Jiu Jitsu entered in his life. Mrs Conceição was the cleaner of Ricardo De La Riva's gym in Rio de Janeiro, often bringing her young 8 year old son to the gym while she performed her duties. Master De La Riva took a shine to the young Rodrigo and decided to offer him a free membership, an opportunity the young kid grabbed with both hands.
The time spent at De La Riva's academy was short lived and after receiving his yellow belt, Rodrigo Conceição made the move to the Alliance team of Alexandre Paiva, the famous Gigi. By the age of 14 Aquiles already had decided that he wanted to live the life of a Jiu Jitsu competitor. He saw several examples in the favela where he grew up, of men that kept away from the crime that haunts the slums through BJJ and he wanted to be one of those men when he grew up.
Another important figure in Rodrigo Conceição's development as a competitor and as a person is coach Elan Santiago, who he met through Cantagalo's social project "Amigos do Morro" at the age of 18, around the time Santiago came up to Cantagalo looking to gather volunteers that could help him with his own community project named "Projeto Sonhos" which he had started at GRES Beija Flor (Grêmio Recreativo Escola de Samba Beija-Flor) in Nilópolis, Rio de Janeiro. Conceição agreed to be part of the coaching staff, a position he upheld, dividing his training between the project and the Alliance academy in Leblon with Alexandre Paiva.
The "Projeto Sonhos" and Master Elan Santiago were of great importance at a tough moment in Rodrigo Conceição's, as he started working at the project around the same time he lost his mother to breast cancer. The work with Santiago kept Rodrigo focused and helped further establish Conceição's desire to become a professional Jiu Jitsu competitor and a big name in the sport.
Rodrigo "Aquiles" Conceição received his black belt from Alexandre Paiva (the man who awarded all his belts from blue up) on the 19th of December. The event was celebrated across most of the Brazilian Jiu Jitsu media.
Picture by William Burkhardt of BJJPix.com
Rodrigo Conceicao Grappling Record
26 WINS
BY POINTS


BY ADVANTAGES




BY SUBMISSION




BY DECISION




BY PENALTIES




BY DQ



7 SUBMISSIONS WINS
#86e620
Triangle armbar
29
2
18 LOSSES
BY POINTS


BY ADVANTAGES




BY SUBMISSION




BY DECISION




BY PENALTIES




BY DQ



4 SUBMISSIONS LOSSES
#86e620
Choke from back
25
1
Rodrigo Conceicao Fight History
ID
Opponent
W/L
Method
Competition
Weight
Stage
Year
8098

Geraldo Freitas

L
Points
Sub. Campos X
77KG
RR
2015
8100

Leonardo Vasconcelos

L
Points
Sub. Campos X
77KG
RR
2015
9747

Sandro Vieira

L
N/A
Brasileiro
76KG
8F
2016
10252

Claudevan Oliveira

L
Points
Rio Winter Open
76KG
SF
2016
10570

Julio Anjos

Julio Anjos
L
Adv
Sao Paulo Open
76KG
4F
2016
10842

Herbert Burns

Herbert Burns
L
Points
Brasileiro NoGi
73KG
4F
2016
11055

Pedro Farias

L
Referee Decision
Grand Slam RJ
77KG
8F
2016
11120

Faisal AlKitbe

Faisal AlKitbe
L
Pts: 0x0, Adv
G.S. Rio NoGi
83KG
SF
2016
11751

Marcelo Mafra

Marcelo Mafra
L
RNC
ADCC RJ
77KG
4F
2017
12715

Erberth Santos

Erberth Santos
L
RNC
Brasileiro
ABS
4F
2017
12765

Gabriel Rollo

Gabriel Rollo
L
Pts: 3x0
Brasileiro
76KG
4F
2017
13257

Matheus Costa

Matheus Costa
L
Pts: 10x10, Adv
Rio Winter Open
76KG
F
2017
15685

Michael Liera

Michael Liera
L
Pts: 10x8
Rome Open
76KG
F
2018
16229

Yan Lucas

Yan Lucas
L
Pts: 0x0, Adv
Brasileiro
76KG
4F
2018
17936

Max Lindblad

Max Lindblad
L
Choke from back
London FO
82KG
SF
2018
17946

Jackson Sousa

Jackson Sousa
L
Armbar
London FO
ABS
SF
2018
31881

Matheus Paula

L
Pts: 5x0
Rio Fall Open
82KG
R1
2022
31924

Lafayette Pinheiro

L
Pts: 2x2, Adv
Rio Fall Open
ABS
R1
2022
8094

Robson Maia

W
Pts: 0x0, Adv
Mundial CBLP
76KG
4F
2015
8095

L. Vieira

W
Points
Mundial CBLP
76KG
SF
2015
8096

Erick Morais

W
Triangle armbar
Mundial CBLP
76KG
F
2015
8097

Wellington L.

W
Triangle
Sub. Campos X
77KG
RR
2015
9739

Gustavo Zueli

W
N/A
Brasileiro
76KG
R1
2016
10244

Luciano Bernert

W
Armbar
Rio Winter Open
76KG
R1
2016
10247

L. Correa

W
Armbar
Rio Winter Open
76KG
8F
2016
10250

Theodoro Canal

Theodoro Canal
W
Adv
Rio Winter Open
76KG
4F
2016
10565

Rodrigo Almeida

W
DQ
Sao Paulo Open
76KG
R1
2016
10839

Vitor Matos

W
Points
Brasileiro NoGi
73KG
R1
2016
11046

Jan Buatim

Jan Buatim
W
Points
Grand Slam RJ
77KG
R2
2016
11113

Gabriel Lima

W
RNC
G.S. Rio NoGi
83KG
R1
2016
11118

Renan Gomes

W
Pts: 2x0
G.S. Rio NoGi
83KG
4F
2016
11121

Jose Alves

W
Pts: 6x0
G.S. Rio NoGi
83KG
3RD
2016
11745

Matheus Costa

Matheus Costa
W
Points
ADCC RJ
77KG
R1
2017
11749

Eric Souza

W
Points
ADCC RJ
77KG
R2
2017
12707

Admilson Gobi

Admilson Gobi
W
Pts: 2x0
Brasileiro
ABS
RDS
2017
12751

Raphaello Pinheiro

W
Armbar
Brasileiro
76KG
R1
2017
12759

Rafael Suzuki

W
Pts: 2x0
Brasileiro
76KG
R2
2017
13251

Talles Benjamim

W
N/A
Rio Winter Open
76KG
R1
2017
13254

Talison Costa

W
Points
Rio Winter Open
76KG
4F
2017
13256

Luciano Bernert

W
N/A
Rio Winter Open
76KG
SF
2017
15684

Tommi Pulkkanen

W
Points
Rome Open
76KG
SF
2018
16219

Cesar Casamajo

W
Triangle armbar
Brasileiro
76KG
R1
2018
16226

Matheus Costa

Matheus Costa
W
Pts: 6x2
Brasileiro
76KG
8F
2018
17945

Azzedine Taz

W
N/A
London FO
ABS
4F
2018
Rodrigo Conceição vs Matheus Lemos