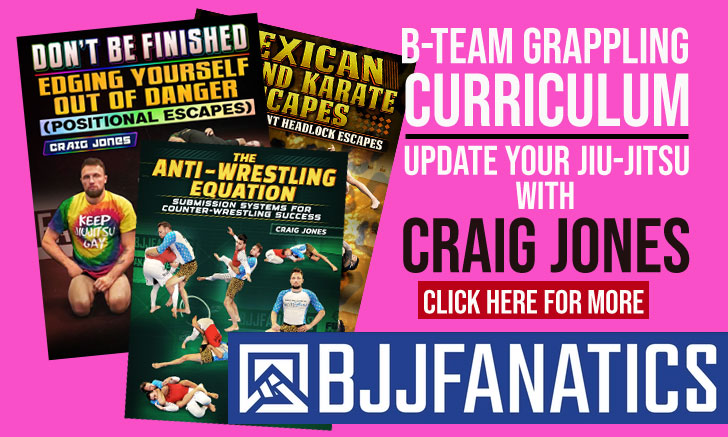 Rodrigo Ribeiro is a Brazilian jiu jitsu black belt under Eduardo Franco, being also one of the top super heavyweights of his generation as well as a representative of the well known São Paulo based BJJ team: G13. Although known for his throwing prowess – a style with which he conquered titles in important tournaments such as the CBJJ and ACB South American Championships, IBJJF São Paulo, Rio and Floripa International Opens, etc Rodrigo does not have a judo or wrestling background with his distinct style being very much a symbol of the G13/Godoi Team training method.
Rodrigo Ribeiro Jiu Jitsu
Full Name: Rodrigo Martins Ribeiro da Silva
Nickname: N/A
Lineage: Carlos Gracie > Helio Gracie > Rickson Gracie > Marcelo Behring > Waldomiro Perez > Roberto Godoi > Eduardo Franco > Rodrigo Ribeiro
Main Achievements:
1st Place IBJJF South American Championship (2017)
1st Place ACB South American Championship (2018)
1st Place IBJJF São Paulo Open (2017)
1st Place IBJJF Rio Open (2018)
1st Place IBJJF São Paulo Open NOGI (2015)
1st Place IBJJF São Paulo BJJ Pro (2016)
1st Place IBJJF Floripa Fall Open (2018)
1st Place Premium BJJ Cup (2017)
2nd Place IBJJF Pan Championship (2021)
2nd Place CBJJ Brazilian Nationals (2016/2019)
2nd Place IBJJF São Paulo Open (2015)
2nd Place IBJJF Rio Open (2018*)
3rd Place IBJJF Pan Championship (2015)
3rd Place CBJJ Brazilian Nationals (2018)
Favorite Position/Technique: Pressure Passing
Weight Division: Super Pesado (100,50 kg / 222.0 lbs)
Team/Association: G13
Rodrigo Ribeiro Biography
Rodrigo Ribeiro was born on November 17, 1990 in Mooca – a district of São Paulo city in Brazil, though he grew up in Itaquera, also inside this important Brazilian state's walls.
At the age of 9 Rodrigo asked his parents permission to start in judo, unfortunately (or fortunately) when Ribeiro arrived at the local gym to try a class, he understood he had read the schedule wrong and instead of judo, a jiu jitsu class was taking place. As he was there already, Ribeiro decided to try it out and immediately fell in love with the sport/martial art.
Ribeiro's first instructor was Edval Farias, who introduced hi, to competition at the age of 10. The experience with coach Farias was short lived as when young Rodrigo decided he wanted to pursue a more competition based lifestyle, his father signed him on to a sporting based academy, that of Eduardo Franco.
At Franco's academy – an affiliate of Roberto Godoy's gym, Rodrigo Ribeiro went from white to black belt, the latter a rank earned on November 2010 a few days after his 20th birthday. One year later as coach Eduardo Franco started drifting away from jiu jitsu, star pupil Rodrigo Ribeiro took control of the classroom.
After the coaching position was handed to Rodrigo Ribeiro in 2011, the young black belt started training at Roberto Godoy's headquarters on a regular basis. In 2013, when the Godoi team re-branded itself as G13 so did Ribeiro and his gym.