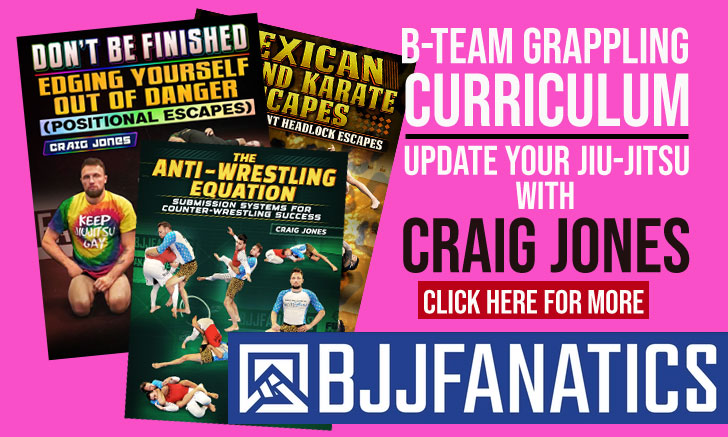 Gilson Nunes Neto, commonly known as "Nenem", is a Brazilian jiu jitsu black belt under Ronaldo "Raspinha" Cruz and Paulo Ivano, being also one of the top featherweight athletes of his generation. Competing for teams such as Evolution and Checkmat, Nunes earned his reputation in the grappling circuit through wins over big names such as Joao Miyao, Osvaldo Moizinho, Isaque Paiva and Isaac Doederlein – to name a few.
Gilson Nunes Jiu Jitsu
Full Name: Gilson Nunes de Oliveira Neto
Nickname: Gilson is often referenced as "Nenem" which stands for Baby in Brazilian jargon. The name started being used when Nunes began his jiu jitsu training at the age of 12. He was a child but always wanted to spar with the adults, who jokingly called him Nenem.
Lineage: Mitsuyo Maeda > Carlos Gracie > Helio Gracie > Rolls Gracie > Romero Cavalcanti > Roberto Traven > Carlos David > Ronaldo Cruz > Gilson Nunes
Main Achievements:
IBJJF Sao Paulo Pro Champion (2016)
IBJJF Manaus International Open Champion (2015)
IBJJF Atlanta Winter International Open Champion (2017)
IBJJF Miami Fall International Open Champion (2016)
IBJJF Charlotte International Open Champion (2016)
IBJJF Mexico City International Open Champion (2017)
IBJJF Mexico City International No-Gi Open Champion (2017)
CBLP Champion (2016)
IBJJF World No-Gi 2nd Place (2018)
IBJJF Sao Paulo Pro 2nd Place (2016)
IBJJF Rio International Open 2nd Place (2015)
IBJJF Pans Championship 3rd Place (2018)
IBJJF New York Pro Championship 3rd Place (2016)
Favorite Position/Technique: Armbar
Weight Division: Peso Pena (70,00 kg / 154.5 lbs)
Team/Association: Checkmat
Gilson Nunes Biography
Gilson Nunes was born on April 20, 1990 in Fortaleza – capital city of the north Brazilian state of Ceará.
As a 12 year old Gilson and his friends were drawn to the local martial arts club in the Bairro Parquelândia neighbourhood. There they met coach Paulo Ivano (also known as Maninho), who initiated the group in jiu jitsu.
Gilson participated in his first competition after one week of training, with his talent shining through instantly. Nunes won his division that weekend which boosted his interest in the sport and its tournament outlet.
While developing his BJJ skills Gilson also added mixed martial arts (MMA) sparring as well as boxing and muay Thai training, eyeing a career in cage fighting. He entered the ring on 4 occasions, but soon understood how hard it was to reconcile both MMA and training with the gi. He chose to end his MMA career with a 3-1-0 record to pursue his true love – jiu jitsu.
With coach Paulo Ivano giving more focus to the MMA component of grappling, Gilson started spending more time with Ronaldo Cruz – who taught jiu jitsu under the same team banner (Evolution JJ) as Ivano. Cruz' classes were more gi orientated, and naturally Nunes shifted his training to coach Ronaldo "Raspinha", particularly as a brown belt. When the time came to promote Gilson to black belt, both Ronaldo and Paulo tied the belt around Nunes' waist (March 2010).
As a brown belt Gilson started earning a living through jiu jitsu. He would later move to the United States where he settled, opening an affiliate of Checkmat JJ in Gulf Breeze – Florida.
Gilson Nunes Grappling Record
76 WINS
BY POINTS


BY ADVANTAGES




BY SUBMISSION




BY DECISION




BY PENALTIES




BY DQ



42 SUBMISSIONS WINS
#d1212a
Choke from back
7
3
#fad11b
Triangle armbar
5
2
#22c9a5
Arm in Ezekiel
2
1
24 LOSSES
BY POINTS


BY ADVANTAGES




BY SUBMISSION




BY DECISION




BY PENALTIES




BY DQ



3 SUBMISSIONS LOSSES
#214eb8
Choke from back
67
2
Gilson Nunes Fight History
ID
Opponent
W/L
Method
Competition
Weight
Stage
Year
3451

Fernando Vieira

Fernando Vieira
L
Points
Amazon Meeting
70KG
N/A
2011
3462

Mario Reis

Mario Reis
L
Choke from back
CBJJE Brasileiro
70KG
F
2011
5201

Theodoro Canal

Theodoro Canal
L
Pts: 2x2, Adv
Terra do Sol
70KG
SF
2013
5204

Talison Soares

L
Points
Pans CBLP
70KG
F
2013
6163

Italo Lins

Italo Lins
L
Referee Decision
Brasileiro CBLP
70KG
F
2014
7094

Isaque Paiva

Isaque Paiva
L
Points
World Pro
65KG
SF
2015
7717

Isaque Paiva

Isaque Paiva
L
Adv
Rio Winter Open
70KG
F
2015
9576

Marcio Andre

Marcio Andre
L
Pts: 2x0
World Pro
69KG
4F
2016
10149

Isaque Paiva

Isaque Paiva
L
Choke from back
SP BJJ Pro
70KG
F
2016
11128

Joao Miyao

Joao Miyao
L
Pts: 4x2
NY BJJ Pro
70KG
SF
2016
12138

Osvaldo Moizinho

Osvaldo Moizinho
L
Pts: 8x4
Pan American
70KG
4F
2017
13097

Rubens Charles

Rubens Charles
L
Referee Decision
World Champ.
70KG
4F
2017
14675

Rodrigo Freitas

Rodrigo Freitas
L
Pts: 4x2
NoGi Worlds
73KG
4F
2017
15051

Gianni Grippo

Gianni Grippo
L
Pts: 4x4, Adv
Atlanta W. Open
76KG
F
2018
15387

Jamil Hill-Taylor

Jamil Hill-Taylor
L
Pts: 0x0, Adv
Pan American
70KG
SF
2018
16000

Alex Huddleston

L
Points
Denver Open
ABS
R1
2018
16313

Lucas Valente

Lucas Valente
L
Triangle
Dallas SPO
76KG
F
2018
16474

Leo Saggioro

Leo Saggioro
L
Pts: 2x0
World Champ.
70KG
R2
2018
18601

Kennedy Maciel

Kennedy Maciel
L
Pts: 2x0
NoGi Worlds
67KG
F
2018
20389

Lucas Valente

Lucas Valente
L
Pts: 4x2
Dallas SPO
76KG
F
2019
20500

Paulo Martins

L
Points
Denver Open
76KG
SF
2019
20612

Rodrigo Freitas

Rodrigo Freitas
L
Referee Decision
World Champ.
76KG
R1
2019
23234

Pablo Lavaselli

Pablo Lavaselli
L
Pts: 2x0
Atlanta WO
76KG
4F
2020
23553

Paulo Gabriel

Paulo Gabriel
L
Pts: 5x0
Kansas Open
76KG
SF
2020
3450

Abel Junior

W
Points
Amazon Meeting
70KG
N/A
2011
4312

Hamilton Caminha

W
Triangle armbar
Best Fighters VII
70KG
SPF
2012
4651

Isaque Paiva

Isaque Paiva
W
Points
World Pro Trials
65KG
F
2013
4653

Alex Scott

W
Points
World Pro
64KG
4F
2013
5199

Ricardo Decio

W
Points
Terra do Sol
70KG
R1
2013
5200

C. Farias

W
Points
Terra do Sol
70KG
4F
2013
5202

Alison Pimentel

W
Triangle
Pans CBLP
70KG
4F
2013
5203

Joao Ramos

W
Triangle
Pans CBLP
70KG
SF
2013
6161

Glauke Eugenio

W
DQ
Brasileiro CBLP
70KG
4F
2014
6162

Willian Couto

W
Armbar
Brasileiro CBLP
70KG
SF
2014
6363

German Salas

W
Armbar
ADCC Gi Nat.
70KG
F
2014
6364

Michael S.

W
Submission
ADCC Nationals
70KG
SF
2014
6365

German Salas

W
Armbar
ADCC Nationals
70KG
F
2014
7088

Unknown

W
Points
World Pro
65KG
R1
2015
7091

Joao Miyao

Joao Miyao
W
Pts: 0x0, Adv
World Pro
65KG
4F
2015
7712

Unknown

W
Submission
Rio Winter Open
70KG
8F
2015
7713

Unknown

W
Submission
Rio Winter Open
70KG
4F
2015
7715

Onofre Lima

W
Submission
Rio Winter Open
70KG
SF
2015
8849

Unknown

W
Submission
Manaus Open
70KG
4F
2015
8850

Richard Duarte

W
Submission
Manaus Open
70KG
SF
2015
8851

Robson Feitoza

W
Submission
Manaus Open
70KG
F
2015
10145

Tiago Barros

Tiago Barros
W
Points
SP BJJ Pro
70KG
4F
2016
10147

David Lemes

David Lemes
W
Points
SP BJJ Pro
70KG
SF
2016
11357

Vitor Riciotti

W
N/A
Miami FO
76KG
SF
2016
11358

John Lawrence

W
Triangle
Miami FO
76KG
F
2016
11361

Jhonderson Santos

W
Points
CBLP Mundial
70KG
F
2016
11680

Thiago Macedo

Thiago Macedo
W
Choke from back
Atlanta W. Open
76KG
SF
2017
11681

Osvaldo Moizinho

Osvaldo Moizinho
W
Points
Atlanta W. Open
76KG
F
2017
11965

James Nival

W
Bread cutter
Mexico City Open
70KG
SF
2017
11969

Julio Reyes

W
RNC
Mexico NG Open
73KG
F
2017
12132

Isaac Doederlein

Isaac Doederlein
W
Pts: 5x2
Pan American
70KG
8F
2017
12874

M. Schellenschlager

W
Arm in Ezekiel
Atlanta Spring O.
76KG
4F
2017
12875

Frederico Augusto

W
Kneebar
Atlanta Spring O.
76KG
SF
2017
12877

Kevin Mahecha

Kevin Mahecha
W
Pts: 4x2
Atlanta Spring O.
76KG
F
2017
12929

Felipe Hugo

W
Choke
Miami SPO
76KG
4F
2017
12931

Vitor Riciotti

W
Choke from back
Miami SPO
76KG
SF
2017
12933

Kevin Mahecha

Kevin Mahecha
W
Pts: 0x0, Adv
Miami SPO
76KG
F
2017
13080

Sergio Gonzalez

W
Choke from back
World Champ.
70KG
R1
2017
13088

Nicollas Welker

W
Pts: 10x8
World Champ.
70KG
8F
2017
13409

Julio Reyes

W
Triangulo
NY Summer Open
76KG
4F
2017
13410

Frederico Silva

W
Pts: 12x2
NY Summer Open
76KG
SF
2017
13411

Paulo Ferreira

W
Pts: 11x4
NY Summer Open
76KG
F
2017
14664

Juan Galarza

W
Triangle armbar
NoGi Worlds
73KG
R1
2017
14672

Vagner Rocha

Vagner Rocha
W
Pts: 0x0, Adv
NoGi Worlds
73KG
R2
2017
15047

Johnny Tama

Johnny Tama
W
Pts: 2x0
Atlanta W. Open
76KG
4F
2018
15049

Frederico Augusto

W
Katagatame
Atlanta W. Open
76KG
SF
2018
15376

Silvio Duran

Silvio Duran
W
Pts: 0x0, Adv
Pan American
70KG
8F
2018
15383

Jonathan Van Buren

W
Triangle
Pan American
70KG
4F
2018
15702

Cy Landry

W
Armbar
F2W 67
70KG
SPF
2018
15886

Brian Mahecha

Brian Mahecha
W
Triangle
Atlanta Sp. Open
76KG
SF
2018
15887

Kevin Mahecha

Kevin Mahecha
W
Pts: 13x2
Atlanta Sp. Open
76KG
F
2018
15990

Marcelo Silva

W
Triangle
Denver Open
76KG
SF
2018
15991

Marcus Wilson

W
Adv
Denver Open
76KG
F
2018
16320

Khristopher Gonzalez

W
Triangle
Dallas SPO
73KG
SF
2018
16321

Jeremiah Vance

W
Triangle
Dallas SPO
73KG
F
2018
16395

Kevin Mahecha

Kevin Mahecha
W
Points
Miami SPO
76KG
SF
2018
16397

Brian Mahecha

Brian Mahecha
W
N/A
Miami SPO
76KG
F
2018
16468

Hiroaki Otsuka

W
Pts: 4x2
World Champ.
70KG
R1
2018
16876

Mauricio Fernandes

W
N/A
Nashville Open
76KG
SF
2018
16878

Fred Alves

W
N/A
Nashville Open
76KG
F
2018
17664

Casey Gray

W
Triangle
F2W 87 Pro
65KG
SPF
2018
18593

Alexandre Vieira

Alexandre Vieira
W
Pts: 0x0, Adv
NoGi Worlds
67KG
R2
2018
18597

Silvio Duran

Silvio Duran
W
Pts: 0x0, Adv
NoGi Worlds
67KG
4F
2018
18600

Ian Sanders

Ian Sanders
W
Triangle
NoGi Worlds
67KG
SF
2018
20388

Leo Domingos

W
N/A
Dallas SPO
76KG
SF
2019
21172

Michael Patrick

W
Submission
Austin SMO
76KG
SF
2019
21173

Tomer Alroy

W
Triangle
Austin SMO
76KG
F
2019
21263

Rene Arango

W
Bread cutter
Seattle Open
76KG
RR
2019
21265

Jeremy Jackson

Jeremy Jackson
W
Pts: 4x2
Seattle Open
76KG
RR
2019
21542

Dylan White

W
Submission
Dallas SMO
76KG
SF
2019
21544

Alexandre Molinaro

Alexandre Molinaro
W
Triangle
Dallas SMO
76KG
F
2019
21936

Ramsey Green

W
Armbar
Phoenix Open
76KG
F
2019
22516

Emilio Hernandez

Emilio Hernandez
W
Armbar
Kansas Open
ABS
SF
2019
22517

Gialysson Freitas

Gialysson Freitas
W
Points
Kansas Open
ABS
F
2019
23551

Josh Littleton

W
Submission
Kansas Open
76KG
4F
2020
23983

Jason Bright

W
Triangle
F2W 153
75KG
SPF
2020
Gilson Nunes vs Osvaldo Moizinho

Gilson Nunes vs James Nival