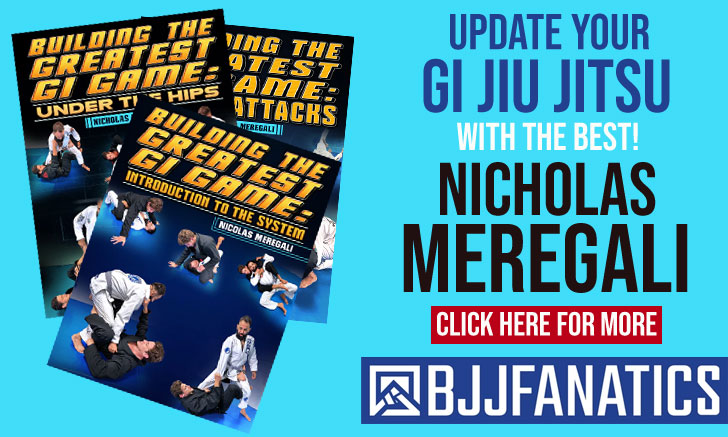 Thiago Abreu, commonly known as Thiago "Baiano" is a Brazilian jiu jitsu black belt under Rodrigo Cavaca and a representative of the Checkmat team in the sport's competitive circuit, having conquered medals in some of the main tournaments of the grappling world, including the World Championship (Gi and No-Gi) as well as the Pan American Championship and Sao Paulo Open.
Thiago Abreu Jiu Jitsu
Full Name: Thiago Aragão de Abreu
Nickname: "Baiano" in Portuguese is representative of someone born in the Brazilian state of Bahia. The typical Bahia person is often depicted as a lazy character in Brazilian satire, it was this quality that got Thiago his nickname after a childhood event, when one of his friends passed by his house to call him but Thiago was fast asleep. Abreu is also nicknamed "Paraíba" by some of his friends, this usually reflects someone with unusual strength (and slightly empty headed) also within Brazilian popular culture.
Lineage: Mitsuyo Maeda > Carlos Gracie > Carlson Gracie > Élcio Figueiredo > Rodrigo Cavaca > Thiago Abreu
Main Achievements:
World No-Gi Champion (2009 brown weight & absolute, 2014)
Brazilian National Champion (2009 purple)
Sao Paulo Open Champion (2015, 2014)
Sao Paulo No Gi Open Champion (2015)
World No-Gi Championship Runner-up (2011)
Pan American No-Gi Championship Runner-up (2010)
World Championship 3rd Place (2012)
World No-Gi Championship 3rd Place (2015)
Favorite Position/Technique: Footlocks
Weight Division: Peso Leve (76kg/167lbs)
Team/Association: Checkmat
Thiago Abreu Biography
Thiago Abreu was born on the 2nd of May, 1983 in Santos on the coast of Sao Paulo – Brazil.
Unlike many of jiu jitsu's top competitors who tend to begin their grappling activities during their teenage years, Thiago Abreu didn't start training until his 21st birthday – influenced by his good friend Ingmar Santos, who taught at a local gym.
Santos was a friend of Thiago and knew how much he enjoyed the idea of martial arts, having never found the time to enter a combat sports gym. After some persuasion Ingmar convinced Abreu to try one of his classes at the Integração Jiu Jitsu in Santos, an academy that had a run of important coaches through the years, including Ingmar himself, Rodrigo Cavaca or Teco Shinzato.
In his first class, Thiago Abreu was paired up with a much smaller partner, Roger Clavijo who was a blue belt then. Baiano was toyed with, when sparring, by Clavijo and immediately decided this was something he
had to do.
Thiago abreu was graded by Ingmar Santos as a blue belt, but shortly after Baiano started training at his university campus in FEFIS (Faculdade de Educação Física de Santos) for convenience purposes. In the meantime, Ingmar and his friend Rodrigo Cavaca left Integração and joined Brasa Clube de Jiu Jitsu, forming their own academy.
By the time Thiago re-started training with his old coaches, Ingmar re-located to a different town. From their on, Cavaca took control of Abreu's tuition awarding him his purple, brown and black belts, the latter on on the 6th of July 2010.
In 2012 Thiago Abreu and his friend Gabriel Rollo opened their own academy, a gym that grew in the region with several affiliates and hard competitors.
Thiago Abreu Grappling Record
39 WINS
BY POINTS


BY ADVANTAGES




BY SUBMISSION




BY DECISION




BY PENALTIES




BY DQ



23 SUBMISSIONS WINS
#f58822
Choke from back
4
1
21 LOSSES
BY POINTS


BY ADVANTAGES




BY SUBMISSION




BY DECISION




BY PENALTIES




BY DQ



7 SUBMISSIONS LOSSES
Thiago Abreu Fight History
ID
Opponent
W/L
Method
Competition
Weight
Stage
Year
2610

Gilbert Burns

Gilbert Burns
L
Pts: 2x0
No Gi Worlds
79KG
4F
2010
3385

Victor Estima

Victor Estima
L
Estima lock
No Gi Worlds
82KG
F
2011
3632

Claudio Calasans

Claudio Calasans
L
Armbar
Pan American
82KG
4F
2012
3746

Davi Ramos

Davi Ramos
L
Points
Gramado Trials
75KG
F
2012
4024

Lucas Lepri

Lucas Lepri
L
Ezekiel
World Champ.
76KG
SF
2012
4236

Vitor Oliveira

Vitor Oliveira
L
Guillotine
NoGi Worlds
82KG
4F
2012
5233

Claudio Mattos

Claudio Mattos
L
Pts: 5x0
World Pro Trial
76KG
F
2014
6812

Andris Brunovskis

Andris Brunovskis
L
Pts: 0x0, Adv
Pan American
76KG
4F
2015
6989

Davi Ramos

Davi Ramos
L
Pts: 4x0
ADCC RJ
77KG
SF
2015
7062

Thiago Gaia

Thiago Gaia
L
Referee Decision
ADCC SP
77KG
4F
2015
7649

Luan Carvalho

Luan Carvalho
L
Adv
Brazil Nat. Pro RJ
76KG
R1
2015
8422

Michael Langhi

Michael Langhi
L
Pts: 0x0, Adv
NoGi Worlds
73KG
SF
2015
8936

Sam Gibson

L
DQ
European Open
76KG
4F
2016
9267

Mansher Khera

Mansher Khera
L
Pts: 6x2
Pan American
76KG
8F
2016
9975

Mansher Khera

Mansher Khera
L
Pts: 2x0
World Champ.
76KG
R1
2016
10568

Caio Almeida

Caio Almeida
L
Ezekiel
Sao Paulo Open
76KG
R1
2016
11752

Gabriel Rollo

Gabriel Rollo
L
Guillotine
ADCC RJ
77KG
4F
2017
12425

Jan Buatim

Jan Buatim
L
Referee Decision
Floripa Fall Open
76KG
4F
2017
13106

Jhonny Loureiro

Jhonny Loureiro
L
Pts: 4x0
World Champ.
76KG
R1
2017
13669

Edwin Najmi

Edwin Najmi
L
Darce choke
ACBJJ 7
75KG
4F
2017
16230

Jhonny Loureiro

Jhonny Loureiro
L
Pts: 4x2
Brasileiro
76KG
4F
2018
3355

Murilo Santana

Murilo Santana
W
Guillotine
No Gi Worlds
82KG
4F
2011
3621

Stefan Stoianov

W
N/A
Pan American
82KG
R1
2012
3628

Vitor Oliveira

Vitor Oliveira
W
Points
Pan American
82KG
R2
2012
3743

Tiago Rocha

Tiago Rocha
W
Choke from back
Gramado Trials
75KG
SF
2012
4001

John Rickel

W
N/A
World Champ.
76KG
R1
2012
4016

Philipe Monica

W
Kneebar
World Champ.
76KG
R3
2012
4021

Vinicius Marinho

Vinicius Marinho
W
Botinha
World Champ.
76KG
4F
2012
4360

Charles do Bronx

W
Guillotine
Fighters 98
ABS
SPF
2013
5231

Theodoro Canal

Theodoro Canal
W
Points
World Pro Trial
76KG
SF
2014
6038

Josh Hinger

Josh Hinger
W
Footlock
NoGi Worlds
79KG
4F
2014
6040

Enrico Cocco

Enrico Cocco
W
Pts: 2x0
NoGi Worlds
79KG
SF
2014
6810

Rodrigo Freitas

Rodrigo Freitas
W
Toe hold
Pan American
76KG
R2
2015
6984

Kim Terra

Kim Terra
W
Heel hook
ADCC RJ
77KG
R2
2015
7058

Thiago Mageste

W
Guillotine
ADCC SP
77KG
R1
2015
7834

Ricardo Rocha

W
Botinha
SP Open
76KG
F
2015
7863

Marco Queiroz

W
N/A
SP Open NoGi
74KG
SF
2015
7864

Fabio Caloi

Fabio Caloi
W
Points
SP Open NoGi
74KG
F
2015
8411

Marcus Wilson

W
Footlock
NoGi Worlds
73KG
8F
2015
8418

Fabio Caloi

Fabio Caloi
W
Botinha
NoGi Worlds
73KG
4F
2015
8928

Pedro Mendonca

W
Botinha
European Open
76KG
R1
2016
9416

Gyula Szabó

W
N/A
Rome Open
76KG
4F
2016
9417

Douglas Barcelos

W
N/A
Rome Open
76KG
SF
2016
9428

Ralf Carneborn

W
Footlock
European NoGi
76KG
SF
2016
9429

Gyula Szabó

W
Submission
European NoGi
76KG
F
2016
9972

Roberto Satoshi

Roberto Satoshi
W
Botinha
World Champ.
76KG
R1
2016
10725

Paulo Cota

W
Botinha
Floripa Open
76KG
SF
2016
10726

Fabio Caloi

Fabio Caloi
W
Adv
Floripa Open
76KG
F
2016
11743

Sérgio Filho

W
Points
ADCC RJ
77KG
R1
2017
11747

Leonardo Nogueira

W
Heel hook
ADCC RJ
77KG
R2
2017
14048

Bernardo Dib

W
Submission
Brasileiro NoGi
73KG
R1
2017
14050

Ricardo Rocha

W
N/A
Brasileiro NoGi
73KG
4F
2017
14052

Luciano Bernert

W
N/A
Brasileiro NoGi
73KG
SF
2017
14054

Rany Yahya

Rany Yahya
W
Guillotine
Brasileiro NoGi
73KG
F
2017
16216

Lucas Barros

W
Footlock
Brasileiro
76KG
R1
2018
16223

Joao Alves

W
Footlock
Brasileiro
76KG
R2
2018
16224

Vitor Matos

W
RNC
Brasileiro
76KG
8F
2018
17684

Ricardo Rocha

W
N/A
Brasileiro NoGi
73KG
8F
2018
17689

Caio Nunes

W
N/A
Brasileiro NoGi
73KG
4F
2018
17692

Daniel Seth

W
N/A
Brasileiro NoGi
73KG
SF
2018
Thiago Abreu vs Charles "do Bronx" Oliveira

Thiago Abreu vs Ricardo Rocha