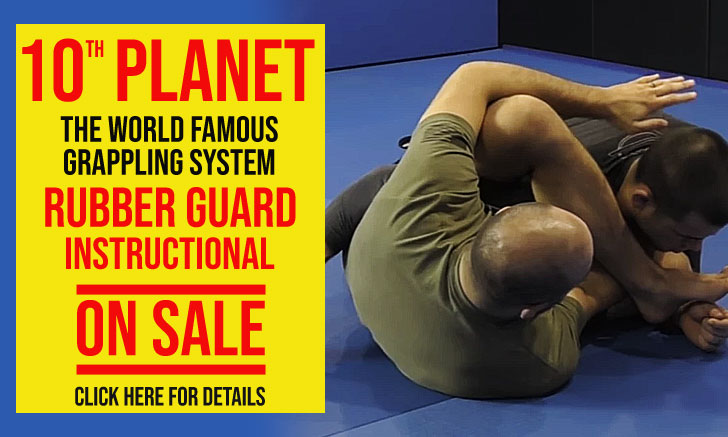 Roberto Abreu, also known as "Cyborg", is a Brazilian born Jiu Jitsu competitor and instructor who earned his black belt training with the Nova Geracao Team, having since started his own successful academy (Fights Sports) from which he has produced several talented grapplers such as Jake Mackenzie, Ricardo Rezende, Hunter Edward and many others. Since he moved to Miami in the US, Cyborg has become a household name for Jiu Jitsu fans through his unique style and his trademark position, the Tornado Guard, made famous in fights against Abmar Barbosa and Braulio Estima.
Roberto Abreu Jiu Jitsu
Full Name: Roberto de Abreu Filho
Nickname: Roberto had a tough Car accident back in 2000 when he was a Blue Belt. The car accident shattered his left arm, and the doctors told Cyborg he probably wouldn't move his arm again (he took over 300 stitches and still has broken glass on his arm today). 4 months after the accident, Roberto took 2nd in the Brazilian Nationals. Because Roberto had never been to a major tournament final before, Isaias, a black belt from Carlson Gracie's academy gave him the nickname Cyborg.
Lineage: Mitsuyo Maeda > Carlos Gracie > Carlson Gracie > Francisco Albuquerque > Roberto Abreu
Main Achievements:
ADCC Champion (2013*)
IBJJF World Masters Champion (2018 Master 2)
IBJJF World No-Gi Champion (2017/2012/2011/2010**)
IBJJF Pans Champion (2008)
IBJJF European Champion (2005)
Grappling Pro Champion (2016)
ADCC Runner-up (2009)
IBJJF World Championship Runner-up (2010)
IBJJF World No-Gi Championship Runner-up (2008)
IBJJF Pans Championship Runner-up (2009)
CBJJ Brasileiro Championship Runner-up (2007)
UAEJJF King of Mats Runner-up (2018)
ADCC 3rd Place (2017/2013/2011)
* Absolute
** Weight and absolute
Favorite Technique/Position: Tornado Guard and Reverse Triangle
Weight Division: Super Pesado and Pesadíssimo (Under 100kg/221 and over 100kg/221lbs).
Association/Team: CYBORG Fight Sports Team.
Roberto Cyborg Abreu Biography
Roberto Abreu was born on the 20th of December, in 1980 on a city named Campo Grande in the Brazilian state of Mato Grosso do Sul. Roberto's first contact with Brazilian Jiu Jitsu came by way of play-fighting with a friend. This friend challenged Roberto for a fight jokingly which Cyborg accepted. Roberto found the challenge amusing because his friend was very small and skinny.
His skinny friend ended finishing Roberto 3 times with moves that he couldn't comprehend, Abreu had never heard of Jiu Jitsu but after his friend told him that he just used the 'Arte Suave' on him, Roberto was convinced this was something he wanted to pursue, following his friend to Claudionor Cardoso's gym the following day, where he started his tuition.
Roberto Abreu won his first competition with just two weeks of training, that win got Cyborg hooked to the sporting aspect of Jiu Jitsu, an enthusiasm he carried throughout his competitive career.
Competing became one of Cyborg's prime goals in life. He often travelled to Rio de Janeiro to compete at the top tournaments in the world. When in Rio, Abreu prepared at Nova Geração, of  Francisco Albuquerque, with who he created a strong bond.
As a purple belt, Roberto opened his own gym and remained affiliated with Albuquerque. The school prospered quickly in a land eager to learn the arte suave, raising a strong team with hundreds of students and several world class competitors. Students that earned titles at important tournaments such as the Brazilian Nationals, the Mundial (World Championships), Pan American Championships as well as other important tournaments.
Abreu remained one year as a purple belt, winning many important tournaments at this belt division, moving up to brown belt, where he remained for only 9 months, being awarded his black belt, on the day of his birthday (December 20, 2004) after 5 years of training. Master Francisco "Toco" Albuquerque tied the belt around Abreu's waist himself.
In 2010 Roberto Cyborg joined forces with a few world class competitors and friends, such as Rodrigo Cavaca and Marcus Buchecha (who were then coaching at 'The Armory" in Florida), to form a different team named 'The Avengers'.
The team competed in a few local tournaments as well as at an international stage and was doing well, but as Rodrigo returned to Santos in Brazil, taking with him Buchecha, and the partnership ended.
Roberto Abreu Grappling Record
105 WINS
BY POINTS


BY ADVANTAGES




BY SUBMISSION




BY DECISION




BY PENALTIES




BY DQ



44 SUBMISSIONS WINS
#86e620
Choke from back
18
8
#d1212a
Straight armlock
7
3
#03861f
Inverted Triangle
2
1
#03d61f
North-south choke
2
1
#a4ff5f
Choke from mount
2
1
37 LOSSES
BY POINTS


BY ADVANTAGES




BY SUBMISSION




BY DECISION




BY PENALTIES




BY DQ



12 SUBMISSIONS LOSSES
#86e620
Choke from back
17
2
#d1212a
Mounted X choke
8
1
#fad11b
Crucifix choke
8
1
#bf1f6c
Inside heel hook
8
1
Roberto Abreu Fight History
ID
Opponent
W/L
Method
Competition
Weight
Stage
Year
1124

Roger Gracie

Roger Gracie
L
Cross choke
European Open
ABS
4F
2005
1305

Alexandre Ribeiro

Alexandre Ribeiro
L
Armbar
World Champ.
100KG
R1
2005
1467

Alexandre Ribeiro

Alexandre Ribeiro
L
Mounted X choke
World Champ.
ABS
SF
2006
1502

Marcelo Garcia

Marcelo Garcia
L
Crucifix choke
Brasileiro
ABS
R1
2006
1591

Rafael Lovato

Rafael Lovato
L
Pts: 4x0
Brasileiro
100KG
F
2007
1767

Alexandre Ribeiro

Alexandre Ribeiro
L
Ezekiel
World Champ.
ABS
R1
2007
1954

Rafael Lovato

Rafael Lovato
L
Pts: 8x4
World Champ.
100KG
SF
2008
1970

Andre Galvao

Andre Galvao
L
Points
World Champ.
ABS
R2
2008
2014

Braga Neto

Braga Neto
L
Pts: 6x0
NoGi Worlds
100KG
F
2008
2166

Braga Neto

Braga Neto
L
Choke from back
Pan American
100KG
F
2009
2180

Romulo Barral

Romulo Barral
L
Pts: 3x0
Pan American
ABS
4F
2009
2278

Fabricio Werdum

Fabricio Werdum
L
Points
ADCC
O99KG
F
2009
2339

Alexandre Ceconi

Alexandre Ceconi
L
Pts: 4x4, Adv
World Champ.
94KG
4F
2009
2386

Daniel Moraes

Daniel Moraes
L
Points
Copa America
ABS
SF
2009
2719

Rodrigo Cavaca

Rodrigo Cavaca
L
Botinha
World Champ.
O100KG
F
2010
2769

Lucas Lepri

Lucas Lepri
L
Pts: 6x2
Long Island Pride
ABS
F
2010
2969

Alexandre Ceconi

Alexandre Ceconi
L
Adv
World Champ.
ABS
R2
2011
3132

Braga Neto

Braga Neto
L
Pts: 9x0
World Champ.
O100KG
SF
2011
3275

Fabricio Werdum

Fabricio Werdum
L
Points
ADCC
O99KG
SF
2011
3895

Bernardo Faria

Bernardo Faria
L
Armbar
World Champ.
ABS
4F
2012
4124

R. Evangelista

R. Evangelista
L
Points
World Champ.
O100KG
R2
2012
4498

Nivaldo Oliveira

Nivaldo Oliveira
L
Choke
Pan American
ABS
R2
2013
4660

Marcus Almeida

Marcus Almeida
L
Pts: 4x3
World Pro
ABS
4F
2013
5028

Marcus Almeida

Marcus Almeida
L
Points
ADCC
O99KG
SF
2013
5679

Braulio Estima

Braulio Estima
L
Points
World Champ.
ABS
R3
2014
7953

Andre Galvao

Andre Galvao
L
Pts: 6x0
ADCC
ABS
SPF
2015
8227

R. Evangelista

R. Evangelista
L
Pts: 10x0
Grand Slam LA
O94KG
F
2015
9467

Alexander Trans

Alexander Trans
L
Pts: 0x0, Adv
World Pro
ABS
R2
2016
9599

R. Evangelista

R. Evangelista
L
Pts: 0x0, Adv
World Pro
O94KG
4F
2016
10160

Rafael Lovato

Rafael Lovato
L
Referee Decision
F2W Pro 7
O100KG
SPF
2016
12900

Erberth Santos

Erberth Santos
L
Pts: 2x2, Adv
World Champ.
ABS
8F
2017
13069

Mahamed Aly

Mahamed Aly
L
Pts: 2x2, Adv
World Champ.
100KG
4F
2017
13469

Alexandre Ribeiro

Alexandre Ribeiro
D
---
Copa Podio
ABS
SPF
2017
13709

Marcus Almeida

Marcus Almeida
L
Pts: 4x0
ADCC
99+KG
SF
2017
13783

Gordon Ryan

Gordon Ryan
L
Inside heel hook
ADCC
ABS
E1
2017
15842

Alexander Trans

Alexander Trans
L
Choke from back
King of Mats
110KG
F
2018
18323

Gordon Ryan

Gordon Ryan
L
DQ
NoGi Worlds
O97KG
F
2018
20353

Nicholas Meregali

Nicholas Meregali
L
Loop choke
Third Coast
100KG
SPF
2019
1123

Leonardo Ramos

W
N/A
European Open
100KG
F
2005
1462

Braulio Estima

Braulio Estima
W
Armbar
World Champ.
ABS
R1
2006
1466

Demian Maia

Demian Maia
W
Pts: 4x0
World Champ.
ABS
4F
2006
1510

Waldir Neto

W
Choke
Team Nationals
O88KG
4F
2006
1590

Rodrigo Comprido

Rodrigo Comprido
W
Pts: 8x0
Brasileiro
100KG
SF
2007
1870

Marcel Fortuna

Marcel Fortuna
W
Adv
Pan American
100KG
SF
2008
1871

Arthur Jacinto

W
Adv
Pan American
100KG
F
2008
2013

Cristiano Lazzarini

Cristiano Lazzarini
W
Points
NoGi Worlds
100KG
SF
2008
2175

Felipe Pacces

W
Choke from back
Pan American
ABS
8F
2009
2272

Tom DeBlass

Tom DeBlass
W
Points
ADCC
O99KG
R1
2009
2275

Asa Fuller

W
Points
ADCC
O99KG
4F
2009
2276

Jeff Monson

W
Points
ADCC
O99KG
SF
2009
2377

Bill Cooper

Bill Cooper
W
Points
GQ Del Mar
ABS
F
2009
2379

Bill Cooper

Bill Cooper
W
Pts: 4x4, Adv
Grapplers Quest
ABS
F
2009
2590

Stephen Hal

W
N/A
Miami Open
O100KG
F
2010
2606

Joao Pinho

W
N/A
No Gi Worlds
O100KG
SF
2010
2607

David Herzog

W
Knee choke
No Gi Worlds
O100KG
F
2010
2612

JT Torres

JT Torres
W
Points
No Gi Worlds
ABS
R2
2010
2616

Fabricio Camoes

W
Points
No Gi Worlds
ABS
8F
2010
2621

Lucas Leite

Lucas Leite
W
Points
No Gi Worlds
ABS
SF
2010
2718

Braga Neto

Braga Neto
W
Triangle
World Champ.
O100KG
SF
2010
2767

Renan Borges

W
Choke from back
Long Island Pride
ABS
SF
2010
2960

Diego Vivaldo

Diego Vivaldo
W
Adv
World Champ.
ABS
R1
2011
3078

Helton Nogueira

W
Pts: 2x0
World Champ.
O100KG
RDS
2011
3115

Carlos Farias

Carlos Farias
W
Pts: 11x0
World Champ.
O100KG
4F
2011
3152

Warren Stout

W
Knee choke
Miami Open
ABS
SF
2011
3153

Vitor Henrique

W
Armbar
Miami Open
ABS
F
2011
3240

Sekine Hideki

W
Armbar
ADCC
O99KG
R1
2011
3263

Glover Teixeira

W
Points
ADCC
O99KG
4F
2011
3280

Gerardi Rinaldi

Gerardi Rinaldi
W
Kneebar
ADCC
O99KG
3PLC
2011
3363

Luis Pedro

W
Armbar
No Gi Worlds
O100KG
SF
2011
3373

Ricardo Feliciano

Ricardo Feliciano
W
Inverted Triangle
No Gi Worlds
O100KG
F
2011
3700

K. Cornelius

W
Points
NYC World Trials
O92KG
N/A
2012
3701

Unknown

W
Armbar
NYC World Trials
O92KG
SF
2012
3702

Abraham M.

W
Armbar
NYC World Trials
O92KG
F
2012
3877

Murilo Santana

Murilo Santana
W
Pts: 6x4
World Champ.
ABS
R2
2012
3888

Marcio Cruz

Marcio Cruz
W
Pts: 12x4
World Champ.
ABS
R2
2012
4115

Gustavo Dias

Gustavo Dias
W
Choke
World Champ.
O100KG
R1
2012
4183

Diego Silva

W
Choke from back
Miami Open
ABS
4F
2012
4185

Vitor Toledo

Vitor Toledo
W
Choke from back
Miami Open
ABS
SF
2012
4187

Leonardo Davila

Leonardo Davila
W
Cross choke
Miami Open
ABS
F
2012
4245

Leonardo Davila

Leonardo Davila
W
RNC
NoGi Worlds
O100KG
SF
2012
4246

Gustavo Dias

Gustavo Dias
W
Pts: 6x0
NoGi Worlds
O100KG
F
2012
4456

Brendan Schaub

W
Referee Decision
Metamoris 2
ABS
SPF
2013
4478

Unknown

W
Choke from back
NYC World Trials
O92KG
N/A
2013
4479

Keneth Brown

W
Pts: 10x0
NYC World Trials
O92KG
F
2013
4489

Luiz Panza

Luiz Panza
W
Points
Pan American
ABS
R1
2013
5021

Mike Martelle

W
Armbar
ADCC
O99KG
R1
2013
5026

Orlando Sanchez

Orlando Sanchez
W
Pen
ADCC
O99KG
4F
2013
5029

Jared Dopp

Jared Dopp
W
Points
ADCC
O99KG
3PLC
2013
5035

Kamil Huminski

W
Points
ADCC
ABS
R1
2013
5036

Garry Tonon

Garry Tonon
W
Points
ADCC
ABS
R1
2013
5040

Keenan Cornelius

Keenan Cornelius
W
Points
ADCC
ABS
SF
2013
5043

Marcus Almeida

Marcus Almeida
W
Pts: 10x0
ADCC
ABS
F
2013
5665

Tanner rice

Tanner rice
W
N/A
World Champ.
ABS
R2
2014
5834

Lincoln Pereira

W
Pts: 7x0
Boca Raton Open
ABS
F
2014
8223

Joseph Moku

W
Clock choke
Grand Slam LA
O94KG
4F
2015
8226

Andre Campos

W
Pts: 3x0
Grand Slam LA
O94KG
SF
2015
8229

Alec Baulding

Alec Baulding
W
Pts: 6x0
Grand Slam LA
ABS
8F
2015
8234

Erberth Santos

Erberth Santos
W
Choke from back
Grand Slam LA
ABS
4F
2015
8237

R. Evangelista

R. Evangelista
W
Pts: 4x2
Grand Slam LA
ABS
SF
2015
8239

Andre Campos

W
Choke
Grand Slam LA
ABS
F
2015
8423

Joseph Moku

W
Pts: 4x2
NoGi Worlds
O100KG
4F
2015
9458

Luan Carvalho

Luan Carvalho
W
Pts: 2x0
World Pro
ABS
R1
2016
9593

Daniel Baia

W
Pts: 6x0
World Pro
O94KG
R1
2016
9829

Francisco Santoro

W
Armbar
Miami Spring Open
O100KG
SF
2016
9830

Jollyson Francino

W
North-south choke
Miami Spring Open
O100KG
F
2016
9832

Jurandir Conceicao

Jurandir Conceicao
W
Submission
Miami Spring Open
ABS
4F
2016
9835

Ruan Oliveira

Ruan Oliveira
W
Kimura
Miami Spring Open
ABS
SF
2016
11217

Paulo Ribeiro

W
Katagatame
Grappling Pro 2
120KG
4F
2016
11221

J. Friedrich

W
Knee choke
Grappling Pro 2
120KG
SF
2016
11224

Mahamed Aly

Mahamed Aly
W
Kneebar
Grappling Pro 2
120KG
F
2016
12445

Vinny Magalhaes

Vinny Magalhaes
W
Pts: 3x0
ADCC WC Trials
O99KG
SPF
2017
12805

Gabriel Lucas

Gabriel Lucas
W
Choke from mount
Miami Spring Open
O100KG
F
2017
12810

Kevin Mahecha

Kevin Mahecha
W
Armbar
Miami Spring Open
ABS
4F
2017
12812

Samir Abdolkader

W
Straight armlock
Miami Spring Open
ABS
SF
2017
12813

DJ Jackson

DJ Jackson
W
Pts: 25x0
Miami Spring Open
ABS
F
2017
12816

Joao Rodrigues

W
Straight armlock
Miami Spring NGO
ABS
F
2017
12892

Carlos Farias

Carlos Farias
W
Pts: 0x0, Adv
World Champ.
ABS
R1
2017
13067

Eliot Kelly

Eliot Kelly
W
Pts: 22x2
World Champ.
100KG
8F
2017
13702

Khazmat Stambulov

W
Pts: 0x0, Pen
ADCC
99+KG
E1
2017
13707

Victor Honorio

Victor Honorio
W
Referee Decision
ADCC
99+KG
4F
2017
13710

Jared Dopp

Jared Dopp
W
Referee Decision
ADCC
99+KG
3RD
2017
14049

Max Gimenis

Max Gimenis
W
Pts: 2x2, Adv
Miami Fall Open
O100KG
F
2017
14052

Kevin Mahecha

Kevin Mahecha
W
Straight armlock
Miami Fall Open
ABS
R2
2017
14053

Thomas MacMahon

W
N/A
Miami Fall Open
ABS
4F
2017
14055

Horlando Monteiro

Horlando Monteiro
W
Choke from back
Miami Fall Open
ABS
SF
2017
14057

Max Gimenis

Max Gimenis
W
Choke from back
Miami Fall Open
ABS
F
2017
14545

Raymond Seraile

W
Armlock
NoGi Worlds
O97KG
4F
2017
14547

Adam Sachnoff

W
Pts: 29x0
NoGi Worlds
O97KG
SF
2017
14549

Joao Rocha

Joao Rocha
W
Pts: 0x0, Adv
NoGi Worlds
O97KG
F
2017
15833

Andre Campos

W
Referee Decision
King of Mats
110KG
RR
2018
15835

Lucio Rodrigues

Lucio Rodrigues
W
Pts: 0x0, Adv
King of Mats
110KG
RR
2018
15838

Alexandre Souza

Alexandre Souza
W
Leglock
King of Mats
110KG
RR
2018
16105

Erberth Santos

Erberth Santos
W
Points
ACBJJ 13
O95KG
SPF
2018
17555

Rene Arango

W
Submission
Miami Fall Open
ABS
SF
2018
17556

F. Barbarotti

W
Cross face
Miami Fall Open
ABS
F
2018
18320

Gustavo Dias

Gustavo Dias
W
Pts: 0x0, Adv
NoGi Worlds
O97KG
4F
2018
18321

Max Gimenis

Max Gimenis
W
Pts: 2x0
NoGi Worlds
O97KG
SF
2018
18334

Nick Calvanese

Nick Calvanese
W
Pts: 10x0
NoGi Worlds
ABS
R1
2018
18339

John Combs

John Combs
W
Pts: 4x2
NoGi Worlds
ABS
R2
2018
18804

Afranio Silva

W
Submission
Miami W. Open
O100KG
F
2019
18805

Johnny Tama

Johnny Tama
W
N/A
Miami W. Open
ABS
SF
2019
18807

Alexandre Molinaro

Alexandre Molinaro
W
Submission
Miami W. Open
ABS
F
2019
19234

Luiz Panza

Luiz Panza
W
Referee Decision
F2W Pro 106
100KG
SPF
2019
Cyborg Abreu vs Marcus Almeida Buchecha

Cyborg Abreu vs Antonio Braga Neto

Cyborg Abreu Highlight