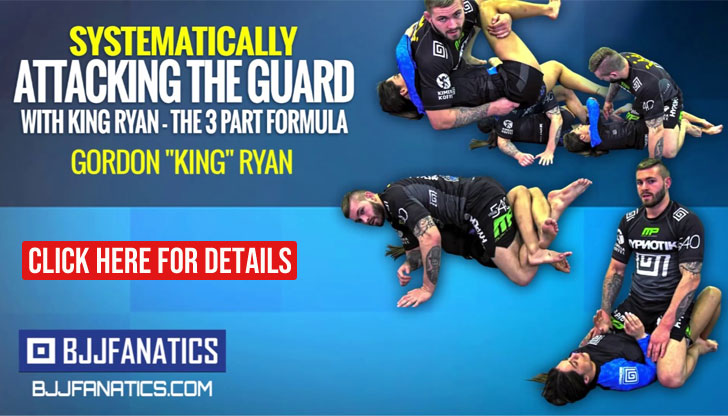 Rodolfo Vieira is a Brazilian jiu-jitsu black belt under Master Julio César Pereira, who is widely regarded as one of the best heavyweight Gi competitors of his generation, and particularly one of the top guard passers the sport has seen. Competing for Grappling Fight Team (GFT), Rodolfo was the first big name to come out of the Rio de Janeiro academy, placing the sport's spotlight on a team that has since brought forward many more high-end athletes. On November 2015 Rodolfo Vieira announced his move to American Top Team (ATT) to pursue a career in mixed martial arts, he would join the Ultimate Fighting Championship (UFC) promotion in 2019.
Rodolfo Vieira Jiu-Jitsu
Full Name: Rodolfo Vieira Srour
Nickname: Caçador dos Faixas Pretas which translates to "Black Belt Hunter". The nickname was given after Rodolfo won the World Pro Cup Trials in the brown/black mixed belt division, winning several matches against distinguished black belts while being a rising brown belt.
Lineage: Mitsuyo Maeda > Luis França > Oswaldo Fadda > Monir Salomão > Julio Cesar > Rodolfo Vieira
Main Achievements:
1st Place IBJJF World Championship (2011** / 2012 / 2013 / 2014)
1st Place ADCC World Championship (2015)
1st Place IBJJF Pans Championship (2011**)
1st Place Copa Pódio Grand Prix (2014 / 2013)
1st Place IBJJF European Open (2012**)
1st Place UAEJJF Abu Dhabi World Pro (2014 / 2012** / 2011**)
2nd Place IBJJF World Championship (2012* / 2013* / 2014*)
Main Achievements (Colored Belts):
1st Place CBJJ Brazilian Nationals (2007** blue belt, 2008** purple belt)
* Absolute
** Weight and absolute
Favorite Position/Technique: Knee Slide Pass, Armbar, Choke from the Back
Weight Division: Peso Pesado (94kg-207lbs), Super Pesado (100kg/221lbs)
Team/Association: Grappling Fight Team
Rodolfo Vieira Biography
Rodolfo Vieira was born on the 25th of September, 1989 in Rio de Janeiro – Brazil.
Grappling appeared in Rodolfo's life as a way to lose weight when he was 13 years old. His first instructors were Arlans Maia and Bruno Souza for whom Rodolfo competed during his first early days in the amateur circuit of jiu-jitsu.
As a blue belt, Rodolfo decided to switch training camps, looking for a more competitive gym atmosphere. He chose to join Universidade Gama Filho, led by Julio Cesar Pereira – a team that later became Grappling Fight Team (more on the history of GFT here).
Rising through the ranks of the sport, Rodolfo Vieira was seen as a good prospect for the future of BJJ, though not many counted on him break out as early as he did. Vieira's first major win on an international level took place in 2009 as a brown belt, when Rodolfo won the Abu Dhabi World Pro Championship, defeating 2x black belt world champion Braulio Estima in the process. Upon his arrival, Master Julio César awarded Vieira his black belt right there at the airport.
Rodolfo Vieira repeated the deed in January 2011, this time as an established black belt winning his weight and the open weight division in the Abu Dhabi World Pro. That same year Rodolfo also conquered the Pan American and the World Championships in his weight and the open weight divisions, cementing his name as the strongest 94kg/207kg gi specialist in the world.
Midway through the 2010s decade, Rodolfo's passion for jiu-jitsu was replaced by the desire to become a professional mixed martial arts (MMA) fighter. Vieira relocated to the United States in search of the best conditions to make the transition, training with American Top Team and Team Nogueira. Vieira made his successful MMA debut in 2017, a successful win over Zarylbek Daniyar, via RNC, at the ADGC promotion.
On June 2019 Rodolfo Vieira signed to the biggest MMA event in the sport, the Ultimate Fighting Championship (2019).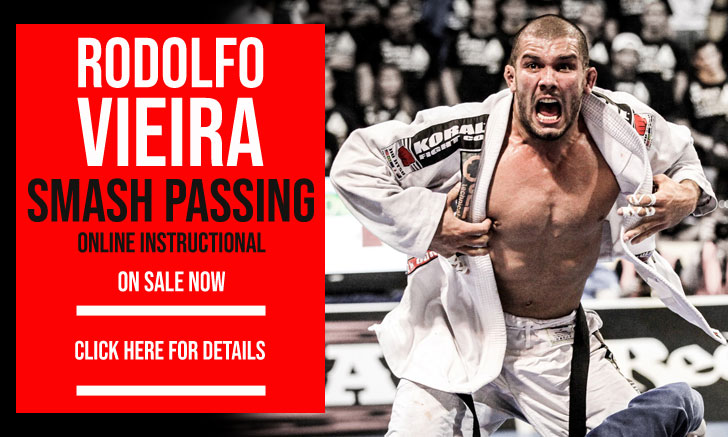 Rodolfo Vieira Grappling Record
97 WINS
BY POINTS


BY ADVANTAGES




BY SUBMISSION




BY DECISION




BY PENALTIES




BY DQ



63 SUBMISSIONS WINS
#214eb8
Choke from back
37
23
#fad11b
Arm in Ezekiel
3
2
#f58822
Mounted X choke
3
2
#bf1f6c
Choke from Mount
2
1
#22c9a5
Baseball choke
2
1
#fad223
Bow and arrow
2
1
#03d61f
Kimura/Triangle
2
1
#03f61f
Violin armlock
2
1
12 LOSSES
BY POINTS


BY ADVANTAGES




BY SUBMISSION




BY DECISION




BY PENALTIES




BY DQ



2 SUBMISSIONS LOSSES
Rodolfo Vieira Fight History
Rodolfo Vieira vs Roberto Tussa Alencar

Rodolfo Vieira vs Lucio Lagarto

Rodolfo Vieira vs Diogo Araujo (2011)

Rodolfo Vieira vs Mario Reis (2010)

Rodolfo Vieira vs Ruben Charles

Rodolfo Vieira vs Claudio Calasans (2010)